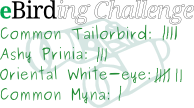 There's no question that July's challenge was a tough one! Birding for 20 hours through the month, and in the 'off-season', is not a task for the faint of heart. Several of us pledged to meet the challenge, but soon fell behind and had to admit defeat. Now, while we wait to see which dedicated souls have managed to meet the target, here is the challenge for August.
It's a relatively easy challenge — to upload at least 20 complete, effort-based lists during the month, each of a minimum duration of 15 minutes. This same challenge was run last year in April (with 17 birders meeting the challenge) and August (23 birders); and was again run this April (35 birders). So to stick with tradition, we have the same challenge for this August.
So: the target for August 2015 is to upload at least 20 complete lists

to eBird during the month. As in previous months, each list should be an effort-based, complete list of at least 15 min duration.
While birding towards this target, we'd like to remind you of a few listing 'best practices':
Most importantly, your list should be an accurate reflection of what you saw/heard and did. Please don't feel tempted to guess at species identity; when unsure, liberally use the slashes (eg, "Jungle/Common Myna") and 'spuhs' (eg, "white egret sp."). When a sighting of yours is flagged for rarity, please add informative comments on how you identified the species and eliminated other similar-looking species. Do count numbers of individuals if you can, rather than simply reporting them as present (ie marked with an 'X').
The most valuable lists are those which are 'complete'. See the recent post on this on the eBird India Facebook page. Multiple lists of shorter duration (eg four 15-min lists) are more valuable than a single longer one (eg one 1-hr list). You might consider using a smartphone app (iOS or Android) for ease of recording multiple short lists. Similarly, travelling lists that cover a short distance (less than 5 km) are better than long travelling lists. Please never include birds from multiple sites in a single list.
The accompanying information should be as accurate as possible: the location name and geographical coordinates; the start time and duration; the distance covered; and the number of birders in the group.
And, of course, please record any signs of breeding under Add Details–Breeding Code; and embed photo, audio and video files to make your lists richer and more memorable.
Please upload all your lists by 5 September so that we can announce the results on 6 September. All birders who reach the target will be named and recognized on this website. One of these names will be chosen at random to receive a small birding-related gift in appreciation.
Here are the general rules of our monthly challenges. You can keep track of fresh lists coming in from India at this page.
Important. if you are new to eBird, please read this description first, and do take a look at the Beginner's Guide.