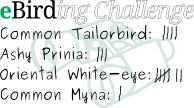 The eBirding challenge for August 2014 was a repetition of that for April: upload at least 20 complete lists

during the course of the month. In April, 17 birders met the target. In August, the number of birders meeting the same target was 23.
In all, 182 birders uploaded 1,819 lists of all types in August, together accounting for 28,131 records. These numbers are the highest since February! (In that month, the numbers were all very high because of the Great Backyard Bird Count, Kerala CBMP, Big Bird Day, and Bangalore Bird Count.)
The 23 eBirders of the month for August are:
Abha Manohark
Abhijith surendran
Able Lawrence
Aidan & Savio Fonseca
Arjun R
Arya Vinod
Bala S.
Bela Arora
Castro Karthi
Chithrabhanu Pakaravoor
Dhanesh A
Ganeshwar S V
Hari Kumar
Kiran More
Manju Sinha
Panchapakesan Jeganathan
Shivaprakash Adavanne
Shivashankar Manjunatha
Sreekumar E R
Suhel Quader
Sumesh  b
Syamili Manoj
Vivek Puliyeri
Many congratulations to all of them!
One of these 23 was chosen using a computer-generated random number to receive a small gift, and that person is
Syamili Manoj
who receives a copy of Bird Sense: What it's Like to be a Bird by Tim Birkhead. (You can read a review here, and there is a website devoted to the book too.)
Here is the full list of contributors from August 2014:
abha manohark, abhijeet  avate, abhijith a.p.c, Abhijith surendran, Able Lawrence,  Aidan & Savio Fonseca, Ajit A, Ameya Deshpande, Amith Kumar, Anand Radhakrishnan, anant pande, Aneesh Sasidevan, Anil  Mahajan, Anish Aravind, Anjali J, anshuman sarkar, Anvith KS, Arjun Guneratne, Arjun R, arun  lal, Arya Vinod, Ashritha Anoop, Ashutosh Singh, Bala S., Bela Arora, Bhagyashree Ingle, Bhakti Salgaonkar, Bhalchandra Pujari, Bird Sonic, Castro Karthi, chithrabhanu pakaravoor, Chris Bowden, Conrad Pinto, Delson Roche, Devika Sanghamithra, dhanesh  a, Dilip Polpakkara, dineshbharath kv, Dipu Karuthedathu, Dr George P J, Dr. Utkarsh Betodkar, Emanuel george , Erle Brito, Eveny Luis, Ganeshwar  S V, Garima Bhatia, G Parameswaran, Hanuman Gawas, hari kumar, HARSHADA GAUNS, harsha nr, James Williams, Karthikeyan Sivagnanam, Kiran bagade, kiran mohan, kiran more, Krishnadas Mallya, Krishna Girish, Kulbhushansingh Suryawanshi, Kyle Elliott, madhushri mudke, Mandar  Bhagat, Manish  Kumar, Manju Sinha, Mike Prince, Milan Sojitra, Mohith Shenoy, Monica Kaushik, Mrinmayee Thakur, Nandkishor Dudhe, nilanjan chatterjee, Nisha M, nithin mohan, Omkar Dharwadkar, omkar naik, Panchapakesan Jeganathan, pankaj misra, Patrick David, Patrick Wheeler, Prafulla  Sawarkar, Prakash G, Prasanna Parab, Praveen J, Premchand Reghuvaran, Pronoy Baidya, Prosanta Mukherjee, Rahul Matmari, RAINOLD LAZAR, Raja Simma Pandiyan, Rajesh Balakrishnan, rajesh nayak, Rajgopal Patil, Rajiv D'Silva, RAJU MENON, Raman Kumar, Ranjith Tn, raphy kallettumkara, Raviprakash KB, renju tr, RESHMA  BHAT, Ridhima Solanki, Rohan Bhagat, Rohan Chakravarty, Rohit Chakravarty, Ronit Dutta, RSS Moorthy, Rudraksha Chodankar, Sagar Adhurya, sahana m, Sam Bhagat, Saneesh  C S, Sanjay Thakur, sarayu ramakrishnan, Shariq Khan, Shashank Birla, SHESHGIRI BAGDE, Shivaprakash Adavanne, Shivashankar Manjunatha, Shubhadeep  Mukherjee, Shwetha Bharathi, Sidharth  R Prakash, Sita Rama Raju, Sivakumar SS, Sivaprasad R, Sivashankar Ramachandran, skanda sn, Soni Nambiar, Soumya Aon, Soumya George, Soumya Prasad, Sreekumar E R, Sreekumar PK, Srikanth Bhat, Sritha A G, sugadev sugathan, Suhel Quader, Sumesh  b, SYAMILI MANOJ, Taksh Sangwan, TheNatureTrust (GroupAccount), Thomas Job, Thorkild Michaelsen, TKS Thathachari, Utkarsha A Singh, vaisakh george, vedant kumbhar, Vignesh Menon, Vijayalakshmi Rao, Vinaya Kumar Thimmappa, Viola Rodrigues, vishnudas ck, Vishwanath Bhagwat, Vivek M, Vivek Puliyeri, Yagnesh Desai, Yogesh Malkhare, Yogesh Parashar.
Now on to the eBirding Challenge for September!