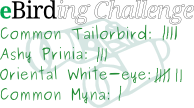 We have had several comments from eBird users that the challenge for June (20 lists in the month) was too easy, so July's challenge is considerably tougher!
In July last year, the challenge was to spend 10 hours birding  through the month, and this proved rather easy, with 36 birders meeting the target. So, for this July, we have decided to raise the game by a fair margin.
In July 2015, the target is to spend an aggregate at least 20 hours eBirding through the month. Each individual list can be of any duration, but all lists must be complete (containing all species that could be identified) and effort-based (ie, Travelling or Stationary, but not Incidental or Historical in eBird parlance).
Twenty hours of birding in a month is not a short time by any standard! One way to approach this challenge would be to look for birds for 30 min each weekday, and for a little over 1 hour each Saturday and Sunday. This should get you to the target. Remember, that you can make a birdlist whenever you spend a bit of time outdoors — while talking a walk, waiting at a bus-stop, eating a packed lunch on a canteen balcony, and so on.
Do remember to add descriptive notes if we see anything unusual. And, of course, please record any signs of breeding under Add Details–Breeding Code; and embed photo, audio and video files to make your lists richer and more memorable.
Please upload all your lists by 5 August so that we can announce the results on 6 August. All birders who reach the target will be named and recognized on this website. One of these names will be chosen at random to receive a small birding-related gift in appreciation.
Here are the general rules of our monthly challenges. You can keep track of fresh lists coming in from India at this page.
Important. if you are new to eBird, please read this description first, and do take a look at the Beginner's Guide.