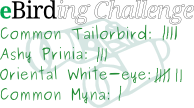 The India eBirding challenge for April 2015 was an echo of April the previous year. The target was to upload at least 20 complete, effort-based birdlists

during the month.  In April last year, 17 birders met or exceeded this target. Given the way eBird has been growing in India, we were curious about how many rose to the challenge this time!
Overall, during April, the number of complete, effort-based lists of at least 15 min duration was 2,853. In all, 408 birders uploaded 3,352 lists of all types from April, together accounting for over 62,700 observations of birds from across India.
Of all the birders who uploaded lists in April, 35 uploaded 20 or more eligible lists for the month. These 35 are (as always, excluding group accounts):
Abhirami C
Alan Knue
Ameya Mundle
Anamika Menon
Anish Aravind
Anjitha Devarajan
Anoop CR
Anuj Raina
Aparajita Datta
Arathy S Kumar
Chinmay Rahane
Chithrabhanu Pakaravoor
Dr George P J
Erle Brito
Ganeshwar S V
Harikrishnan Surendran
Hitha P T
Jaydev Mandal
Krishna Girish
Madhushri Mudke
Manju Sinha
M D Madhusudan
Neethu George Thoppan
Nimitha Damodaran
Panchapakesan Jeganathan
Pavithra Sankaran
Premchand Reghuvaran
Rajneesh Suvarna
Ramit Singal
Raphy Kallettumkara
Sachin Krishna M V
Suhel Quader
Swati Sidhu
T R Shankar Raman
Vidhya Sundar
Wahiba Humam
Many congratulations to all of them!
One of these 35 was chosen using a computer-generated random number to receive a small gift, and that person is
M D Madhusudan
who receives a copy of How to be a (bad) birdwatcher by Simon Barnes. (You can read reviews here and here.)
Here is the full list of all 408 eBirders from April 2015:
abha manohark, Abhijith surendran, Abhirami  C, Able Lawrence, Aditya Agnihotri,  Aidan & Savio Fonseca, AIswARya c, Ajay Kulangara, AJAY RAJAN, Akshay Surendra, Alan Knue, Alex John, Alkesh Thakare, Alok Bhide, Ameya Mundle, Amol Lopes, Anamika Menon, Anand Kalinadhabhatla, Anand Sundaram, Anantha  Krishnan.K, anant pande, André Weiss Pryde, ANEES AHAMMED A, Aneesh Sasidevan, anisha jayadevan, Anish Aravind, Anjali J, Anjana Mohandas, Anjana Nair, Anjitha Devarajan, anju t joshy, Ankit Vikrant, anna p a, Ann Crawford, Anoop CR, anshuman sarkar, Anubhab Dey, anuj raina, Aparajita Datta, Appavu Pavendhan, Arabinda Pal, Arathy S Kumar, Aravind AM, Aravind Balagopalan, Archana Nair, Arjun R, Arnav Anish, Arpit Deomurari, Arun Bhaskaran, Arundev G, ARUN KR, arun  lal, ARUNSANKAR N, Arya Vinod, Ashish Gupta, Ashu Singh, ATANU MODAK, Athira K Nair, Atluanga Ngente, Atul Joshi, Avinandan D, Avisek Chatterjee, Ayilai Hoopoe, Balwant Negi, Basil Peter, Bela Arora, Bhalchandra Pujari, BHAVIK PARIKH, BHAVYA MM, bineesha k, Biswajit Saha, Biswanath Mondal, Brajesh Sayem, Brodie Lewis, Chandrasekaran Venkatraman, Cheran Jagadeesan, Chethan GS, Chinmay Rahane, chithrabhanu pakaravoor, Chris Bowden, CLAREENA JOSE, CNS Nature, Dakota Mork, david stanton, Debashis Chowdhury, Deepak Jois, Deepa Mohan, Deepshikha Mehra, Devdulal Chandra, Devika Rani, Dhananjai Mohan, dhananjay bhamburkar, Dhanesh  Ayyappan, Dharmaraj Patil, dhiren malani, Dhruvam Desai, Dilan Mandanna, dilip kg, Dilip Polpakkara, Dilip Virkhade, Dimple Varu, Dinesh K.S., dipak bowalkar, Dipak Gudhekar, Divya Mudappa, divya srivastava, Dr George P J, Duraiswamy Navaneetham, Dwiref Oza, Enakshi Bhattacharya, Eric Finley, Erle Brito, fermin jose, Gajanan Bapat, Ganeshwar  S V, Garima Bhatia, Gaurang Bagda, gayathri mukundan, Geetha  Venkataraman, Ger Thys, Ginu George, Gitanjali Katlam, Gnanaskandan Kesavabharathi, G Parameswaran, Guy MIRGAIN, Hari Hariharan, hari krishnan, Harikrishnan Surendran, hari kumar, HARI MAVELIKARA, Harsha Jayaramaiah, hashim kp, Hemanth Byatroy, hemant kumar, Henna. Hashim, HITHA  P  T, Humayun Taher, induchoodan sreedharan amalath, Irene Daniel, jadeswamy madaiah, Jaichand Johnson, James Boyce, James Williams, Javid Ihsan, Jayant  Wadatkar, jayaprakash m t, Jaydev Mandal, Jishnnu B, JISHNU V G, jismi m o, jobin kuriakose, Jorge Valdez Power, Joseph Miller, Josh Engel, Joshua Dharmaraj, kalpana jayaraman, Kalyan Varma, Kanak Bakre, Karan Chellappa , Karan Tambe, Karthikeyan G B, Kaustubh Rau, Krishna Girish, Krishnamoorthy Muthirulan, KRISHNANUNNI M R, krishna vinayan, Kulbhushansingh Suryawanshi, Lakshminarasimha  Ranganathan, Lalnun Zira, Lekshmi  Jayakumar, Lloyd Fernandes, Maanav Jalan, madhushri mudke, Madhu Varadaraj, Mandar  Bhagat, Manju Sinha, Manoj Karingamadathil, Maulik Varu, Maya  Ramaswamy, Mayur Bawri, M D Madhusudan, Meghna Banerjee, meher preetham, Mike Prince, Minarul Haque, Mittal Gala, Mohan Raj K., Mohith Shenoy, monali shah, Monica Kaushik, Muansanga Khiangte, mujeeb pm, muruga raja, Muthu Narayanan, M V BHAKTHA, NADHA GAFOOR, Nandana prasanth, Neethu George Thoppan, Neha Waikar, Nelson George, nimitha damodaran, Niranjana C, Nirmal Gourav Das, Nisha M, Nishant Shah, Nishit Soni, nithin mohan, Nosherwan Sethna, Omkar Dharwadkar, Panchapakesan Jeganathan, PANKAJ GUPTA, Pankaj Lad, paramita mazumdar, Patrick David, Pavithra Sankaran, P. B. Samkumar, Peroth Balakrishnan, Phani krishna Ravi, Prabhakar Sastri, PRADEEP KUMAR V B, Pradeep Sangwan, Pradyut Choudhury, Prakash G, Pranjal Mahananda, Prashanth  Badarinath, Prashant Tewari, prasob enose, Prathamesh Desai, Pratiksha Kothule, Pratyush T Hazarika, Praveen es, Praveen J, praveen shenoy, Premchand Reghuvaran, prithvi chandrasekar, Priyal Shah, Pushkar Kulkarni, Raghurama Hegde, Raghuram R, Raghuvanshi Rajesh, Rahul Matmari, rahul narlanka, Raja Bandi, Rajan KC, Rajaram M R, rajdeep Fadte , Rajdeep Mitra, RAJESH SONI, Rajgopal Patil, Rajneesh Suvarna, Raj Phukan, Raju Kasambe, Rakesh  Patel, Raman Kumar, Ramesh Desai, Ramit Singal, RANJINI MURALI, raphy kallettumkara, raveendran kc, Raveendran Natarajan, RAVI DHONGLE, Raviprakash KB, REEF RCOEM, Rejitha  V, renju tr, RESHMA  BHAT, Rick Fox, Rithika Fernandes, Rohan Chakravarty, Rohit Chakravarty, Rohit Hazare, Ronit Dutta, Rushil Fernandes, Sachet Khandeshwar, SACHIN KRISHNA M V, sahana m, Sahas Barve, Saloni Tirodkar, Saloni Wadhwa, Samad Kottur, Samanyu Neelson, sameer  shendre, Samiran  Jha, Sampreeth Desai, Samyak Kaninde, Sana M  Ali, Sandeep Balan, Sanjay Karanth, Santanu Manna, Santanu Pal, Sarath Champati, sasidharan manekkara, satish siwatch, SEDHULAKSHMI K UNNI, Shah Jahan, SHAHNAS K F, Shah Nawaz Jelil, Shailee Shah, Shanmugam Kalidass, shanmuga  priya, Shariq Khan, Shashank Birla, Shashikantha Koudur, shashikant  Naik, SHESHGIRI BAGDE, Shivaprakash Adavanne, Shivaram Vinjamuri, Shreya Yadav, Shubham Patil, Shubham Srivastav, Shwetha Bharathi, Siddhartha  Balakrishnan, Siddhartha Bandyopadhyay, sidharthan katteri, Simanta Medhi, Simon Tickle, Sivakumar AK, sivakumar Hariharan, Sivakumar SS, Sivakumar Swaminathan, Sivashankar Ramachandran, Siva T, skanda sn, Sneha G Ajay, Sneha Gupta, Snehasis Sinha, Soham Sinha, Soma Ateesh, Somen Sarkar, Some Subhra Patra, Somoyita sur, Soni Nambiar, Soumen Mukherjee, Soumya Prasad, SOUMYA  SENGUPTA, Sourajit Ghosal, Sravan Kumar, Sreedhar Vijayakrishnan, Sreekumar E R, Srijan Roy Choudhury, SRI RAMAN, Srushti Mehatkar, S S Cheema, steffin babu, Subhasmita Patro, sugadev sugathan, Suhel Quader, Sujit Kumar Das, Sulabha Chakravarty, Sumanta Pramanick, Sumesh  b, Sumin George, Sunil Rajagopal, Supriya Kawadkar, supriya sharma, Suresh Brar, Suresh  Rana, Surya Prakash, sutirtha lahiri, swathi chandramohan, Swati Sidhu, Swetika Sachan, SYAMILI MANOJ, syed  ateeq, Syed Muzamil, Taksh Sangwan, TheNatureTrust (GroupAccount), TheNatureWeb.Net Team, Thomas Job, Thorkild Michaelsen, Tilroy  Fernandes, tony antony, T R Shankar Raman, ts prasanth, Udiyaman Shukla, Umesh Mani, vaisakh george, vedang saunt, vedant kumbhar, Venkatesh Prasad, Vidhya  Sundar, Vignesh Menon, Vijaya Lakshmi, Vijay kumar, Vijay Kumar, Vijay Yerra, Vikas madhav nagarajan Madhav, vikram chauhan, Vinay Das, Vinoba Anand, Viola Rodrigues, Vipul Vedi, Viral  Pankaj, Virender Sharma, Vishal & Sophia D, vishnu dattan, Vishnupriyan Kartha, Vishnu Thavara, VISHNUVARTHANAN GUNALAN, Vishnu Vinod, Vishwatej Pawar, vivekanand vivek, Vivek M, Vl Hriatzuala Sailo, vrinda  lath, Wahiba Humam, Yagnesh Desai, Yogesh Parashar.
Are you doing your best to match the target for May? And don't forget the several flavours of yearlong challenges for 2015!