Sharad Apte is one of the pioneers of bird sound recording in India. Here, he shares his passion for birds and their vocalisations.
1. Please tell us bit about yourself. What do you do and where do you live?
I live in Sangli in south Maharashtra, 45 km east of Kolhapur and 240 km in south of Pune.
I was born on 4th May 1956 in Sangli itself and all my schooling till graduation happened in Sangli. I am a commerce graduate and I worked as clerk and cashier; and then retired as a senior officer in 2012.
2. When and how did you get interested in Birding?
I attended a Nature Education Camp organized by WWF Kolhapur in April 1990 in Dajipur Wildlife Sanctuary. It was there that I was introduced to birds. I have always been a nature lover and fond of hunting stories. In my school days, I was sharp shooter with a catapult.
In this camp, our guide introduced us to many bird species, some of which I had killed with my catapult in my school days. I used to know them by their local names. At that very moment I was bit by the birding bug and till today, its venom is active in my blood stream.
3. Do you have a favourite bird or birds? Why is it/are they your favourite?
I love all birds, but the Long-tailed Shrike is my favourite. One day on a hot afternoon in April, I heard the call of a Spotted Owlet followed by that of an Indian Nightjar – I was stunned. Upon searching, I found the culprit to be the Long-tailed Shrike. It was April and bird was probably announcing that it was ready for the breeding season.
4. Where do you enjoy birding the most?
I enjoy birding in my native place Sangli and around. I also enjoy birding in the Western Ghats – particularly the locations in Karnataka and Goa as they are easily accessible by train. I've visited 12 states across India.
Being a bank employee, we had one and a half day off every week –  basically, half day on Saturday and full day on Sunday. Several times, I would go out in the field on Saturday after office hours to reach the birding location by evening and then, reach my office on Monday after having left early in the morning. My method of birding is that I visit one location which is easily accessible by affordable transport. I then visit this place every fortnight and at least three years in a row. This gives me a chance to learn about the birdlife and birdsound in that area in detail.
I've  stayed for more than 100 days in Sagareshwar Wildlife Sanctuary in my district and around 50 days in Castle Rock, Karnataka. Wherever I go birding, I reach there by evening and stay overnight and watch birds in the evening and in the morning. During my long leaves (twice a year), I used to visit distant places like the Nilgiris and locations in the Himalayas.
I used to stay in railway stations, temples and on a few occasion – out in the open. I decided to visit Castle Rock to understand birds in Western Ghats and learn about their calls. I would travel by train from Miraj to Castle Rock. This train used to halt in Castle Rock and return next morning at 6 am to Miraj. I used to stay in the train coach overnight and get out of the train before it left Castle Rock. I enjoy bird watching the most in Sagareshwar Wildlife Sanctuary and Castle Rock. Besides this two location I enjoy birding in Uttarakhand.
5. Do you have a birding partner or a group you enjoy birding with? How is birding alone different from birding with others?
Most of the time, I go birding alone. But on several occasions, one or the other would join me. Most of the times, Mr. Mukund Wadekar used to be my partner. He was elder to me. It also helped me as I did not own a pair of binoculars at the time and he did. Now we've become life-long friends.
When alone, I can keep focused. For recording bird sounds, one needs utter silence.
6. Would you like to share any interesting birding moments you have witnessed?
I would like to share an incident about mimicry.
I located a nest of a Black Drongo in the backyard of my friend's house. This was the first time I was observing the nest of a Black Drongo in a human settlement. That housing colony was surrounded by farms. I was following this nest to record the drongo's agitation call that it would give to drive away birds that would threaten its nestlings. One dog was lying below the nest and one cat was sleeping on terrace of the house.
As the cat rose up, the drongo attacked it knowing that the cat is a threat to its nest. While attacking, the bird gave out the growling call of a cat. When the dog rose up, the drongo attacked the dog while giving a Red-wattled Lapwing's call. I have recordings of a lapwing's call to shoo away a dog and the drongo's mimicry of a lapwing to shoo away the dog. When I put both the calls in a software, I found that every character in each call matches. We are writing up a paper on this event.
7. You are well-known for recording bird sounds. How did you get interested and what have you learnt from sound recording?
Since the first time I went bird watching, I've been naturally attracted to bird calls. I began following them and seeing their behaviour and other aspects. I developed a habit to note down all details. After a few years, I came to know that there is a calendar in bird calls and songs. When it comes to breeding calls and songs, birds follow a time table scrupulously.
Initially, I wanted to be a wildlife photographer and had joined a workshop in October 1996 organised in Sagareshwar Wildlife Sanctuary. Late Mr TNA Perumal from Bangalore was our guide. He was a keen birdwatcher and knew about bird calls and songs. Noticing my knowledge of bird calls, he asked me to record them. Up until that moment, I did not even know that people record bird calls and songs.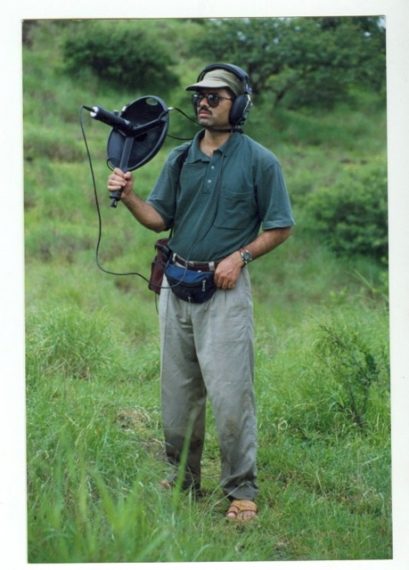 I did not have any kind of recorder of my own. Once I got a recorder, I used to fix it in recording mode on a perch where a bird was expected to arrive. That method failed. So I made an extension mic which could fixed near the perch where the bird was expected. Every time a bird arrived and gave a call, but my system failed to record. At last I found a clue in a book named 'The Bird Catalogue' (The source book for birding paraphernalia). I found this book in the old book stalls in Mumbai. Using the book, I designed one fibre parabolic dish but it was not suitable. Then I imported a "Bionic Ear and Ear booster" which help me begin with a cassette recorder. After a long journey and much difficulty, I acquired a standard kit.
In those days there was no internet so I kept writing abroad about this. And bit by bit, I gathered proper knowledge – and upon the arrival of the internet, all of it became easy to access. Now I have technical knowledge of bird sound recording and I know what a scientist needs. For the last four years, I have been conducting workshops on bird call recording. Recently, the 8th such kind of workshop was held in Goa. Two years ago I was invited by IIT Madras to conduct such a workshop.
Now my collection has reached 422 species and subspecies with over 52 GB data containing more than 3000 sound files. Files are saved with details like species, type of call, date and time, location and comments on behaviour. I developed my own website to share my recordings.
Beside this, I have written various articles and stories in several publications. My major work is the DVD – Birds of the Western Ghats Vol I and II, which gives information with sounds for 90 species found in Western Ghats. My radio play was aired on All India Radio.
8. Has eBird been helpful for you in maintaining records? How?
I developed a way to archive my field notes and note down all the birds I've watched so far. I used bank ledger book technique. I developed and revised field data cards. This is my invention to note field observations.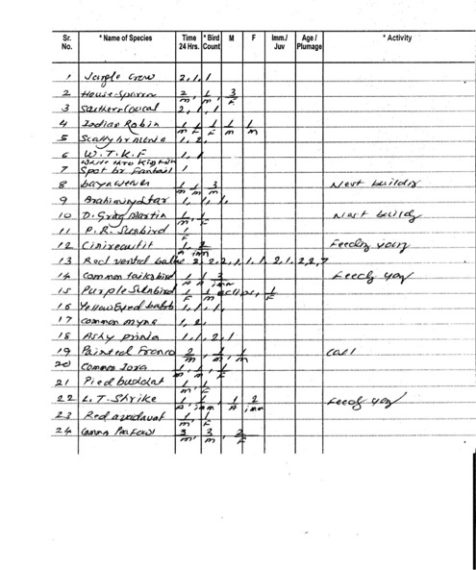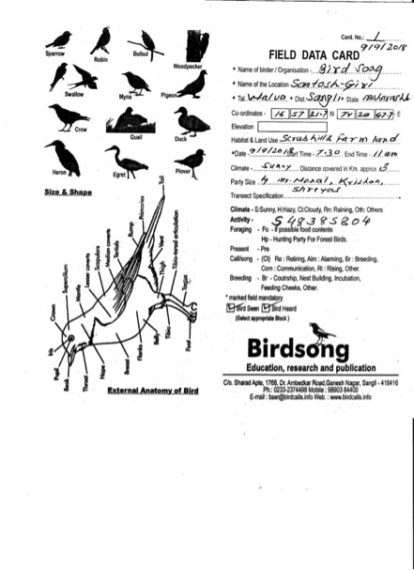 eBird helps me to upload my data – so far, almost 1400 checklists covering about 600 species over a span of 23 years. However, I was able to store my lists because of the technique I developed. That is why I could upload checklists from the year 1995 onwards. I have my own software to store my data.
9. Have you set any birding goals for the coming months?
I have not set any target in the past and none for the future either. I keep watching and writing. Since the last 30 weeks, I have been taking people and pupils for birding every Sunday in my city – so the movement will keep going. Number of checklist I have uploaded indicates that for the last 25 years, I have spent every weekend in the field.
10. What is your message for fellow birders?
For young birders, I would recommend that they focus on their town and city. Leave the camera and take down check lists and listen to every natural sound. Use the camera only if a unique thing comes across. Understand the importance of citizen science and provide healthy data.
---
Header image: Long-tailed Shrike by Fareed Mohammed (see checklist)