From coastal lands to scrublands, mountains to rainforests, traveling to spot birds has been a passion for Sudeshna Dey. Here is more about Sudeshna in her own words…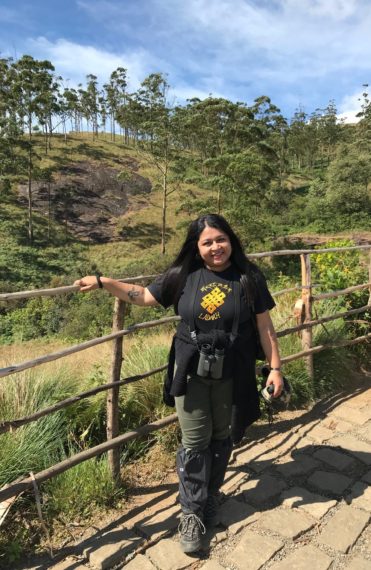 1. Please tell us a bit about yourself. What do you do and where do you live?
I started birdwatching back in 2007, and what started as an interest became a hobby, and now after all these years, it has turned into a passion, heading towards obsession. I am so crazy about birds that I got a bird tattoo done which is an everlasting mark of my love for birds.
I currently reside in Hyderabad but I grew up and spent about 26 years of my life in Delhi-NCR. I am an MBA by education and have a 'thankfully not so boring corporate job in an MNC'. I have another Masters degree in Environmental Studies and while pursuing that, is when I got the hang of birdwatching after a project I did on bird diversity in Delhi.
2. When and how did you get interested in birding?
I can trace my interest in birds back to an early age. When I was a kid, I had four domesticated ducks in my house and I loved birds more than any other animal. I remember running after pigeons, doves, and sparrows to catch them as a child. They are such fascinating creatures with such wonderful colours and behavior and watching them eat, drink, hop around, clean themselves, their calls, musical notes have always amused me and they still do.
3. Do you have a favourite bird or birds? Why is it/are they your favourite?
No, I don't have any single favourite bird so to say but I have many favourite birds in each bird family. The reason could range from how they look to any peculiar behavior to the rarity factor of the bird.
4. Where do you enjoy birding the most?
I have traveled extensively across the country; North East is my favourite for the sheer density and variety of birds found there. But I enjoy the Western Himalayas more in terms of the scenery, including Ladakh. For coastal birding, I love Gujarat.
5. Do you have a birding partner or a group you enjoy birding with? How is birding alone different from birding with others?
I have many birding friends in the country and I enjoy with all of them as they all bring in unique experiences in my life. Although, I have a group of some really fantastic and crazy ladies who accompany me in most of my trips and they are like family to me. I do not like birding in big groups nor do I like birding all alone, a group size of 2-3 is the best combination in my opinion as you have enough set of eyes to spot the birds at the same time not be very disturbing.
6. Anything on the birding bucket list? (Doesn't have to be a bird, could be a place, witnessing a phenomena, etc) 
I have seen almost 1045+ bird species in India and now slowly going to other countries outside India. Hope to see as many bird species as my health and bank account would allow me in my lifetime. I do want to see the Spoon-billed Sandpiper, Amur Falcon Migration, and visit the Arctic and Antarctica someday.
Pale Rockfinch- a bird so rare that Sudeshna happens to be just the 3rd person to ever see it in India
7. Has eBird changed how you bird? How? 
I started using eBird in 2015, and it has helped me tremendously in organizing my sightings data and also to plan for trips and sightings. It makes exploring new areas really easy and I am really thankful to all the eBirders who submit their sightings accurately.
8. Have you set any birding goals for the coming months?
Would love to see some of the monsoon visitors in the next couple of months and more winter migrants starting October
9. What is your message for fellow birders?
Keep Watching, Keep Sharing, Keep it Real (Literally)!
---
Header image: Sanderling Calidris alba by Saswat Mishra (see checklist)