Parvez Shagoo is from the district of Baramulla, situated along the banks of Jhelum river. After doing his post-graduation in forestry, he joined the forest services and now works as a Forest Officer in one of the most picturesque regions of India – Jammu. Let's take a look at what inspired Parvez to start birding and what continues to motivate him today!
1.  When and how did you get interested in birding?
I started taking birding seriously in the year 2011, after visiting a famous wetland of Jammu near the Indo-Pak border named 'Gharana Wetland Conservation Reserve'. I was astounded to see such a colossal diversity of bird around a small water body. The trip to the location was organised by one of the training institutes of the J&K Forest Department, where I work presently. After a few days I did some research on the internet and ended up joining the Indian Birds Facebook group. It was there I got in touch with Arijit Banerjee for the first time and was kind enough to reply to all my queries. He is an IFS officer with the Rajasthan Forest Department. Later in a couple of months, inspired by the birders on Indian Birds I was quick to jump into the fire and started my own page for J&K  ,which was initially named Migratory Birds and later renamed it as J&K BirdLife. This initiative helped me to bring all the birders of the State under one platform. The members of our group have been successful in adding more than a 100 new species of birds that were never reported from the state in the past.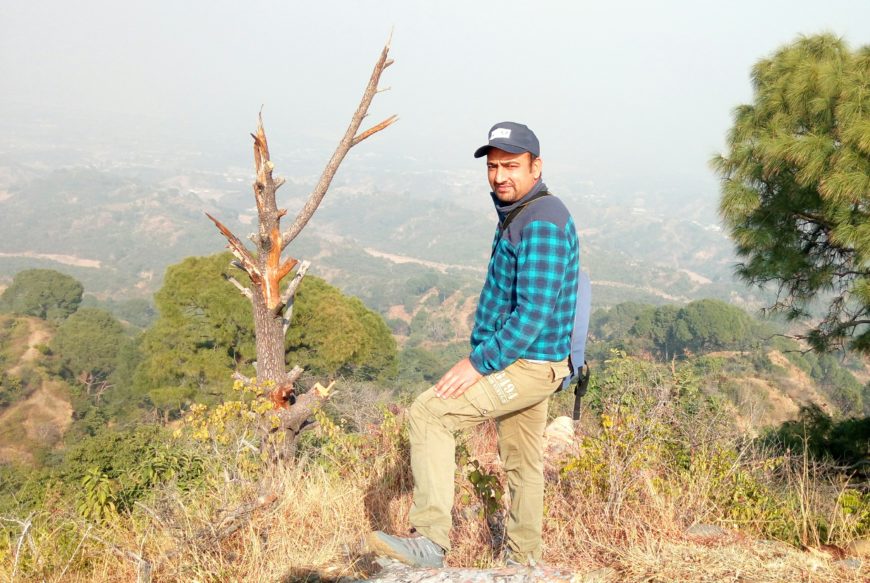 2.  Do you have a favourite bird or birds? Why is it/are they your favourite?
Generally all the birds are my favorites as they have all been responsible for my growth in the field. When asked to be specific, I would choose the 'Raptors'. The raptor I would always remember throughout my  life is the Oriental Honey Buzzard. The story goes back to 2017, when OHB's were busy attacking and looking for larvae of honey bees and I along with my friend Sudesh were so happy to get some close images for the first time. Soon the honey bees started a full fledged attack directed towards both of us. Rest of the story was both spine chilling and funny. We still remember the day! And, of course the villagers now recognise us from a distance.
3. Where do you enjoy birding the most?
Jammu province, where I stay most of the time has many good birding hotspots. Gharana, Raika environment park, Vijaypur, Kukrian, Dhera ki Gali, Machedi (Billawar) are some of the places that always throw surprises. In Srinagar,  Dachigam National Park is my favourite birding destination.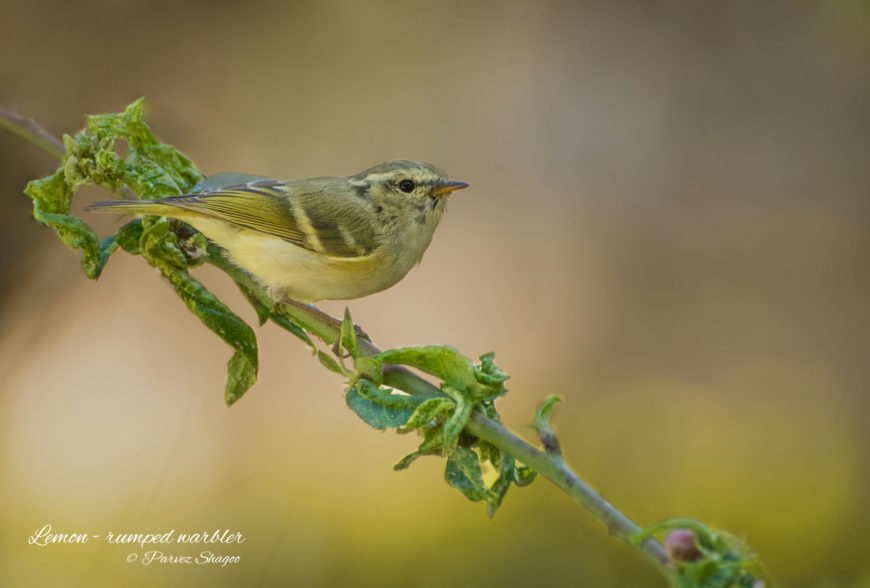 Pale-rumped Warbler (Lemon-rumped Warbler) – Phylloscopus chloronotus © Parvez Shagoo
4. Do you have a birding partner or a group you enjoy birding with? How is birding alone different from birding with others?
I cannot think of going out for birding without my dearest friends, especially  Dr. Parmil Kumar  and Sudesh Kumar . Our plans have always been random. We often make plans late in the evening and most of the times we leave at dawn. The others members from our birding group  -J&K BirdLife, occasionally join us depending on the location we plan to go.
We believe in teamwork and going together in a group is more fun and the possibility of missing out a sighting is minimised. We often organise sunday birding trips during the cool winter months involving students and citizens.
5. Anything on the birding bucket list? (Doesn't have to be a bird, could be a place, witnessing a phenomena, etc)
Last winter I was offered an opportunity by a friend from Bangalore to join for a trip to Papua new Guinea to see the Birds of Paradise. Unfortunately, I could not do so but I still dream of visiting the place once in my life. I also wish to witness the Amur falcon migration in the north east.
6. Has eBird changed how you bird? How?
eBird allows me to keep a track of all my observations and the ones made by other birders around. I am able to set a target based on ebird data which wasn't possible otherwise. I have often used the data in my presentations to make them more interesting.The open access to new observations at the same time allows me to view and flag the entities that may have been entered by the ebirders by mistake. I often bring these in the notice of the reviewers  whenever necessary. These errors can however be overcomed by continuously refining the filters for locations, with the change in seasons.
7. Have you set any birding goals for the coming months?
For the last couple of months I have had a busy schedule. Hopefully from June onwards I would be a free birder again and my initial  focus would be to complete  my target of 400 species for the State, which would be a first by any ebirder in J&K. Presently I am at 392. My ultimate target is to document all the 537 species of birds in the state of J&K.
8. What is your message for fellow birders?
Teamwork is more fun than going out for birding alone. I used to go alone in the past but realised that the only way to connect and step up the efforts of bird conservation is togetherness. Sharing not only helps you to grow as a person but also inspires other to join.
____________________________________________________________________
Cover Image: Amur Falcon Falco amurensis © Dr Jishnu R/ Macaulay Library at the Cornell Lab from this checklist