Somoyita Sur is a road ecologist and an eBirder based in Guwahati, Assam. Her favorite place to watch birds is from her terrace and balcony. Here is more about Somoyita and how she started her journey in bird watching…
1. Please tell us a bit about yourself. What do you do and where do you live?
I am a doctoral research fellow in department of Zoology, Gauhati University, pursuing my research on road ecology, currently working on NH 715 running via Kaziranga National Park, Assam I am temporarily based in Guwahati, Assam.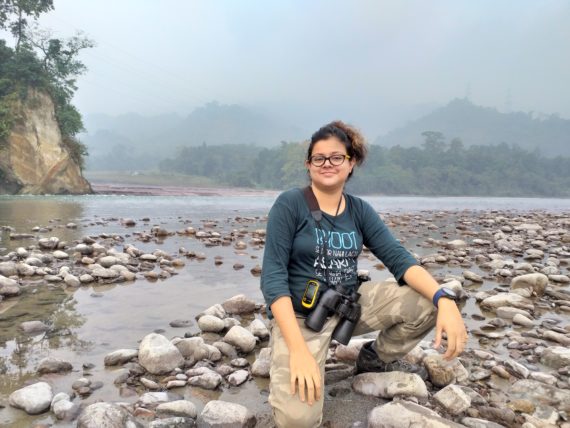 2. When and how did you get interested in birding?
Earlier I used to ignore birds just because I was unable to identify them, since there are too many of them, but during my masters, slowly my interest grew and I started working on them with the help of my seniors and batchmates. Gradually I got attracted towards these beauties and started birdwatching and made it a part of my daily routine. I initially started birding from my backyard and then started exploring and grabbing as much possible opportunities as I could.
3. Do you have a favourite bird or birds? Why is it/are they your favourite?
I don't have any particular favourite bird, but I definitely am attracted towards crows, because of their smartness and intelligence. I even had a one footed pet crow, during my childhood days. Birds are very beautiful and interesting creatures, all with certain differences, we just need to understand them.
4. Where do you enjoy birding the most?
Any place is good enough for birding, you just have to have interest and listen to them, be it bathroom or any protected area. It just requires few minutes But to begin with, our backyard is the best place. I enjoy birding from my terrace and balcony, but also love to visit new places for birding. Wherever I go, I try to make at least one list and also upload it to eBird.
5. Do you have a birding partner or a group you enjoy birding with? How is birding alone different from birding with others?
I do have many group of friends, to bird along, all belonging to different backgrounds. Birding is interesting if you have a interesting group to discuss with while birdwatching. Also birding alone gives you a very different pleasure and sanctity. Its just you and nature, if you bird alone. It also helps in soothing and relieving stress and anxiety.
6. Anything on the birding bucket list? (Doesn't have to be a bird, could be a place, witnessing a phenomena, etc)
I definitely have certain birds on my bucket list, have fulfilled some — like watching a big flock of flamingos is one of the best feelings in the world. Also witnessing some threatened bird is awesome. Right now Grandala and Himalayan Monal are on the top of my bucket list. Also I have started a self challenge of birding in every historical monument I visit.
7. Has eBird changed how you bird? How?
eBird has given me a online platform to keep, manage and organize my birding records. I do put up a list on eBird wherever I visit, also I look for hotspots and the check the birdlists before visiting any new place to bird. eBird definitely renders us with many fascinating opportunities. And taking up the challenges provided by them is also very interesting.
8. Have you set any birding goals for the coming months?
I don't have any goals as of now, but I do bird wherever and whenever possible and also constantly keep looking for opportunities to visit a new place and gather some lifers too.
9. What is your message for fellow birders?
Its an excellent activity to do with very little effort and requirements. All you need is some amount of your time and dedication. Once it becomes your habit, you can't stop birding anywhere and anytime. And I would request every birder to start eBirding along with birding, since it has lot of valuable and exciting things to work upon and explore.
Also I would beg my fellow birders to adopt ethical ways of birding, even if you cannot locate a bird, better skip it rather than causing disturbances.
Good luck fellas! HAPPY BIRDING.
Here is Somoyita's eBird public profile
____________________________________________________________________
Banner Image: Himalayan Monal ©Claudia Brasileiro/ ML Library at Cornell Lab