Bird Count India started in 2014 with the goal of increasing understanding of the distribution, abundance and seasonality of India's birds. This is done, on the one hand by encouraging Indian birders to contribute their birdlists to the eBird-India platform, and on the other by helping and facilitating documentation projects by local and regional birding groups.
Let's start this brief review of 2017 with eBird-India. Over 6,000 eBirders contributed to over 3 million observations across almost 200,000 lists from India – adding a wealth of information to our knowledge of the distribution, seasonality and abundance of our birds.
In terms of media, eBirders added over 82,000 photos and almost 2,200 audio recordings to the database. While the White-throated Kingfisher was the most photographed bird of the year (with 640+ photos uploaded), the lesser seen but more frequently heard Common Hawk-cuckoo was the bird whose call was most uploaded (with 50+ audio recordings).
Using the data uploaded by birders from across India over the years, it has become possible to track the Pied Cuckoo's amazing migration in India and see how it correlates with the annual monsoon showers through a wonderful visualisation by MD Madhusudhan (see video below).
As another demonstration of how observations of eBirders can help understand interesting patterns, it has become clear that, as suspected, the southern states of India indeed witnessed an irruption of Common Cuckoos in the autumn passage of 2016.
Data on Indian birds from eBird were used in several publications in the scientific journals Indian BIRDS and Biological Conservation.
As for local and regional projects, as well as various birding events and training programmes, 2017 again saw much activity. Kerala birders continued their fantastic work in document their birds through the Kerala Bird Atlas. The year 2017 saw an increase in participation across all national and regional events – the Great Backyard Bird Count, Campus Bird Count, Endemic Bird Day, Onam Bird Count, Pongal Bird Count as well as specific surveys such as the Kanha Bird Survey. Bird Count India also initiated a project to increase information on bird distribution in central India.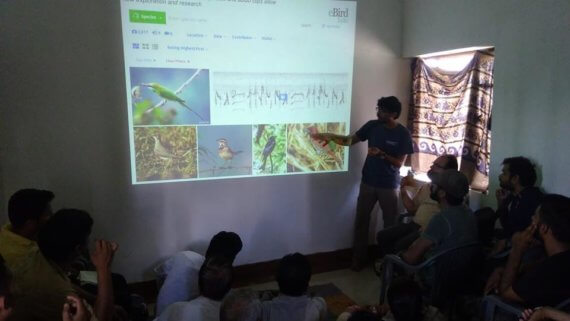 As in earlier years, we conducted a number of bird monitoring workshops with the help of our regional partners in places as varied as Indore, Bikaner, Raipur, Jabalpur, Bhopal, Patna, Visakhapatnam, and Porbandar. Birders took initiatives to further the cause of bird documentation through events such as the Delhi eBird meet-up. Several birders were featured on the Bird Count India website through our series of birder profiles.
All this apart from the regular monthly and yearlong challenges, the patch-birding challenge, and the last birder standing challenge which are our attempts at encouraging birders to be out and looking at birds any time, any place!
Here's looking forward to more wonderful birding activity and documentation in 2018!
Heartfelt thanks to all birders who have helped work towards our collective goals, and of course to our many partner groups and organizations across the country.
---
Header image: Indian Peafowl by Etienne Artigau/Macaulay Library at the Cornell Lab