Porbandar, on the west coast of Gujarat, is home to a rich birdlife and also has a young and keen set of birders. On 17 December 2017, the Mokarsagar Wetland Conservation Committee, along with Bird Count India, successfully organised and conducted a workshop on bird documentation and using eBird as a tool to enable understanding and monitoring of species. A total of 25 birders, including some who had travelled from Junagadh and Ahmedabad, attended the workshop.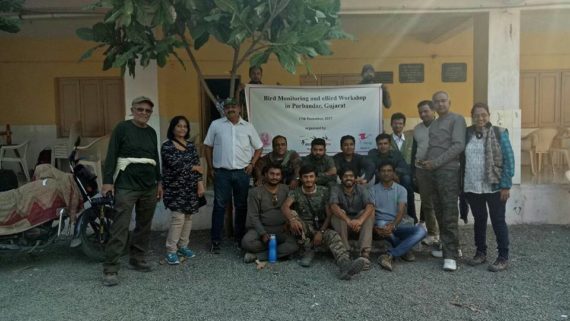 The venue of the workshop was a quiet temple complex inside the Mokarsagar Wetland Complex – which is an IBA site. The birders, having birded in the morning and treated to the sights of 1000s of Demoiselle Cranes, ducks, gulls as well as a multitude of raptors and other species, introduced themselves to those present at the venue. As if to inaugurate the proceedings, over 65 pelicans flew over our heads at this point. Dhaval Vargiya, one of the co-founders of the committee, spoke about the purpose of the workshop and the steps birders can take to increase our collective understanding of our country's birds.
Ramit Singal from Bird Count India spoke about the benefits of bird documentation and monitoring with examples and case studies of projects being conducted elsewhere in the country, as well as how tools such as eBird have greatly enhanced our knowledge of birds – especially their distribution, seasonality and abundances. A walkthrough to using eBird's "Explore Data" tools was presented and the interactive session gave the participants to speak about their experiences and observations of birds in their area.
The gathering broke for lunch – a delectable affair comprising of freshly prepared local delights that had everyone seated on the ground and smacking their lips! Getting back to the workshop, it proceeded with tutorials on how to submit lists, explanation of the review and filter process, and a discussion of eBird best practices. A tutorial on the eBird Mobile App was presented followed by a quick glance at possible developments such as Merlin for India.
The participants went for another birdwalk in the evening – and were treated to harriers coming to roosts, large numbers of waders and ducks, over 4000 cranes and lots of pelicans. We would like to thank Dhaval Vargiya, Mr Bhaskar Thankey and other members of the Mokarsagar Wetland Conservation Committee for all their support and help in organising the workshop.