In the last ten years, the eBird community in India has grown tremendously. One of the landmark birding events in the country, the Great Backyard Bird Count (GBBC) has seen participation grow from just 200 birders in 2013 to 2954 birders in 2021. In late 2020, we crossed the milestone of 1 million complete checklists in India! 
Your observations in eBird helped in creating the State of India's Birds Report – India's first national status assessment of its birds. 
In November 2015, eBird partnered with the Macaulay Library allowing us to upload photos and sound recordings to enhance our eBird checklists. We have now crossed 1 million photographs and over 50,000 bird sounds in eBird India, a remarkable increase from 500,000 photographs and 18,000 sound recordings in 2019.  An incredible achievement by India's eBirders!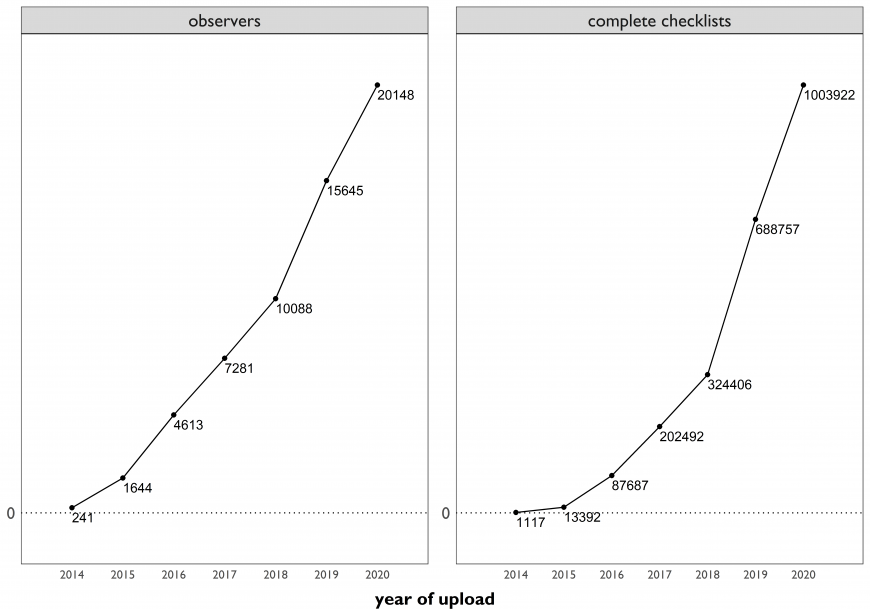 Your photos (and checklists) have helped build novel birding tools such as Merlin Bird ID, BirdNet, and Birds of the World. It has helped inform web tools that allow the visualization of knowledge such as Illustrated Checklists and Species Pages. You retain ownership of the media that you upload. Do note that the Cornell Lab can use this media to further research, education, and science or sublicense the content to a third party for non-commercial use including promotion and research. See the terms and conditions here.
Scientists and birders can now investigate morphs, subspecies, and plumage diversity in relation to age and geographical variation thanks to such a large image repository.
An example of plumage variation in Tawny-bellied Babblers in Madhya Pradesh and Karnataka
Since the launch of eBird's manage media feature it became easier to add media to the checklists. All you have to do is open your checklists and drag-and-drop your photos and sounds directly into your eBird checklists!
While hundreds of photographs get added to eBird every week, we also encourage eBirders to upload sound recordings. This article can be useful to understand some of the best practices for uploading audio to your eBird list. The below video shows how to prepare and record sound recordings on a smartphone. 
If you have old bird images or sounds that you wish to upload, then this article might come in handy. Do you have more ideas about how this media repository can be used to find out new things about India's birds? Drop a note in the comments.
---
Header image: Brown-headed Gull Chroicocephalus brunnicephalus by Nitin Chandra/ Macaulay Libary