From 50,000 photographs and 2000 sound recordings in 2016, we today have crossed an astonishing number of 5,00,000 photographs and 18, 000 bird sounds in eBird India. Thanks to the efforts of eBirders like you!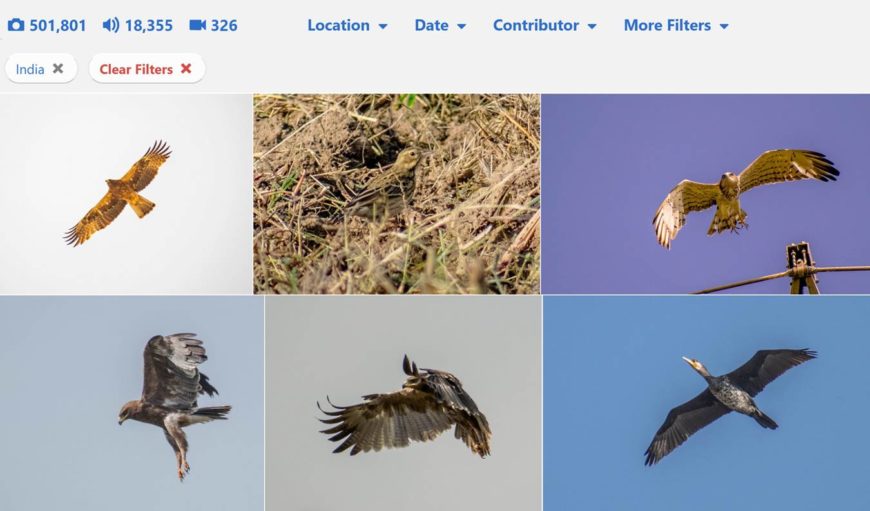 Here are some of the benefits of uploading media to your eBird lists:
Checklists with media hold memories of the birding trips you made either solo or with your friends. Hence, every photo and sound that you add to your eBird list is a small part of your life!
Your media not only enhances your lists but also becomes part of Macaulay Library, a global database of avian media.
It becomes a part of an extremely valuable scientific research collection that all of us can use in many ways to further ornithology and conservation.
The media uploaded by you also helps in the 'Illustrated Checklist', a feature that works as a digital guide to birds for any hotspot or a region. Here's an example. They also help in contributing to the species page
Photos and sounds add to the species page and you can search species by visiting the 'Explore Species' page.
The copyright of all the media uploaded by you remains yours. However, the Cornell Lab may use this media to further its mission – for research, education, and science or sublicense the content to a third party for non-commercial use including promotion and research. Please see the terms and conditions here.
The photographs uploaded by you also help train the Merlin app that helps in identifying birds using artificial intelligence.
With the help of such an extensive image repository, it is now possible for scientists and birders to investigate morphs, subspecies and plumage variability in relation to age and geographical variation.
The Orange-headed Thrush (Orange-headed) (Geokichla citrina [citrina Group]) found mainly in the Himalayas and north-east India
The Orange-headed Thrush (White-throated) (Geokichla citrina cyanota) found mainly in peninsular India
We hope you are aware of the new rich-media launch,  which makes it simple to add media to your checklists. All you have to do is open your checklists and drag-and-drop your photos and sounds directly into your eBird checklists!
While hundreds of photographs get added to eBird every week, we also encourage eBirders to upload sound recordings. This article can be useful to understand some of the best practices for uploading audio to your eBird list.
See here if you wish to upload photographs/ videos from a third party site.
If you have old bird images or sounds that you wish to add to eBird then this article might come handy.
Do you have more ideas about how photos on eBird can be used to find out new things about Indian birds? Do drop a note in the comments.
---
Banner image:  Red-headed Bullfinch Pyrrhula erythrocephala by Vijay Kumar/Macaulay Library from this checklist.