By Ramit Singal
Most waders are here, and you may have already begun seeing and identifying the shorebirds listed in the previous article in the series. If you've had the chance to see these birds, you may have noticed how much bigger the Redshanks and Greenshanks are when compared to the smaller sandpipers. Some of you may have even observed some shorebirds which look like they could be sandpipers – but are even smaller, almost like sparrows!
This article focusses on the two species of a group of very small shorebirds known as Stints (Calidris sp) – the Little Stint Calidris minuta and the Temminck's Stint Calidris temminckii. These species are found all across India, inland as well as along the coast. Additionally, we'll also cover Sanderlings and introduce a few other, rarer possibilities to look out for.
---
Stints are our smallest shorebirds. They are usually seen on mudflats – though some may prefer more open mudflats while others may take to more vegetated ones. They are quite gregarious, although it is not unusual to see them foraging alone. But their social nature is such that they often tend to feed and roost alongside other waders (even the bigger sandpipers and plovers).
Step-by-step guide to identifying stints
Step 1: Is it a Stint?
Identify a wader as a stint: Stints are surprisingly small and dwarfed by pretty much any other wader one is likely to see around them. In similar habitat, they appear as slight as wagtails and smaller than sand plovers! They are active, short-legged, and relatively short-beaked (though the beak has a slightly downward drooping quality to it).
Step 2: Which Stint is it?
We have identified a wader as a stint. Great! Now, no matter where in India*, first assume that the wader is either a Temminck's Stint or a Little Stint**. If it is possible, also check for the presence of a hind-toe (the lack of a hind-toe is a critical feature of the Sanderling**).
*In the A&N Islands, Long-toed and Red-necked Stints are as likely. See below.
**Along the coast, Sanderlings, although distinctive and extremely pale, can be mistaken for Little Stints. See below.

Step 3: Little Stint or Temminck's Stint?
Note the colour of the legs. Black legs belong to Little Stints and yellow legs belong to Temmick's Stints. However, be wary that Temmick's Stints' legs can appear dark too, especially since they often get muddy in their preferred choice of habitat!
Legs colour didn't help? No worries! Check the head and body. Is there a supercilium that seems to extend well beyond the eye? That's a good sign of a Little Stint. Little Stints also have a more "scalloped" and "patterned" plumage (especially on the wing coverts) compared to the relatively solid grey colours of a Temminck's Stint. The white throat and breast of a Little Stint also distinguish it from the pale grey throat and darker grey breast of a Temminck's.
Temminck's Stint, by itself, can occasionally be easy to tell from afar as it can look like a miniature version of the Common Sandpiper (minus the white shaft on the shoulders).
Below is a collage showing the features that may help separate one species from the other:

Note: Stints' plumages are variable, some are more marked than others (depending on the time of the year) and so, not all of the features mentioned above may hold up for each individual.
Step 4: In flight
Accidentally flushed them while trying to get a closer look at the legs?
In flight, waders can still be easy to identify as stints – but species level identification requires some attention to detail. The small size, fast speed and swift turning abilities of stints can make it difficult to observe them well in flight.
Key things to note are the thickness of the wing stripes (thinner, shorter in Temminck's), colour of the outertail feathers (white in Temminck's) and if possible, the colour of the breast (grey breast, as above, on Temminck's) or leg colour (pale in Temminck's). It is recommended that one gets enough practice with these birds in order to understand these characteristics in the field.

Step 5: Call
The call of the Little Stint is different from that of the Temminck's Stint. The single noted "cheeps" (given in a series at times) of the Little Stint, with practice, can be told apart from the "trills" of the Temminck's Stint.
Listen to –
Little Stint: Xeno-canto, Macaulay Library
Temminck's Stint: Xeno-canto, Macaulay Library
---
Sanderling
The Sanderling Calidris alba is another calidris species found commonly along the coast of India. It is the palest of all calidris species, larger than Little and Temminck's Stints; and if the very white appearance is not apparent, one can use the black shoulder mark and the very dark legs (lacking a hind-toe) as a pointer to identify this species.
Behaviourally, the Sanderling is often seen on beaches "chasing" a wave as it retreats, quickly pecking along the sand/water, and then running to drier ground as the next wave approaches. (Watch video below or watch this one)
---
Red-necked Stint and Long-toed Stint
The Red-necked Stint Calidris ruficollis and the Long-toed Stint Calidris subminuta are rare visitors to India.
The Red-necked Stint has been reported occasionally from the Andaman and Nicobar Islands. It is almost indistinguishable from the Little Stint in its non-breeding plumage but has longer wings and shorter neck – giving it a more "elongated" appearance.
The Long-toed Stint has been reported more often from parts of the eastern coast, Kerala on the western coast, as well as the Andaman and Nicobar Islands. This may be partly due to the ease of identification of this species (vs the Red-necked Stint). The Long-toed Stint is rather long-necked, long-legged, with an obvious blotchy pattern to the upperparts. The yellow neck and overall "lanky" appearance make the bird stand out.
Can you see the mentioned features in the images below?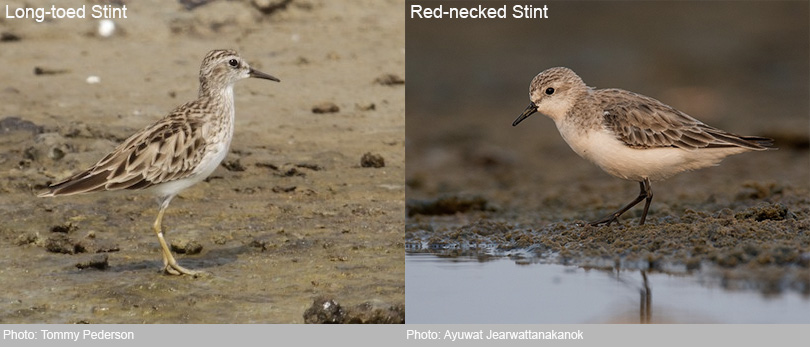 As can be seen above, the Long-toed Stint is fairly different from the calidris species mentioned in the article. The Red-necked Stint, however, is remarkably similar to the Little Stint.
In almost any part of India (except the Andaman and Nicobar Islands), it would be recommended that one tries to eliminate the chances of the bird being a Little Stint before assuming anything else. In case of any doubt, the Red-necked/Little Stint slash may be used.
---
Peep sp. (Calidris sp.)
Very often, one may only be able to confirm that the bird is a stint, and no positive identification may be possible beyond that. In such cases, eBird allows the observer to use Peep sp. (Calidris sp.) and it is strongly suggested that one uses this option in case of any doubt, and add relevant documentation/notes if available.
If one is unable to identify a wader as a stint, then the recommended option to use would be shorebird sp.
---
This article is not exhaustive and certainly not comprehensive – but it should get you past most identification hurdles regarding stints in India. If there is something that has been missed, please feel free to add a comment below!
Images used in this post:
Little Stint: Prashanth Poojary, Munish Kaushik
Temminck's Stint: Phani Krishna Ravi/Macaulay Library at the Cornell Lab, Viral Patel and Pankaj Maheria
Sanderling: Dr Jishnu R/Macaulay Library at the Cornell Lab
Long-toed Stint: Tommy Pederson/Macaulay Library at the Cornell Lab
Red-necked Stint: Ayuwat Jearwattanakanok/Macaulay Library at the Cornell Lab
Header image: Aravind Amirtharaj/Macaulay Library at the Cornell Lab (Note: 3 species of stints on this checklist)
More images:
Oriental Bird Images: Little Stint, Temminck's Stint, Sanderling, Red-necked Stint, Long-toed Stint
Macaulay Library: Little Stint, Temminck's Stint, Sanderling, Red-necked Stint, Long-toed Stint