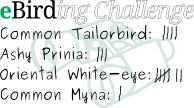 July's  eBirding Challenge was straightfoward: accumulate at least ten hours worth of complete lists

during the course of the month. In contrast to the previous month's challenge, which only three people managed to meet, July's target proved rather easy — with 36 birders meeting or exceeding it!
In all, 154 birders uploaded 1,313 lists of all types in July, together accounting for 20,977 records.
The 36 eBirders of the month for July are:
Abhijith Surendran
Able Lawrence
Anish Aravind
Anshuman Sarkar
Arun  Lal
Arya Vinod
Bala S.
Bela Arora
Bhagyashree Ingle
Castro Karthi
Chithrabhanu Pakaravoor
Dr George P J
Eveny Luis
Ganeshwar S V
Hanuman Gawas
Hari Kumar
Kiran More
Kulbhushansingh Suryawanshi
Mandar  Bhagat
Manju Sinha
Milan Sojitra
Panchapakesan Jeganathan
Prakash G
Premchand Reghuvaran
Pronoy Baidya
Raja Simma Pandiyan
Rohit Chakravarty
Sahana M
Sanjay Thakur
Shivaprakash Adavanne
Skanda SN
Sreekar Rachakonda
Sumesh B
Thomas Job
Vijayalakshmi Rao
Vivek Puliyeri
Many congratulations to all of them!
One of these 36 was chosen using a computer-generated random number to receive a small gift, and that person is
Vivek Puliyeri
who receives a copy of Mind of the Raven: Investigations and Adventures with Wolf-Birds by Bern Heinrich. (You can read a review here.)
We would like to make special mention of The Nature Trust, an organization based in Chennai. The monthly challenges are open to individuals who go out birding, and not to those whose eBird accounts aggregate lists from multiple people. For this reason, The Nature Trust has not been appearing on the list of eBirders of the Month, because its members put all their separate lists into this one account. But The Nature Trust is amazingly active, and in July its members contributed a total of 50.5 person-hours of birding to eBird. We salute their efforts!
Here is the full list of contributors from July 2014:
Abhijith surendran, Abhimanyu Lele, abhirami-niranjana C, Able Lawrence,  Aidan & Savio Fonseca, Aishwarya Muralidhar, Aishwarya Varadharajan, Ajit A, Alvan Buckley, Amit Bandekar, Amruta Rane, Anish Aravind, ANJANA VIJAYAN, anshuman sarkar, arun  lal, Arya Vinod, Atreyee Mitra, Badursha Noushad, Bala S., Bela Arora, Bhagyashree Ingle, Bhakti Salgaonkar, Bhalchandra Pujari, Caitlyn King, Castro Karthi, Chandra Sekhar Bandi, chetan harikishandas joshi, chithrabhanu pakaravoor, Chris Bowden, Clara  Correia, CLAREENA JOSE, Conrad Pinto, Crist Inman, Deepak Balasubramanian, Devi Ambika.S, dhanesh  a, dilip kg, Dilip Polpakkara, Dinesh K.S., Dr George P J, Dr. Utkarsh Betodkar, Emanuel george , Eveny Luis, Ganeshwar  S V, Garima Bhatia, G Parameswaran, Grace Saji, Graham B Langley, Hanuman Gawas, hari kumar, HARSHADA GAUNS, harsha nr, Instituteofbirdstudies Rishivalley, James Williams, Jayant  Wadatkar, jayaprakash m t, Jinesh P S, jismi m o, J.Thomas Cheruvallil, Kanchan GATWARD, Kaustubh Rau, kiran more, Kranti Singh, Krittika  DSilva, Kulbhushansingh Suryawanshi, Lavanya Gopu, Madhura Niphadkar, Mandar  Bhagat, Manish  Kumar, Manju Sinha, MEGHANA ROSE JOSEPH, Milan Sojitra, Mirzana Shiyas, Mohith Shenoy, Monica Kaushik, Mrinmayee Thakur, MUHAMMED NEZEEM V N, Nandana prasanth, Nandkishor Dudhe, Naseem Abdurahman V, Naveen  MR, Neha Paranjape, Ninad Thakoor, nithin mohan, Panchapakesan Jeganathan, Pankaj Lad, Patrick David, Pavan Reddy, peeyush sekhsaria, Prakash G, prashant bhagat, Prashanth  Badarinath, Prashanth NS, Praveen es, praveen shenoy, Premchand Reghuvaran, Pronoy Baidya, Raghurama Hegde, Rahul Matmari, Raja Simma Pandiyan, Rajgopal Patil, Rajiv D'Silva, Raju Kasambe, RAJU MENON, Raman Kumar, RAVINDRA SATHAYE, renju tr, RESHMA  BHAT, Richa Kolachena, Robin Duska, Rohit Chakravarty, Rohit Naniwadekar, RSS Moorthy, sahana m, Saneesh  C S, Sanjay Thakur, santhosh kumar, sarayu ramakrishnan, Savita Kulkarni, Shashank Birla, SHESHGIRI BAGDE, Shivaprakash Adavanne, Shivashankar Manjunatha, Shiv kumar, Shwetha Bharathi, Sivakumar AK, Siva T, skanda sn, Soni Nambiar, Sreekar Rachakonda, Srikanth Bhat, Srinivasa Shenoy, Sudhir Garg, sugadev sugathan, Suhel Quader, Sumesh  b, Sumin George, Taksh Sangwan, Tallulah D'Silva, tanuja dasharath haunsbhavi, Tanya Seshadri, TheNatureTrust (GroupAccount), Thomas Job, Thorkild Michaelsen, TKS Thathachari, vaisakh george, Vignesh Menon, Vijayalakshmi Rao, Viola Rodrigues, vishnudas ck, Vivek Puliyeri, Yagnesh Desai, Yogesh Malkhare, Yogesh Parashar.