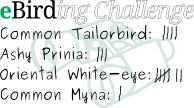 The Challenge for June was quite steep: upload at least five lists from each of at least four distinct locations. Were you able to meet the target? While we wait until 5 July to compile the results, here is the Challenge for July 2014.
It's simple: spend at least 10 hours eBirding through the month. As earlier, each list should be an effort-based, complete list

.
Ten hours seems like a long time, but it works out to an average of only 20 min per day. Grab any opportunity to make a bird list: while waiting for a bus or train; while drinking tea on your balcony; while doing your vegetable shopping; and of course on any longer trips you make that are dedicated to birding. Don't forget possible night-time lists for nocturnal birds! And, of course, please record any signs of breeding under Add Details–Breeding Code; and embed photo, audio and video files to make your lists richer and more memorable.
While out and about, please remember to faithfully record the time you spend looking for birds: the correct durations are important not only for the integrity of the Challenge, but also for the scientific utility of the information you upload.
One further requirement of this Challenge: please upload a minimum of 10 lists. This is easy to do. If you are on a longer birding trip, make sure you submit separate lists for each 15-min segment of your time birding. Why do we encourage this? Because multiple short-duration complete lists are more informative than a single long-duration list — they tell you how consistently a species is sighted over time.
Please upload all your July lists by 5 August so that we can announce the results on 6 August. All birders who reach this target will be named and recognized on this website. One of these names will be chosen at random to receive a small birding-related gift in appreciation.
Here are the general rules of our monthly challenges. You can keep track of fresh lists coming in from India at this page.
Important. if you are new to eBird, please read this description first, and do take a look at the Beginner's Guide.