[Note: this post has been updated to correct an error in counting lists and therefore assessing those who met the target. There are thus three birders who have reached the target, and not two as incorrectly listed earlier. Our apologies for this lapse.]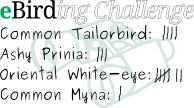 The third in our series of monthly eBirding Challenges for birders in India was a fiendishly tough one. We asked birders to try and upload at least 5 complete lists

from each of 4 distinct locations. This proved to be a difficult task, and only three birders managed to meet the target!
In all, 162 birders uploaded 1,023 lists of all types in June, together accounting for 22,711 records.
The 3 eBirders of the month for June are:
Bela Arora
Ganeshwar SV
Sudhakaran KK
Many congratulations to these three!
One of the three was chosen using a computer-generated random number to receive a small gift, and that person is
Sudhakaran KK
who receives a copy of Bird Sense: What it's Like to be a Bird by Tim Birkhead. (You can read a review here, and there is a website devoted to the book too.)
We hope the July eBirding Challenge target will be easier to meet, and we look forward to congratulating many of you for exceeding it!
Here is the full list of contributors from June 2014:
abhijith a.p.c, Abhijith surendran, abhirami-niranjana C, Able Lawrence, adit soans, Aidan & Savio Fonseca, Aishwarya Varadharajan, Akhil Kulkarni, Amal Dev.A.V, Amil Prasad, Amirtavarshini Devarajan, Amrita Singh, Anagha Bagade, Andrea Fernandes, Anish Aravind, Ankam Vishak Keerthi, Anoop King, anshuman sarkar, Aravind AM, arshad ka, arun lal, Arun Patil, Arun Simha, Arya Vinod, Ashish Gupta, Ashritha Anoop, Bela Arora, Bhagyashree Ingle, Bhakti Salgaonkar, Bhalchandra Pujari, BHAVIK PARIKH, Chandra Sekhar Bandi, chetan harikishandas joshi, chithrabhanu pakaravoor, Chris Bowden, Conrad Pinto, david stanton, Deepak Balasubramanian, Deepak Chari, Deepa Mohan, dilip kg, Dinesh K.S., Dr George P J, Dr. Utkarsh Betodkar, Eveny Luis, Ganeshwar S V, Garima Bhatia, Gary Leavens, Gopi Sundar, G Parameswaran, Graham B Langley, HARI MAVELIKARA, HARSHADA GAUNS, harsha nr, Humayun Taher, Janet Leavens, jayaprakash m t, Jitendra Talavia, J.Thomas Cheruvallil, Kavi Nanda, Kiran bagade, Krishna Girish, Kulbhushansingh Suryawanshi, Maanav Jalan, madhushri mudke, Mahesh Ghanekar, Mandar Bhagat, Manish Kumar, Manjunath R S, Manju Sinha, Mathi Thumilan, Milan Sojitra, Mohandas G, Mohith Shenoy, M V BHAKTHA, Nandkishor Dudhe, Naveen MR, Neha Waikar, Nihar Madkaiker, Ninad Thakoor, nithin mohan, omkar naik, Panchapakesan Jeganathan, Pankaj Lad, Pavan Reddy, Prabhakar Manjunath, Pradnya Karbhari, Prajval Shastri, Prakash G, prashant Dhuri, Prashanth NS, Praveen Manivannan, Premchand Reghuvaran, Pronoy Baidya, Raghurama Hegde, Rahul Matmari, Raja Simma Pandiyan, Rajesh Kalra, rajesh nayak, Rajiv D'Silva, Raju Kasambe, RAJU MENON, Rakesh arti, Raman Kumar, Ramit Singal, raphy kallettumkara, Raviprakash KB, RESHMA BHAT, Ritesh D, Robin Duska, Rohit Chakravarty, Sagar Adhurya, sahana m, Samar Gupta, Samyukth Sridharan, sandeep srivats, Saneesh C S, Sanjay Thakur, sanket warudkar, sarayu ramakrishnan, Savita Kulkarni, Selvaganesh K, Sharath Adavanne, Shariq Khan, SHASHIKIRAN PARCHAKE, SHESHGIRI BAGDE, Shivaprakash Adavanne, Shivashankar Manjunatha, Shiv kumar, Shwetha Bharathi, Siddhesh Surve, Sivakumar AK, skanda sn, Soni Nambiar, Sonu Arora, Srikanth Bhat, Srinivasa Shenoy, sudhakaran kk, Sudhanshu Kothe, sugadev sugathan, Suhel Quader, Sumesh babu, Sumin George, syed muzamil, Tallulah D'Silva, Tanya Seshadri, Tarique Sani, Thaarini Kumar, TheNatureTrust (GroupAccount), Thomas Job, Thorkild Michaelsen, TKS Thathachari, vedang saunt, vedant kumbhar, Vignesh Menon, Vijayalakshmi Rao, Viola Rodrigues, Vishnupriyan Kartha, Vivek Puliyeri, Yagnesh Desai, Yogesh Malkhare, Yogesh Parashar.
Please note that 'group' accounts are excluded from the eBirding Challenges. Group accounts refer to those that receive contributions from multiple people, birding separately.