Vrinda Lath is a young birder from Manipal, a university town in coastal Karnataka. When not studying to be a doctor, she is usually out looking for birds.
---
1. Please tell us a bit about yourself. What do you do and where do you live?
I am a 21 year old, half Himachali and half Tamilian, medical student, pursuing an MBBS degree in KMC, Manipal (Karnataka). I was born in Hyderabad and studied there for a few years. My hometown is Una, Himachal Pradesh.
I like learning new languages, herping and birding.
2. When and how did you get interested in birding?
I can't recall when or how I started noticing birds but I could identify few garden birds even as a child. After my mother bought "A Pictorial Guide to the Birds of the Indian Subcontinent" by Salim Ali and S Dillon Ripley, I began looking at the birds more closely and tried to identify them.
But the real birding began after I came to Manipal where I was gifted "A Birder's Handbook to Manipal". This led me to search for hornbills, which in turn led me to the Manipal Birders' Club.
3. Do you have a favourite bird or birds? Why is it/are they your favourite?
I can't say that I have a favourite but I have a liking for raptors. Brahminy Kites are quite delightful. I often find myself obsessing over Warblers which are as fascinating as they are frustrating.
4. Where do you enjoy birding the most?
Although I love birding in new locations, the locations that mean the most to me are Manipal and my hometown. I have spent most of my time birding in and around Manipal and this is where l started birding. The familiarity and diversity of habitat is what makes Manipal so special. My hometown, on the other hand, is like a clean slate. I never know what to expect and that makes birding more challenging.
Habitat wise, I have no favourite. I find forests just as exciting as wetlands or the coast. Every habitat is amazing in its own way.
5. Do you have a birding partner or a group you enjoy birding with? How is birding alone different from birding with others?
My first birding partner was probably my mother with whom I remember watching a White-capped Redstart that had decided to spend a winter near the house though I often spent time watching birds alone from the terrace. Now some of my closest friends are birders. I often bird with them as well as with the Manipal Birders' Club. With them I discovered the joy of birding in a group.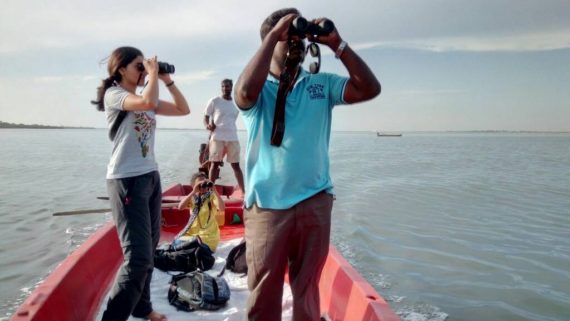 While birding in a group is fun and informative, birding solo is, as has often been described, a lot like meditation. Though there are fewer pairs of eyes and ears, a lot of learning happens while birding alone. I tend to spend more time observing each bird, watching movements and behaviour.
6. Anything on the birding bucket list? (Doesn't have to be a bird; it could be a place, witnessing a phenomena, etc)
There are probably enough items on my bucket list to fill a book. The first and probably the least possible is to complete a sea-watch from the mainland with at least one pelagic bird on the list.
7. Has eBird changed how you bird? How?
Initially, I would only try to identify the birds that I saw and occasionally unsuccessfully attempt to record or list them till I was introduced to eBird. I feel that this has made me a lot more observant. I began paying closer attention even to common birds. I believe that on eBird, my checklists mean a lot more. eBird can be a powerful tool to study birds. It has taught me a lot about their behaviour, movements and how the changing habitat affects them. Any patterns or changes thereof  are more than perceptions. They are now visible and quantifiable.
8. Have you set any birding goals for the coming months?
While academics demand most of my time and attention I still try to dedicate as much time as possible to birding. I am yet to achieve the goals that I had set last year which are:
Learn to identify warblers and Pipits
Try to see as many birds and habitats as possible in Karnataka
Record the birds found around my home
9. What is your message for fellow birders?
Keep birding mode on always, you'd be surprised to find what is right under your nose!
---
Header image: Brahminy Kites by Shanmugam Saravanan/Macaulay Library at the Cornell Lab