Manjeet Kaur Bal is an enthusiastic birder from the state of Chhattisgarh. Read this interview to find out more about her journey towards becoming one of the most active eBirders from Chhattisgarh today!
---
1. Please tell us a bit about yourself. What do you do and where do you live?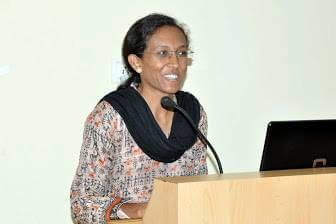 I am 41 years old; born, brought up and educated in Chhattisgarh. I graduated in science with biology, completed my MBA from Bilaspur and the Faculty of Management, Bhilai. I reside in Naya Raipur, the capital of the state.
I am a trainer, educator and counsellor by profession and have worked with the Rural Development Department of Chhattisgarh, Tata Institute of Social Science as a consultant and various engineering colleges of Chhattisgarh. Presently, I work as the state team leader of Chhattisgarh in Samerth Trust.
Reading books, taking long journeys, rescuing snakes from the houses and offices of nearby area on call, and birding are my hobbies.
2. When and how did you get interested in birding?
We always watched and noticed birds at home which, along with nearby areas, provided a good environment for birdlife. My younger brother Dr Harshjeet Singh Bal is a born-naturalist and had always kept pets since he was a kid. So caring for birds and few other animals has been a constant feature in my life and our household. However, although I used to care about birds, I never ventured into identifying them.
I landed in Bastar when my father was posted there and because of my work. Incidentally, I met with Mrs. Sanjita Gupta, DFO Kanger Valley. I was swayed by her love for butterflies and birds, and started birding with her in 2003. After leaving Bastar, it so happened that my work left little time to do much else and I was not able to do any birding till 2016. But I always kept abreast with my brother's work as a naturalist and a birder.
In spite of being interested, I found it difficult to bird as I was without a camera or binoculars. I was also going through a rough patch in my life and did not want to burden my dear father about the expenses for a camera, etc.
The first turning point in my birding life came when my brother gifted me a camera in October 2016. That acted as a catalyst and my birding took off in a steep upward trajectory. My mornings and evenings, and indeed my life, were never the same again. One thing led to another and I bought the books by Grimett and Inskipp, and by Bikram Grewal, as well as a pair of binoculars.
Birding took away a lot of stress from my life and brought a sense of calmness in me. It was like meditation for me. After few months I happened to stumble upon the Facebook birding page of Chhattisgarh. I started posting my images there and pestering members for identifying the birds I was not sure about. I got the news that to improve my birding I needed to meet Mr. Mohit Sahu.
This was the second turning point in my life as a birder. With Mohit Sahu, I started looking at the intricacies of birding. He made me look at birding as more than just identifying birds. It moved birding to a place beyond a hobby for me. It became a mission, a grand objective of my life. He inspired and encouraged the naturalist in me. He introduced me to eBird and helped me understand the importance of documenting my birding and how it can help the conservation of birds worldwide.
In the initial phase of my interest in birding through Facebook, I came upon photographs of birds by Mr Pradeep Gupta. The pictures of the birds were so alive and full of stories. It helped me understand not only about the birds but also the intricacy and art of bird photography.
3. Do you have a favourite bird or birds? Why is it/are they your favourite?
It is really very difficult to select a bird or a few birds as favourite ones. However, I like pipits and larks. I like them because of their beautiful flight, the different calls they make as well as the variety of songs they sing.
4. Where do you enjoy birding the most?
The best place to bird for me is in the forest. But it is not possible to go to the forests all the time. In my daily routine I enjoy birding in the nearby areas of my residence. This covers almost 3-4 km with patches of trees, bushes and small water bodies.
5. Do you have a birding partner or a group you enjoy birding with? How is birding alone different from birding with others?
In my daily birding, my father (who is now 70+) is usually my partner and he often assists me in carrying the camera, water bottle and other instruments. My other family members particularly the children also accompany me many times. But on Sundays or holidays, I go birding with members of the birding group or people coming as learners out of curiosity.
Birding alone is an experience that allows me to be in harmony with the nature, giving fulfilment and peace. In a way it can be equated to a kind of live meditation. I have felt during such times that one forgets of her own existence amidst nature.
In a group, the situation is slightly different. In the groups birding and sharing of experiences go together hand in hand and one is aware all the time not only about the self but also about the others.
At the end of the group birding session, we gather together and enjoy the refreshments prepared by my beloved mother who is always ready to celebrate such gatherings with all joy and spirit. I can say confidently that now more than 20 friends have started birding after my group events.
6. Anything on the birding bucket list? (Doesn't have to be a bird; it could be a place, witnessing a phenomena, etc)
I want to learn more about the types of birds, their habitats and characteristics that make an area suitable for birds.
When I started visiting nearby jungles for birding, I saw the villagers collecting fire wood and sometimes cutting the trees. But when I visited regularly they became cautious and at times they would even shout – "Chidiya wali madam aa rahi hai. Bhago.." (The birding madam is coming. Run away!)
Birding changes my perception, decreases my arrogance, increases my patience and makes me free from stress. It is a source of energy for the whole day.
7. Has eBird changed how you bird? How?
When I started birding initially I was mostly concerned with the identification of various kinds of birds. It was just a laymen's watching and taking their photographs.
But I was initiated for eBirding by my younger brother Dr Harshjeet Singh Bal and Mr. Mohit Sahu, who introduced me to an entirely different world of birding. eBirding has shown me the vastness of the birding world and I have learnt many aspects of birding through it. eBirding has put before me a kind of challenge where I go on improving my birding techniques, understanding the multifaceted approaches and analysis of birding activities.
When I started participating on eBird, I could see the thousands of different kinds of birds and thousands of checklists uploaded. It inspired me to compete with my younger brother who was a birder within the top 100 for 2017. I thought of going daily for birding and updating my list to come within 100 and catch up with my brother. This made me visit the neighbouring areas and nearby forests daily. This has resulted in an in-depth involvement in the lives of the birds I watch.
We, my brother and I, see each other's checklists and species list to compare and compete. This also helps increasing our birding effort as well as our knowledge of the world of birds.
8. Have you set any birding/eBirding goals for the coming months?
The goals I have set for birding/eBirding are to focus on:
Make observations of the behaviour of larks and pipits.
Learning to identify the migratory birds which are due to come in the coming months.
Searching for vultures, kites and eagles.
To complete all challenges of eBird.
To come in top 100 eBird lists.
9. What is your message for fellow eBirders?
Birding is not limited to watching various kinds of birds and their photography. It is much more than that. If you see birds flying, taking off from the ground or branches of trees and landing, catching their prey, whistling and producing various kinds of rhythmic sounds, nesting, caring of chicks, their habitat, etc – you find an entirely different world which we miss out on in our daily routine.
The experience of birding must be communicated to others so that others also can be initiated into this venture which not only gives you joy and happiness, but also contributes towards the conservation of nature.
---
Header image: Blyth's Pipit by Prashantha Kumar MC/Macaulay Library at the Cornell Lab