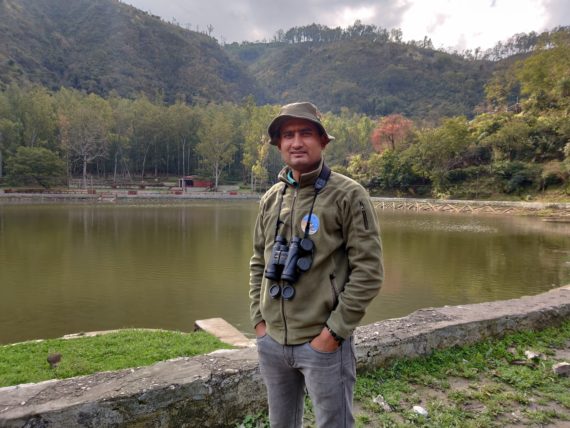 Please tell us a bit about yourself. What do you do and where do you live?
My name is Virender Sharma and I have been working with the Wildlife Wing of Himachal Pradesh Forest Department (HPFD ) since October 2007. I am currently posted as a Wildlife Guard. Being a forester, I regularly rescue various birds, mammals, and reptiles, and, of course, enjoy bird-watching as well. I presently live in Renukaji and work as the in-charge of our mini zoo.
When and how did you get interested in birding?
When I was recruited in Wildlife Wing of HPFD in late 2007, one of our senior officers gave me the opportunity to train in the latest technology for wildlife documentation and monitoring. I, along with a few others, have since been further guided by expert birders among our officers.
Do you have a favourite bird or birds? Why is it/are they your favourite?
Indian Paradise-Flycatcher is my favorite bird because it looks cute. The first time I caught sight of a male, it was like an illusion to my eyes and I actually thought that someone had tied a ribbon to the bird's back. I'm fascinated by how the tail streamers dance and glide behind the bird when it flies. Other favorites are raptors.
Where do you enjoy birding the most?
I love birding everywhere, especially Keoladeo NP Bharatpur and Pong Dam Lake Wildlife Sanctuary. Bharatpur is a favorite location of mine because it allows me to get close to birds, which at other places usually don't tolerate people approaching them. Pong dam is where I enjoy watching many bird species – both passerines as well as waterfowl. I have also ringed hundreds of birds here, which has been a special experience for me.
I do birding mainly near Renukaji Wildlife Sanctuary (where I am posted) and Col. Sher Jung National Park (Simbalbara), as well as in other places whenever I get a chance to travel.
Do you have a birding partner or a group you enjoy birding with? How is birding alone different from birding with others?
I don't have a regular birding partner – I usually bird alone and I enjoy doing so. I enjoy it because of the calm environment, and because it allows me the best chance to see the maximum number of birds.
Anything on the birding bucket list? (Doesn't have to be a bird, could be a place, witnessing a phenomenon, etc)
Little Rann of Kachchh (LRK), New Guinea (birds of paradise), southern and eastern part of India are where I would like to travel to watch birds.
Has eBird changed how you bird? How?
Of course! Initially, I was using my notebooks for observations on birds and other wildlife, and it was not possible for me to arrange these efficiently. Later, when I was introduced to eBird, I found it to be an amazing app to keep all my observations in one place that is easily accessible. It has also helped me learn about new places to visit as birding spots.
Have you set any birding goals for the coming months?
Not as such. I want to record observations for every season so that the movements and migration of birds can be understood across the year. This may be on a small scale, which I can manage on my own.
What is your message for fellow birders?
I would like my fellow birders to please keep birding and using eBird for citizen science and to pride themselves on uploading accurate, genuine data. The conservation of birds and other wildlife should always be our first priority.
Header image:  Bearded Vulture (Lammergeier) Gypaetus barbatus by Vinit Rau (see checklist)