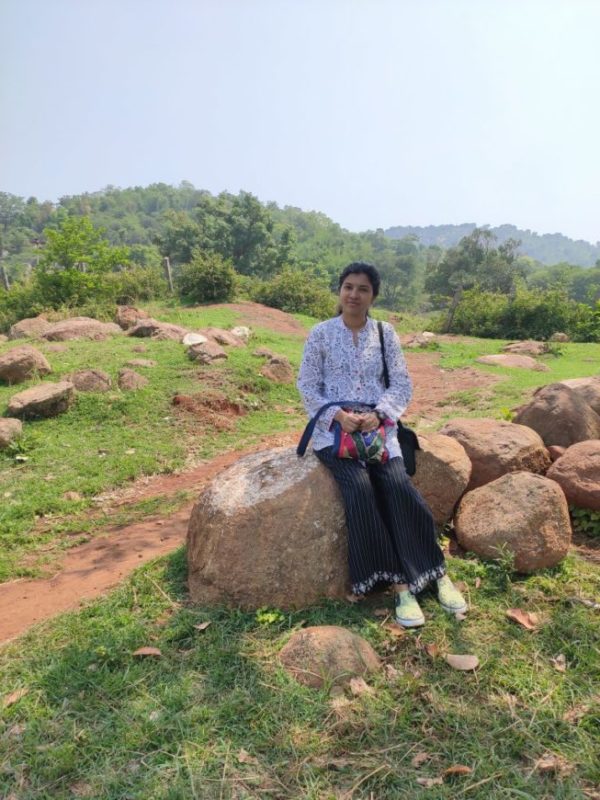 Please tell us a bit about yourself. What do you do and where do you live?
I've lived all my life in Chennai. I've always found animals fascinating, which is why I chose to study Zoology as a subject. And today, I teach Zoology at the undergraduate level. I love teaching as much as I love learning. I also enjoy reading and writing. My favourite way to unwind is to visit a green space and take in the sights and sounds of nature.
When and how did you get interested in birding?
All the common garden birds were pointed out to me by my mother when I was very little. I was also told snippets about their natural history – how tailor birds stitch leaves together to make their tiny nests, how koels lay their eggs in crows' nests and so on. We had an open fish tank in the garden when I was a baby. My mother has often told me of the opportunistic kingfisher that would help itself to the goldfish in the tank.
I took to serious birding a few years ago when my friend and colleague, Dr. Kalpana Jayaraman suggested that I should create an eBird account. This was during the Campus Bird Count in February 2017. What started then as a hobby has fast turned into a passion.
Do you have a favourite bird or birds? Why is it/are they your favourite?
I started out by having a favourite bird and then shifting to another. Kingfishers, flamingoes, bee-eaters, paradise flycatchers etc. have all been my favourite at some time or other for various reasons. But ever since I started birding seriously, I've come to realise that every bird is special, in its looks, its personality and its struggle to beat the odds and come out on top. Every bird fascinates me, be it a House Crow or a Blue-faced Malkoha.
Where do you enjoy birding the most?
I love birding in and around Chennai, as we are blessed with several hotspots in relatively close proximity to each other. Yelagiri is another favourite birding spot.
I particularly enjoy patch birding as I don't just record the birds I see but also get to become familiar with their antics, idiosyncrasies, territories and pet haunts.
I bird almost every day from my bedroom window or I bird on the college campus where I work. I can easily spot the regulars, a pair of Mynas who flit from the parapet of the house opposite mine to the tall Polyalthia sp. nearby; the Parakeets that walk the tightrope (read telephone cable) sidewise, chattering all the while; the crow couple that nest in the Gulmohar across the street and the Spotted Owlets that were evicted from their home in a Raintree by a daring Myna duo
Do you have a birding partner or a group you enjoy birding with? How is birding alone different from birding with others?
When I bird at home, I'm sometimes joined by my cat who of course has a completely different agenda. At college, I bird alone or with Dr. Kalpana Jayaraman. Members of the newly formed Shikra Club (a group of students and faculty interested in the fauna of Chennai and its surroundings) also bird with the two of us in various hotspots in and around the city. I sometimes travel to different places in Tamil Nadu with my mother and we enjoy the birdlife there.
Birding alone is a spiritual experience that makes me feel very close to my Creator. The stillness you have to maintain drastically brings down stress levels. I find it extremely therapeutic. Birding with a buddy or in a small group has its perks as well. More pairs of eyes to scour the area for birds, learning from one another and sharing the exuberance of spotting a bird with kindred souls being some of them.
 Anything on the birding bucket list?
Enough to fill ten buckets!
1. For a start, I want to upload checklists from every locality in Chennai.
2. Every year, for the past three years, around February, I've been seeing tiny birds fly overhead in flocks numbering 20 odd birds. I want to get to the bottom of this mystery.
3. Every day a solemn procession consisting of hundreds of Black Kites makes it's way overhead. I'd like to follow them and see where they go and when they return.
Has eBird changed how you bird? How?
I never used to record any of the birds I saw before I created an eBird account. Now, I'm a more disciplined birder. I make physical lists, add notes, take photographs and upload all of this data on eBird.
eBird makes summarising observations effortless. I can look at weekly, monthly or yearly reports of my birding activity at a particular location and get an idea of the frequency, abundance, total species etc. all at the touch of a button. eBird also helps me plan where I want to bird next and what I could hope to find there at a particular time of year.
Have you set any birding goals for the coming months?
I love taking up the monthly eBirding challenges on birdcount.in. Generally, I like to upload at least one checklist per day. I'm trying to push this to two, one from home and the other from my workplace. I am also keen on encouraging more of my students to take to birding, not just as a hobby but to learn to appreciate birds for what they are and for the vital role they play in our everyday lives and thereby do their bit for bird conservation.
What is your message for fellow birders?
Birds aren't merely objects to record/document, they're sensitive individuals who need their space. They add so much colour and meaning to our lives. Give them the respect they deserve and the lessons we learn from them will last us a lifetime.
Header image: Stork-billed Kingfisher Pelargopsis capensis by Saurabh Sawant (see checklist)