A chance introduction to babblers and parakeets during childhood has piqued Claudia Pinheiro's earlier interest to be a birdwatcher. Here is more about Claudia in her own words…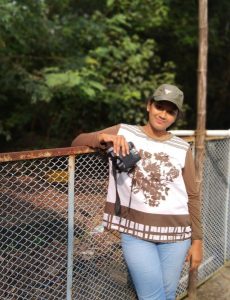 1. Please tell us a bit about yourself. What do you do and where do you live?
I'm a recent graduate in B.Sc Zoology, now pursuing my Master's degree in the same subject at Loyola college, Chennai. I live in Chennai and I love being around nature, observing and understanding varied aspects of it.
2. When and how did you get interested in birding?
I've been attracted to birds since childhood. When I was at Palam, Delhi, in my kindergarten, I remember birds like babblers and parakeets being so abundant around the place that I saw them almost everywhere. They even got inside our rooms and I remember my parents hurriedly turning off the fans to get them out of the place. My dad is Defence personnel and I had the opportunity to be in several parts of India as I grew up. Though I had experiences spotting and observing birds, I could hardly identify any of them and never had the idea of documenting.
I started birding with a lot of enthusiasm only after attending a workshop on "eBird and birdwatching" conducted in 2019 by two of my wonderful professors Dr Kalpana Jayaraman and Dr Vidhya Swaminathan during my second year of U.G at Stella Maris College, Chennai. With eBird in hand, birding felt effortless and joyous and I  started participating in all the activities organised by the department such as bird walks which gradually boosted my interest in the field.
3. Do you have a favourite bird or birds? Why is it/are they your favourite?
Never did I think of having a favourite bird until lately. During the Covid-19 Lockdown, I got a chance to rescue a Pied Cuckoo that was found in a critical state and since there were restrictions for travelling at the time, all I could do was to take care of it myself. I addressed the issue on a birders' group of Tamil Nadu and got guidance from some amazing people like Mr V. Chandrasekaran, Mr G. Murali, and Mr V. Deepak on how to take care of it. Pied Cuckoos are migrants. They are insectivorous birds specialised in feeding hairy caterpillars. Handling the bird and finding an alternative food was difficult initially. But through constant observation and efforts, I could somehow nurse the cuckoo back to health. After witnessing the bird's extraordinary behaviour, I like the Pied Cuckoos and love watching them.
4. Where do you enjoy birding the most?
A calm forested spot is where I enjoy birding the most. I also like birding in several other locations such as lakes, swamps, campuses, gardens, terraces and even while travelling.
5. Do you have a birding partner or a group you enjoy birding with? How is birding alone different from birding with others?
I enjoy birding with the members of the Shikra Club of Stella Maris College and the Western Ghats Wildlife Conservation Trust. Birding alone is a lovely experience one can have and I prefer it a lot more than going in groups. Spending a good amount of time observing birds with focus and concentration is possible only if we bird alone. However, birding in groups is also a great way to learn many new things.
6. Anything on the birding bucket list? (Doesn't have to be a bird, could be a place, witnessing a phenomenon, etc)
My birding bucket list is short but a bit onerous! It has species like the Great Indian Bustard and the Rock Eagle-Owl. I had to add the Malabar Grey Hornbill to the list after spotting around 8 – 10 of them on a single tree once in my dream.
7. Has eBird changed how you bird? How?
My journey as a birder began with eBird and the mobile app is among the top treasured ones on my phone. I browse eBird for every single piece of data I need about birds and related things. The eBird 'Explore' section consisting of Species Maps, Hotspot search, Media available on Macaulay Library and, the Merlin Bird ID App is of great help. With eBird Photo + Sound Quizzes it's pretty easy to learn the identifications of various birds and their calls in an exciting way! Watching people from across the globe submit their checklist to eBird encourages me a lot. eBird is an ideal platform for anyone interested in birds and birding.
Have you set any birding goals for the coming months?
I have plans to visit a few bird sanctuaries, reserve forests and birding hotspots around Tamil Nadu and Kerala, especially the ones I haven't visited before. One of my cousins from Kerala suggested that I visit the Thattekad Bird Sanctuary and I want to visit the place too in the coming months.
What is your message for fellow birders?
My message for fellow birders is to engage yourself in every citizen science activity possible and contribute towards nature conservation. This surely makes you a nicer person!
---
Header Image: Great Indian Bustard  Ardeotis nigriceps © Gobind Sagar Bhardwaj/ Macaulay Library