What began as a simple pastime of taking images of some of the common birds in and around his home has led Saswat Mishra on an exciting path of documenting birds and further research into the endangered Forest Owlet. Read on to know more about his journey in birdwatching…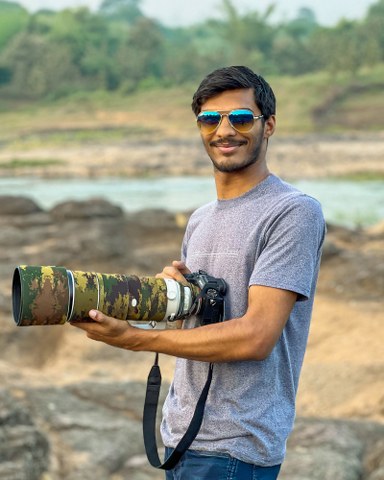 1. Please tell us a bit about yourself. What do you do and where do you live?
I am Saswat, an electrical engineer and currently pursuing my post-graduation in this same field. I belong to Odisha, and currently living at Silvassa, Dadra and Nagar Haveli (DH).
2. When and how did you get interested in birding?
I started observing birds around my locality in DH—munias, sparrows, mynas, etc. I used to send my photos to a known birder on Facebook who helped me a lot in identifying them and that made me aware of the joys of birding. I started birding in 2013 with a point-and-shoot camera and later upgraded to a DSLR with a telephoto lens. I am very much interested in photography also. My family was always interested in nature and we always preferred visiting sanctuaries and national parks during our holidays.
3. Do you have a favourite bird or birds? Why is it/are they your favourite?
My favourite bird keeps on changing, but for the last few years, my favourite bird is the endangered Forest Owlet, which is also endemic to the Indian subcontinent. I am working on documentation of this species for over four years now. It's my favourite for a few reasons–first because of its rarity and second how challenging it can be to even get a glimpse of it. My work on Forest Owlet has been published in notable journals and I'm a part of the Forest Owlet Action Plan curated by the Ministry of Environment, Forest and Climate Change, Govt of India (Moefc).
4. Where do you enjoy birding the most?
I enjoy leisurely birding at wetlands, mostly from a distance. Sometimes I get to see unusual events. For example, I once saw a Eurasian Marsh-Harrier hunt and kill two Bronze-winged Jacanas at once and just a few days ago, I saw a Grey-headed Swamphen catching a big fish and eating it.  I've never seen such a behaviour by swamphen before.
But my most favourite has to be forest birding, just for one reason– 'Birding with Ears' which I'm enjoying more nowadays. I've also started recording bird songs/calls.
5. Do you have a birding partner or a group you enjoy birding with? How is birding alone different from birding with others?
Yes, I have a group of friends with whom I bird mostly around the year, not just locally but we do distant trips too. Birding alone is also my thing but not anymore, friends and birding is the combination I would always prefer.
6. Anything on the birding bucket list? (Doesn't have to be a bird, could be a place, witnessing a phenomenon, etc)
Yes, birding in the northeast is on my bucket list for sure. I recently got the taste of birding in the northeast after visiting the Eastern Himalayan forests near Darjeeling. Some less explored areas like Meghalaya, Manipur, and Mizoram are on my wishlist too. And bucket list in terms of birds would include Grandala, White-winged Duck, and Scatler's Monal.
7. Has eBird changed how you bird? How?
I started eBirding in 2017, and since then my birding experience has changed. Earlier I was struggling to have all my lifer list data in one place but now I'm happy to see all my pictures, recordings, and checklists well maintained, all thanks to eBird!
With eBird my strategy is always to count only those lifers I have photo proof or at least sound recordings just to be ethical and true to myself.
8. Have you set any birding goals for the coming months?
Currently planning birding around the Andaman Islands for a few lifers and later travel to forests of southern India which I haven't managed to visit yet except for a small trip to Dandeli back in 2018, and I loved the birds of Western Ghats!
9. What is your message for fellow birders?
My message to all birders and photographers out there is to stay focused, and use eBird before visiting any destination for birding as it is so helpful once you do your part of research about local birds and get your target species. Another piece of advice for upcoming birders would be to be on eBird as soon as possible and start posting checklists even if they're of common birds. At end of the day, we're all here for the love of BIrds! Every feathered bird matters.
---
Header Image: Forest Owlet Athene blewitti by Saswat Mishra/ Macaulay Library