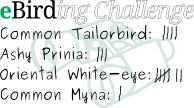 The eBirding challenge for September was somewhat unusual. Instead of there being a fixed target of lists or hours of birding, the task for each of us was to upload as many complete lists

as possible during the month. So, how did we do?
September saw a large jump in the number of effort-based, complete lists, of at least 15 min duration. In all, 2,864 such lists were uploaded to eBird from India during the month, almost double the number for the previous month, and higher than any other month in the eBird database excepting Feb 2014 (when the GBBC and associated events created a massive spike — 3,451 such lists).
One important factor contributing to this buzz of activity was the Kerala Onam Bird Count: 1,692 of the September lists were from Kerala — more than half!
In all, 266 birders uploaded 3,153 lists of all types in September, together accounting for 40,525 records.
As described in the announcement for the September challenge, here is a word cloud of all 113 September participants who uploaded at least 5 effort-based, complete lists of 15 min duration or longer. In this picture the font size of each name is proportional to the number of lists contributed. You can click on the picture to see a larger version.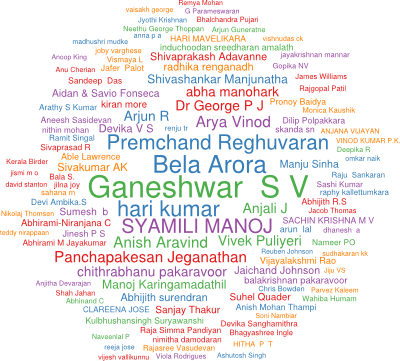 The individual who uploaded the highest number of lists was Ganeshwar S V, who contributed an amazing 160 eligible lists in September — wonderful work indeed! And although they are not depicted here because they operate a group account, with contributions by multiple birders, we must mention the superb efforts of The Nature Trust, who collectively uploaded 210 eligible lists — we salute their passion and their teamwork for birds!
As described in the earlier announcement, one of the 2,864 eligible lists from September was chosen using a computer-generated random number. The winning list was from 27 Sept, from Kumarakom in Kerala, which was contributed by
Dr George P J
who uploaded 51 lists during the month, and, in birding appreciation, receives a copy of Bird Sense: What it's Like to be a Bird by Tim Birkhead. (You can read a review here, and there is a website devoted to the book too.)
As an aside, this same book was the gift for two earlier months, but we have been unable to reach the winners, Sudhakaran KK and Syamili Manoj. If you (the reader) knows either of them, please ask them to write to us at [email protected] to arrange for the delivery of their gift.
Here is the full list of all 266 contributors from September 2014:
abha manohark, abhijith a.p.c, Abhijith R.S, Abhijith surendran, Abhinand C, Abhirami M Jayakumar, Abhirami-Niranjana C, Able Lawrence,  Aidan & Savio Fonseca, Aishwarya Varadharajan, AIswARya c, AJAYDAS C, Ajit A, AKHIL R NADH, Amal Dev.A.V, Amirtavarshini Devarajan, Amith Kumar, Anagha Bagade, Anamika Menon, anant pande, Andrew Johnson, Aneesh Sasidevan, Anil  Mahajan, Anish Aravind, Anish Mohan Thampi, Anjali J, Anjana Mohandas, ANJANA VIJAYAN, Anjitha Devarajan, ANJU  T JOSHY, anna p a, Anoop CR, Anoop King, anshuman sarkar, Anu Cherian, Arathy S Kumar, Arjun Guneratne, Arjun R, Arnav Anish, Arun Bhaskaran, Arun C.G, arun  lal, Arya Vinod, Ashutosh Singh, athira james, Avadhesh Malik, balakrishnan pakaravoor, Bala S., Bela Arora, Bhagyashree Ingle, Bhakti Salgaonkar, Bhalchandra Pujari, Biju PB, bineesha k, Bird Sonic, chandra shekhar, chithrabhanu pakaravoor, Chris Bowden, CLAREENA JOSE, david stanton, Deepak Sahu, Deepika R, Devi Ambika.S, Devika Sanghamithra, Devika V S, Devipriya K.S, dhanesh  a, Dilip Polpakkara, Divya Mudappa, Dr George P J, Dr. Utkarsh Betodkar, Eveny Luis, Facebook Birders, Fionna Prins, Ganeshwar  S V, Garima Bhatia, gayathri mukundan, Gnanaskandan Kesavabharathi, gopal prasad, Gopika NV, G Parameswaran, hari kumar, HARI MAVELIKARA, harsha nr, Henna. Hashim, Himansh Pahwa, HITHA  P  T, induchoodan sreedharan amalath, Jacob Thomas, Jafer  Palot, Jaichand Johnson, James Williams, jayakrishnan mannar, Jayant  Wadatkar, Jiju VS, jilna joy, Jinesh P S, Jishnu R, jismi m o, joby varghese, jolly kv, J.Thomas Cheruvallil, Jyothi Krishnan, Kaajal Dasgupta, Kartik  Pomal, Kerala Birder, Kim Peacock, kiran more, Krishnadas Mallya, Krishna Girish, krishna vinayan, Kulbhushansingh Suryawanshi, Lloyd Fernandes, madhushri mudke, Manish  Chinchane, Manish  Kumar, Manju Sinha, Manoj K, Manoj Karingamadathil, MAYA T JOY, Mike Prince, Mohith Shenoy, Monica Kaushik, Mrinmayee Thakur, MUHAMMED NEZEEM V N, Muthu Narayanan, NADHA GAFOOR, Nameer PO, Nandini Sadanandan, Nandkishor Dudhe, Naveenlal P, Naveen  MR, Neeraj Amarnani, Neethu George Thoppan, Neha Waikar, Nikolaj Thomsen, nimitha damodaran, Nisha M, nithin mohan, Omkar Dharwadkar, omkar naik, Panchapakesan Jeganathan, Parvez Kaleem, Patrick Wheeler, Pavan Reddy, Prabhakar Manjunath, Prakash G, Prashant Kumar, Praveen es, Praveen J, Praveen Manivannan, Premchand Reghuvaran, Prem Prakash Garg, Pronoy Baidya, Pushpa C R, radhika renganadh, Raghurama Hegde, Rahul Matmari, RAINOLD LAZAR, Raja Simma Pandiyan, Rajasree Vasudevan , Rajesh  Kalra, rajesh nayak, Rajgopal Patil, Rajiv D'Silva, Rajkumar  K P, RAJU MENON, Raju  Sankaran, Raman Kumar, Ramit Singal, raphy kallettumkara, Raviprakash KB, reeja jose, Remya Mohan, Remya s, renju tr, RESHMA  BHAT, Reuben Johnson, Ribish Thomas, Richa Kolachena, Rohit Chakravarty, Ronit Dutta, Roshnath R, RUGMA RAJEEV, Sachin K Aravind, SACHIN KRISHNA M V, sahana m, Sana M Ali, Sandeep  Das, Sanjay  Karanth, Sanjay Thakur, santhosh kumar, sarayu ramakrishnan, Sashi Kumar, Sastha Prakash, Sathyan Meppayur, Scott Lin, SEDHULAKSHMI K UNNI, Shah Jahan, SHAHNAS K F, Shariq Khan, Shashank Birla, SHESHGIRI BAGDE, shibi moses, Shivaprakash Adavanne, Shivashankar Manjunatha, Shubhadeep  Mukherjee, shweta mukundan, Shwetha Bharathi, shyamkumar puravankara, Siddharth  Hardikar, Sidharth  R Prakash, Simon Tickle, Sivakumar AK, Sivaprasad R, Sivashankar Ramachandran, skanda sn, Sneha G Ajay, Soni Nambiar, Soumya Aon, Sreehari V S, sreenivasan pp, Srikanth Bhat, sruthimol g, Subramanian  Sankar, Subramniam Venkatramani, sudhakaran kk, Suhel Quader, Sumesh  b, Surya Bharanidhara, Susan Sridharan, SYAMILI MANOJ, Syed Muzamil, Taksh Sangwan, Taniya Mallick, Tanya Seshadri, teddy nirappaan, The Bhubaneswar Bird Walks TBBW, TheNatureTrust (GroupAccount), Thomas Job, Thorkild Michaelsen, TKS Thathachari, Troy Blodgett, ts prasanth, vaisakh george, veena babu, VEERBHADRA SINGH, Venkatesh Prasad, Vijayalakshmi Rao, Vijay kumar, vijesh vallikunnu, Vinayan PA, vineetha v.s, Vinoba Anand, VINOD KUMAR P.K., vin shutterbug, Viola Rodrigues, violet v.n, vishnudas ck, vishnu dattan, Vishnupriyan Kartha, Vismaya L, Vivek Puliyeri, Wahiba Humam, Yagnesh Desai, Yogesh Parashar.
Now on to the eBirding Challenge for October: 15 hr, 15 lists!