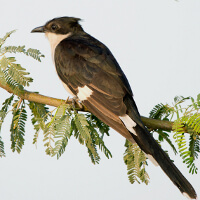 The wonderful and enigmatic Pied Cuckoo (Clamator jacobinus) needs your attention. As you know, Pied Cuckoos in India come in two flavours. There is a population that is resident year-round in the south of the country. But in central and northern parts, Pied Cuckoos are seen only from just before the monsoon to early winter.
Despite eBird not containing many sightings of Pied Cuckoo (only about 240 so far), this distinction between southern residents and central/northern migrants can be clearly seen from the range maps, below. (Click on the maps to see them directly in eBird.)
To collate information on the timing of migration of the central/northern Pied Cuckoos, and in particular, to investigate how arrival dates are related to the onset of the monsoon, the MigrantWatch project has been running its Pied Cuckoo Campaign every year since 2009. Now that MigrantWatch has moved to integrate more closely with eBird, you can contribute your Pied Cuckoo sightings through either website, and they will add to our collective understanding of this superb migrant.
In eBird, do remember that one-off sightings should be uploaded as 'Incidental', and that if you are reporting only Pied Cuckoo (and ignoring other species), your answer to the question "Are you submitting a complete checklist of the birds you were able to identify?" should be "No".
The announcement on the MigrantWatch website is here.
---
Header Image: Pied Cuckoo (Jacobin Cuckoo) Clamator jacobinus © Ansar Ahmad Bhat/ Macaulay Library