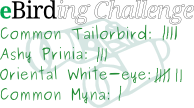 The challenge for October was straightforward — to upload lists for at least 25 days of the month. The last time we did this was in March 2015, when 19 birders met the target for the month. How many managed it this time?
Overall, during October, the number of complete, effort-based lists of at least 15 min was 5,100. In all, 560 birders uploaded 6,000 lists of all types from the month, together accounting for just over 1 lakh observations from India, around the same as last month.
Of the 560 August eBirders, 43 met or exceeded the target of 25 days of birding! They are (as always, excluding group accounts):
Abdul Raheem Munderi
Abhirami C
Abhishek Gulshan
Ajay Gadikar
Anish Aravind
Balwant Negi
Bijumon KE
Dilip Polpakkara
Dr George P J
Erle Brito
Ganeshwar SV
Gnanaskandan Kesavabharathi
Hemanth Byatroy
Jaydev Mandal
Kaustubh Rau
Lakshminarasimha Ranganathan
Manju Sinha
Namassivayan Lakshmanan
Narayan Sharma
Nelson George
Nisha M
Panchapakesan Jeganathan
Phani Krishna Ravi
Prashanth N S
Premchand Reghuvaran
Priyadarshini K
Raja Simma Pandiyan
Raman Kumar
Renju TR
Selvaganesh K
Shanmugam Kalidass
Sheeba Nanjan
Sneha Gupta
Somoyita Sur
Steffin Babu
Subramanian Sankar
Suhel Quader
Sumesh B
Swati Sidhu
Tanya Seshadri
T R Shankar Raman
Vaidehi Gunjal
Vidhya Sundar
Many congratulations to all of them!
One of these 43 was chosen using a computer-generated random number to receive a small gift, and that person is
Raja Simma Pandiyan
who receives a copy of How to be a (bad) birdwatcher by Simon Barnes. (You can read reviews here and here.)
Here is the full list of all 560 eBirders from October 2015:
Aaditya S Kumar, Aamir Shaikh, Aaqid Mukhdoomi, Aasheesh Pittie, Aathira Perinchery, Abdul Raheem Munderi, Abhay Hule, abhijith a.p.c, Abhijith surendran, Abhirami C, Abhishek Gulshan, abhishek jamalabad, Abhishek Maiya, Able Lawrence, Adesh Shivkar, Adithya Bhat, Aditi Prasad, Advait Marathe, Afthab Faisal k, Aidan & Savio Fonseca, Ajay Gadikar, Ajit A, AJU RAJU, Akshay Mokal, Albin Jacob, Amal U S, Amey Ketkar, Amit Kumar, Amlan Dutta, Amol Bapat, Amol Lopes, Amrit Menon, Anamika Menon, Anand Sundaram, anant pande, Andrew Preston, Aneesh Sasidevan, Anil Mahajan, anil singh, Anirban Pal, Anish Aravind, Anjali J, Ankit Vikrant, Ankur Shah, Anoop CR, Anoop King, Anoop Singh, anshuman sarkar, Anubhuti Jain, Anupam Khanna, Anuradha Krishnan, Anurag Chhajlani, Anurag Katre, Aparajita Datta, Appavu Pavendhan, Arabinda Pal, Arathy S Kumar, Aravind AM, Aravindh Soundararajan, Arjun CP, arnob bora, Arnold Goveas, Arun Bhaskaran, arun lal, Arun Varghese, Arvind vaid, Aryan Shahi, Arya Vinod, Ashish Gupta, Ashni Dhawale, ASHOK MADHAVAN, Ashritha Anoop, Ashutosh Singh, Ashwin Hp, Ashwin kadiyala, ashwin mohan, Ashwin Viswanathan, Aswathy rajan, Atindra Katti, Austina Ribanar, Avishkar Munje, Ayilai Hoopoe, Badri Narayanan Thiagarajan, Balaji P B, Balwant Negi, Banu Prakash KN, Baseer Baniya, Bhalchandra Pujari, Bhargav Shandilya, bijumon ke, Bopanna Pattada, Chetana Purushotham, Chinmay Rahane, chithrabhanu pakaravoor, Chris Bowden, Chris Goulart, Cinchona GHS(Group account), CLAREENA JOSE, CNS Nature, Colin Braganza, Conrad Braganza, David Crexcrex, David Raju, david stanton, Deepak Jois, Deepak Sahu, Deepa Mohan, Dhananjai Mohan, dhananjay bhamburkar, Dhanesh Ayyappan, Dhavalaganga Acharya, dhiren malani, diksha satarkar, dilip kg, Dilip Polpakkara, Dilip Virkhade, Dinesh Pundir, dipak bowalkar, Dipak Sinha, Dipu Karuthedathu, Divya Mudappa, divya srivastava, Dr Akshata Rao, Dr George P J, Duraiswamy Navaneetham, Dwiref Oza, Emanuel george , Enakshi Bhattacharya, Erle Brito, Ezhupunna Birders, Fauzia Arief, Ganesh Raghunathan, Ganeshwar S V, Garima Bhatia, Gaurang Bagda, Gaurav Nalkur, Gaurav Shirodkar, Geetha Ramaswami, Geetha Venkataraman, Ginu George, Gireesh Pallikkara, Girish Jathar, Gitanjali Katlam, Gnanaskandan Kesavabharathi, Gokul Krishna, G Parameswaran, Griffith Michael, Gunasekaran m, Hakimuddin F Saify, Hanuman Gawas, Hari Krishna Adepu, Harikrishnan Surendran, hari kumar, HARI MAVELIKARA, HARSHADA GAUNS, Harsha Jayaramaiah, Harsh Buty, Harshith JV, Hemant Dhadnekar, Hemanth Byatroy, Hemanya Radadia, hemraj duraiswami, Hopeland P, induchoodan sreedharan amalath, Intesar Suhail, Jadeswamy Madaiah, Jagadish Kannan, jaishankar v, James Williams, janani manthena, Janhvi Vyas, Jayadev Menon, jayakrishnan mannar, Jayan Thomas, Jayant Wadatkar, jayaprakash m t, Jaydev Mandal, Jayesh Ghanekar, Jeetendra Chaware, Jeremy Bowman, Jinesh P S, jithesh pai, John Joseph Chelladurai, Jorgen Thomsen, joshua Dsilva, JUGAL PATEL, Jyothi Arun, Jyothish Nelson, Jyoti Hiremath, Jyoti Rani Ahlawat, Kaajal Dasgupta, Kalaimani Ayuthavel , Kalyan Varma, Kanad Baidya, Karan Tambe, Karthik Enumulla, Karthikeyan G B, kasthuri dev, Kathiresh D, Kaushal Patel, Kaustubh Rau, Kavi Nanda, Kiran ., kiran more, Kishore Bakshi, KN Sivakumar, Komal Agrawal, Krishna Deepak, Krishna Girish, Krishna Mathur, Krishna Murthy, Krishnaveni K, Kshipra Suresh, K.Sravan Kumar, Kulbhushansingh Suryawanshi, Lakshminarasimha Ranganathan, Latha G A, Lekshmi Jayakumar, Luis "Beto" Matheus, Madhumita Panigrahi, Madhurima Das, madhushri mudke, mahathi narayanaswamy, Mahesh madhu, Makarand Bokil, Mamta Megha, Mandar Bhagat, Mangesh Bawankar , Mangirish Dharwadkar, manish kerkar, Manjula Ravi, Manjunath R S, Manju Sinha, Manohara Kamath, Manoj Bind, Manoj Karingamadathil, Manu Mengi, Manu V, manzoor, rouf, Marvelyn Dias, Maulik Varu, MAXIM RODRIGUES K, Mayank Kumar, Mayuresh Ambekar, M D Madhusudan, Megha Chagtoo, Meghna Banerjee, Mich Coker, Mike Prince, Mittal Gala, M.K. Bhaskar, Mohan K Pillai, Mohan Raj K., Mohanram Kemparaju, Mohit Aggarwal, Mohith Shenoy, Mohit Mehta, Monica Kaushik, Mousumi Dutta, mujeeb pm, Mulagala Srinivas, Muniza Manzoor, Muthu Selvam , M V BHAKTHA, Mymoon Moghul, Nagappan R, Naidu Kumapatla , namassivayan lakshmanan, Nandhakumar Radhakrishnan, Nandkishor Dudhe, Narayan Sharma, Narender Boredha, Nari Mistry, Neethu George Thoppan, Neha Waikar, Nelson George, nilanjan chatterjee, Nima Manjrekar, Niranjana C, Niranjan Raj, Nisha M, Nishant Shah, nishith Kumar, Nishit Soni, Nitin Prabhakar, Nitya Mohanty, Omkar Dharwadkar, omkar naik, Panchami Manoo Ukil, Panchapakesan Jeganathan, PANKAJ GUPTA, Pankaj raina, parth heblekar, Patrick David, Pavan Ramachandra, Pavithra Sankaran, Payal Mehta, P. B. Samkumar, Phani krishna Ravi, pooja pawar, Pooja Rathod, Prabhakar Manjunath, Prachi Mehta, PRADEEP KUMAR V B, Pradeep Sangwan, Prajakta Hushangabadkar, Prajval Shastri, Prakash G, Prakhar Krishan, prapanch j, Prasad Ganpule, Prasad Khale, Prasanna Gautam, PRASANTH S, Prashanth N S, Prashant Kumar, Prashant Srivastava, Prashant Tewari, Prateek Prateek, Prathamesh Desai, Pratik Humnabadkar, Pratik Prabhu, Praveen Eshwarappa, Praveen J, Pravir Deshmukh, Premchand Reghuvaran, Prem Prakash Garg, Pritam Baruah, Priti Ramani, Priyadarshini K, Pronoy Baidya, Prudhvi Gali, Pune City Bird Atlas, Pushkar Chaubal, Qazi Hammad Mueen Qari, Raaj Bora, Rachit Parekh, Radhika Timbadia, Raghunath r, Raghurama Hegde, Rahul Kaushik, Rahul Mukherjee , rahul narlanka, Rahul Talegaonkar, rajaneesh ghadi, Rajan KC, Raja Simma Pandiyan, Rajeev khandelwal, Rajesh Balakrishnan, Rajesh Kalra, Rajesh Lenka, rajesh nayak, Rajgopal Patil, Rajneesh Suvarna, Raju Kasambe, Raman Kumar, Rama Sarvani, Ramesh Desai, ramesh devaraju, Ramesh Ganeshan, Ramit Singal, raphy kallettumkara, raveendran kc, Raveendran Natarajan, Rejin Saji, R Elumalai, renju tr, Richa Kolachena, Rishav Gupta, Rithika Fernandes, Rithwik Hariharan, riyaz peerzada, Robert Parsons, Rohan Chakravarty, Rohikanta Sijagurumayum, Rohit Chakravarty, Rohit Jha, Rohit Naniwadekar, Ronit Dutta, Roshan Kamath, Roshni Babu, Rudraksha Chodankar, Rushil Fernandes, Sachet Khandeshwar, Sachin Sarode, Sachin Sharma, Sagarika Roy Tapadar, sahana m, Saiyam Nagar, SALINI SALU, Samar Gupta, Samyak Kaninde, Sandeep Bapat, Sandeep Sakhare, Sanjay Karanth, SANJEEV NALAVADE, Santharam V, santhosh kumar, santosh attreya, Santosh Mahalik, santosh thakur, saraswati jonnlagddha, Saravana Moorthy, Saravanan Chandrasekaran, Saroj Muthukumaran G, Sashi Kumar, sasidharan manekkara, Sathish Kumar, Sathya Chandra Sagar H.S, Sathyan Meppayur, satish siwatch, Satypal Singh, Saurabh Jawanjal, Saurabh Sawant, Savita Kulkarni, Savithri Singh, Savitri Sardar, Selvaganesh K, Shah Jahan, Shams Ul Haq Qari, Shanmugam Kalidass, Shanmukharaja Muroor, shantilal Varu, Sharad Apte, Sharang Satish, Shariq Khan, Shashank Birla, Shashank dalvi, Shashikantha Koudur, Shashikant S. Naik, sheeba nanjan, Sheena S, SHESHGIRI BAGDE, shilpa badve, Shivakumar M, Shivaprakash Adavanne, Shivashankar Manjunatha, Shivi Mishra, Shon Joseph, Shrikanth nayak, Shubham -, Shubham Srivastav, Shubha Nava, Shyamala Madhavan, Siddharth Kallam, Simarpreet Luthra, Sivadas Chettur, Sivashankar Ramachandran, Siva T, Smitha Prabhakar, Sneha Gupta, Snehasis Sinha, Soham Sinha, Somoyita sur, Somraj Gupta, sonam angmo, Soni Nambiar, Sourav Dinda, spic macay, Sreekumar E R, Srijan Roy Choudhury, Srinath Reddy, Srinivasa Shenoy, Srinivas Daripineni, Sriram Reddy, SS prasanth, Stefan Andrew, steffin babu, Subash Nachimuthu, Subhashini Sivasubramanian, Subir Roy, Subramanian Sankar, Subramniam Venkatramani, Sudarsan Murthy Dhandapani, Sudhir Moorti, Sudip Ghosh, Suhel Quader, Sumanta Pramanick, Suma Rao, Sumesh b, Sundaravel Palanivelu, Sundar Lakshmanan, Sunil Sreedharan, Suniti Bhushan Datta, Surendhar Boobalan, Suresh AC, Suresh marimuthu S, Suresh Rana, Susy Varughese, sutirtha lahiri, Swathi Bhat, Swati Sidhu, Sweedle Cerejo-Shivkar, Swetashree Purohit, syed ateeq, Syed Mustahsen, Syed Muzamil, Taksh Sangwan, Tanya Seshadri, Tarun Menon, Tassaduq Mueen, Taukeer Alam Lodha, Tejas Vagadia, Theivaprakasham Hari, The Malki Initiative, TheNatureTrust (GroupAccount), TheNatureWeb.Net Team, Thomas Falk, Thorkild Michaelsen, tony antony, Troy Blodgett, T R Shankar Raman, Trupti Vyas, Udayan Rao Pawar, Ujwal Shankar, Uma K, umar khan, Umesh Kumar, Umesh Mani, Umesh Vaghela, Upendra Bhojani, Vaidehi Gunjal, vaisakh george, Vardhan Patankar, Vedant Kasambe, Vedant Kumbhar, Velsina Rodrigues, Vena Kapoor, Venkatesh Prasad, Venky Muthiah, Venugopalan R, Vidhya Sundar, Vignesh Menon, Vijaya Lakshmi, Vijay Joshi, vijay kumar, VIJI JAYABALAN, Vinay Bharadwaj, Vinay Das, Vinay Nadig, Vinoba Anand, Vinodh Ve, vinod k, Vinod Venugopal, vipin v nath, Vipul Vedi, Viral Pankaj, Vishal & Sophia D, Vishambhar Agarwal , Vishwatej Pawar, Vivek Menon, Vivek Puliyeri, Vridhi Rajan, vrinda lath, Wahiba Humam, Wesley Rajaleelan, Yajuvendra Upadhyaya, Yogesh Parashar, yudhajit talapatra, zakaria yusufzai
Are you doing your best to match the target for November (25 days of birding)? And don't forget the several flavours of yearlong challenges for 2015!