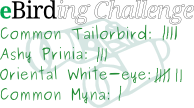 February generated a lot of birding enthusiasm, in part due to the Great Backyard Bird Count, and a record number of lists were uploaded to eBird in that month. In March, rather than taking things easy, we thought to challenge ourselves to even more dedicated birding, all through the month. Hence, the eBirding challenge for the month was to upload at least one eligible list

on 25 or more days of the month. Not a very easy task, but a number of birders did rise to the challenge!
Overall, during March, the number of complete, effort-based lists of at least 15 min duration was 3,387. In all, 580 birders uploaded 4,171 lists of all types from March, together accounting for over 90,082 observations of birds from across India.
Of all the birders who uploaded lists in March, 19 uploaded eligible lists from 25 or more days of the month. These are truly star birders! Some may have gone to exotic places to watch birds; others carefully and regularly documented the birds they saw where they live or work. These 19 are (as always, excluding group accounts):
Abhirami C
Aparajita Datta
Balwant Negi
Devi Ambika.S
Dr George P J
Erle Brito
Ganeshwar S V
Hari Kumar
Jaydev Mandal
Lakshminarasimha Ranganathan
Lloyd Fernandes
Manju Sinha
M D Madhusudan
Panchapakesan Jeganathan
Premchand Reghuvaran
Ramit Singal
Siva T
Surendhar Boobalan
T R Shankar Raman
Many congratulations to all of them!
One of these 19 was chosen using a computer-generated random number to receive a small gift, and that person is
Jaydev Mandal
who receives a copy of Bird Sense: What it's Like to be a Bird by Tim Birkhead. (You can read a review here, and there is a website devoted to the book too.)
Here is the full list of all 580 eBirders from March 2015:
Abdul Raheem P A, abhijith a.p.c, Abhijith surendran, Abhinand C, Abhinav Chaudhary, Abhirami C, Abhishek Gulshan, Abhishek Maiya, Able Lawrence, Adarsh VC, Aditya Agnihotri, ahil rishi rajasekaran, Aidan & Savio Fonseca, Aisha Sultana, AJAY RAJAN, Albin Jacob, Alkesh Thakare, Aman Williams, Amit Ghosh, Amol Lopes, Anand Pendharkar, Anantha Krishnan.K, ANEES AHAMMED A, Aneesh Sasidevan, Anil Goyal, Anil Mahajan, anil subramaniam, Anil UK, Aniruddh Naik, Anish Aravind, Anita Mani, Anjali J, Anjana Mohandas, Anjitha Devarajan, Ankit Vikrant, anna p a, Anoop CR, anshuman sarkar, Anuj Gupta, anuj raina, Anuj Saikia, Anuradha Krishnan, Aparajita Datta, Appavu Pavendhan, Arabinda Pal, Arathy S Kumar, Aravind AM, Aravind B, Arindam Pachoni, Arjun Prakash, Arka Sarkar, Arnav Anish, Arpit Deomurari, Arun Bhaskaran, arun lal, Arunprasad Dhanapal, ARUNSANKAR N, Arun Simha, Arvind Patole, Arya Vinod, ashish dwivedi, Ashish Gupta, ASHISH SHUKLA, ashok raj v m, Ashu Singh, ASHUTOSH MALLIK, Ashutosh Singh, Ashwin Baindur, Ashwin Gokhale, Atharva Damle, Athira K Nair, Awmawia Sailo, Babita Angle, BAHAR BAVISKAR, balakrishnan pakaravoor, Balwant Negi, bankim baruah, BBD2014 GA-002, BBD2014 GA-003, BBD2014 GA-004, BBD2014 GA-008, BBD2014 GA-009, BBD2015 GA-001, BBD2015 GA-005, BBD2015 GA-006, BBD2015 GA-007, BBD2015 GA-011, BBD2015 GA-012, Bee Trotter, Bela Arora, betsy selvakumar, Bhagyashree Ingle, Bhakti Salgaonkar, Bhalchandra Pujari, bhargav dwaraki, Bhavik Thaker, BHAVYA MM, Bheemaneni Bhanu Prakash, Bhoj Kumar Acharya, Bias Chakraborty, bineesha k, Biswajit De, Bob Dawson, Bopanna Pattada, Carey Bergman, Carol Anderson, Catherine Rodricks, Chandrasekaran Venkatraman, Charlie Singh, Cheran Jagadeesan, Chinmay Rahane, chithrabhanu pakaravoor, Chris Bowden, Christian Stern, Conrad Pinto, Daniel Tillotson, David Irving, david stanton, David Vanlalfakawma, Debashis Chowdhury, Deepak Sahu, Deepa Mohan, Deepika Prasad, Denize Rodricks, Devdulal Chandra, Devi Ambika.S, Devika Rani, devi s r, Devshri Pajai , dfo soil conservation nainital, Dhananjai Mohan, dhananjay bhamburkar, Dhanashri Salunke, Dhanesh Ayyappan, dhiren malani, Dhruvam Desai, Dilan Mandanna, dilip kg, Dilip Polpakkara, Dilip Virkhade, Dimple Varu, Dinesh K.S., Dinesh Pundir, dipak bowalkar, Dipak Gudhekar, Dipak Joshi, Divya Mudappa, divya srivastava, Dolly Prasad, Dr George P J, Dr. Utkarsh Betodkar, Dr Vivek Dubey, Duraiswamy Navaneetham, Enakshi Bhattacharya, Erle Brito, Evelyn Rangel, Faiyaz A Khudsar, FAKIM ECO CLUB, Farhad P, Fazlul Alam, FreeBirds UK, Ganeshwar S V, Garima Bhatia, Gaurang Bagda, Gaurav Nalkur, geethanjali ravindran, Geetha Venkataraman, Ghazala Shahabuddin, Girish Jathar, Gita Dattatri, Gnanaskandan Kesavabharathi, Gokul GB, Gopi Sundar, Gowthama Poludasu, G Parameswaran, gracy michael, Graham B Langley, Gunwant Mahajan, Hans-Peter Bieri, Hanuman Gawas, Hari Hariharan, Harikrishnan Surendran, hari kumar, HARI MAVELIKARA, Harjot Singh(Harry) Kahai, HARSHADA GAUNS, harsha nr, Hedayeat Ullah, Hemant Dhadnekar, Hemanth Byatroy, hemraj duraiswami, Henna. Hashim, Himansh Pahwa, HITHA P T, Hoolock Gibbon Eco Club, induchoodan sreedharan amalath, Instituteofbirdstudies Rishivalley, Irene Daniel, jadeswamy madaiah, jagrut rindani, James Boyce, James Hrahsel, jaseela saeed, Javid Ihsan, Jayadev Menon, jayant atrey, Jayan Thomas, Jayant Wadatkar, Jayaprakashan KP, jayaprakash m t, Jaya Sahana S, Jaydev Mandal, Jaydip Bhattacharya, Jaymeet solanki, Jinesh P S, Jishnnu B, Jory Vincent, Josh Engel, Joshua Dharmaraj, Joydip Sinha, Judy Ferris, Junglehome Mudumalai, Jyothi Krishnan, Jyothish Nelson, Jyoti Bikash Baishya, Kalpana Malani, kalpesh chodnekar, Kalyan Varma, Kanak Bakre, Karan Chellappa , Karan Tambe, karthick mahalingam, Karthikeyan G B, Kartik Pomal, Kathy Drake, Kaustubh Rau, Kavi Nanda, Khonoma Eco Club, Kiran bagade, Kiran Kashyap, kiran more, Kishan Meena, Komal Matieda, Krishna Girish, krishna kumar, Krishnamoorthy Muthirulan, Kulbhushansingh Suryawanshi, Kunal Munsiff, kusal gurung, Lakpa Sherpa, Lakshminarasimha Ranganathan, Lalnun Zira, lal ramtiama, Lalthanzara H, Lekshmi Jayakumar, Lekshmi R, Lisa Orchard, Lloyd Fernandes, madhushri mudke, madhushri mudke , Madhu Varadaraj, MAITREYA SUKUMAR, Manan Singh Mahadev, MANAS AGRAWAL, Mandar Bhagat, Mangirish Dharwadkar, MANIKA DAS, Manju Sinha, Manoj Bind, Manoj Karingamadathil, Manoj Sankav, Marella Viswa teja , Markus Craig, Maulik Varu, Mayur Bawri, M D Madhusudan, megha phadkay, meher preetham, Milan Sojitra, Mirthula Rani, Mittal Gala, Mohan Raj K., Mohith Shenoy, Monica Kaushik, Mousumi Dutta, Mridu Paban Phukon, Muansanga Khiangte, Mukund Thakkar, Mulagala Srinivas, Muthu Narayanan, Nabarun Sadhya, Nandana prasanth, Navojit Saha, Neethu George Thoppan, Neha Waikar, Nelson George, Nikhil Devasar, nimitha damodaran, Nirmal Gourav Das, Nisanth Raveendran, Nisha M, Nishant Shah, Nishit Soni, Nitin S, Nosherwan Sethna, Nritya Ganesh, Omkar Kekre, omkar naik, oyndrila sanyal, Panchami Manoo Ukil, Panchapakesan Jeganathan, PANKAJ GUPTA, Pankaj Lad, Pankaj Maheria, paridhi brahma, partap singh, PARTHA DAS, Paul Devanesan, Pavithra Sankaran, P. B. Samkumar, Peroth Balakrishnan, Pintueli Gajjar, POOJA PATTNAIK, Prabhakar Sastri, PRADEEP KUMAR V B, pradeep parameswaran, Pradeep Sangwan, Pradnya Karbhari, prajidev pillai, Prakash G, Prakash Loganathan, prakash pote, Pranjal Mahananda, Prasath Selvaraj, Prashanth Badarinath, Prashanth NS, prasob enose, Prathamesh Tamhane, Pratik Humnabadkar, Pratyush T Hazarika, Praveen es, Praveen J, Praveen Manivannan, praveen Rao koli, Premchand Reghuvaran, Pritam Baruah, Priyanshu Karmakar, Pronoy Baidya, Raghurama Hegde, Rahul Matmari, rahul narlanka, Rainbow Friends Bird Club, Rajah Jayapal, Rajan KC, Raja Nongkhlaw, Rajashree Khalap, Rajesh Kalra, Rajesh Panwar, Rajgopal Patil, Rajneesh Suvarna, Raj Phukan, Rakesh Kalva, Raman Kumar, Ramesh Desai, Ramit Singal, Ranjan Barthakur, raphy kallettumkara, raveendran kc, RAVI DHONGLE, REEF RCOEM, Regin George, Rejitha V, Rekha Nair, renju tr, Rick Fox, Ritvik Amarchand, Rochamliana Aineh, Rohan Chakravarty, Rohan Dekate, Rohit Chakravarty, Rohit Hazare, Ronit Dutta, RUBUL DEKA, Ruby Prakash, Rudraksha Chodankar, Rushil Fernandes, SACHIN KRISHNA M V, Sachin Sarode, Sagar Adhurya, sagar patil, sahana m, Sahas Barve, Sai Vivek, Sajib Das, SALINI HARIKUMAR, Samanyu Neelson, Samar Gupta, sameer shendre, Samir Naik, Sampreeth Desai, Samyak Kaninde, Samyukth Sridharan, Sana M Ali, Sandeep Bapat, sandeep keerthi, sandip das, Saneesh C S, Sangeetha AB, Sanjay Karanth, Sanjay Sondhi, Santanu Manna, Santharam V, santhosh kumar, sarath remesh, Saravanakumar veerasivam, sasidharan manekkara, sathi nair, sathiyapriya krishnan, Satish Chandra Thayapurath, satish siwatch, Saurabh Sawant, Sayoni Dutta, Senthilkumar Alagu, Sethu lal, Shah Jahan, SHAHNAS K F, Shah Sofiullah Mahmud Hussain, Shailee Shah, Shanmugam Kalidass, shanmuga priya, Sharad Kumar, Sharan venkatesh, sharath ram, Shashank Birla, Shashikantha Koudur, shashikant Naik, sheeba nanjan, SHEKHAR BOPARDIKAR, shino jacob koottanad, shishir shendokar , Shivaprakash Adavanne, Shivashankar Manjunatha, Shounak Banerjee, Shrikanth nayak, Shruti kulkarni, Shruti Patil, Shubham Srivastav, Shuvendu Das, Shweta Avinash , Shwetha Bharathi, sidharthan katteri, Sireesha Nemana, Sivakumar AK, sivakumar Hariharan, Sivakumar Swaminathan, Sivashankar Ramachandran, Siva T, skanda sn, Sneha G Ajay, Sneha Gupta, Snehasis Sinha, Sohail Madan, soham brahmbhatt, Soham Dixit , Soham Sinha, Somen Sarkar, Somoyita sur, Soumya Aon, Soumya Prasad, Sourajit Ghosal, Sravan Kumar, Sreedhar Vijayakrishnan, SREEJITH GOPALAN, sreekanth c, Sreelakshmi.R. Nair, sreesha kudoor, SRINIVASA Murthy S V, Srinivasa Shenoy, SRI RAMAN, S S Cheema, steffin babu, Stephen Murray, Steven Bonta, Subhasmita Patro, Subin Sudheendran, Subramniam Venkatramani, Suchetana Sen, Sudeshna Dey, Sudhanya Rath, Sudhir Moorti, Sudip Ghosh, Sudipto Roy, sugadev sugathan, Suhel Quader, SUJITRAJ DAS CHOUDHURY, Sukanya Rath, Sumant Rajguru, Sumesh b, Sumin George, Sunil Rajagopal, Suraj Gurung, Surender Verma, Surendhar Boobalan, Suresh Brar, Suresh Rana, suresh sharma, SURU NAIR, Surya Prakash, Susy Varughese, sutirtha lahiri, Swanand Deshpande, Swati Kittur, Swati Sidhu, syed ateeq, Syed Muzamil, Taksh Sangwan, Tanya Seshadri, TARUN K ROY, Tatiana Petrova, Tejaswini Limaye, Terje Gustavsen, TheNatureTrust (GroupAccount), TheNatureWeb.Net Team, Thomas Job, Thorkild Michaelsen, Tiger Club, Tilroy Fernandes, TKS Thathachari, Todd Watkins, tony antony, T R Shankar Raman, ts prasanth, Twisha Sangwan, Udayan Borthakur, Udiyaman Shukla, umar khan, Umesh Mani, Umesh Vaghela, Usha Lachungpa, Ushma Shukla, Uttam Pegu, Vaibhav Lothe, Vaidehi Gunjal, vaisakh george, vanlalhrima vanlalhrima, Varun Kher, vedang saunt, Venkatesh Prasad, Vidhya Sundar, Vignesh Menon, Vijaya Lakshmi, Vijay Anand Ismavel, Vijay kumar, Vijay Kumar, Vinay Chauhan, Vinay Das, Vinay Patel, Vinoba Anand, VINOD KUMAR P.K., Viola Rodrigues, vipin v nath, Vipul Vedi, viral joshi, Virender Sharma, VISANTH V S, Vishal & Sophia D, Vishnupriyan Kartha, Vishnu Thavara, Vish Subramanian, Vishwatej Pawar, Vivek M, Vivek Puliyeri, Vl Hriatzuala Sailo, vrinda lath, Wahiba Humam, Yagnesh Desai, Yashodan Heblekar, Yogesh Parashar, Zenobia Driver, zohmai ralte.
Are you doing your best to match the target for April? And don't forget the several flavours of yearlong challenges for 2015!