CBC 2017 in Government High School, Chinchona
The Great Backyard Count is a one-of-its-kind event whose aim is to motivate birdwatchers to do more of what they love in order that the world turns into a better place for birds. This event is conducted every year for four days in February between 17 and 20. Aspirants and regular birdwatchers from across the world put their best foot forward to prove their mettle for a nobler cause here.
Irrespective of age, gender, position, state, country and other divides, people take part in the said event, to record their efforts on a yearly basis so as to motivate others who are in the dark as far as the life and lifestyle of birds are concerned. And whoever does it, do it either as individuals or in groups as well.
A big bouquet of thanks to Dr. Jeganathan, Scientist from NCF (Nature Conservation Foundation) who was instrumental in gathering those from Valparai take part in the event.
Two schools from the same locality including ours took part in the event with great enthusiasm. Seventy students of grades VI, VII, VIII, 1X, and X from Government High school, Cinchona, Valparai took part in the event this year. They were split into many groups with each group consisting of 4 to 6 students. These groups were assisted by four teaching and one non-teaching staff of our school. Our students managed to pull off a massive checklist with 346 counts in four days' time which were spread across two working and two non-working days of the week. Thanks to our Science teacher, Drawing teacher and Physical Education teacher for their untiring efforts, constant encouragement, and also for the generous display of magnanimity in having let the students of the said grades go bird watching during their respective periods.
Since the spots decided upon, for the purpose during working days, were close by the school premises, the enterprise turned out more successful than we believed it would. During the weekend, the student groups went on to watch birds in their locality and were quite successful in their attempts to do so. The other school student participants along with their faculty tasted similar success as we did and they were so upbeat about the same throughout the process.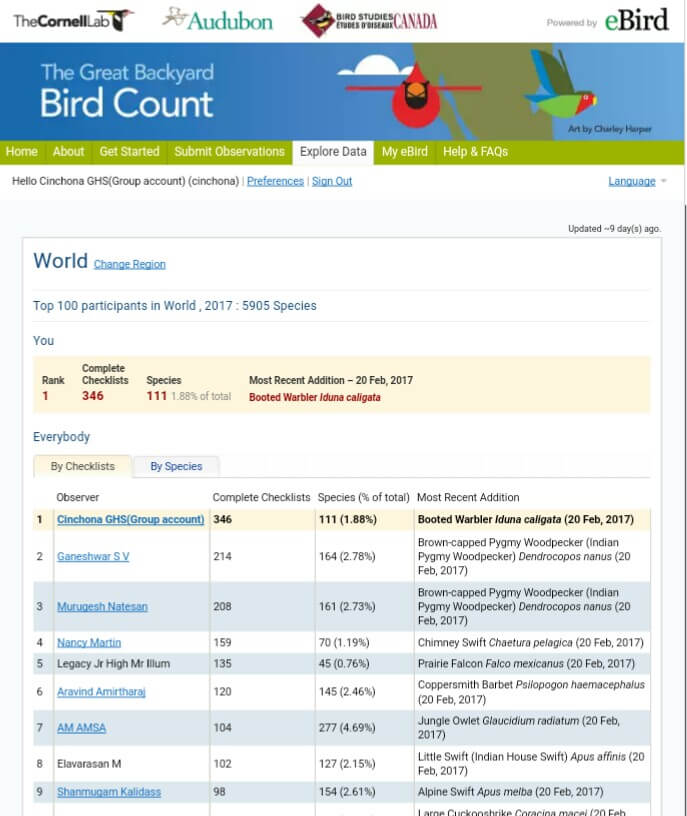 This success has given our students a new high. We think it is needless to say our confidence levels have shot up so much that we now believe, 'Together we can achieve more and with such unity, only the sky is going to be our limit, like it is, for birds'.
This success has brought an interesting memory to the surface which I think is fit enough to be shared at this juncture. In November 2016, during the 'Tamil Birders' Meet', which was held in Tirunelveli, we challenged Mr. Ganeshwar, who was ranked number one in bird watching (individual) at the world level for the year 2016, that we would win his hands down by achieving the same feat as 'him' within a span of one year. And that, we have done as a group in not more than a year's time. We are extremely humbled and kicked about the feat we have pulled off.
Proud it feels, to have done our bit for the sake of those that coexist with us. Having said that all, we conclude this write-up with a request, which is; you all should keep giving us more of what you gave us this year so we could give back a bigger and better world to us all. We place on record our sincerest gratitude for the opportunity given and for the patient reading, thank you all.
– Selvaganesh K, Government High School Cinchona