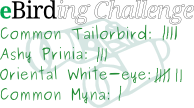 If it's February, it must be the Great Backyard Bird Count. In recognition of this global birding event the eBirding challenge for the month was to upload at least 20 complete lists

during the four days of the GBBC (ie, 13-16 Feb). Some eBirders scoffed at such an easy target, but during last year's GBBC only four birders uploaded 20 lists or more, so we thought that it was not so easy after all. Who was proved right? Read on to find out!
Overall, during February, the number of complete, effort-based lists of at least 15 min duration was 9,501. In all, 1,162 birders uploaded 10,442 lists of all types from February, together accounting for over 179,000 observations from India.
Of those birders who uploaded lists during the GBBC,  84 people uploaded 20 or more eligible lists; a huge jump from last year! They are (as always, excluding group accounts):
Abha Manohar K
Abhijith Surendran
Abhirami C
Abhirami M Jayakumar
Andrew Johnson
Anish Aravind
Anjali J
Anoop CR
Arjun R
Arun Jap
Arya MS
Arya Vinod
Ashish Nerlekar
Ashwin Warudkar
Aswathy Chandran
Avishkar Munje
Balakrishnan Pakaravoor
Chithrabhanu Pakaravoor
Devi Ambika.S
Devika Sanghamithra
Devika VS
Devipriya KS
Dhanashri Salunke
Dipak Bowalkar
Dona Jacob
Erle Brito
Ganeshwar SV
Gokul Harikumar
Hari Kumar
Haritha Krishnan
Hrishikesh Choudhury
Jafer Palot
Jaichand Johnson
Jayakrishnan Mannar
Jaydev Mandal
J.Thomas Cheruvallil
Jyothi Krishnan
Karan Tambe
Kedar Champhekar
Kulbhushansingh Suryawanshi
Lloyd Fernandes
Manoj Karingamadathil
MD Madhusudan
Nameer PO
Niranjana C
Nithin Mohan
Nithish Kumar
Panchapakesan Jeganathan
Prajeesh P
Pranjal Mahananda
Premchand Reghuvaran
Purabi Deshpande
Rajgopal Patil
Raman Kumar
Ramit Singal
Raphy Kallettumkara
Reena Sunil
Rekha Nair
Renju TR
Ronit Dutta
Sajin Seethi
Sajith Mannar
Santharam V
Sathya Chandra Sagar H.S
Selvi Duraibalan
Shah Nawaz Jelil
Shah Sofiullah Mahmud Hussain
Shameena S
Sheeba Nanjan
Somoyita Sur
Sreekumar E R
Steffin Babu
Sumesh B
Surendhar Boobalan
Susy Varughese
Syam Babu
Syamili Manoj
Tanuja Dasharath Haunsbhavi
T R Shankar Raman
Vidhya Sundar
Vinod Bhagwat
Vinod Kumar PK
Vipin V Nath
Vivek Puliyeri
Many congratulations to all of them!
One of these 84 was chosen using a computer-generated random number to receive a small gift, and that person is
Vinod Kumar PK
who receives a copy of Bird Sense: What it's Like to be a Bird by Tim Birkhead. (You can read a review here, and there is a website devoted to the book too.)
Here is the full list of all 1,162 eBirders from February 2015:
Aahanaa The Corbett wilderness, Aakash Upadhyay, Abdul Khan, abha manohark, abhijith a.p.c, Abhijith R.S, Abhijith sudarshan, Abhijith surendran, ABHIJIT NAMA, Abhilash Peter, Abhinand C, Abhirami C, Abhirami M Jayakumar, ABHIRAMI S, Abhiram V Rajandekar, ABIN ASWIN, Able Lawrence, Aby Crusha, Adithi Muralidhar, Adithyan thampi, Adithya Rathnakar, Adithy NLN, Aditi Deodhar, Aditi Surendra, Adolfo Castellino, ahil rishi rajasekaran, Aidan & Savio Fonseca, Aisha Sultana, Aishwarya nath, Ajay Kulangara, ajay neelamperoor, Ajish George, Ajit A, AJU RAJU, Akhil Bhardwaj, Akshay Bagkar, Akshay Onkar, Akshay Surendra, Al badush, Albin Jacob, Alkesh Thakare, Als Chn, Amal Dev.A.V, Amal. p ravindran, ambika nandini, AMBIKA NANOTH, Ameena Bhatia, Amil Prasad, ami prabal, amir sohail choudhury, Amith Kumar, Amit Kumar, Amol Bapat, Amol Lopes, amol mande, Amrita Menon, amrutha lakshmi, Amudha Hariharan, Anagha Bagade, anandha primary school, Anand Pendharkar, Anand Radhakrishnan, ANAND S, Anand Sundaram, Anant Deshwal, Anantha Krishnan.K, Anbazhagan P, Andrew Johnson, Aneesh Sasidevan, ANEESH SREEKUMAR, Anil Gulati, Anil Mahajan, Anil Sarsavan, Aniruddh Naik, anisha jayadevan, Anish Aravind, Anish Mohan Thampi, Anjali J, anjana hari, ANJANA VIJAYAN, Anjitha Devarajan, Anju Balakrishnan, ankita bhattacharya, Ankit Vikrant, Ankur Shringi, Annie Joseph, Anoop CR, Anoop N R, Anoop palode SS, anshuman sarkar, anuj raina, Anuj Saikia, Anula Amalraj, Anupam Roy, Anuradha Krishnan, anurag khaitan, Anu Rose Danial, Anushreedha Sivanandan, ANUSREE ASHOK, Anu Vk, Anvith KS, Aparajita Datta, Appavu Pavendhan, A R, Arathy S Kumar, aravinda hr, Aravind AM, Archana Radhakrishnan, Ardra B, Arjun Guneratne, Arjun P A, Arjun R, arjun suresh, Arnav Anish, Arnold Goveas, Arpit Deomurari, Arti Sood, Arun Ajayakumar, Arun Bhaskaran, Arun C.G, Arun Jap, Arun kumar, arun lal, Arunprasad Dhanapal, ARUNSANKAR N, Arun Simha, Arun Venkataramanan, Arvind Patole, ARYAKUMARAN M, ARYA M.S, ARYA SASI, Arya Vinod, Ashish Gupta, Ashish Kothari, Ashish Nerlekar, ASHISHY JOSHI, ashok raj v m, Ashritha Anoop, Ashutosh Singh, ashwin garg, Ashwini Kumar Bhat, Ashwin Warudkar, Asiem Sanyal, ASWATHI K, Aswathy chandran, Aswathy M Kurup, Athira A. S. Adoor, athira james, Athira K Nair, Athulya Gireesh, Atul Trivedi, Avadhesh Malik, Avinandan D, AVINASH BHAGAT, Avishkar Munje, BABUL ISLAM, baby shalini, Badri Narayanan Thiagarajan, Balachandran Radhakrishnan, Balaji B, Balaji S, balakrishnan pakaravoor, Balwant Negi, Bela Arora, Bency Benny, Benedict Dutemple, betsy selvakumar, Bhagirath Dave, BHAGYA R, Bhagyashree Ingle, Bhagyashri Patwardhan, Bhakti Salgaonkar, Bhalchandra Pujari, Bharti DK, Bharti Malvi, Bhaskar Chavan, Bhaskar Murthy, BHAVIK PARIKH, Bheemaneni Bhanu Prakash, Bhim Biswa, Bhuvaneswari J, Bias Chakraborty, bijumon ke, Biju PB, biju shekar, BINA MENON, BINU SREELAKAM, Blessy Babu, Brajesh Sayem, Brindha Velusamy, Byron Dias, Castro Karthi, Chandrasekaran Venkatraman, chandra sekhar, Chandrashekar Sundaram, Chandri N C, Chandru M, chetan harikishandas joshi, Chetan Rao, Chethan GS, Chetna Sharma, Chinmay Rahane, Chippy Vijay, Chirdeep Shetty, chithrabhanu pakaravoor, Chithra viswanathan, Chowgule Birders, Chris Bowden, CLAREENA JOSE, Conrad Pinto, C P Sethumadhavan, cs sanwal, Cuckoo Sebastian, Daniel Tillotson, David Beadle, David Irving, david stanton, dayal rana, Deapesh Misra, Debashis Chowdhury, Deb Bradley, Deepak Jois, Deepak Sahu, deepa manickam, Deepa Mohan, Deepanker Yadav, Deepika Prasad, Denzil Britto, Devadatta Naik, Devanarayanan Munnoolam, devasish mohapatra, Devdulal Chandra, Devi Ambika.S, Devika Sanghamithra, Devika V S, Devipriya K.S, devi s r, dfo ranikhet, dfo soil conservation nainital, DFO Soil Ramnagar, Dhananjai Mohan, dhananjay bhamburkar, Dhanashri Salunke, Dhanesh Ayyappan, Dhanjit Ray, Dhanya S Nair, dharani c, Dharmaraj Patil, dhiren malani, dhruva das, Dilan Mandanna, Dileep Subramanian, dilip kg, Dilip Polpakkara, Dimple Varu, Dinesh K.S., dipak bowalkar, DIPANKAR KEOT, Dipayan Chakraborty, Dipti aggarwal, Divya Mudappa, Divyapriya Chandrasekaran, DIVYA SINGHAL, divya srivastava, Dnyanada Phadke, Dolly Prasad, Dominic Alberty, DONA JACOB, Dr George P J, DrSanjeet Sahu, Dr.vasant shroff, Duraiswamy Navaneetham, Emanuel george, EM Ganin, Erle Brito, EVA HANSDAK, Evelyn Rangel, FAKIM ECO CLUB, Farhad P, Fatima Humaira, Fauzia Arief, foundation for ecological security Group, FreeBirds UK, Ganesh Nagarajan, Ganesh Pai B, Ganeshwar S V, Ganga Maya, GARGI RAY, Garima Bhatia, Gaurang Bagda, Gaurang Gowande, Gaurav Mittal, Gaurav Nalkur, Gaurav Srivastava, gayathri naik, Gayatri Oak, Gazala Khan, Geetanjali Dhar, Geeta Vishwanathan, geethanjali ravindran, Geetha Ramaswami, Geetha R Nair, Geetha Venkataraman, George Tom, GIRIJA MUNDACKAL, Girish Jathar, Gita Dattatri, Gnanaskandan Kesavabharathi, gokila vani, GOKULAKKANNAN NEDUNCHERAN, Gokul Harikumar, gokul vadivel, Gopal Sardeshpande, Gopeekrishnan Unnithan R, govindan. k, govind girija, Gowthama Poludasu, Gowtham TR, G Parameswaran, greeshma s prasad, G V Gopi, Hanuman Gawas, harhini s, Hari Hariharan, Harikrishnan M, Harikrishnan Surendran, hari kumar, HARI MAVELIKARA, HARIRAVEENDRA M, Harish Dobhal, HARISH K, Harish Maithani, Harish Prakash, Harish Thangaraj, Hari Sridhar, Hari Subramanya Balaji S P, HARITHA KRISHNAN, Harjot Singh(Harry) Kahai, HARSHADA GAUNS, harsha nr, Harsh Buty, Hemant Dhadnekar, Hemanth Byatroy, hemant kumar, herlin rosmi, Hilloljyoti Singha, Hima Hariharan, Himangshu Gogoi, Himansh Pahwa, himmat sidhu, HIMMAT SINGH PAWAR, HITHA P T, Hoolock Gibbon Eco Club, Howie Fischer, Hrishikesh choudhury, Hrishikesh Sunil Lakshmi, Humayun Taher, indhumathi anu, Indra Gadhvi, induchoodan sreedharan amalath, Instituteofbirdstudies Rishivalley, Ishaan Bidaye, Ishani Sinha, Jacob Thomas, Jafer Palot, Jaichand Johnson, James Boyce, James Williams, Jan Hansen, Javid Ihsan, Jayabharathy Ranganathan, Jayadev Menon, jayakrishnan mannar, Jaya krishnan VK,IFS, Jayalakshmi Jaichand, Jayalal K.P., jayant atrey, Jayan Thomas, Jayant Wadatkar, Jayaprakashan KP, jayaprakash m t, Jayaprakash Vattapparamban, Jaydev Mandal, Jayesh Ghanekar, Jayesh Kini, Jaymeet solanki, jayram satpute, Jeffin John, Jesse Huth, Jessica Luis, Jetinder Singh, Jignesh Dekhtawala, jilna joy, Jim Green, Jinesh P S, Jishnnu B, jismi m o, Jithu Gopal, J Nagaraj, Jobin George, Jobin John, John Christo, John Doe, JOHN VACHAPARAMBIL, Jolene Hurt, jose kallukaran, JOSE RANI BABU, Joshua Dharmaraj, J.Thomas Cheruvallil, Judith Heyer, Juergen Daemmgen, juliet denson, Junglehome Mudumalai, Jyothi Krishnan, Jyoti Rani Ahlawat, Kailash Prasad, kalpana jayaraman, kalpesh chodnekar, KALYAN SINGH SAJWAN, Kalyan Varma, Kamalakshan kakkol, kanak bakre, Kannan AS, Kannan U L, Karan Tambe, Karen Halliday, KARMA CHODEN BHUTIA, karthick mahalingam, Karthika Chandran, Kartik Pomal, Kaushik Lakshminarayanan, Kaustubh Rau, kavyabhavana didugu, Kayzad Kasad, Kedar Champhekar, ketan shukla, Khima Nand Balodi, Kiran bagade, Kiran Gopinath, kiran Goriwale, Kiran Kashyap, kiran more, kiran thomas, Kirsty Milward, k Mani, Komal Matieda, Kothandaraman K, KOUSHEYO BAGCHI, K Ratnam, Krishna Anujan, Krishnadas Mallya, krishnajith jayamani, Krishnamoorthy Muthirulan, Krishnamurthy Vijaykumar, Krishnan Swamy, krishna vinayan, KRITHIKA MUTHUVELU, Kulbhushansingh Suryawanshi, Kumar Elumalai, Kumar S, Kumar Ujjwal, Kumudha Palanisamy, Kunal Arekar, Kunhunni v unni, kusal gurung, Kushal Savdekar, K V UTHAMAN, lakshmi kumar, LALITHA RAJAN, Lallawmawmi Tlau, Lavanya Kothandaraman, laxmi r, Lekshmi Jayakumar, Lloyd Fernandes, maarten bosman, MADESH B, madhavan a.p, Madhumita Panigrahi, Madhura Amdekar, Madhurima Das, Madhuri Ramesh, madhushri mudke, Madhusudhan Srinivasan, Maha NV, Mahendra Jain, Mahesh arjun, Mahesh Goudelar, MAITREYA SUKUMAR, Mallikarjunagouda Hullur, Manali Rane, Manan Singh Mahadev, MANAS AGRAWAL, Manasi Mahajan, manas mayur, Mandar Bhagat, MANESH GAWAS, Mangesh Shirpurkar, Mangirish Dharwadkar, Mani Chacko, Manikandan R, Manipal Birders, Manish acharya, Manju Mathai, Manjunath R S, manju parkavi, Manju Sinha, Manoj Bind, Manoj K, Manoj Karingamadathil, Manoj Kumar, Manoj Sankav, Manu nair, Mark Vail, Martik Chatterjee, mary theodosius, Mathivanan Murugan, Maulik Varu, Maya Ramaswamy, M D Madhusudan, meena b, Meenakshi Poti, Megha Dattan NK, MEGHANA KULKARNI, MEGHANA ROSE JOSEPH, Meghna Dutta, Meghna Joshi, meher preetham, melvin joseph, Mike Coulson, Mike Prince, Milan Sojitra, Mini ANTO, Miraj Hussain, Mirzana Shiyas, Mittal Gala, m m r, Mohamed Musthafa Iqbal, Mohammed Sayeer, Mohan K Pillai, Mohan Raj K., Mohanraj Natarajan, Mohini Adke, Mohit Aggarwal, Mohith Shenoy, Mohmed Jamal, Monica Kaushik, Morgan Little, mounisha mouni, Mrinmayee Thakur, MSSRF Bioview, Muhammad Mahroof, mujeeb pm, Mukundan Kizhakkemadham, Mulagala Srinivas, Murali DC, Murugavel T, Murugesh Natesan, Muthukumaran Balasubramanian, Muthu Narayanan, Muthu Pandi, M V BHAKTHA, Mymoon M, Nagendra Nayak, Nagesh Vannur, Naimisha Daripineni, Nameer PO, Nandana prasanth, Nandkishor Dudhe, Nan Perkins, Nantha Gopal N, Naseem Abdurahman V, naseer parayil, Naveenlal P, Naveen MR, Naveen Venkat, Navneet Kumar, Navya Gupta, Nayan Jyoti Barman, Neelesh Bansode, Neenu Abraham, Neeraj Amarnani, Neeraj Sharma, Neeraj Sharma, Neethu Newton, Neha Waikar, Nigel De Menezes, NIHAL GUJRE, Nihar Madkaiker, Nihar Parulekar, Niket Kaisare, Nikhil Mohan K, nikhil Pednekar, NIKHIL SURESH, Nikhil Vidwans, Nilesh Bhanage, Ninad Mungi, Niranjana C, Nirmal Gourav Das, Nisanth Raveendran, Nisha M, Nishant Shah, Nishit Soni, Nitesh Litoriya, Nitesh Shah, nithin mohan, nithish kumar, Nitika Sharma, NSS College Nilamel (Group Account), Nupur Kale, nyass trust, OM BHASKAR, Omkar Dharwadkar, Omkar Gajarlwar, Omkar Kekre, omkar naik, oyndrila sanyal, Padmaja Anant, Pallavi Singh, Pampa Mistri, Panchami Manoo Ukil, Panchapakesan Jeganathan, PANKAJ GUPTA, Pankaj Maheria, Pankaj raina, PANNA CHANDRA NATH, parameswari venkatachalam, paramita mazumdar, paripooranam kaththavarayan, PARTH PARIKH, Parvaiz Shagoo, PARVATHY G UDAYAN, Parveen Shaikh, Parvez Kaleem, Patrick David, Pavan Reddy, pavithra prasad, Pavithra Sankaran, payal patel, P. B. Samkumar, P.Chitra P.Chitra, Peter Clarence-Smith, phanindra H, Phil Walton, PINKY Jauhri, Pooja Fulwadhani, Pooja Peshwa, Poorani Ganesan, Prabhakar Sastri, Prabhat Kumar, Prabhu Ramachandran, prabhu yogita, Prachi Mehta, pradeep chandran a j, PRADEEP KUMAR V B, Pradeep Sangwan, Pradnya Karbhari, pragya verma, Prajeesh P, Prakash G, prakhar gaur, Pramod Krishnan, Pranav abi, Pranav Balasubramanian, Praneti Khardekar, Pranjal Joshi, Pranjal Mahananda, praphul gopal, Prarthana Kshettry, PRASANTH S, Prasath Selvaraj, Prashant Futane, Prashanth Aiyappa, Prashanth Badarinath, prashanth g p prashanth gp, Prashanth NS, Prashant Kumar, Prashant Tewari, Prathamesh Desai, Prathamesh Tamhane, Pratik Humnabadkar, Pratik Joshi, Pratyush T Hazarika, Praveen es, Praveen J, praveen kumar, Praveen Kumar, praveen Rao koli, pravin kumar, pravin shanmughanandam, Preetha P.C, Preetha Rajan, PREETHI N, Prema Kakade, Premchand Reghuvaran, Premkumar Sundararajan, Prem Prakash Garg, Prem Thalur, Prerna Kalra, Priti Bangal, Priyah Sridhar, Priya Rajendran, Pronoy Baidya, Purabi Deshpande, Pushpa P, Qazi Hammad Mueen Qari, Rachana Bhave, Rachna, radhika renganadh, Rafeeq Babu Mohammed Salih, Raghavan Masilamani, Raghavendra Pai, raghul yuvan, Raghurama Hegde, Rahul Matmari, Rainbow Friends Bird Club, Raja Bandi, Rajah Jayapal, Rajan KC, Rajan Pilakandy, Rajaram A, Rajaram M R, Rajarathinam Jayaraj, Rajashree Khalap, Raja Simma Pandiyan, Raj Elangov, Rajesh Kalra, Rajesh Kulasekaran, Rajesh m, Rajesh Panwar, Rajgopal Patil, raj kumar, Rajkumar S, Rajneesh Suvarna, Rajni Trivedi, Rakesh Kalva, Ramalingam Durairaj, Ramanand D Rao, ramanibai R, Raman Kumar, Rama Shree, Ramesh Desai, Rameshkumar s, Ramesh Ramesh, RAMESH VP, Ramit Singal, ram mohan, RAMNAGAR FOREST DIVISION, ramnagar forests, Ramrajkumar Thiruvenkadan, Rana and Sugandhi Belur, RANJINI MURALI, ranjith thekkecherupilly, raphy kallettumkara, rathnashree suresh, Ratna Kanta Ray, ratnakar nikam, Rauf Ali, raveendran kc, Ravichandran K, ravi dave, Ravi Meghani, RAVINDRA SATHAYE, ravi vazhayil, Ravi Viswanathan, REEF RCOEM, reeja jose, REENA SUNIL, Rejitha V, Rekha Nair, REKHA S, R Elumalai, Remya s, renju tr, renuka nachimuthu, RESHMA BHAT, Resy George, Reuben Johnson, Ribish Thomas, Richa Kolachena, Rinku Moni Kalita, Rishov Biswas, Riya Joshi, Rohan Chakravarty, Rohan Dekate, Rohit Chakravarty, Rohit Hazare, Rohit Jha, Rohit Naniwadekar, Rohit Subhedar, Rohit Valecha, Ronak Gajjar, Ronald Messemaker, Ronit Dutta, Roopa V, Roshan Kamath, Roshnath R, Rotti Kadai School, Rudraksha Chodankar, Rupa Bhardwaj, Saandip Nandagudi, sabu singh, sachin chandran, SACHIN KRISHNA M V, Sachin Sarode, Sachin Sharma, Sachin Shurpali, Sachin Thote, sachin vaidya, Sagar Adhurya, Sagar Barge, Sagarika Roy Tapadar, sahana m, Sahas Barve, sahil salim, Saichandrasekar TM, Saikat Adhurya, Saikat Choudhuri, Sai Vivek, Sajimol p Geevarghese, sajin seethi, sajith mannar, SALINI HARIKUMAR, SAMADRITA ROY, Samantha Peck, Samanyu Neelson, Samar Gupta, Sameer Vaidya, Samiran Jha, Samuel John, Samyak Kaninde, Sancia Morris, Sancy Daniel, Sandeep Bapat, sandeep keerthi, Sandeep Pulla, sandeep srivats, Sandhya Bajaj, Sandhya Phalke, Saneesh C S, Sangeetha AB, sangeetha sangeetha, Sangram Parida, Sanjay Karanth, Sanjay Sondhi, Sanjay Thakur, SANJEEV NALAVADE, Sanjib Sarangi, Sanskriti School, Santanu Pal, Santharam V, santhosh kumar, santosh thakur, S Anujan, Sarath Babu N B, Saravanakumar veerasivam, sarayu ramakrishnan, Saroj Kumar Mishra, sarvir singh, Sashi Kumar, Sastha Prakash, satheesan vn, SATHEESH MUTHUGOPAL BALASUBRAMANIAN, Sathiamoorthi J, sathi nair, Sathvik Reddy Nimma, Sathya Chandra Sagar H.S, Sathyan Meppayur, sathya prabha, Sathya Rajeev, Satish Chandra Thayapurath, Satish Kumar Nagaraj, satish siwatch, Saurabh Dholakia, Savithri Singh, sayali pawar, Sayoni Dutta, Seena Viovin, SELVI DURAIBALAN, selvi kalai, Selvi PSGG Kanya Gurukulam, Sethu lal, Shah Jahan, Shah Nawaz Jelil, Shah Sofiullah Mahmud Hussain, Shailaja Mallya, Shailee Shah, Shail Mohan, Shaji FRANCIS, Shaju Thomas, shalini dhyani, Shameena S, Shameena shahjahan, Shamnadh Shajahan, Shanmugam Kalidass, shanmuga priya, Shanmukharaja Muroor, shantilal Varu, Sharad Apte, Sharada Ramadass, Sharad Singh, Sharan venkatesh, Sharmi Sen, Shashank Birla, shashank pakkannavar, shashank pansari, shashikant Naik, Shaunak Modi, Shaunak Patwardhan, sheeba nanjan, Sheela Panwar, SHEKHAR BOPARDIKAR, Sherman Garnett, Sheshachalam Iyengar, Shiladitya Mukherjee, Shipra Yadav, shishir shendokar, Shivam Agrawal, Shivaprakash Adavanne, Shivashankar Manjunatha, Shiv K, Shiv kumar, Shraddha Sawant, Shreejata Gupta, Shree Krishnamoorthy, Shrey Pareek, Shrikanth nayak, shrirang pathak, Shriranjani L . Iyer, shruti aggarwal, Shruti kulkarni, Shruti Patil, Shubhadeep Mukherjee, Shubham Gautam, Shubham Srivastav, Shubha Nava, shubhankar patra, Shuvendu Das, Shweta Avinash, shweta mukundan, Shwetha Bharathi, shyamkumar puravankara, sibam sarkar, Siddhartha Bandyopadhyay, sidharthan katteri, Sidharth R Prakash, SIDHU V GOPAL, Simanta Pathak, Simi Gopalan, Simon Lane, Simon Tickle, Sita Rama Raju, Sita Susarla, Sivadas Chettur, Sivakumar AK, sivakumar Hariharan, Sivakumar Swaminathan, Sivaprasad R, Sivashankar Ramachandran, Siva T, skanda sn, Smrity Ramavarapu, Sneha Gupta, Snehasis Sinha, soham brahmbhatt, Soham Dixit, Soham Sinha, Soma Ateesh, Somen Sarkar, Somoyita sur, Soni Nambiar, Sougata Sadhukhan, Soumya Kundu, Soumya Prasad, SOUMYA SENGUPTA, Sourajit Ghosal, Sowmya Reddy Kalicheti, Sravan Kumar, Sreedhar Vijayakrishnan, Sreekrishna Palaparthi, Sreekumar E R, Sreekumar Harikumar, Sreelakshmi.R. Nair, Sreelekshmi S, Srikanth Bhat, SRINIVASA Murthy S V, Srinivasa Shenoy, SRI RAMAN, Sritha A G, Srushti Mehatkar, sruthi sandeep, Sruthy s. nair, steffin babu, Steve Patmore, Subbu Subramanya, subhankar Paul, Subhasmita Patro, Subhodip Mukherjee, Subhra Pakhira, Subin Sudheendran, subraja vasudevan, SUBRAMANIAN R, Subramanian Sankar, Sudeshna Dey, sudhakaran kk, Sudhanya Rath, Sudhir Hasamnis, Sudhir Naik, Sudipto Roy, Suhel Quader, Suhirtha Muhil, sujata pachhal, Sujith Surendran, Sujit Kolke, Sukanya Rath, Sumesh b, sumesh sp, Sumin George, Sumit Sen, Sundar Padmanabhan, Suneeta Madnani, sunil kumar, Sunil M.S., Supriya Pillutla, Surendhar B, Surendhar Boobalan, Suresh Brar, suresh ekambaram, Suresh Jones, suresh payippad, Suresh Rana, surya devi, surya kumar, Surya Prakash, Susy Varughese, sutirtha lahiri, SUVADEEP MANDAL, Swapnashree Pani, Swapni Kulkarni, Swati Kittur, Swati Sidhu, SYAM BABU, SYAMILI MANOJ, syed ateeq, Syed Muzamil, Taksh Sangwan, Tallulah D'Silva, tanuja dasharath haunsbhavi, Tanushree Chakravarty, Tanya Seshadri, Taranisen Pattnaik, Tarique Sani, taseng mancheykhun, Taukeer. Lodha, teddy nirappaan, Tejaswini Limaye, Terje Gustavsen, THANKA PRASAD V, THASNIM S NIZAR, Theivaprakasham Hari, Thejaswi Shivanand, TheNatureTrust (GroupAccount), Thomas Job, Thorkild Michaelsen, Tilroy Fernandes, T.INDHUMATHI MATHI, Tintu Shaj, TKS Thathachari, T.N. Bindu, todd nachowitz, tony antony, T R Shankar Raman, ts prasanth, Tushar Pawar, Udiyaman Shukla, Uma Jayabalan, umamaheswari r, Uma Pandiyan, umar khan, Umesh Ghatorsing, Umesh Mahtani, Umesh Mani, Umesh Pavukandy, Umesh Tewari, Umesh Vohra, Upma Manral, USHAS P. U, uvashri rajagopal, Vaidehi Gunjal, vaisakh george, Vandana Rajput, Vanessa Lourenco, varghese george, Vasant Hede, Vasundhara Krishnani, vedang saunt, vedant dixit, vedant kumbhar, veena babu, Venkatesh Prasad, Vibhu Joshi, vidhu mohan c k, vidhya ganesan, vidhya sundar, Vidjit Vijaysanker, Vignesh Menon, Vigneshwaran B, Vijaya Lakshmi, vijay kumar, Vijay Ramachandran, Vijay Savadi, vijesh vallikunnu, VIJESH V V, Vikas madhav nagarajan Madhav, Vi la Noyes, vinayak vangapalli, Vinay Das, Vinay Patel, Vineeth Kumar C M, Vinoba Anand, Vinod Bhagwat, vinod k, VINOD KUMAR P.K., Vinod Kumar V, Vinod S, Vinoth P, vin shutterbug, Viola Rodrigues, VIPIN vipin, vipin v nath, Vipul Vedi, viraj malani, viral joshi, Virender Sharma, visakan Duruvan, VISANTH V S, Vishal Acharya, Vishal Chauhan, Vishal D, Vishnu Chandran, Vishnu Murali, Vishnupriya Hathwar, Vishnupriyan Kartha, vishnu R, VISHNUVARTHANAN GUNALAN, Vishwatej Pawar, Vivek Anand, Vivekanandan I A S, Vivek Chandran, Vivek Gopinath, Vivek M, Vivek Puliyeri, vrinda lath, Wahiba Humam, Wesley Rajaleelan, Wildon trust trust, Yagnesh Desai, Yashodan Heblekar, Yashwanth Baskar, Yogesh Parashar, Yogeshwari C, Yousaf Panichullathil, yuvika maheshwari.
Are you doing your best to match the target for March? And don't forget the several flavours of yearlong challenges for 2015!