This year's Big Bird Day saw a large increase in number of teams and participants. From 160 teams in 2013, this year saw a jump to over 400 teams from 28 States  across the country. In all, 794 species were documented, which is about 65% of all birds known from India. Over 25,000 observations were made, and a little more than 245,000 individual birds counted as part of the BBD 2014.
Below we have put together some summaries and results from BBD 2014. Thanks to all of you who participated and made this event a great success. See you at next year's Big Bird Day!
---
The map below shows the locations of sites surveyed by BBD teams. This year, teams were encouraged to maintain separate lists for each location they covered, and so the total number of locations is almost 700. (Click on the map to see a larger view.)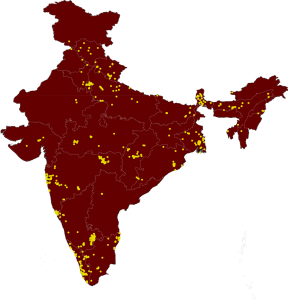 State-wise information is shown below. You can click on the name of the State or region to download csv (comma-separated value) files containing all species from that region, broken down by team ID and list. The 'All India' csv file at the bottom contains all the information collected during BBD 2014. You should be able to open the csv files in excel simply by double-clicking on them. There is a separate entry for 'Delhi-NCR', which has information on the sightings of all teams with 'DL' team IDs — these teams covered Delhi State as well as areas in neighbouring States.
The next table shows all BBD teams, the States they participated from, the total number of species each team observed, and link to each of their individual lists. For those teams that registered before the event, Team ID codes were given. Teams that had not registered beforehand were given an ID based on the email address of the person who uploaded the lists. Because team leaders for some teams changed; and because in some cases lists were uploaded by someone else on behalf of BBD teams, this table does not give the names of team leaders. Note also that in some cases, teams birded at the same location, but split the location list into shorter time intervals — in such cases the location name may appear multiple times, but with a distinct eBird link.
| | | | |
| --- | --- | --- | --- |
| Team ID | State | No. species | Lists |
| AP-03 | AP | 124 | Himayat Sagar Lake, Botanical Gardens, Ameenpur Lake |
| AR-01 | AR | 73 | Zemithang |
| AS-01 | AS | 4 | Morikolong |
| AS-02 | AS | 65 | Nagaon |
| AS-03 | AS | 45 | Nabagraha, Guwahati, Kharguli hills, Luitnagar |
| AS-04 | AS | 32 | Garbhanga Reserve Forest |
| AS-05 | AS | 253 | Kaziranga NP |
| AS-06 | AS | 56 | Dehing Patkai Wildlife Sanctuary |
| AS-07 | AS | 65 | Nalbari, Bangaon, Jagra, Mukalmuwa |
| AS-08 | AS | 29 | Hazara Pukhuri |
| AS-09 | AS | 57 | Maguri Bill, Tinsukia, Maguri Bill, Tinsukia |
| AS-10 | AS | 35 | Amsoi (Amtreng Road) |
| AS-11 | AS | 76 | Garbhanga Reserve Forest, Guwahati, Pobitora Wildlife Sanctuary |
| AS-12 | AS | 102 | Jaipur,Assam |
| AS-13 | AS | 70 | pobitora wetland, The road from Narengi Tinali to Pobitora, Oil Tower, Amchang WLS, entry through main gate., Uzanbazar Riverside |
| AS-14 | AS | 15 | hazara pukhuri |
| AS-15 | AS | 17 | Makunda Christian Hospital |
| AS-16 | AS | 72 | Maguri Bill, Tinsukia |
| AS-18a | AS | 44 | River Aie |
| AS-18b | AS | 19 | Nayakgaon |
| AS-18c | AS | 20 | Bageswari Hill |
| BR-01 | BR | 49 | Jagatpur Lake |
| BR-02 | BR | 6 | Danapur Cant |
| BR-03 | BR | 44 | Korha Kothi, Katihar, Tharha, Bihar |
| BR-04 | BR | 15 | Taru Mitra Ashram. Digha, Patna |
| BR-05 | BR | 53 | T M Bhagalpur University Campus |
| BR-06 | BR | 33 | Valmiki Tiger Reserve |
| BR-07 | BR | 42 | Patna Zoo |
| BR-09 | BR | 6 | Parman River Araria |
| CG-02 | CT | 28 | BARNAWAPARA WILDLIFE SANCTURY, Home |
| CG-03 | CT | 32 | Wrs Colony |
| CG-04 | CT | 25 | Kanji Tank, Chhuiya Tank & near by feilds, Nawagaon Tank |
| CG-06 | CT | 63 | Talpur Durg |
| CG-09 | CT | 79 | KANGER VALLEY NATIONAL PARK, Dalpat Sagar, KANGER VALLEY FOREST |
| CG-10 | CT | 91 | Sendha tank near Cricket stadium, Hazra colony , near Seminary hills, Vill; Bhimtal , Mukki , Kanha NP , Distt Mandla MP |
| CG-11 | CT | 47 | Rasni Umaria Tank |
| CG-12 | CT | 17 | Korba & surroundings |
| CT1 | CT | 22 | Gayatrinagar, Raipur |
| CT10 | CT | 33 | Limo- Khairbandha, Kawardha |
| CT11 | CT | 38 | Lohara tanks & surrounding forest area |
| CT2 | CT | 32 | Indravati Colony, Near Raja talab , Raipur |
| CT20 | CT | 14 | Abhanpur & surroundings |
| CT21 | CT | 8 | Boriakalan, near Raipur |
| CT23 | CT | 22 | Korba & surroundings |
| CT24 | CT | 11 | Santoshinagar, Bhatagaon , Raipur |
| CT25 | CT | 13 | Panchsheelnagar, Raipur |
| CT26 | CT | 12 | Katoratalab,Rajendranagar,Pachpedinaka area of Raipur |
| CT27 | CT | 9 | Telibandha, Raipur |
| CT28 | CT | 16 | Vill ; Mana, Raipur |
| CT29 | CT | 12 | Mandirhasoud & surroundings, Raipur |
| CT3 | CT | 35 | Bandha barrier area, Bhoramdeo WLS |
| CT4 | CT | 27 | Arang- Paragaon area on NH |
| CT5 | CT | 31 | Sriramnagar, , Shankernagar, Jora area of Raipur |
| CT6 | CT | 25 | Chhaporadih & surroundings |
| CT7 | CT | 18 | Dhebar Pink City, Shankernagar, Raipur |
| CT8 | CT | 33 | Khamardih, Raipur |
| CT9 | CT | 23 | Tumgaon & surroundings |
| DL-01 | DL | 94 | Yamuna Biodiversity Park |
| DL-02 | DL | 50 | Asola Wildlife Sanctuary |
| DL-07 | DL | 55 | Aravalli Bio-diversity Park, Gurgaon |
| DL-09 | DL | 101 | JNU |
| DL-13 | DL | 89 | Najafgarh Jheel Area |
| DL-15 | DL | 26 | Lodi Gardens |
| DL-16 | DL | 79 | Garhi Mandu CIty Forest |
| DL-17 | DL | 50 | Aravali Biodiversity Park, Vasant Kunj |
| DL-19 | DL | 78 | Aravalli Biodiversity Park, Vasant Vihar, Vasant Kunj, New Delhi |
| DL-20 | DL | 143 | Najafgarh Drain |
| DL-21 | DL | 28 | Yamuna Biodiversity Park |
| DL-24 | DL | 60 | Sanjay Van, NATIONAL ZOOLOGICAL PARK, Hauz Khas Lake, Okhla Bird Sanctuary |
| DL-25 | DL | 47 | Bhatti Mines |
| GA-001 | GA | 138 | Sancoale |
| GA-002 | GA | 59 | IN-GA-Poriem – 15.5685×74.0260 – 16-Feb-2014 8:17 am |
| GA-003 | GA | 108 | IN-GAPonda |
| GA-004 | GA | 90 | Aldona |
| GA-005 | GA | 103 | Carambolim Lake |
| GA-006 | GA | 94 | Bondvol/ Bondava Lake, St Cruz, Garcia de Orta/ Panjim Municipal Garden, Caranzalem Beach, Panjim, Curca Saltpans, Batim Lake |
| GA-007 | GA | 80 | Maina-Raia Wetlands |
| GA-008 | GA | 27 | Pilerne Plateau, lake and fields |
| GA-009 | GA | 99 | Cotigao |
| GA-010 | GA | 72 | Tambdi Surla |
| GA-011 | GA | 144 | Carambolim Lake & environs, Zuari River, Vagator Beach, Dhargal, Nagoa grande |
| GJ-02 | GJ | 36 | Dabhlathali – Nalsarovar, Baniya border – Nalsarovar, Aniyali, SP Ring road – Vaishnodevi Toll, Chokhaliyalithali – Nalsarovar, Raj Kapoor thali – Nalsarovar, Shahpur ni Cholathali – Nalsarovar, Bavedathali – Nalsarovar, Dharabala Watch Tower – Nalsarovar, Lakhathali – Nalsarovar, Daduka – sanand, Maharajathali – Nalsarovar, Joklandithali – Nalsarovar |
| GJ-03 | GJ | 105 | Pradhyuman Park, National Highway 8B |
| HP-01 | HP | 44 | Himachal Pradesh |
| HP-02 | HP | 93 | PONG DAM |
| jjogindersing | HP | 42 | Banjaar |
| sachinkullu | HP | 20 | Manali |
| shivkumar | HP | 16 | Udaipur |
| tirthraj | HP | 9 | Kaza |
| vijaythakur27 | HP | 45 | McLeod Ganj |
| CH-01 | HR | 178 | CHANDIGARH |
| DL-03 | HR | 131 | Sultanpur Jheel Bird Sanctuary |
| DL-06 | HR | 101 | Kanoli jheel, Jheeri Mandir jheel, Mandkaula, Siaroli jheel, Mandnaka jheel |
| DL-11 | HR | 143 | Bhindawas Bird Sanctuary |
| DL-12 | HR | 168 | Dighal village |
| DL-14 | HR | 94 | Sultanpur Jheel Bird Sanctuary, Basai Wetland, Gurgaon |
| drchetna84 | HR | 86 | Kaithal |
| JH-01 | JH | 40 | Canary Hill, Hazaribag |
| JH-03 | JH | 21 | Doranda, Ranchi |
| JK-01 | JK | 75 | Udhampur |
| amithkumar.4 | KA | 70 | Hennagara Lake, Hosakerehalli Lake |
| anahitaananth98 | KA | 15 | Indira Gandhi Musical Fountain Park, Bangalore |
| anushshetty | KA | 34 | Bangalore University Campus, Bangalore, Ramadevarabetta, Ramanagaram |
| cgrbowden | KA | 94 | Madhure Kere, Bangalore, Hessarghatta Lake, Bangalore, Bettakote Lake, Devanahalli |
| cs.bandi | KA | 83 | Yellamalappa Shetty Lake, Bangalore, Hoskote Lake, Bangalore, Rampura-Kalkere Lake, Bangalore |
| dipu_k | KA | 108 | TG Halli Reservoir, Bangalore |
| dumaketu | KA | 46 | Savandurga State Forest, Bangalore |
| Fauzia.s.arief | KA | 94 | Hoskote Lake, Bangalore, Rampura-Kalkere Lake, Bangalore |
| forestowlet | KA | 58 | Kaikondanahalli Kere, Bangalore, Agara Kere, Bangalore, Muthanallur Lake, Bangalore |
| hornbilljim | KA | 96 | Hebbal Lake, Bangalore, Madhure Kere, Bangalore, Indian Institute of Science Campus, Bangalore, GKVK Dry Land, GKVK Bettahalli Forest, Kakolu Lake, GKVK Botanical Gardens |
| itnatureclub | KA | 9 | Ramakrishna Mission School, Shashikant's House, Road Passing through Ragihalli State Forest |
| jobkjoseph | KA | 52 | Bellandur Lake, Bangalore |
| KA-01 | KA | 75 | Galibore Fishing Camp |
| KA-02 | KA | 121 | Nandi Hills, Bangalore, Hoskote Lake, Bangalore |
| KA-03 | KA | 105 | Valley School, Bangalore, Harohalli Lake, Bangalore, Gadasalli Kere, waterbody at Uyyamballu, near Kanakapura, fields around Yadamaranahalli, water body outside Kanakapura, Cauvery WLS |
| KA-04 | KA | 83 | Kadur |
| KA-07 | KA | 48 | Jaipurdoddi |
| KA-08 | KA | 63 | Old Magazine House, Ganeshgudi, Timber Depot, Dandeli |
| KA-09 | KA | 44 | Shivana Kere area (behind the Valley School), Kodipalya |
| KA-10 | KA | 87 | Lingambudhi Lake, Mysore, Kukkarahalli Lake, Hebbal Lake, Mysore, Roopanagar |
| KA-11 | KA | 53 | Nagarahole NP |
| KA-12 | KA | 66 | Agumbe Rain Forest |
| KA-13 | KA | 55 | mande-mane, sirsi |
| KA-14 | KA | 48 | HD Kote Rd |
| KA-15 | KA | 84 | Ranganathittu Bird Sanctuary, Hebbal Lake, Mysore, Chamundi Hill NE, Mysore |
| KA-16 | KA | 119 | Indraprastha, Mysore |
| mike | KA | 78 | Hesaraghatta–Mathkur Area, Hesaraghatta–Hesaraghatta Grassland, Chikkabanavara Lake |
| pallavi2410 | KA | 10 | Devarabisanahalli Kere |
| prasadkk | KA | 90 | Madivala Lake, Bangalore, Hulimangala, Bangalore, Muthyalamaduvu, Hennagara Lake, Haragade Lake, Jigani Lake, Anekal Lake (Dodda Kere) |
| prashanth178 | KA | 73 | Lalbagh, Bangalore, Lalbagh, Bangalore, Lalbagh, Bangalore, Lalbagh, Bangalore, Lalbagh, Bangalore, Lalbagh, Bangalore, Totti kallu, Totti kallu, Gulak male kere, Gulak male |
| rahulmatmari | KA | 12 | Lalbagh, Bangalore |
| santosh.badri | KA | 102 | Valley School, Bangalore, Road to Lotus Pond, Ragihalli Lake, Vadhera halli Lake, Anekal Road to Ragihalli |
| shurpali | KA | 78 | Nandi Hills, Bangalore, Kogilu Kere, Bangalore |
| subbaraogopinath | KA | 26 | Puttenhalli Lake (Puttakere) |
| sudhirsnaik | KA | 94 | Shivanahalli, Bangalore, Bidrekere, Ragihalli Forest Strech, Hennagara Lake |
| suhelq | KA | 49 | National Centre for Biological Sciences, GKVK Campus, Bangalore, GKVK Campus, Bangalore, GKVK Campus, Bangalore, GKVK Campus, Bangalore, Rajiv Gandhi Nagar, Bangalore |
| sumasutaha | KA | 19 | Jayanagar housing society layout, 207 |
| vijay_us | KA | 49 | Kaikondanahalli Kere, Bangalore |
| vinay.das | KA | 69 | Valley School, Bangalore, Kaggalahalli Kere, Bangalore, Gabbadi Kere, Bangalore, Ravagodlu Betta, Bangalore, Gabbadi Nursery |
| ajmalmltr | KL | 18 | maniyar, konni, konni |
| alpharikumar | KL | 24 | Kuttanad Wetlands-Pallippad Parayankari Puncha, Kuttanad Wetlands-Pallippad Parayankari Puncha, Alappuzha KSRTC Bus Station |
| alp_harikumar | KL | 43 | Kuttanad Wetlands–Vallomkadavu, Kuttanad Wetlands–Vallomkadavu, kuttemperoor |
| amie.inman | KL | 75 | Periyar Tiger Reserve |
| amirtavarshini | KL | 10 | Ranjith Vishnuvardhan's residence, Ranjith Vishnuvardhan's residence |
| chithrabhanu | KL | 15 | Thrissur Museum and zoo, Thrissur Museum and zoo, Thrissur Museum and zoo, Thrissur Museum and zoo |
| cuckoo24 | KL | 22 | Sailing Club House |
| drdilipkg | KL | 51 | Nedumbassery Wetlands–Opposite CIAL TradeFair and Exhibition Centre, Nedumbassery Wetlands–Opposite CIAL TradeFair and Exhibition Centre, Nedumbassery Wetlands–Opposite CIAL TradeFair and Exhibition Centre, Kalathungal, Chelamattom |
| dr.jineshps | KL | 10 | Kidangoor |
| enthukondu | KL | 11 | Payyambalam, kannur, Payyambalam, kannur |
| es.praveen | KL | 10 | Apollo Tyres,Perambra |
| induchoodana | KL | 41 | Manakkodi Kole wetlands, Manakkodi Kole wetlands |
| jacobnthomas | KL | 27 | thiruvalla, thiruvalla, thiruvalla, thiruvalla |
| jalajamjktm | KL | 16 | kodimattom, kodimattom |
| javidn | KL | 24 | Kanadakkadavu Wetland, Kanadakkadavu Wetland, Kanadakkadavu Wetland, Kanadakkadavu Wetland, Kanadakkadavu Wetland, Kanadakkadavu Wetland |
| jayanthomas7080 | KL | 34 | Ezhome |
| kamalkakkol | KL | 14 | BANAM SCHOOL, BANAM SCHOOL |
| KL-01 | KL | 42 | Munnar–KHDP Tea Plantation Hotel |
| lekshmises | KL | 68 | Kuttanad Wetlands–Karingalichal Lake, Pallimukkam, Mannam Sugar Mill |
| nameerpo | KL | 35 | Botanical Garden, Kerala Agricultural University, Thrissur, Chanoth, Pattikkad, Chanoth, Pattikkad |
| nancy3019 | KL | 6 | athumpumkulam, athumpumkulam |
| nithinmohancof | KL | 31 | KAU Botanical Garden, College of Forestry, and College of Horticulture, Vellanikkara |
| pakshihari | KL | 44 | Hari Mavelikara's homestead at Kunnam, Mavelikara, Hari Mavelikara's homestead at Kunnam, Mavelikara, Kurathikad, Thekkekara Panchayat, Mavelikara |
| palot.zsi | KL | 33 | Parappil, South Beach, Kozhikode, SArovaram Biopark, Kottooli, Planetarium, Calicut, Gandhi Road, Kozhikode Beach |
| premchandalpy | KL | 38 | Madurath Padam, Elookara, Aluva, Madurath Padam, Elookara, Aluva, Madurath Padam, Elookara, Aluva, Madurath Padam, Elookara, Aluva, Madurath Padam, Elookara, Aluva, Madurath Padam, Elookara, Aluva, Elookara, Aluva, Elookara, Aluva, Elookara, Aluva, Elookara, Aluva, Elookara, Aluva, Elookara, Aluva |
| pvparvathycof | KL | 39 | College of Forestry, Vellanikkara, Agronomy department, Instruction farm, Agronomy department and Coconut and pepper plantation, Nila Ladies Hostel, Road Along Ground and Olericulture |
| reji_kunnumpuram | KL | 7 | Kowdiar, Kowdiar |
| reshmamerinjohn | KL | 26 | ERAVIPEROOR |
| sanila_sunil | KL | 18 | peringamala, pariyaram, melevettippuram |
| sanjithmenontr | KL | 9 | Malampuzha Reservoir, Vadakkanthara |
| satyanmpr | KL | 19 | Meppayur |
| shivanparam | KL | 60 | Sholaiyur, Kerala. |
| sivanpalode | KL | 64 | Punchakkari Wetlands 1, Punchakkari 3, Punchakkari Wetlands 2, KSRA |
| sivapulari | KL | 67 | Kuttanad Wetlands–Moorthitta, Kuttanad Wetlands–Ayikkara Mukku-Vaniyamkadavu, Kuttanad Wetlands-Kudavallari, Kuttanad Wetlands–Vallomkadavu, Kuttand wetlands-thevarkadavu puthanar, Kuriyannoorkattil |
| sonilr | KL | 18 | Moncombu,Alappuzha-Changnsry Hwy, Santhi Nagar, Ayathil,kollam |
| sreekala066 | KL | 3 | chittammethu, chittammethu |
| sreekumarerannoor | KL | 32 | Botanical Garden, Kerala Agricultural University, Thrissur, Botanical Garden, Kerala Agricultural University, Thrissur, Kuttumucku – Nettissery Paddy Field, COF – COH Way, COF – COH Way, COF – COH Way |
| sreenee.nair | KL | 55 | Kuttanad Wetlands–Poovathumkari |
| viakkatilsyam | KL | 8 | mundikkal tazham |
| vijeshvallikunnu | KL | 30 | Narikkutty padam, vallikunnu |
| vishy78 | KL | 37 | Kottooli wetlands, Kottooli wetlands |
| wildtvm | KL | 25 | Civil Station, Trivandrum |
| arvind_patole | MH | 49 | Pashan Lake, Pune |
| MH-01 | MH | 17 | BPT Park, Colaba |
| MH-02 | MH | 89 | Uran, Akshi Beach |
| MH-03 | MH | 31 | Dapoli-Ladghar-Dapoli, Ladhgar Beach, near Dapoli, Asud Valley, near Keshavraj Temple |
| MH-04 | MH | 25 | Phansad |
| MH-06 | MH | 43 | Chowk, Thombre wadi, Saguna Baug, Neral, Maharashtra, India, Saguna Baug, Neral, Maharashtra, India, Wavarle-Khairat, Pali T. Waredi (Dhom), Warosewadi, Warosewadi, Barwai, Barwai, Bhilawli, Thombrewadi Karjat, Wavarle-Khairat, Bhilavle, Dhom water body, Chowk |
| MH-07 | MH | 108 | Tirth, Bhairoba temple Dam., TISS FQ to M.G, Kamta lake, Kalegaon dam, Arali, Kumbhari Patils agriculture field, Ram-dara dam from bye-pass road side, Arun Nanaware's farm, Warwanti-Apshinga road., Kachere wasti, Harali. kh, Chilam kheda dam., Warwanti dam., Yamai devi lake close to Rakhel village |
| MH-08 | MH | 35 | sanjay gandhi national park |
| MH-09 | MH | 28 | Paunar River,Wardha, Paunar River,Wardha |
| MH-10 | MH | 20 | Karunashram,Pipri,Wardha |
| MH-11 | MH | 11 | Rotha Reservoir I, Wardha, Rotha Reservoir I, Wardha |
| MH-12 | MH | 10 | Yelakeli River,Wardha, Yelakeli River,Wardha |
| MH-13 | MH | 10 | Suklibai,Wardha |
| MH-14 | MH | 16 | Ridhora Dam,Wardha |
| MH-16 | MH | 13 | Sarangpuri,Arvi,Wardha |
| MH-17 | MH | 9 | Sarwadi,Arvi,Wardha |
| MH-18 | MH | 11 | Lal Nala,Samudrapur,Wardha |
| MH-19 | MH | 12 | Bhugaon Lake,Wardha |
| MH-20 | MH | 11 | Hanuman Hill,Behind ITI College,Wardha |
| MH-21 | MH | 12 | Barbadi,Wardha |
| MH-22 | MH | 12 | Mahakali Dam,Wardha |
| MH-23 | MH | 8 | Ridhora Dam,Wardha |
| MH-24 | MH | 10 | Mandgaon,Wardha |
| MH-25 | MH | 10 | Dhaga River,Wardha, Dhaga River,Wardha |
| MH-26 | MH | 5 | Sewri Jetty, Mumbai |
| MH-29 | MH | 20 | Panorama Point |
| MH-31 | MH | 11 | Bor Dam,Seloo,Wardha |
| MH-32 | MH | 13 | Junapani,Wardha, Junapani,Wardha |
| MH-33 | MH | 12 | Pothara Dam,Hinganghat, Pothara Dam,Hinganghat |
| MH-34 | MH | 8 | Waigaon,Wardha |
| MH-35 | MH | 12 | Dhaga River ,Deoli,Wardha, Dhaga River ,Deoli,Wardha |
| MH-36 | MH | 10 | Alode,Wardha, Alode,Wardha |
| MH-37 | MH | 8 | Jamni,Wardha |
| MH-38 | MH | 12 | Wanarchuha,Arvi,Wardha, Wanarchuha,Arvi,Wardha |
| MH-39 | MH | 13 | Mahakal,Wardha, Mahakal,Wardha |
| MH-40 | MH | 11 | Salod,Wardha, Salod,Wardha |
| MH-41 | MH | 11 | Ashti,Wardha, Ashti,Wardha |
| MH-42 | MH | 11 | Wadner,Hinganghat,Wardha |
| MH-43 | MH | 11 | Satoda,Wardha, Satoda,Wardha |
| MH-44 | MH | 9 | Karanja,Wardha |
| MH-45 | MH | 9 | Paloti,Sawangi,Maghe,Wardha |
| MH-46 | MH | 13 | Laxmi Nagar,Nalwadi,Wardha |
| MH-47 | MH | 80 | Kavdi Pat, Pune, Dive Ghat, Pune |
| MH-48 | MH | 44 | Waghad dam, Gangapur Forest Nursery |
| MH-51 | MH | 35 | Elephanta Island |
| MH-52 | MH | 18 | Karnala Bird Sanctuary |
| MH-56 | MH | 31 | Nimgaon-Ketki |
| MH-57 | MH | 86 | Barvi Lake |
| MH-58 | MH | 18 | hariyal trail |
| MH-59 | MH | 55 | Kavdi, Pune |
| MH-62 | MH | 47 | Jejuri |
| MH-64 | MH | 62 | Junnar |
| MH-65 | MH | 45 | ASKARWADI |
| MH-66 | MH | 51 | Tungareshwar Wildlife Sanctuary, Tungareshwar Wildlife Sanctuary |
| MH-69 | MH | 118 | Kumbhargaon |
| MH-70 | MH | 39 | Maval Taluka |
| MH-71 | MH | 69 | Mayureshwar Wildlife Sanctuary |
| MH-73 | MH | 43 | MIraj MIDC, New Block, Krishna Riverbank, Haripur Road, Sangli |
| MH-75 | MH | 90 | Tulsi Lake Road |
| MH-76 | MH | 22 | Bhuigaon |
| yogeshsrivastavaiimk | MH | 25 | Aksa beach |
| ML-01 | ML | 29 | Kharkutta PWD Campus |
| MP-01 | MP | 68 | mhow |
| MP-02 | MP | 90 | Buranakhedi Wetland, Indore, Tillore-Tincha |
| MP-03 | MP | 53 | Yeshwantsagar |
| MP-04 | MP | 40 | Kishanpura (Machal) Wetland, Indore |
| MP-05 | MP | 62 | sirpur tank indore |
| MP-06 | MP | 147 | Satpurra NP |
| MP-08 | MP | 119 | Rani Durgawati Wildlife Sanctuary, Damoh |
| MP-11 | MP | 122 | upper lake |
| MP-12 | MP | 49 | Kaliyashot dam |
| MP-13 | MP | 50 | Shahpura Lake |
| MP-14 | MP | 60 | Kerwa Dam |
| MZ-01 | MZ | 18 | Aizawl Zoological Garden |
| NL-01 | NL | 43 | Fakim Wildlife sanctuary |
| NL-02 | NL | 36 | Khonoma, Khonoma |
| NL-03 | NL | 30 | Chizami Wildlife Reserved Area |
| OR-01 | OR | 16 | Paradeep |
| OR-02 | OR | 7 | 82, Bapujinagar |
| OR-03 | OR | 51 | Sikharchandi Hill, Forest Park, Kapileswar, Nandankanan Botanical Garden |
| OR-05 | OR | 21 | Patia |
| OR-06 | OR | 39 | Besides Engineering Field, Naraj Barrage, naraj, Ravenshaw University |
| OR-07 | OR | 6 | Kapilas |
| OR-09 | OR | 24 | Campus of North Orissa University, Baripada |
| OR-11 | OR | 57 | Chandaka, Khandagiri Foothills, Patrapada |
| OR-12 | OR | 15 | Puri-Konark Marine Drive, Ramchandi |
| OR-13 | OR | 63 | Nandankanan Zoological Park |
| OR-15 | OR | 35 | Utkal Univarsity, OUAT Farm Land, Ekamra Kanan |
| OR-16 | OR | 66 | Mahulbhatta. Near Jeypore, Koraput |
| OR-17 | OR | 19 | Karanjia |
| sp.sahukar | OR | 25 | Pitamahal Dam, Sundargarh |
| gitanjalikanwar | PB | 110 | Keshopur Community Reserve |
| PB-01 | PB | 116 | Ropar International Wetland (Ramsar Site) Ropar Punjab |
| RJ-03 | RJ | 113 | Lake Man Sagar, Jaipur, Man Sagar Lake South, Barkhera |
| SK-01 | SK | 26 | Singtam, East Sikkim |
| SK-02 | SK | 45 | Fhambong Lho WLS |
| SK-05 | SK | 11 | Rangitnagar, South Sikkim |
| SK-06 | SK | 51 | Phodong, Kabi, North Sikkim |
| SK-07 | SK | 7 | Mangan |
| SK-08 | SK | 63 | Yuksam towards KNP |
| SK-09 | SK | 37 | Kewzing, Ravangla, Outskirts Maenam WLS, Borong Hotsprings |
| SK-11 | SK | 56 | Mangmung Khola, Dentam |
| SK-12 | SK | 17 | Geyzing (W. Sikkim) to Mangan (N. Sikkim) |
| SK-13 | SK | 11 | Forest Colony, Balwakhani |
| SK-14 | SK | 24 | Yuksam (Bazar, Norbugang, Kathok Lake, Colony, Dubdi, FRH), West Sikkim |
| badrinarayanant | TN | 67 | Avaniapuram reservoir/ Iyethanendal lake, Sewage collection Madurai ring rd, 8 km N of Vaigai crossing |
| KL-03 | TN | 94 | Mehamalai Wildlife Sanctuary |
| MohamedMothi | TN | 11 | Nayapakkam Grassland |
| -Mothi | TN | 65 | Annamalaicheri Enroute – 3km radius |
| PY-01 | TN | 70 | bahour lake, osudu |
| Subashini | TN | 12 | Gayathri Nivas, Tiruvannamalai – House Terrace |
| TN-02 | TN | 60 | Vellode Bird Sanctuary, Erode, Tamil Nadu, India |
| TN-03 | TN | 68 | IIT Madras, IIT Madras |
| TN-04 | TN | 24 | Deep Jungle Home, Mudumalai NP |
| TN-05 | TN | 100 | Madurai, Sengulam lake , Periya maravan kulam, Sivarakottai |
| TN 06 | TN | 93 | Manjolai,Manimutharu |
| TN-07 | TN | 51 | Pillaipakkam/Navalur Lake, Sriperumbudur, Somamangalam Quarry |
| TN-08 | TN | 27 | IIT Madras |
| TN-09 | TN | 88 | Theosophical Society gardens & Adyar Estuary, Shollinganallur/Perambakkam Marsh |
| TN-10 | TN | 43 | Siruthavur, Thaiyur |
| TN-11 | TN | 16 | Vishwasnthinagar I street. |
| TN-12 | TN | 73 | Kannampalayam Lake, Coimbatore, Sundakkamathur (or Perur) Lake, Coimbatore, Ukkadam Big Tank, Coimbatore, Sulur Lake, Coimbatore, Muthukoundanputhur Kulam |
| TN-13 | TN | 14 | CHTC |
| TN-14 | TN | 37 | Pulicat Lake |
| TN-15 | TN | 48 | Vedanthangal Bird Sanctuary, Vedanthangal Bird Sanctuary, Padalam-Vedanthangal Road, Karikkili Bird Sanctuary |
| TN-17 | TN | 40 | Guindy NP, Guindy NP, Guindy NP |
| TN-18 | TN | 44 | Sholinganelur back waters, ECR (Govt Fishing Pond), Kelambakkam Back Waters, kelambakkam road |
| TN-20 | TN | 43 | Ponnuthu |
| TR-01 | TR | 64 | Collegetilla, Agartala, Tripura University Area |
| cyornis | UL | 60 | Curzon Road, Dalanwala, Dehradun, New Forest Campus, Dehradun, Wildlife Institute of India, Chandrabani, Dehradun, Jaswant Modern School, Dehradun |
| UK-02 | UL | 170 | Camp Milieu-A Birding Paradise |
| UK-03 | UL | 120 | Baur Reservoir, Haldwani |
| UK-04 | UL | 98 | Sitabani Reserve Forest |
| UK-05 | UL | 92 | GARJIYA, Mohan |
| UK-06 | UL | 63 | Rajaji NP–Gohri Range |
| UK-07 | UL | 66 | Corbett NP–Bhakrakot |
| UK-09 | UL | 28 | Brahm Bubu trail |
| UK-10 | UL | 61 | Binsar Wildlife Sanctuary |
| UK-11 | UL | 41 | Govindghat |
| UK-12 | UL | 17 | Koti-Kanasar |
| UK-14 | UL | 19 | Pangoot, Nainital |
| UK-15 | UL | 93 | Nandhaur Wildlife Sanctuary |
| UK-17 | UL | 14 | Nandprayag |
| UK-18 | UL | 19 | Jhilmil Conservation Reserve |
| UK-19 | UL | 9 | Joshimath |
| DL-04 | UP | 115 | DADRI |
| DL-05 | UP | 66 | Okhla Bird Sanctuary |
| DL-18 | UP | 69 | Surajpur, Greater Noida |
| DL-26 | UP | 21 | Vasundhra Ashram, Hindon Canal and Barrage, Park Strip, Sewer & Waste Water Treatment Plant, Indirapuram |
| UP-01 | UP | 133 | Soor Sarovar Bird Sanctuary, Soor Sarovar Bird Sanctuary |
| UP-05 | UP | 42 | Bareilly, Mahanagar Silverstate area |
| UP-06 | UP | 104 | Roja,SHAJHANPUR,MOHAMMDI |
| UP-08 | UP | 109 | SANDI,HARDOI |
| UP-09 | UP | 64 | Barbar grassland,Mohammdi |
| UP-10 | UP | 55 | Faizabad |
| UP-11 | UP | 128 | Kishanpur wildlife sanctuary,Bheera |
| UP-12 | UP | 25 | Ghaghra River,Sitapur |
| UP-14 | UP | 37 | Katerniaghat Wildlife Sanctuary,Bahraich |
| UP-16 | UP | 68 | auraiya |
| UP-17 | UP | 12 | Mithulal Bird area,Shjhanpur |
| UP-18 | UP | 68 | near about Gomti river ,Mohammadi |
| UP-19A | UP | 52 | Narora-A |
| UP-19B | UP | 63 | Narora-B |
| UP-19C | UP | 62 | Narora-C |
| UP-19D | UP | 53 | Narora-D |
| UP-19E | UP | 47 | Narora-E |
| UP-19F | UP | 57 | Narora-F |
| UP-19G | UP | 55 | Narora-G |
| UP-20A | UP | 80 | Chambal Safari Lodge, Jarar |
| UP-20B | UP | 75 | Chambal Ravines, Pinahat |
| UP-20C | UP | 87 | Chambal River, Pinahat |
| kssanjeet_004 | WB | 27 | BNR North Colony and South Colony area |
| WB-01 | WB | 35 | Bongaon Notun-gram Baor, Chhaigharia |
| WB-02 | WB | 29 | New Barrackpore, Kolkata |
| WB-03 | WB | 25 | Srirampur |
| WB-04 | WB | 88 | Fulbari Wetland, Siliguri |
| WB-06 | WB | 62 | mathurabil |
| WB-07 | WB | 17 | Itkhola pond |
| WB-08 | WB | 75 | Gobardanga, North 24 Parganas, West Bengal |
| WB-09 | WB | 20 | Serampore |
| WB-11 | WB | 55 | Dubchururia, Andal, Burdwan, West Bengal |
| WB-12 | WB | 18 | kolkata |
| WB-13 | WB | 51 | B1 field, Fuljhore, Durgapur, Forest Office, Fuljhore, Durgapur, B1 field, Fuljhore, Durgapur, Bidhan Park, Fuljhore, Durgapur, Bidhan Park, Fuljhore, Durgapur, Bidhan Park Outskirts, Fuljhore, Durgapur |
| WB-14 | WB | 14 | Chintamani Kar Bird Sanctuary |
| WB-15 | WB | 31 | North Bengal University campus |
| WB-16 | WB | 30 | Kashipur,Dassnagar |
| WB-17 | WB | 30 | Japani Gate |
| WB-18 | WB | 102 | Mukutmanipur |
| WB-19 | WB | 30 | Jalpaiguri Govt. Engg. College |
| WB-20 | WB | 30 | Barrackpore |
| WB-21 | WB | 45 | salt lake central park(Banabitan), Belghoria |
| WB-23 | WB | 63 | Malda |
| WB-24 | WB | 83 | picnik spot |
| WB-25 | WB | 17 | Pannajhil, Uttar AshwiniPally, BUs Terminus, DakshinPara(FCI Office) |
| WB-26 | WB | 54 | Belun |
| WB-28 | WB | 77 | Asansol |
| WB-29 | WB | 46 | BUXA FOREST |
| WB-30 | WB | 13 | Nalban, Kolkata, Nalban, Kolkata |
| WB-31 | WB | 32 | Chittrey, Shrubberry Park |
| WB-32 | WB | 39 | Teesta Barrage, Gajoldoba, Jalpaiguri, Murti riverbed |
| WB-33 . | WB | 19 | Home |
| WB-35 | WB | 73 | Palta, Ichapur, shyamnagar |
| WB-36 | WB | 110 | Sunderbans |
| WB-37 | WB | 27 | Boshipota |
| WB-40 | WB | 21 | Rajarhat Wetland and marshes |
| WB-41 | WB | 40 | Amtala |
| WB-42 | WB | 39 | CRPF, Amarabati, Durgapur |
| WB-43 | WB | 46 | Birnagar |
| WB-44 | WB | 34 | Barabagan |
| WB-46 | WB | 51 | Lava, Neora Valley |
| WB-47 | WB | 48 | Nature Prak |
| WB-48 | WB | 20 | Chupi, Purbasthali, Bardhaman |
| WB-49 | WB | 13 | Moraghat Range, Jalpaiguri |
| WB-50 | WB | 29 | Rajarhat, East Kolkata Wetlands, Patuli, West bengal |
| WB-51 | WB | 36 | Chiriamore, Kaikhali,Kolkata, Rabindra Saikat Park |
| WB-55 | WB | 26 | Domohani Wetland, Jalpaiguri |
| WB-56 | WB | 55 | Badri Prasad Itvata, Jalpaiguri |
| WB-57 | WB | 21 | Baikunthapur, Jalpaiguri |
| WB-58 | WB | 31 | Alipore Horticulture |
| WB-60 | WB | 30 | Parnasree area and behala flying club |
| WB-62 | WB | 24 | Santragachi Jheel |
| WB-63 | WB | 63 | Piyali island |
| WB-64 | WB | 44 | Joka |