Great Backyard Bird Count 2022
18 February

-

21 February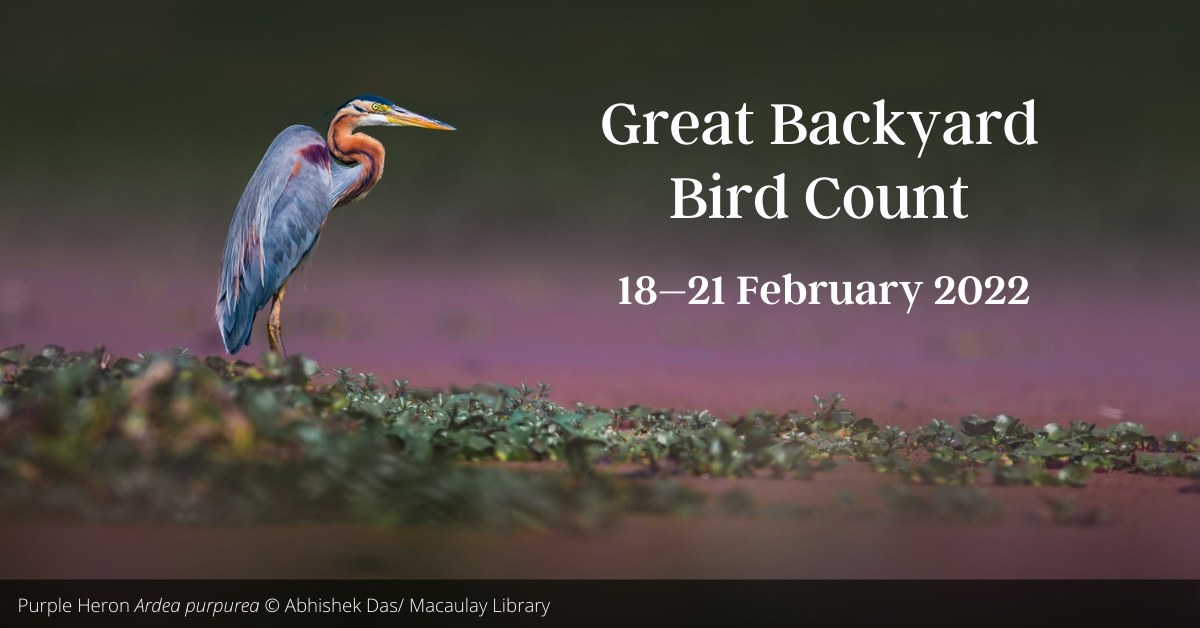 GBBC 2022 | Bird Walks & Talks| Resources | Contacts | Campus Bird Count 2022
See registered events here.
The basic activity during the GBBC is to go outdoors (anywhere you wish, including your balcony, college campus, or local park), spend at least 15 minutes watching birds, and upload your birdlist(s) to eBird. However, with the pandemic, it may not be possible to do so with large groups or to travel far. But it is also said that as long as we take necessary precautions and don't put ourselves or others at risk, birding can continue.
Here are some ideas:
Conduct a bird walk in a small group
Instead of gathering in large groups to participate in GBBC/ CBC, it's a good idea to bird in small groups or alone if possible. Whether you are birding alone or in a small group, keep a safe space between you and other birders (at least 6 feet) and wear a mask all the time. Avoiding sharing binoculars, spotting scopes, or other equipment.
A wetland or grassland is a particularly good place to go birding in a small group. Birds in such habitats are often easy to observe and your group can spread out (without being in close proximity) and conduct the count. With one or two enthusiastic people, a bird walk through a scrubland or woodland is also feasible.
Conduct counts nearby
Choose a nearby local site whenever possible to reduce unnecessary travel or Carry out counts from your balcony, rooftop, backyard whenever possible
Conduct online talks about birds for other birders, school/ college students
Contact local birding groups, and/ or a local educational institution to see whether you can organise online talks for their members and students about birds. Please write to us if you need any material and resources for this. Take a look at some of the birding webinars for beginner birders on Early-Bird's website.
Take part in the Campus Bird Count
We understand that many campuses are closed due to the pandemic. However, if your campus is open or if you live on a campus of any form and are able to venture outdoors, do consider taking part in the Campus Bird Count.
During GBBC, if you wish to conduct any bird walk, talk, or any other birding activities for others then do consider registering your event by filling and submiting the form below: (Note : Registrations closed for GBBC & CBC)
Registration Form
See the next page for resources that you can use/ share while conducting birding events