For Irshad Theba, an interesting childhood incident sparked a life-long tryst with birds. Here is more about him and how he started his journey in birding.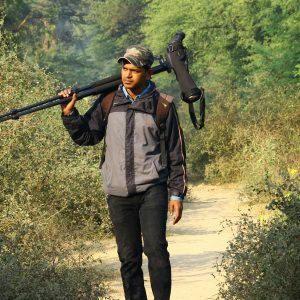 1. Please, tell us a bit about yourself. What do you do and where do you live?
I am a wildlife enthusiast and a birder from Gandhinagar, Gujarat. As a part of my profession, I work with Gujarat Ecological Education and Research (GEER) Foundation in Indroda Nature Park, in their bird breeding projects.  As a part of the research projects held by the GEER Foundation, I've also got opportunities to work in almost all the sanctuaries and national parks in Gujarat. Other than the waterbird census I have also participated in the census involving Sarus Cranes, Vultures, Bustards. I also work as a nature educator and so far have conducted over 1000 programs including appreciation training programs on bird ecology and conservation; nature education camps that were attended by more than 40,000 people from all walks of life. I have also volunteered at programs organized by various NGOs that work towards nature awareness. For example- BCSG in Ahmedabad, Savannah Nature Conservation Society in Surendranagar, Ride for Wild and Serenity Library & Botanical Garden in Gandhinagar, and Loris Associates in Ahmedabad.
2. When and how did you get interested in birding?
The liking for nature and wilderness was deeply rooted in my childhood days by a few revered people at my native place in Hingolgadh, Rajkot. But my true inspiration was my father Mr. Noormohommad Theba, who cultivated this affection for nature. I will never forget that experience that became a turning point in my life. This was when I was in class 8. At home, we used to offer food to several birds and one day along with some Baya Weavers, Red-vented Bulbuls, House Sparrows, and robins, I found a different bird, enjoying the grains. This bird intrigued me and I asked my father what it was. He was a forest officer and he knew the name, but instead of giving me a direct answer, he handed me The book of Indian Birds by Salim Ali. After 3-4 days of continuous observations and going through the book, I found that the bird was a Blue Rock- Thrush. That identification exercise filled my heart with the joy of achievement and also remained my lifelong motivation.
In 2003 at the age of 15, I got involved in nature-based activities for nature camps organized by Lt. Shri Lavkumar Khachhar at Hingolgadh Wildlife Sanctuary.
3. Do you have a favourite bird or birds? Why is it/are they your favourite?
I have been in forests and woodlands, riverine ecosystems to marine ones, learning about various species and their role in the ecosystem. Hence, I love each and every wild bird. However, I have a special liking for birds adapted to the desert eco-system. Not only they camouflage well with the surroundings but also have interesting ways to survive in the harsh climate. For example, Greater Hoopoe-Lark in the summer, in the sweltering heat when there is no water around, I've seen it feeding on the early-morning dew left on the leaves.
4. Where do you enjoy birding the most?
I enjoy birding in any kind of habitat. However, birding in the dense forest is fun and challenging as one has to identify birds based on the various calls coming from dense canopies. During such times your birding skills need to be at the peak. One of the most exciting experiences was to record Brown-rumped Minivet (Swinhoe's Minivet) from Indroda Nature Park which is the first record of this bird from Gujarat and addition to the avifauna of the state. A few other places that I enjoy birding are at Thol, Nal Sarovar, Little Rann of Kachchh.
5. Do you have a birding partner or a group you enjoy birding with? How is birding alone different from birding with others?
As such I enjoy birding in any group or with a partner but when I have to achieve a specific or challenging target, then I prefer going alone. As far as groups are concerned, I enjoy training them for better birding.
6. Anything on the birding bucket list? (Doesn't have to be a bird, could be a place, witnessing a phenomenon, etc).
I would like to visit some of the biodiversity hotspots such as north-east India and the Himalayas. To be more precise, I want to explore Himalayan Monal and other pheasants. Since I have observed almost all the species in Gujarat, I want to test my birding skills to the next level at a different place. I am exploring the birds de novo, by recording bird calls in the natural environment with appropriate instruments. Therefore, it's my wish to complete this bioacoustics study for as many birds as possible.
7. Has eBird changed how you bird? How?
Yes, I have been using the eBird platform for a long time. The thrill to update what I see, and making the information available to a large number of birders, motivated me to put more efforts in a systematic way. Secondly, the new records that get featured on the eBird website, encourages me to explore my own area more vigorously. This platform also helps me retrieve my own data quickly which is an advancement over the older conventional diary keeping.
8. Have you set any birding goals for the coming months?
As I am a bit engaged in my professional assignments as well as considering the COVID-19 pandemic, I have not set any such goals, but I will not miss any opportunity if I get time and scope.
9. What is your message for fellow birders?
I would strongly urge all birdwatchers and wildlife photographers that any wildlife sighting is not anyone's personal property. Wildlife is for everyone to explore, enjoy, and share, and hence, one should be open about sharing sightings with others. Also, sharing your sightings on a platform like eBird can help in contributing towards scientific understanding and conservation about our precious birds. Along with this, it is also advisable not to disturb birds during their nesting season.
And my last message is  "A thing is right when it tends to preserve the integrity, stability, and beauty of the biotic community. It is wrong when it tends otherwise."- Aldo Leopold.
---
Cover Image:  Greater Hoopoe-Lark Alaemon alaudipes © Vipul Ramanuj/ Macaulay Library at the Cornell Lab from this checklist