Dipak Sinha, an ardent birdwatcher from Tripura says that he got inspired to take up birding because of his wife!
Here is more about him and how he started his journey in birding…
1. Please tell us a little about yourself. Where do you live and what do you do?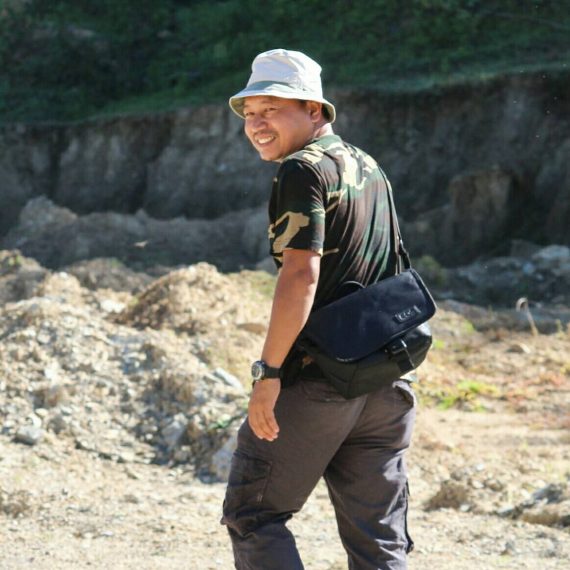 I am from Agartala currently employed as an Assistant Professor in the College of Agriculture, Lembucherra, West Tripura.
2. When and how did you get interested in birding?
Although I was born and brought up in a village, I never took interest in birding until 2014-15. The inspiration came from my wife who helped me identify a colourful bird the Indian Roller. This instance created curiosity in me to learn more about the winged beauties of our locality and within the next few years, it turned into a regular hobby of birding.
3. Do you have a favourite bird or birds? Why is it/are they your favourite?
As such I do not have a favourite bird but all I can say is that I love forest birds more than water birds for some unknown reason. If I have to mention two of my favourite birds from my checklists, they would be Hooded Pitta and Pale-capped Pigeon.
4. Where do you enjoy birding the most?
I enjoy birding everywhere I go. It can be a backyard, college/institute campus, or any place where I can find them. Birding has become a part of my life and I make sure to find them wherever I go.
5. Do you have a birding partner or a group you enjoy birding with? How is birding alone different from birding with others?
Most of my activity so far is limited to my state. Yes, I love to go out with my friends whenever I get time. It's always a learning session for me when I bird with my friends. Birding alone has its own merits and demerits. When I go out alone, it gives me more freedom to watch a bird at my own pace. But I miss the excitement of sharing a new sighting with my friends when I bird alone.
6. Anything on the birding bucket list? (Doesn't have to be a bird, could be a place, witnessing a phenomenon, etc)
I have a dream of birding in the Eastern Himalayas, especially the hotspots of Arunachal Pradesh. Few birds I would like to see there are Ward's Trogon, Himalayan Cutia, Bugun Lochichla and of course the wren-babblers.
7. Has eBird changed how you bird? How?
I came to know about eBird in 2016 but I was not regular on this platform. I became a regular eBirder when I read some reports on how this citizen science project helped in documenting the activity of birds of the world. And eBird helps me keep my sightings and photographs digitally managed in a systematic manner.
8. Have you set any birding goals for the coming months?
As of now, I do not have any particular birding goal; I enjoy birding wherever I go. My main objective is to keep birding whenever I get an opportunity.
9. What is your message for fellow birders?
My message to fellow birders would be to enjoy this activity as much as possible and not only sight or photograph the bird but pay attention to bird behaviours too. One of the important aspects of birding is to learn about a birds' different calls or songs. If we can master this it becomes the icing on the cake. Birding can be more interesting and meaningful in the field if we can identify a bird by listening to its call. I would like to request all the birders to use eBird regularly because the information they upload will be of immense value for future birders.
---
For Dipak, Hooded Pitta and Pale-capped Pigeon are two of his favourite birds. Hooded Pitta so much that he wrote about an interesting experience of how the pitta calls beckoned him to go look for them while making rice pancakes. Did he get to see them or did he burn his rice pancakes? Read the full story on his Facebook page:
---
Header Image: Himalayan Cutia Cutia nipalensis ©Ayuwat Jearwattanakanok/ Macaulay Library