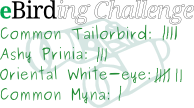 The challenge for September was to be part of at least three lists (on three different days), each shared among at least 8 birders. This was not a particularly easy challenge, but also not so hard for those birding regularly in groups.
Some birders had already been birding in groups (and uploading to eBird) and met the challenge that way. Other existing birding groups were active previously and made a particular effort to get their members onto eBird and share their September lists — these include Hyderabad Birding Pals and The Bhubaneswar Bird Walks. Unfortunately the groups who went out on pelagic trips from Goa and Kerala did not automatically qualify since, for this challenge, the lists had to be from different days.
Overall, during September, the number of complete, effort-based lists of at least 15 min was 5,846. In all, 632 birders uploaded 6,827 lists of all types from September, together accounting for just over 1 lakh observations from India, around the same as last month.
Of the 632 August eBirders, 34 people were part of shared lists on at least three different days, each shared among eight or more birders. uploaded 20 or more eligible birdlists through the month! They are (as always, excluding group accounts):
Anish Aravind
Aparajita Datta
Bibhu Prasad Panda
Dhanesh Ayyappan
Dilip Polpakkara
Divya Mudappa
Elrika D'Souza
Emir Brito
Erle Brito
Gareth Brito
Glen Cardoso
Glenda Brito
Jaydev Mandal
Kalyan Varma
Karthik Teegalapalli
Kulbhushansingh Suryawanshi
Lion Malik
Lloyd Fernandes
Lucas V. Cardoso
Mamta Megha
Panchami Manoo Ukil
Panchapakesan Jeganathan
Phani Krishna Ravi
Prashanth N S
Premchand Reghuvaran
Rohit Chakravarty
Sambit Patra
Shah Jahan
Suhel Quader
T R Shankar Raman
Tanya Seshadri
Ushma Shukla
Valmiki Cardoso
Santosh Attreya
Many congratulations to all of them!
One of these 34 was chosen using a computer-generated random number to receive a small gift, and that person is
Panchapakesan Jeganathan
who receives a copy of How to be a (bad) birdwatcher by Simon Barnes. (You can read reviews here and here.)
Now, in addition to the regular listing and gift, as described above, this month had an extra little challenge and target, which was to be part of the largest shared list (ie shared amongst the most number of birders). The largest shared list in September was shared between 22 birders, and is from a trip by the Hyderabad Birding Pals group to Sanjeevaiah Park in Hyderabad. You can see the list here. Congratulations to the 22 birders on this list: Akal Singh, Arvind Chaubey, Chandrashekhar N, Jeetendra Chaware, Kalyan Ramaram, Karthik Enumulla, Kuldeep Deshpande, Mulagala Srinivas, Phani Krishna Ravi, Pintoo Sethi, Prasad VVS, Prashanth Ramayya, Pugazendhi Panchatcharam, Raghu Nathan, Ritesh Chaturvedi, Robin Panigrahi, Santosh Attreya, Shree Padmini K, Siddharth Kallam, Sriram Reddy, Sundareswaran Vetaikorumagan, Thakur Dinesh Singh.
They will each receive a birding sticker as soon as we have finalized the design and can print and send to them!
Here is the full list of all 632 eBirders from September 2015:
Aakanksha Rathore, Abdul Raheem Munderi, abhay kumar, abhijeet avate, abhijith a.p.c, Abhijith surendran, Abhinand C, Abhirami C, Abhirami M Jayakumar, Abhiram V Rajandekar, Abhishek Gulshan, Abinand Reddy, Able Lawrence, Achyut Patro, Adarsh bhadrakumar, Adarsh VC, Aditya Aravind, advait edgaonkar, Afthab Faisal k, aga arham, Aidan & Savio Fonseca, Ajay B, Ajay Gadikar, AJU RAJU, Akal Singh, Akavaram Aashish reddy, akhilesh t, AKHIL KUNJUMON, Akshay Surendra, Al badush, Albin Jacob, Albin Jose, Almudena Fesser, Amal U S, AM AMSA, Amish Parekh, Amit Bandekar, Amit Kumar, Amlan Dutta, Amol Lopes, amol mande, Amritha S, Ananda Matthur, Anand Sundaram, Anantha Krishnan.K, anant pande, Anchit Bansal, Aneesh Sasidevan, aniket paluskar, ANILA AJAYAN, anil subramaniam, Anish Aravind, Anjali J, Anjali S, Ankur Shah, Anoop CR, Anoop King, anshuman sarkar, Anubhuti Jain, Anupam Khanna, Anuradha Krishnan, Anu Radhaktishnan, Anu Vk, Anvay Dhanorkar, anvitha s, Aparajita Datta, Apoorv Jadhav, Appavu Pavendhan, Arabinda Pal, Aravind AM, Aravind Balagopalan, Aravind Rajan, Aristo Mendis, arkalgud nagaraja, Arun Bhaskaran, Arun Jap, arun lal, Arvind Chaubey, Arya Vinod, Ashish Jha, ASHISH SHUKLA, ASHLEY CORREA, Ashwin Hp, Ashwin kadiyala, ashwin mohan, astha desai, Aswathy rajan, Aswathy S, ATANU MODAK, Atharva Damle, Athira K Nair, Augustin Joseph, Avinandan D, Avinash Khemka, Badri Narayanan Thiagarajan, Balaji P B, Balwant Negi, Baseer Baniya, Bela Arora, Bhagyashree Ingle, Bhakti Salgaonkar, Bhalchandra Pujari, Bhanumathi R, Bhanu Sridharan, Bhaskar Chavan, Bibhu Prasad Panda, bijumon ke, Biju PS, Bimalnath Punnassery, Bindu Madhavi Racherla, Bird Atlas Thrissur, Brad Steger, Cecelia Menezes, Chaitanya Rajarshi, Chandrashekhar N, Chayanika Das, Chetana Purushotham, Chinmay Rahane, Chinnapparaj Jessaian, chithrabhanu pakaravoor, Chithra viswanathan, Chris Bowden, Cinoby Joseph Kanattu, CLAREENA JOSE, CNS Nature, Colin Braganza, Conrad Braganza, David Raju, david stanton, Debashis Chowdhury, Deepak Jois, Deepak Sahu, Deepa Mohan, Devi Ambika.S, Devika Rani, Dhananjai Mohan, Dhanesh Ayyappan, Dhaniram Dhanwal, Dhavalaganga Acharya, Dheeraj Chavadi, dhiren malani, Diju Kaippan, diksha satarkar, dilip kg, Dilip Polpakkara, Dinesh Pundir, Dipu Karuthedathu, Divya Mudappa, divya srivastava, Dp Srivastava, Dr George P J, Elrika D'Souza, Emanuel george , Emir Brito, Enakshi Bhattacharya, Erle Brito, Ezhupunna Birders, Fauzia Arief, Ganesh Raghunathan, Ganeshwar S V, Gareth Brito, Garima Bhatia, Gaurang Bagda, Gaurav Nalkur, Geetha Ramaswami, Gireesh Pallikkara, Girish Jathar, Glen Cardoso, Glenda Brito, Gnanaskandan Kesavabharathi, Gokul Harikumar, Gokul Krishna, Gopal Krishnan, gopal prasad, govardhan rao, govind girija, Gowthama Poludasu, G Parameswaran, greeshma paleeri, Gunasekaran m, Hakimuddin F Saify, Hanuman Gawas, Hari bharadwaj, Hari Krishna Adepu, Harikrishnan Surendran, hari kumar, HARI MAVELIKARA, HARITHA KRISHNAN, HARSHADA GAUNS, Harsha Jayaramaiah, Harsh Buty, Hasitha Perera, Hemanth Byatroy, Hemanya Radadia, Hema Sagare, hemraj duraiswami, Himanshu Dave, Hiren Khambhayta, Hrishikesh Karandikar, Humayun Taher, Husein Latif, induchoodan sreedharan amalath, Jadeswamy Madaiah, Jafer Palot, Jahnavi Joshi, Jaichand Johnson, Jameela Parampatt, Janhavi Rajan, Janhvi Vyas, Javid Ihsan, Jayadev Menon, jayakrishnan mannar, Jaya krishnan VK,IFS, Jayan Thomas, Jayant Wadatkar, Jaydev Mandal, Jeetendra Chaware, Jeremy Bowman, Jessica Luis, Jeswin Joseph, Jignesh Rathid, Jim Ford, Jinesh P S, jismi m o, Jitender Govindani , Jitendra Jha, Jitesh Jhawar, jithesh pai, Jobin Varughese, JOSE RANI BABU, joshua Dsilva, Juby Cheriyan, Jyothish Nelson, Kalpana Baviskar, Kalyan Ramaram, Kalyan Varma, Kamalakshan kakkol, kandy rathinasamy, Kannan AS, Kannan U L, Kanwar B Singh , Karan Tambe, Karthik Enumulla, Karthik Teegalapalli, Karunakanth Bathula, kasthuri dev, Kaustubh Rau, Kavi Nanda, kesu sri, Kiran bagade, Kiran Kashyap, Krishna Deepak, Krishna Mathur, Krishnamoorthy Muthirulan, Krishnan Kalpat, Krishnapriya Tamma, Kshipra Suresh, K.Sravan Kumar, Kulbhushansingh Suryawanshi, Kuldeep Deshpande, Latha G A, Lawrence Mathappan, Lekshmi Jayakumar, Leo Joseph, Leonard Rebello, Lion Malik, Lloyd Fernandes, Lucas V. Cardoso, Madhurima Das, madhushri mudke, Madhusudan H V, mahathi narayanaswamy, Mahesh madhu, Mamta Megha, Manan Singh Mahadev, Mandar Bhagat, Mangesh Dighe, Mangirish Dharwadkar, Manish Chandi, manish kerkar, Manjunath R S, Manju Sinha, Manoj k, Manoj Karingamadathil, Manoj Kumar, Manu Mengi, Manu V, Marvelyn Dias, MATHEWS BA, Maulik Varu, MAXIM RODRIGUES K, M D Madhusudan, Meenakshi Bharathan, Megha Chagtoo, Meghna Banerjee, meher preetham, Mike Prince, Misha Bansal, Mohamed Musthafa Iqbal, Mohit Aggarwal, Mohith Shenoy, Monica Kaushik, Mousumi Ghosh-Harihar, mujeeb pm, Mulagala Srinivas, Muniza Manzoor, Muthukumaran Balasubramanian, Muthu Narayanan, Nabarun Sadhya, Naidu Kumapatla , Naman Goyal, namassivayan lakshmanan, NA NA, nandik sharma, Narayan Sharma, Narender Boredha, Naresh Vadrevu, Naveenlal P, Naveen Raj, naziya bhat, Neha Waikar, Nelson George, Nicolette Cagle, NIRMAL V, Nisha M, Nishant Shah, Nisha TK, nishith Kumar, Nisin Nisai, NITIN PETER, Nitin Saxena, Noah Strycker, Nova Ika, N. Sankaranarayanan, omaiza jan, Omkar Dharwadkar, omkar naik, P.A.Anish Elanad, Pallavi Shivalkar, Panchami Manoo Ukil, Panchapakesan Jeganathan, PANKAJ GUPTA, Pankaj Lad, Pankaj raina, Pariksheet Devulapalli, parth heblekar, pasham anushka, Pavithra Sankaran, Payal Mehta, P. B. Samkumar, Phani krishna Ravi, Pintoo Sethi, Poojan Gohil, Pooja Rathod, pooja s thakur, PRADEEP KUMAR V B, Prakash G, Prakhar Krishan, Prasad VVS, prasad YSRK, Prasanna Parab, PRASANTH S, Prashant Choudhury, Prashanth N S, Prashanth Ramayya, Prashant Tewari, prateek choudhury, Prateek Prateek, Prathamesh Desai, Pratiksha Kothule, Praveen es, Praveen J, PREETHI N, Premchand Reghuvaran, Prem Prakash Garg, Prerna Srigyan, Pritam Kukillaya, Priyadarshini K, Pronoy Baidya, Pugazendhi Panchatcharam, Purab Chowdhury, Qazi Hammad Mueen Qari, Raaj Bora, RAAJIV KIRITI REDDY, Rachna Gujral, Raghu Nathan, Raghunath r, Raghurama Hegde, rahul kala, rahul narlanka, Raja Simma Pandiyan, Rajeev khandelwal, Rajesh Kalra, Rajesh Lenka, rajesh nayak, Rajesh Panwar, Rajgopal Patil, Rajneesh Suvarna, Raju Kasambe, Raju Sankaran, RAKESH ILHE, Rakhee Karumbaya, ramanjinaiah v kolar, Raman Kumar, Ramesh M, Ramit Singal, Ram Mohan Angadipuram, raphy kallettumkara, raveendran kc, Raviprakash KB, renju tr, RESHMA BHAT, Ribish Thomas, Rinto Abraham, Rishav Gupta, Rishov Biswas, Ritesh Chaturvedi, Rithika Fernandes, Rithwik Hariharan, Riyan Konkath, riyaz peerzada, Robin Panigrahi, Rohan Chakravarty, Rohit Chakravarty, Rohith Nareddy , Rohit Naniwadekar, Ronit Dutta, Roshan Kamath, Rudraksha Chodankar, Rushil Fernandes, sachin chandran, Sachin K Aravind, SACHIN KRISHNA M V, Sachin Sarode, Sachin Shurpali, sahana m, Saharsh Choudhary , sajeesh radhakrishnan, Sajin P J, SAJITH S, Sakshi Rana, SALINI SALU, Sambit Patra, Samir gupta, Sandeep Das, Sandeep Krishna Das, Saneesh C S, sanjay agamamidi, Sanjay Karanth, SANJEEV NALAVADE, Sanjib Sarangi, santhosh kumar, santosh attreya, Saraju Dash, Sarath Babu N B, Sarath Chandran, Saravana Moorthy, sarbjeet kaur, Sashi Kumar, sasidharan manekkara, Satheesan K V, Satheesh Pullippadam, Sathvik Reddy Nimma, Sathyan Meppayur, Satish Chandra Thayapurath, Satish Kumar, satish siwatch, Saurabh Sawant, Savitri Sardar, Selvaganesh K, Seshadri KS, Shaheen Iqbal, Shah Jahan, Shameeka Rao, Shanmugam Kalidass, Shanmukharaja Muroor, shantilal Varu, Sharang Satish, sharath ram, Shariq Khan, Shashank Kela, Shashikantha Koudur, Shashikant S. Naik, Shaurya Malik, sheeba nanjan, sheen mary, Shehan Joe Zachariah, Shekhar bhujel, Shivakumar M, Shivaprakash Adavanne, Shivashankar Manjunatha, Shivi Mishra, Shoumik Kallam, Shree padmini k, Shrey Pareek, Shrikanth nayak, shriya jonnalagadda, Shubham -, Shubha Nava, Shwetha Bharathi, Siddharth Damle, Siddharth Kallam, Siddhesh Poyarekar, Sinesh A S, Sita Rama Raju, Sivakumar SS, Sivashankar Ramachandran, Siva T, skanda sn, Sneha Gupta, Snehasis Sinha, Soham Sinha, Soma Ateesh, Some Subhra Patra, Somoyita sur, Soni Nambiar, Sourav Dinda, S R Aamir, Sreeharsha Thanneeru, Sreekumar E R, sreekumar mahe, Srijan Roy Choudhury, Srikanth Bhamidipati, Srinath Reddy, Srinivas Daripineni, srinivas pai, Sriram Reddy, Sriram V, srishti agarwal, Sritha A G, S S Cheema, steffin babu, Subbu Subramanya, Subhendu Bhattacharya, Subin Sudheendran, subramanean janakiraman, Subramanian Sankar, sudeep r, SUDHEESH P.D DIVAKARAN, Sudhir Moorti, Sudip Ghosh, Suhel Quader, Sumanta Pramanick, Sumesh b, sumesh sp, Sumin George, Sundaravel Palanivelu, sundareswaran vetaikorumagan, sunish asokan, Surajit Duttachoudhury, Surendhar Boobalan, Suresh AC, Suresh Kumar, Suresh Rana, Surya Prakash, sutirtha lahiri, Swathi Bhat, Swati Sidhu, SWATI UDAYRAJ, Swetashree Purohit, SYAMILI MANOJ, Syed Mustahsen, Taksh Sangwan, tanuja dasharath haunsbhavi, Tanya Seshadri, Tapas Biswas, Tarachand Wanvari, Taranisen Pattnaik, Tarun Menon, Tassaduq Mueen, Taukeer Alam Lodha, Tejas Vagadia, Tejaswini Limaye, Thakur Dinesh Singh, TheNatureTrust (GroupAccount), TheNatureWeb.Net Team, Thomas Falk, Thorkild Michaelsen, Tillari BRT, tony antony, T R Shankar Raman, ts prasanth, Udayan Rao Pawar, Udiyaman Shukla, Ujwal Shankar, Umesh Kumar, Umesh Mani, Umesh Vaghela, Ushma Shukla, Vaidehi Gunjal, vaisakh george, Valmiki Cardoso, Vanessa Meyer, Varuni Pandey, Varun Kher, Vedant Kasambe, Vedant Kumbhar, Velsina Rodrigues, Vena Kapoor, Venkatram MC, Venugopalan R, Vidhya Sundar, Vijaya Lakshmi, VijayKumar Yerra, Vikram Penmetsa, vikrant yadav, vinatha v, vinayak ohri, Vinay Bharadwaj, Vinay Nadig, vincent vinay, Vinoba Anand, Vinod Venugopal, Vinuja S, vipin cg, vipin v nath, Vipul Vedi, Viral Pankaj, Vishambhar Agarwal , vishnumaya T M, Vishnu Murali, Vishwatej Pawar, Vivek M, Vivek Puliyeri, Vridhi Rajan, vrinda lath, v.sai vamsi v.sai vamsi, Wahiba Humam, World Shorebirds Day, Yagnesh Desai, Yogesh Parashar, yudhajit talapatra
Are you doing your best to match the target for October (25 days of birding)? And don't forget the several flavours of yearlong challenges for 2015!