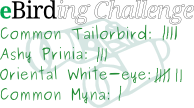 Our apologies for the delay in announcing the January eBirders of the Month. There were two reasons for this: (1) preparations for the GBBC put everything else on hold, and (2) the nature of the challenge was such that we had to sift through each list by hand!
To mark the Asian Waterbird Census, the eBirding challenge for January was to upload at least 15 complete lists

from wetlands, broadly defined (including lists where a wetland was only part of a larger area covered).
Overall, during January, the number of complete, effort-based lists of at least 15 min duration was 3,737. In all, 595 birders uploaded 4,502 lists of all types from January, together accounting for over 103,000 observations.
Of these 595 birders,  29 people uploaded 15 or more eligible lists from wetlands. They are:
Anish Aravind
Anjana Hari
Arathy S. Kumar
Arya Vinod
Devi Ambika S.
Dhanesh Ayyappan
Dilan Mandanna
Dr. George PJ
Erle Brito
Ganeshwar SV
Gavin and Mal
Hari Kumar
Jaydev Mandal
Kiran More
Krishnamoorthy Muthirulan
Kulbhushansingh Suryawanshi
Mandar Bhagat
Manoj Karingamadathil
Mark Robbins
Premchand Reghuvaran
Ramit Singal
Ronit Dutta
Sagar Adhurya
Shah Jahan
Shivaprakash Adavanne
Somoyita Sur
Subin Sudhreendran
Surendhar Boobalan
TR Shankar Raman
Many congratulations to all of them!
One of these 29 was chosen using a computer-generated random number to receive a small gift, and that person is
Krishnamoorthy Muthirulan
who receives a copy of Zafar Futehally's memoir: The Song of the Magpie Robin. (You can read a review here.)
Here is the full list of all 595 contributors from January 2015:
Aasheesh Pittie, Abhay Ramaswamy, abhijeet avate, Abhijith surendran, abhijit lohiya, Abhilash Arjunan, Abhinand C, Abhirami C, Abhiram V Rajandekar, Abhishek Gulshan, Able Lawrence, aditya yuvaraj, ahil rishi rajasekaran, Aidan & Savio Fonseca, Ajish George, Ajit A, akhil menon, AKHIL MENON, Akshay Gawade, Akshay Surendra, Alex Jero, Alkesh Thakare, Als Chn, Amit Bandekar, Amith Kumar, amol mande, Amudha Hariharan, Anagha Bagade, Anand Sundaram, André Weiss Pryde, Aneesh Sasidevan, Aniket Katkar, anil subramaniam, Aniruddh Naik, anisha jayadevan, Anish Aravind, Anish Mohan Thampi, anith nair, anjana hari, Anjana Mohandas, Anju Balakrishnan, ankith chacko, Anoop CR, Anoop King, anshuman sarkar, anuj raina, Anuj Saikia, ANUJ TRIVEDI, Appavu Pavendhan, Arathy S Kumar, aravinda hr, aravind V, Aristo Mendis, Arjun Cheyyur, Arjun Guneratne, Arnav Anish, Arnold Goveas, Arpit Deomurari, Arun Bhaskaran, arun bravo, Arun Jap, arun lal, Arunprasad Dhanapal, Arup Ghosh, Arya Vinod, asha arun, Ashish Gupta, Ashish Kothari, Ashish Paliwal, ashok raj v m, Ashutosh Singh, Ashwin Warudkar, Asif Khan, Athira K Nair, athul krishna, Augustin Joseph, Avinash Kannammanavara, Avishkar Munje, Badri Narayanan Thiagarajan, Balwant Negi, Bela Arora, betsy selvakumar, BHAGYA R, Bhagyashree Ingle, Bhakti Salgaonkar, Bhalchandra Pujari, Bharathidasan Subbiah, BHARAT RUGHANI, Bhargavi Chidambaram, Bhaskar Murthy, BHAVIK PARIKH, Bheemaneni Bhanu Prakash, Biju PB, Brajesh Sayem, Castro Karthi, Chandrasekaran Venkatraman, Chandra Sekhar Bandi, Chandrashekar Sundaram, chetan harikishandas joshi, Chinmay Rahane, chirag jain, chithrabhanu pakaravoor, Chris Bowden, Conrad Pinto, David Beadle, david stanton, Dead Birds, Debashis Chowdhury, Debbie Beer, deepa deepz, Deepak Balasubramanian, Deepak Jois, Deepa Mohan, Devaram t, Devi Ambika.S, Devinder Singh Dhadwal, Dhairya Dixit, Dhaivat Hathi, Dhananjai Mohan, dhananjay bhamburkar, Dhanashri Salunke, Dhanesh Ayyappan, Dhanu Paran, Dharmaraj Patil, dhiren malani, Dilan Mandanna, Dileep Subramanian, Dilip Chacko, dilip kg, Dilip Polpakkara, dineshbharath kv, dipak bowalkar, Dipayan Chakraborty, Dipu Karuthedathu, Disha Rao, Divya Mudappa, Dnyanada Phadke, DONA JACOB, Dr George P J, Dr. Ravi M, Duraiswamy Navaneetham, Erle Brito, Evelyn Rangel, Farhad P, Fionna Prins, Firoz Hussain, Gabor Graehn, Ganeshwar S V, Garima Bhatia, Gaurang Bagda, Gaurav Nalkur, Gavin and Mal, Geetanjali Dhar, geethanjali ravindran, Geetha Ramaswami, Geetha Venkataraman, George Tom, Girish Jathar, Gita Dattatri, Glenda Brito, Gnanaskandan Kesavabharathi, Gopinathbabu S, govind girija, Gowthama Poludasu, Gowtham TR, G Parameswaran, gracy michael, greeshma prasad, greeshma s prasad, Gunasekaran m, G V Gopi, Hanuman Gawas, Harikrishnan Surendran, hari kumar, HARI MAVELIKARA, Harish NN, Harish Prakash, Hari Subramanya Balaji S P, Harjot Singh(Harry) Kahai, Harkirat Singh Sangha, harnishya palanichamy, HARSHADA GAUNS, Harsha Jayaramaiah, harsha nr, Harshul Thareja, Hemant Dhadnekar, Hemant Harikrishnan, Himansh Pahwa, himanshu tembhekar, HITHA P T, induchoodan sreedharan amalath, Instituteofbirdstudies Rishivalley, Ishanvi Mohan, James Boyce, Javid Ihsan, Jayadev Menon, jayakrishnan mannar, Jaya krishnan VK,IFS, Jayant Wadatkar, jayaprakash m t, Jaydev Mandal, Jebaraj John, Jebin Abraham, Jeffin John, Jency Samuel, Jessica Luis, Jinesh P S, Jishnnu B, John Cree, John Dicken, JOMY VARGHESE, Joshua Bosco, Joshua Dharmaraj, J.Thomas Cheruvallil, Jugal Tiwari, Junglehome Mudumalai, Jyothish Nelson, kalpana jayaraman, kalpesh chodnekar, Kalyan Varma, Karadi Malai Camp, Karan Tambe, KARMA CHODEN BHUTIA, karthick mahalingam, karthick pillai, Karthik M Prakash, Kartik Pomal, karun g, Kaustubh Rau, kiran more, KN Sivakumar, Komal Matieda, Kranti Singh, Krishnadas Mallya, Krishna Girish, krishna kumar, Krishnamoorthy Muthirulan, Krishna Murthy, Kulbhushansingh Suryawanshi, Kunal Arekar, Lakshminarasimha Ranganathan, Lawrence Mathappan, lionel vailshery, Lloyd Fernandes, Maanav Jalan, Madhura Niphadkar, Madhurima Das, madhushri mudke, MAITREYA SUKUMAR, MANAS AGRAWAL, Mandar Bhagat, Mangirish Dharwadkar, Mani Chacko, Manjunath R S, Manjusha k, Manju Sinha, Manoj Bind, Manoj Karingamadathil, Mariam Shajahan, Mark Robbins, Maulik Varu, Mayuresh Joshi, M D Madhusudan, meenakshipriya anbuchezhian, Megha Dattan NK, megha phadkay, Meghna Joshi, meher preetham, Melvin Jaison, Mihir Barve, Mike Prince, Milan Sojitra, Mittal Gala, Mohamed Mothi, mohan r, Mohan Raj K., Mohith Shenoy, Monica Kaushik, Mrinmayee Thakur, mujeeb pm, Mulagala Srinivas, Munmun Dhalaria, Murugaaboopathy Vijayaraj, Muthu Narayanan, my home, Mymoon M, Nagendra Sudhakar, Nandana prasanth, Narayan K A, Narendra prasad, Nature Society of Tirupur Tirupur, Naveenlal P, Naveen MR, Neeraj Amarnani, Neha Waikar, Nihar Madkaiker, Niket Kaisare, nikhilesh kumar, Ninad Mungi, Niranjana C, Nirmal Gourav Das, Nisanth Raveendran, Nisha M, Nishant Shah, Nishit Soni, Nisin Nisai, Nninad Gosavi, Omkar Dharwadkar, omkar naik, Omkar Pathare, Om Shreshti, padmanaabha sayee, Pallavi U. D., Panchapakesan Jeganathan, Pankaj raina, Parag Kokane, paramita mazumdar, Paramita Sarkar, P. B. Samkumar, peeyush sekhsaria, PeterPrem Chakravarthi J, pooja pawar, P Peters, Prabhakar Sastri, Prachi Mehta, PRADEEP KUMAR V B, Pradeep Sangwan, Pradnya Karbhari, Prakash G, prakash pote, Pranav abi, Pranjal Mahananda, praphul gopal, PRASANTH S, Prashant Gahale, Prashanth Aiyappa, PRASHANTHA KRISHNA M C, Prashanth NS, Prashant Tewari, Prathamesh Desai, Prathmesh Deshpande, Pratik Prabhu, Praveen es, Praveen J, Praveen Manivannan, praveen Rao koli, PREETHI N, Premchand Reghuvaran, Prem Kumar Aparanji, Prem Prakash Garg, Prerna Kalra, Pritam Baruah, Priti Bangal, Pronoy Baidya, Pushkar Kulkarni, Raghurama Hegde, Rahul Matmari, Raja Bandi, RAJALAKSHMI DEVI T, Rajan KC, Rajaram A, Raja Simma Pandiyan, Raj Elangov, Rajesh Kalra, Rajesh Panwar, Rajesh Ramesh, Rajiv D'Silva, Rajneesh Suvarna, Rama Neelamegam, Raman Kumar, Ramesh Desai, Ramit Singal, Rana and Sugandhi Belur, rangasamy muthusamy, Ranya Al Ghazi, raphy kallettumkara, Ratnesh Mathur, raveendran kc, Raveendran Natarajan, Raviprakash KB, REEF RCOEM, Reetu Patial, renju tr, RESHMA BHAT, Rhonda Dicken, Ribish Thomas, Ritushree Jain, Rohan Chakravarty, Rohan Dekate, Rohit Chakravarty, Rohit Hazare, Ronit Dutta, ronny augustine, Roshan Kamath, Rudraksha Chodankar, Saandip Nandagudi, Sachet Khandeshwar, Sachin Sarode, Sachin Shurpali, Sagar Adhurya, sahana m, sajith mannar, sakthi manickam, Samanyu Neelson, Samar Gupta, Sambath Subbaiah, Samrat Salve, Samyak Kaninde, Samyukth Sridharan, Sandeep Bapat, Sandeep Krishna Das, sangeeta kohli, Sangeetha AB, Sanjay Agarwall, sanjaya viswamitra, sanjay kholia, Sanjay Sondhi, Sanjay Thakur, Santharam V, santhosh kumar, Santosh Bs, Santosh Jain, santosh thakur, Sapna Jayaraman, sarang galada, saraswathi Ramaswamy, sarayu ramakrishnan, Saroj Kumar Mishra, Sastha Prakash, SATHEESH MUTHUGOPAL BALASUBRAMANIAN, Sathiaseelan Karthikeyan, Sathisha CH, Sathvik Reddy Nimma, Sathyan Meppayur, satish siwatch, Savithri Singh, Seena Viovin, Sejal Mehta, senguttuvan subburathina, Senthilvel Sivakumaran, Shah Jahan, Shameeka Rao, Shanmugam Kalidass, Shanmukharaja Muroor, Sharad Apte, Sharang Satish, Sharan V, Sharan venkatesh, Shariq Khan, Sharmilee Rajagopalan, Shashank Birla, Shashikantha Koudur, Shaunak Modi, sheeba nanjan, shishir shendokar , Shivakumar Balasubramanian, Shivam Agrawal, Shivaprakash Adavanne, Shivashankar Manjunatha, Shria Mohanraj, Shrikanth nayak, Shruti Gupta, Shubhadeep Mukherjee, Shubham Srivastav, shubhankar patra, Shwetha Bharathi, Siddhartha Rastogi, Siddhesh Bramhankar, Siddhesh Poyarekar, Siddhesh Surve, Sidharth Rajeev, Sidharth R Prakash, Simon Lane, Sivadas Chettur, Sivakumar AK, sivakumar Hariharan, Sivakumar Swaminathan, Sivaprasad R, siva ram, Sivashankar Ramachandran, Siva T, skanda sn, Sneha Dharwadkar, Sneha Gupta, Snehasis Sinha, soham brahmbhatt, Soma Ateesh, Somoyita sur, Soni Nambiar, Soumya George, Soumya Prasad, Soundararaj Subbian, S Prasanth Narayanan , Sravan Kumar, Sreedev Puthur, Sreedhar Vijayakrishnan, sreelakshmi.r.nair India, S R Gopalan, Srikanth Bhat, SRI RAMAN, Srushti Mehatkar, steffin babu, Subbu Rajan, Subhasmita Patro, Subhra Pakhira, Subin Sudheendran, subraja vasudevan, Subramanian Sankar, Suchitra Pinninti, Sudeshna Dey, Sudhakar KV, Sudipto Roy, Suguna R, Suhel Quader, Sumesh b, sumesh sp, Sumin George, sumit kalra, Sundar Lakshmanan, Surendhar Boobalan, Suresh Rana, Surya Prakash, Susy Varughese, sutirtha lahiri, Swansy Afonso, Swati Sidhu, SWATI UDAYRAJ, swetha CHANDRA, Swetha Karunakaran, syed ateeq, Syed Muzamil, Taksh Sangwan, Tallulah D'Silva, Tanya Seshadri, teddy nirappaan, Thalavai Pandi, Theivaprakasham Hari, TheNatureTrust (GroupAccount), TheNatureWeb.Net Team, Thomas Job, Thorkild Michaelsen, TKS Thathachari, Tribal Foundation Nagarcoil, T R Shankar Raman, ts prasanth, Udiyaman Shukla, Umesh Mani, Umesh Pavukandy, vaisakh george, Varun Kher, Vasundhara Krishnani, vedang saunt, vedant kumbhar, Venkatesh Prasad, vibha Dicholkar, vidhya sundar, Vigneshwaran B, vijayakumar ramamurthi, Vijaya Lakshmi, Vijay Anand Ismavel, Vijay Chanakya, Vijayganapathy Parthasarathy, Vijay Joshi, vijay kumar, Vijay Kumar, VijayKumar Yerra, Vikas madhav nagarajan Madhav, Vinay Das, Vinay Patel, Vinoba Anand, vinod k, Vinoth P, vin shutterbug, Viola Rodrigues, vipin v nath, Vipul Vedi, viraj malani, Viral Shah, VISANTH V S, Vishal D, Vishnupriyan Kartha, vishnu sankar, Vishwatej Pawar, Vivek Chandran, vivek gajare, Vivek George, Vivek Puliyeri, Vridhi Rajan, Wahiba Humam, Wildon trust trust, Yagnesh Desai, Yallappagouda Patil, Yogesh Parashar, Zach Little, Zenobia Driver.
We hope you've done your best to match the target for February! The March challenge follows soon; and here are the challenges for the entire year of 2015!