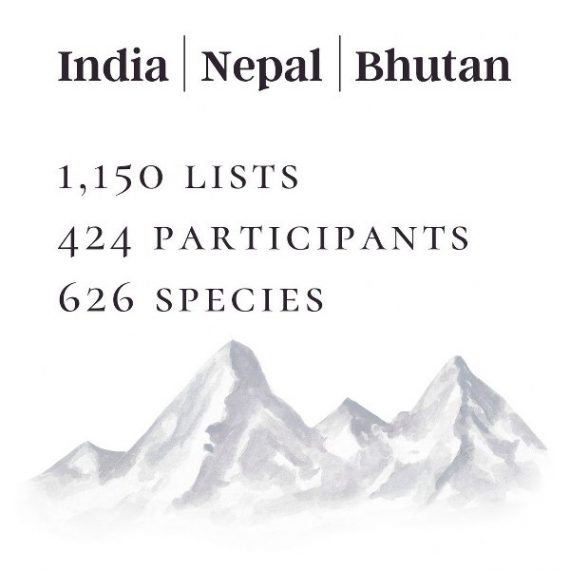 Summary
Around 424 eBirders from India, Nepal, and Bhutan uploaded 1,150 lists and recorded 626 species on the day of the Himalayan Bird Count. This is a remarkable achievement for a single-day birding event!
Every year in May, the 2nd Saturday is dedicated to two popular birding events- the intercontinental Global Big Day and the Endemic Bird Day (EBD) in India. Many birders participate in such birding events by watching and counting birds and uploading their observations to eBird.org.
To coincide with the above two events was planned a Himalayan region-specific event called the Himalayan Bird Count (HBC). The aim of such an event is to celebrate the incredible bird diversity and bring attention to the threatened habitats of the Himalaya. The first edition of HBC was celebrated on 14 May 2022 and on this day birders from the Himalayan regions of India, Nepal, and Bhutan came together to document the birds of the Himalaya.
A big thank you to all HBC coordinators for planning, organizing, and conducting birding activities in their regions and inspiring people to care about the birds around.
The country, state/UT, and district-level coverage of HBC 2022 based on checklists are shown below. To view the summary (number of checklists, participants, species), please click on a country/ state/ district in these zoomable maps.

HBC 2022 Country & State/ UT coverage

HBC 2022 District coverage
P.S. The above maps are best viewed on a computer.
Himalayan Bird Count, 2022 Vs. Endemic Bird Day/ Global Big Day, 2021
Looking at last year's data uploaded by birders during Endemic Bird Day/ Global Big Day, this year birders in the Himalayan regions had a big impact and accounted for 36% of the EBD/ GBD participants compared to 16% last year. Due to the addition of the new HBC event, checklist contribution on this day grew 26% compared to 11% last year although contribution to the species list did not change. Birding increased in India and Nepal during HBC compared to EBD/ GBD in 2021!
In the map shown below, each list contributed by birders in the Himalayan regions toward HBC is shown as a yellow circle. Deeper yellow indicates overlapping circles, which signals more lists from that location.
HBC in Nepal
Last year during the Global Big Day, 9 birders from Nepal uploaded 24 lists and recorded over 100 species. However, during HBC 45 birders uploaded 113 lists and recorded 208 species (twice the number than in 2021!  Thanks to the team of Bird Conservation Nepal (BCN) for planning, promoting, and conducting this event across Nepal. BCN organised several team leaders at various places to conduct birdwalks across Nepal including protected areas. Lists came from Gandaki, Bagmati, Lumbini, Sudurpaschim, Province 1, and Madesh. Of the 209 species, five species of vultures were recorded– the endangered Egyptian Vulture, the critically endangered Red-headed, White-rumped, and, Slender-billed Vulture, and the Himalayan Griffon (Himalayan Vulture) which is near threatened.
Here are some of the top eBirders from Nepal in terms of lists uploaded on 14 May 2022
Manshanta Ghimire
Shes Kanta Sharma
Jaya N Bhandari
Kiran Gosai
Krishna Bhusal
Ankit Joshi
Deelip Chand
Hirulal Dangaura
Nahakul Bhusal
Deu Bahadur Rana
Anand Chaudhary
Kedar Paudel
Cree Panta
Michael Grunwell
Amrit Nepali
Binit Timalsina
Ishwari Chaudhary
Pujan Karki
Arend Van Riessen
Nikeet Pradhan
Shree Poudel
HBC in Bhutan
During HBC,  23 birders from Bhutan uploaded 67 lists, recording 201 species! Compared to last year's Global Big Day, the participation in the country was low when there were twice the number of birders and the tally of species was 325. The Royal Society and Protection for Nature (RSPN) Bhutan played a crucial role in promoting this event in Bhutan. Through publicity posters and social media posts, the RSPN team invited birders in their country to participate in the event. Lists came from 14 regions- Tsirang, Thimpu, Trashigang, Samdrup Jongkha, Monggar, Sarpang, Wangdue Phodrang, Zhemgang, Dagana, Paro,  Lhuentse, Punakha, Trashi Yangtse and Samtse.  Along with the endemic Bhutan Laughingthrush, twelve other species of laughingthushes were reported on this day. Birders documented three species of hornbills–Great (Great Pied), Oriental Pied, Rufous-necked, and Wreathed Hornbill.
Here are some of the top eBirders from Bhutan in terms of lists uploaded on 14 May 2022
Karma Wangda
Seangyeal Chhopheal
Tshering Dorji
Tshering Tobgay
Birkha Bdr Mongar
Ugyen Wangchuk
Karma Jamtsho
Tandin Jamtsho
Tendel Wangdi
Eejay Bhutan
Tshering Gyeltshen
Chojay Norbu
Deo Man Rai
Karma Chophel
Sonam Dorji
Gyeltshen Gyeltshen
Tshewang Tenzin
Thinley Wangchuk
Jigme Tshering
Tashi Dorji
HBC in India
Around 360 birders from the Himalayan states and union territories of India, uploaded more than 950 lists. HBC in India saw tremendous enthusiasm! In India, it was celebrated by individual birders, birding groups, government and non-government organizations, forest department, and educational facilities. HBC coordinators and groups did a lot of pre-planning before the actual day of the event. Thanks to all of you for organising, and mobilizing teams to conduct birding activities in their region.
| | |
| --- | --- |
| State/ UT | Lists |
| Uttarakhand | 199 |
| Ladakh | 198 |
| Jammu & Kashmir | 176 |
| Himachal Pradesh | 166 |
| West Bengal | 78 |
Top 5 states and union territories in terms of lists
| | |
| --- | --- |
| State/ UT | Species |
| Uttarakhand | 293 |
| Arunachal Pradesh | 244 |
| Himachal Pradesh | 232 |
| West Bengal | 207 |
| Jammu & Kashmir | 199 |
Top 5 states and union territories in terms of species
What were the most common species seen during HBC 2022?
With a single-day event's data, it may not be enough to determine species range sizes and population trends, however, it is always interesting to know what was the "commonest species" reported. The map depicted below is arbitrarily divided into 3 broad Himalayan regions*– Western, Central, and Eastern, and in each of the regions there is a different "commonest species".
While Common Myna was among the top 5 common species in the western and central regions Red-vented Bulbul was common in the central and eastern regions.  Summer is the time when cuckoos are most active vocalising and hence there is no surprise that Asian Koel and Large Hawk-Cuckoo made it to the top 5 common species in the central and eastern regions. It would be interesting to note whether this Top 5 common species order would change in the next edition of HBC.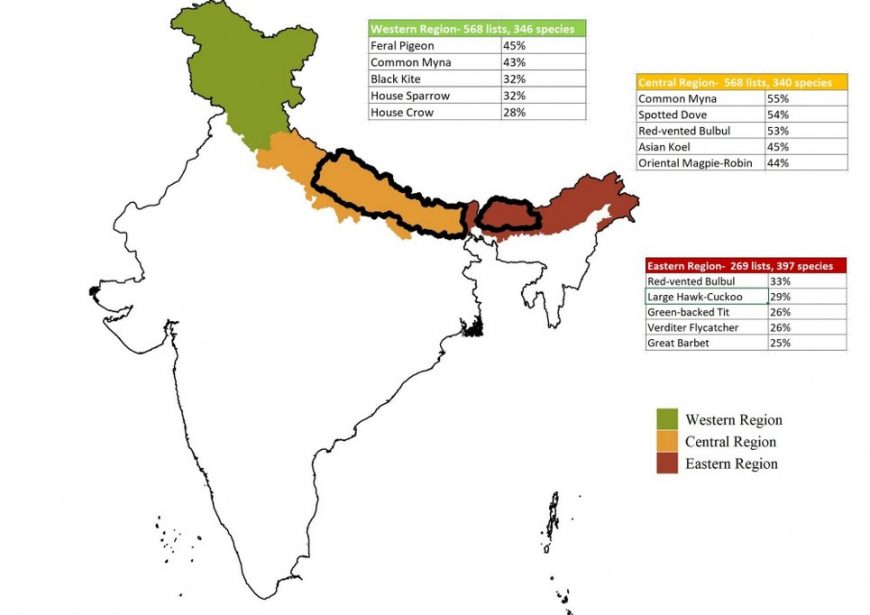 Top 5 common species (in terms of frequency of reporting) for the different regions. The black border represents Nepal and Bhutan.
Western Region- Ladakh, Jammu & Kashmir and Himachal Pradesh, Central Region- Uttarakhand and Nepal, Eastern Region – Sikkim, Bhutan, Arunachal Pradesh
Highlights for HBC 2022 in India, Nepal and Bhutan
Given the remarkable performance during HBC, we wish to highlight some of the most enthusiastic participants who uploaded checklists of 15-minute duration.
| | | |
| --- | --- | --- |
| Name | Country/ State/ UT | # 15 min lists |
| Sonam Angmo | Ladakh | 20 |
| Abhiram Sankar | Uttarakhand | 12 |
| Amarjeet Kaur | Uttarakhand | 11 |
| Dibyendu Ash | Sikkim | 11 |
| Ansar Ahmad Bhat | Jammu & Kashmir | 10 |
| Asha Sohil | Jammu & Kashmir | 10 |
| Irfan Jeelani | Jammu & Kashmir | 10 |
| Jenny Johny Soloman Samuel | West Bengal | 10 |
| Nandini Mehta | West Bengal | 10 |
| Rajendra Koranga | Uttarakhand | 10 |
| Ramnarayan Kalyanaraman | Uttarakhand | 10 |
| Tushar Asti | West Bengal | 10 |
| Venus Joshi | West Bengal | 10 |
| Ashwin Viswanathan | Arunachal Pradesh | 9 |
| Gobind Sagar Bhardwaj | Himachal Pradesh | 9 |
| Gurmet Stanba | Ladakh | 9 |
| Jagdish Negi | Uttarakhand | 9 |
| Jekmat Norbu | Ladakh | 9 |
| Sonam Dorjay | Ladakh | 9 |
| Ajaz Ansari | Jammu & Kashmir | 8 |
| Muzaffar A Kichloo | Jammu & Kashmir | 8 |
| Neeraj Sharma | Jammu & Kashmir | 8 |
| Madhav Murthy | Sikkim | 7 |
| Mrigender Joshi | Himachal Pradesh | 7 |
| Amrit Nepali | Nepal | 6 |
| Asim Giri | West Bengal | 6 |
| Joho Tayu | Arunachal Pradesh | 6 |
| Krishna Bhusal | Nepal | 6 |
| Manshanta Ghimire | Nepal | 6 |
| Padma Ishey | Ladakh | 6 |
Top 30 birders in terms of the number of 15 min list uploaded from India, Nepal, and Bhutan
Other than those mentioned above, huge thanks to all of you who played a pivotal role in making this event successful!
Numbers alone may not reflect the passion and excitement created during HBC. We all would have witnessed the kind of preparation that goes into any popular festival. A lot of pre-planning is done before the actual day of the festival, like sending invites, making plans for visiting people, dressing up in your traditional outfit, and celebrating the festival together with friends and family. Well, HBC gave a similar kind of feeling. Individual birders and birding groups met days before the event day and planned on how to maximize participation. While some met over tea, snacks and full course meals others sent social media invites in the form of flyers and posters. Many birders formed several teams that spread out in various locations, ensuring that participation was from as many locations as possible.
A big shout out to all the HBC coordinators who put a lot of hard work into coordinating this event and their work is genuinely valued!
Here we would like to highlight some of the groups and individuals who played a pivotal role in improving their regions' participation in HBC
Arunachal Pradesh
Arunachal Pradesh Birding Club in collaboration with Apatani Youth Association, NgunuZiro, and Ziro Birding Club conducted birdwalks at Siikhe Lake and Pange Camp of Tale Wildlife Sanctuary. Birders braved the heavy rain and birded in Ziro, Mishmi Hills, Dibang and Lower Dibang Valley, and Roing.

Himachal Pradesh
The Wildlife Wing of the Himachal Pradesh Forest Department encouraged birdwatchers to take part in the event and showed tremendous coordination by forming multiple teams at various locations, including inside Protected Areas.

Jammu & Kashmir
Members from Birds of Kashmir, Birds of Jammu and Kashmir, and J & K Birdlife formed teams to plan online and in-person meetings to guide others on how to participate in this event. There were also birdwalks/ talks for school and university students conducted by birders in Jammu & Kashmir. Members of Institute of Mountain Environment in collaboration with Govt. Degree College, Banihal, and with students of the University of Jammu conducted birding events at the Chattergalla-Sarthal-Bani sector in the Greater Himalayas. (See eBird trip report). Directorate of Physical Education & Sports in collaboration with Nature Interpretation Centre, Biodiversity Park of the Islamic University of Science & Technology (IUST), Awantipoor, Kashmir also conducted birdwalks on their campus for the students and staff.

Ladakh
Birdwatchers from Ladakh, including members of the Wildlife Conservation and Birds Club of Ladakh (WCBCL), spread out in various regions of Ladakh and uploaded 198 checklists. A team from Nature Conservation Foundation (NCF) residing and working in Ladakh conducted birdwalks with members/ students in Ladakh Dayanga Society of Durbuk subdivision; Students Association for Village Education (SAVE) of Nyoma subdivision, Youth Association of Gya Miru (YAGM) of Kharu subdivisiton, and Govt. Degree College of Nubra subdivision.

North Bengal
Although there wasn't a particular birding group or organisation in this region to plan birding activities, a group of birders uploaded 11 checklists from Mahananda Wildlife Sanctuary. See trip report
Sikkim
23 birders in Sikkim participated in the Himalayan Bird Count and uploaded over 50 checklists.
Uttarakhand
The Doon Nature Walks and Titli Trust coordinated and conducted bird and butterfly counts on the 14th of May. Many members from the birding community participated in the event by birding in Uttarakhand's birding hotspots and protected areas.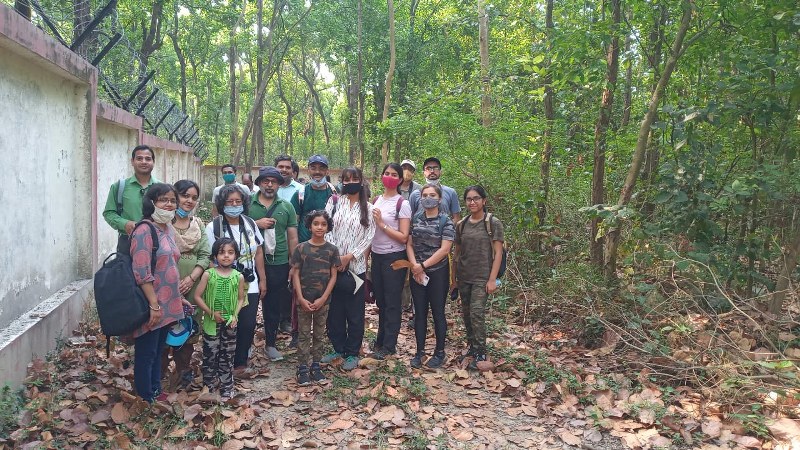 Here are some of the interesting observations recorded during HBC.
Acknowledgments:
Anil Thakur, Ankit Bilash Joshi, Arend van Riessen, Bhoj Acharya, Devinder Singh Dhadwal, Dibyendu Ash, Irfan Jheelani, Ishana Thapa, Karma Sonam, Koj Mama, Krishna Bhusal, Kulbhushan Singh Suryawanshi, Lakshminarasimha Ranganathan, Lobsang Visudha, Malyasri Bhattacharya, Muzaffar Kichloo, Parmil Kumar, Parvez Shagoo, Peter Lobo, Raman Kumar, Ramnarayan K, Sahil Nijhawan, Sanjay Sondhi, Santosh Kumar Thakur, Shankar Tiwari, Sunita Khatiwara, Tshering Tobgay, Umesh Srinivasan, Yubin Shrestha
This first edition of the event was co-organized by Bird Count India, Bird Conservation Nepal and the Royal Society of the Protection of Nature, Bhutan. Given the importance of the world's most iconic mountain range, we believe that events like this will set the stage for regular monitoring, year after year, and thereby help in understanding the state of Himalayan birds.
---
Bird Monitoring in India
Contact Bird Count India at [email protected]
What Next?
HBC will be back on 13 May 2023
In the meantime, keep eBirding and monitoring birds!
Subscribe here to get news and announcements about birds, birding, listing, and monitoring.
---
Header Image: Himalayan Bird Count observed in Nepal. Photo by Bird Conservation Nepal (BCN)