In 2018, we launched a new event called Wild Bird Day. This day-long event happens every year in October coinciding with the global birding event- October Big Day. The goal of the event is to watch and document birds in 24 hours and upload as many checklists as you can to eBird. Wild Bird Day was observed on 17 October this year and your observations have helped India rank 5 in the world in checklists and 9 in total species!
Below, we bring to you a collection of stories from birders sharing their experiences of WBD.

---
Karnataka
Wild bird day was fun. My father and I went to Bannerghatta. We saw a Greater Coucal on the ground and a White-throated Kingfisher. We heard calls of Ashy Woodswallows and then we saw a pipit and a White-browed Wagtail and some bee-eaters. We also saw a Laughing Dove on the ground. We then stopped to see a group of Indian White-eyes hopping on top of a tall tree. We stopped at a fruiting fig tree and saw Purple Sunbirds, bulbuls, and a lot of birds. As we were going to a lake at Ragihalli, we saw a Shikra and a drongo. 
At the lake, we heard a Koel and saw some swallows. We walked further and saw a Common Kingfisher camouflaged with the lotus. We spotted a Baya Weaver nest though we didn't see the bird. While we were going back, we saw a shrike. We heard a very odd call which turned out to be Scaly-breasted Munias and then we saw a Common Iora on the ground almost. When I went to photograph the Iora, we saw a white-eye very closely hanging upside down from a twig. We saw some more swallows then I identified them as Barn and Red-rumped Swallows. On the way back, we saw many birds on a fruiting fig tree. As we went ahead we saw a dead quail on the road which we didn't like. When we reached home our mind was full of birds. (eBird List from Lotus Pond)

By Krishna 
Krishna is 9 years old, studying in class IV at Prakriya School in Bangalore. His hobbies are nature watching and sketching.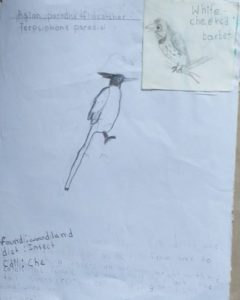 ---
Kerala
This event has been the third year of my participation in Wild Bird Day. The previous Wild Bird Days' were actively spent at Mangalore University along with students and research scholars. This year due to the pandemic, we could not organize any local gatherings. This year I decided to celebrate Wild Bird Day by watching birds in my backyard- a well-wooded area. Here one can expect a mixture of forest species. I started my first list by midnight, but I was not able to listen to any birds. After an hour, I made one more list when I heard Brown Wood Owl, a common bird in my backyard. I thought I would be listening to Jerdon's Nightjar and Sri Lanka Frogmouth, but I missed them. On the morning of the 17th, I saw quite a few birds. Besides, Little Spiderhunter, Vernal Hanging Parrot, Spotted Dove, Green Warbler etc the Southern Hill Mynas and Asian Emerald Doves were the highlights. Identifying birds from their calls and songs has always fascinated me. Even though I was looking forward to this event, I could not spend as much time I would have liked to watch birds. But whatever little time I got that day, I spent watching birds. (eBird List from my backyard)
By Maxim Rodrigues
Maxim Rodrigues is from Kasaragod, Kerala. He spends much time working with citizen science data used in monitoring birds and other fauna. He volunteers in nature education and often gets children and youth involved in this.

---
Maharashtra
On the occasion of Wild bird day 2020 and Global Bird Weekend, we at Kiraksal, Satara, arranged birdwatching trails to explore the avian biodiversity of Dambi Hills and Nali Grassland. The dry thorny scrub forests of Dambi Hill consists of rich biodiversity. 
We parked our vehicle at the foothill, split into two groups, and started our trail. The very first bird of the day was the Indian Bushlark. We saw a few other small birds like Pied Bushchat, Indian Robin, Siberian Stonechat. We came across a small stream and a flock of Green Bee-eaters taking a bath in the water and then later in the mud. This was a delightful sight! Around this time of the day, there was a lot of shrike activity. We saw Great Grey, Long-tailed and Bay-backed Shrikes. On the ground was calling a Richard's Pipit and a pair of Grey-necked Buntings were feeding close by. Further uphill we started seeing some raptors. A Montagu's Harrier was being mobbed by two Large-billed Crows. We also saw a female Eurasian Kestrel in flight, calling. Two Black-winged Kites were hovering and two Short-toed Snake Eagles soaring. We heard a drongo mimicking various bird calls. From the nearby farmlands, we could hear calls of Rose-ringed Parakeets and Indian Peafowl. Bayas were busy weaving nests and sunbirds feeding on nectar from wildflowers. Bushquails were seen scuttling in the grass as soon as they saw us. There were quite a few Tawny, Rufous-tailed, and Ashy-crowned Sparrow Larks seen. Before heading to Nalli Grassland for another birding excursion we stopped for a quick breakfast. 
To summarise, we had a wonderful time walking around and watching birds. The behaviour of bee-eaters, hovering of Black-winged Kites, sightings of a kestrel, harrier, and snake-eagles were some of the highlights. Many thanks to gramsevak Shri. Prakash Kalaskar for joining us on this day. He took photographs of many birds. Thanks to Kiraksal gramsevak Shri Vikas Gaikwad, forest department guards-Shri.M.P Salunkhe and Shri. S.M Galande, our biodiversity conservation committee head Shri Amol Katkar and other members of the team. (eBird List from Dambi Hills and Nali Grassland)
By Chinmay Prakash Sawant
Chinmay is a second-year fisheries science student at the College of Fisheries, Ratnagiri. Since the pandemic, he has taken to documenting biodiversity in his hometown Kiraksal.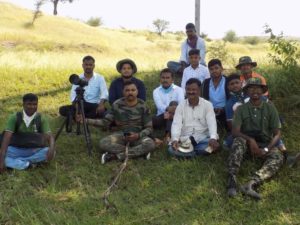 Photo by Vishal Katkar
---
Maharashtra
I have been looking forward to Wild Bird Day. I desperately wanted to be out on this day as I have been under house arrest since the pandemic hit. After all, nothing makes me happier than connecting with nature by being outdoors looking for birds, exploring familiar habitats, and taking in the sights and sounds of the wilderness.
On the day of WBD, I and my birder friend, Girish Chonkar visited Bena. We chose this place as it was not too far, less crowded, and has diverse habitats- cultivated land, wetland, grassland, and a beach. Upon reaching there, we were welcomed by a beautiful site of a Eurasian Hoopoe followed by bayas, mynas, prinias. In a vegetable farm, we were surprised to see a Common Cuckoo (hepatic female) feeding on fat juicy caterpillars. With such a kick start we knew we are up for a special day! The real show started, when we moved to the grassland habitat. I felt as if I was a special guest invited to an amphitheater to watch the acts performed by the various artists- Oriental Skylarks displaying and singing complex songs at the same time; 3 Indian Spotted Eagles engaged in a fight flanked by Black Kites. Montagu's Harrier made a guest appearance and a beautiful Common Buzzard was the star of the show. To add colours to our joy, a European Roller showed up alongside Bay-backed Shrike. 
After such an amazing display by the Air force, we decided to move to the beach to check what the Navy was up to. And to our surprise, there was a big flock of Lesser Black-backed Gulls in their immaculate white uniforms waiting to greet us. They were led by flock officers from Pallas's Gulls regiment. Behind all these, there was a squadron of Eurasian Curlews and Whimbrels standing tall. The base was protected by Black-eared Kites. After 3-4 hours of the mesmerizing show, we were on our way back, but then the show was not over yet. Blue-cheeked Bee-eaters the showstoppers for the day, were sallying with their blue-green wings showing off their hunting skills. One couldn't have asked for a better closing ceremony. The Wild Bird Day was made truly big by performances of 77 species in just half a day of birding! (eBird list from Merces Beach)
By Ramesh Shenai Jr.
Ramesh lives in Mumbai. His loves his job as Naturalist as it provides plenty of opportunities to travel and explore wild habitats. He also maintains a birding blog in Marathi.


---
Maharashtra
On the day of Wild Bird Day, I went birding with my father – (Lakshmikant Rajaram Neve), who is my forever companion in this. Because of the pandemic, we did birding in our patch – Bhusawal Thermal Power Station, Jalgaon which is close to the Tapti & Bhogavati rivers. These two rivers meet at Deepnagar,. We saw kingfishers fishing for their next meal. It's always a delight to watch them diving in the water, catching fish, and then gulping the whole at once. They are one of my favourite birds. Then we saw Bronze-winged Jacana in the reeds and then swimming. There were a couple of hours for the sun to go down, so the grey and purple herons were sighted flying across the river and moving to a safer place to roost. We could hear calls of quails and Grey Francolins from the nearby farms beyond the river banks. The nightjars were seen resting on huge sand mounds where nobody was going to disturb them. Pond herons and lapwings were hunting for their food and small birds like munias, Baya Weavers, Stonechats were seen in bushes. We saw a huge flock of Chestnut-tailed Starlings moving around in the shrubs. Wire-tailed swallows and swifts were also seen flying.  After the sunset, we heard Spotted Owlets. We ended the day with some experience and photographs! (eBird list from Bhogawati River)
By Loukika Neve
Loukikia is from Jalgaon and studies at Rajiv Gandhi Institute of Technology. She is a nature enthusiast and enjoys watching and photographing birds. 
---
Tamil Nadu
On the day of Wild Bird Day, my brother Divakaran Avinash headed up towards Ponnuthamman temple. This place has a special place in my heart. Before even starting birding, I was hoping to see one of my favourite species- the European Bee-eater. Every time I spoke about it to my friends they have always been wanting to see photographs. So this time when we saw we took quite a few photos. We were quite happy to be here in the fresh air and listening to the calls of European Bee Eaters, Lesser Whitethroat, Pied Cuckoo. We saw a Shikra and followed its shadow on the rocks until it was out of sight. We were invited for breakfast by some worshippers at the temple and after a quick meal, we proceeded to see more birds. We also saw Common Woodshrike, White-bellied Drongos, Greenish Warbler, Black Eagle. We also met some new birders on our way. Our afternoon plans of visiting some lakes for birding were spoiled by heavy rains. However, in the evening, we did go to the Krishnamurthi lake with mom and dad. We showed them how to look at birds and identify them. My dad thoroughly enjoyed and we sighted up to 93 species on that day. Birding requires no special skill or age. (eBird list from Ponnuthu)
By Yogeswarie Sreedharan
Yogeswarie works as an Asst. Professor in the Department of Psychology at Avinashilingam Institute for Home Science and Higher education for women.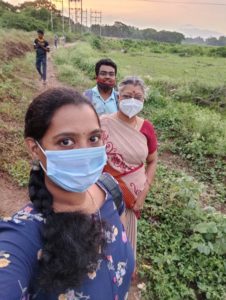 ---
Tamil Nadu
The work from home situation due to Covid-19 pandemic has given me a unique opportunity to explore my hometown, Udumalpet. Apart from the three dams nearby and numerous lakes and ponds fed by the dam waters, there are also dry deciduous habitats and hillocks either exploited by rock quarrying or worshipped for the temples atop them. My usual birding patch is a pond that hosts a lot of migratory birds in this season. In this time of year, the pond is brimming with water and our birding spot has become inaccessible in any way.
On 17 October, me and my birding friends planned to explore one of the quarries. We arrived at this place which is a small rocky hillock locally called Thumbalapatti Karadu by 6.30 AM. It lies within agricultural fields surrounded by all sides and needs a tedious trek to reach to the top. As we were nearing the top, we saw these extraordinarily large rufous & white wings, flapping noiselessly flying towards the sky. No later than this, another one of its kind followed, much slower than the former; it was a pair of Rock Eagle Owls! In a flash, they flew to the other side of the hill swiftly. We climbed down, got on our bikes, and took a detour to reach that side of the hill. Animal waste from surrounding poultries was dumped all around the hillock, which had attracted Common and Jungle Mynas, Brahminy Starlings. The stench was so nauseating that we dropped the idea of photographing this mixed flock of starlings. The rising sun welcomed a pair of Brahminy Kites and a lone Booted Eagle. For basking, fan-throated lizards came out of their secret homes onto the sandy path. As we were watching this, a family of Chestnut-bellied Sandgrouse flew past us, indicating they were nearby. This place was filled with the calls of Jerdon's Bushlark and Zitting Cisticolas. Various varieties of Acacia sp. hosted Brown and Bay-backed Shrikes, who have arrived from a very long distance to control the insect population here. Apart from these birds, prinias, Iduna warblers, Laughing Doves and Eurasian Collared-Doves were abundant. When we were about to return, we saw an unalarmed peahen so close to us. Before we could even open our cameras, she flew away, exposing her egg clutch that she was incubating! Our birding trip on  Wild Bird Day ended with the joy of exploring a new birding spot and quite a few interesting birds. (eBird list from Thumbalapatti Karadu)
By Amara Bharathy
Amara Bharathy works as a Data Analyst in a private firm. He enjoys watching and photographing birds. His recent passion is to record bird calls/songs and study their spectrograms.
---
Tamil Nadu
On a quest for Lesser Kestrel
By sheer coincidence on the day of the Wild Bird Day/ October Big Day, I broke my birding "upvaas" post lockdown! Since the first week of March, I hadn't gone out for birding because of my son's annual exams and then later due to lockdown. Even though the lockdown got eventually phased out I still did not venture out due to my home circumstances. I had to be content with myself drooling at the raptor photographs posted by birders from Chennai and Bangalore from the lakes in Tamil Nadi. Some of the species were the ones that I have been coveting for a long time and had not seen or photographed at close quarters. To rub salt on my wounds, a Lesser Kestrel was being sighted in a lakebed which was about 100+kms from my home. I was desperate by now and was getting serious withdrawal symptoms. Luckily two weeks later, circumstances changed and I was free to go birding.
So promptly on the morning of 17th,  I went to the Kaveripakkam Lake at the crack of the dawn in search of the Lesser Kestrel. There were already a few cars around, by the time we entered. Most of them were birders/ bird photographers I knew. As it's a ginormous lake, we all agreed that whoever sights the bird first will call the rest. And thus, the search began. I was aware of the rough area where it had been sighted previously and so we headed there. I was scanning every kestrel I saw from its head to "toe" through my binoculars and taking as many photos as I could just in case if any of them happen to be Lesser. Had the Common Kestrels known that I had been continuously body shaming them (for not being compact enough, not having longer wings, or having black claws instead of yellow, or having a conspicuous moustachial stripe to be a lesser kestrel) I am sure it would have sued me for harassment and not posed so cooperatively! So, after 3 hours of intense search and every now and then, talking to other birders who were at different corners of the lake and taking what felt like 100 shots of all the kestrels that were in sight and flight (and many times I am sure the same ones at different perches), we all came to the conclusion that Lesser Kestrel had left the lake. I returned back home with mixed feelings about my birding trip – I was happy that I had finally gone out for birding and disappointed for I missed the bird that I went in search of.
After two days when I was processing my photographs, I found one of a kestrel that had yellow claws! I was so excited that I asked my son and husband (who by now knew, from all my rantings and homework prior to my birding trip the pointers for Lesser Kestrel)  to take a look at the claws and let me know if I was deluding myself. They said yes they were pale! In the field, I might have dismissed it as a Common Kestrel because of the dark moustachial stripe as the bird that was reported from that location previously did not have one and looked different. I double checked by asking a raptor expert and also in a Facebook group. After much deliberation and discussion amongst various raptor experts (as this bird was a juvenile and so not that straight forward ) it finally was confirmed as a Lesser Kestrel!  Woohoo! As they say, all's well that ends well, especially one which gives you a lifer! (eBird list from Kaveripakkam Lake)
By Rama Neelamegam
Rama is an avid nature enthusiast from Chennai. She enjoys watching birds and butterflies.
Header Image: Vernal Hanging Parrot ©Savio Fonseca/ Macaulay Library (from this list)