Tadoba's Women Birding Squad
Written by Pooja Pawar
"Oh, this bird appears so close"; "such bright colours and so clearly visible through this binocular!" exclaimed the first-time bird-watching group of ladies from Moharli Village, looking at the Indian Roller. This was in September when I met seven women who were keen on learning about birds and birdwatching.
It is hard to say how far back the history of wildlife guiding goes in India but it's quite clear that the majority of guides and naturalists in India are men. India is one of the most popular tourist destinations in the world but it still has a vast difference amongst men vs. women guides. From touring cultural heritage sites to wildlife reserves and national parks, the guides available are mostly men. Although some high-end resorts and private tour companies do hire women naturalists the numbers are still very low. But in Tadoba-Andhari Tiger Reserve (TATR), Maharashtra, things are changing for the better. For the first time in the history of TATR, thanks to Mr. N Pravin (Field Director) and Mr. Guruprasad (Deputy Director, Buffer) of TATR,  seven women were hired as bird guides in the winter of 2019.
The ball started rolling in September 2019, when I was conducting a birding workshop for the guides (many men and a few women) of Moharli in the Chandrapur district of Maharastra. This was organised by Maharashtra Forest Department with the help of Mr. Anirudh Chaoji, (Field Biologist with TATR).
The aim of the workshop was to introduce guides to the fascinating world of birds and how birdwatching can help them in their career as guides. They were also shown how to document the birds they see using eBird (an online platform for recording bird observations).
When I first met these women, they appeared to be quiet, shy, and a bit anxious. During the workshop, these emotions were replaced by astonishment and they were in awe with all the colourful birds in the photographs shown on the screen. They eagerly heard the calls I played and could relate to those birds that they knew of. They shared interesting anecdotes and told me the vernacular names for some of the birds.
The real excitement started during our outdoor birding sessions. Many of the women were holding binoculars for the first time. They were curious to know more about birds seen in their vicinity. Though they had seen tourism flourishing in their own village, they were always behind the scenes; catering to their households, while the men in the family were engaged as drivers on safaris or working in resorts; working as guides, or assistants for wildlife research projects.
But now, women have a chance to look at the same world very differently through their binoculars.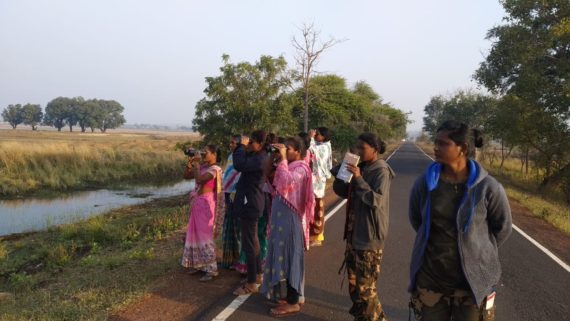 With the binoculars lent to them by the forest department, the Moharli guides have been birding regularly. It seems like that the binoculars are wings for them to fly and soar high. Armed with binoculars, bird pocket guides and with a lot of enthusiasm they would step out every morning to watch birds. Some even went birding in the evening after completing their household chores.
When I met them last month, I was thrilled to see their transformation from nervous beginners to confident birders. Now they work as bird guides and night safari guides with the Forest Department. The best part is that they haven't given up their routine of morning birdwatching. Geeta and Niranjana, are two of the seven women bird guides in Moharli. These two have been regularly birding and uploading their lists on eBird. Niranjana says- "I have strong support from my husband and children who empower me to continue with birding. It was my first time to be in the forest and I am really enjoying the wildlife experiences it offers. Earlier I had never entered the forest".
Geeta says that her favourite bird is Red Avadavat- "Such a tiny bird with beautiful colours". She also has an interesting experience to share. "One morning I was birding with Niranjana and we were making a bird list when suddenly we heard alarm calls of a Sambhar deer. A few minutes later we saw a tiger hunt down a deer in the grasses, on the other side of a lake. We were really thrilled".
In about six months, they have become well versed not only with birds but also have an understanding of various habitats the birds prefer. They have started observing seasonal changes in occurrences as well. They know the Marathi as well as English names of the birds. While guiding tourists on night safaris they have learned about nocturnal birds too.
"One of my tourists on the night safari told me that he would like to see an owl more than any mammal, and on that ride, we saw a Mottled Wood Owl and a pair of Spotted Owlets. The tourist was really happy with the sightings and I am glad to know that some tourists are keen on seeing birds, and not just tigers", says Aruna Palangwar who has completed her Bachelor of Arts, and is in the first year of her MA.
Vrunda Kadam mentions that her husband is very supportive and, sometimes he doesn't mind taking over the kitchen when she has to go for a safari. "When we started birding, many women and men in our village laughed at us. They would say all sorts of things. Some said how we watched birds even while washing clothes. But these same women are now interested in learning about birds from us", adds Vrunda.
Like Vrunda, the others too had a tough time to prove that they were really good at what they were doing. Tadoba's Women Birding Squad is always ready to participate in birding events and challenges. This year, they led birding teams during the 'Great Tadoba Bird Race'. "The Bird Race was a very good opportunity for me to learn many new birds. My teammates were very encouraging and showed me some birds that were new to me", says Divya Palangwar.
Geeta says, "During the night safari, I get to see Indian Thick-knee, nightjars that fly ahead of our vehicle, and many owls". She further adds-"When I first heard the call of a Mottled Wood Owl, I was scared but now I look forward to any sightings of this bird".
Their birding is not only limited to taking tourists out on safaris and trails, but they are well equipped with the technology too. They all use eBird mobile app to report their sightings. Geeta Pendam gets excited about getting a lifer to her list. Geeta wants a field guide to Indian birds now as there are many more species in Tadoba than those given in the regional pocket guide (by Early Bird).
Geeta Pendam and Niranjana Meshram are among the top 10 eBirders in Chandrapur district now. They have submitted over 200 checklists each with more than 170 species seen. They participate actively in eBird challenges set by Bird Count India every month. This year they also participated in the Campus Bird Count.
On the occasion of International Women's Day, I salute Tadoba's Women Birding Squad.  They are an inspiration for many women working in wildlife and otherwise. Fighting against all the odds and pursuing their passion for birds makes them among the first women bird guides in the state. We hope that these fearless female pioneers will motivate other ladies in different regions to pursue their interests and push past social boundaries.  When you are in Tadoba next, do not miss the opportunity to interact and bird with these commendable birders and cheer them up!