Patch Birder's Profile is a series focussing on Patch Birding. In this series, we highlight birders who have been faithfully visiting their patch, through this, learning the details of the birdlife and its seasonality there.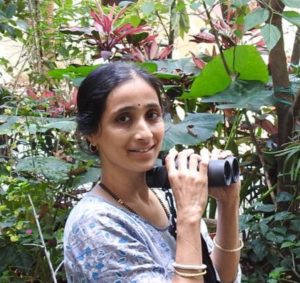 1. Please tell us about yourself: where do you live and what do you do.
I believe that growing up in the Western Ghats influenced my interest in nature and conservation. In 2002, when I moved to Bangalore I nurtured my interest in birdwatching. I am a homemaker and live on the beautiful campus of the Indian Institute of Science (IISc), Bangalore.
My hobbies include nature watching, photography, art & craft, performing arts.
2. Please tell us about your patch: where is it located, what habitats does it contain, how often do you visit, and whether you follow any sort of procedure or protocol when visiting for birding.
There are two patches on the IISc campus that I regularly visit. The first one is my home garden and the second one is an area called Jubilee Garden. My home garden consists of a variety of plants – hibiscus, blue pea, lilies, etc. There are also small and large trees outside the garden. This kind of ecosystem is particularly helpful as different species of birds feed and nest at different heights. I have also set up birdbaths of different sizes and shapes at different heights. From my kitchen window, I have a good view of the birds visiting the baths.
The Jubilee Garden patch consists of a shrubby habitat, a forest-like patch with evergreen trees, and a small pond. I have placed a couple of birdbaths in the Jubilee garden as well. 
During the summer, many birds visit the birdbaths around 6 am to 8 am and afternoon around 4 pm to 6 pm. During winter it is around 7 am to 9 pm and 3 pm to 5 pm in the afternoon. I visit every day for a minimum of an hour and a maximum of 7 hours. I typically carry binoculars and a camera while visiting these places. For the home garden, when I hear the birds calling I water the bushes near the birdbaths. This attracts a lot more birds.
3. What birds are found in your patch? Please comment on any seasonal changes.
I have documented around 60 species in my garden and 130species in the Jubilee Garden. Resident birds include Black Kite, Brahminy Kite, Shikra, Spotted Dove, White-cheeked Barbet, Purple-rumped Sunbird, and such like. From September to April, I get migrant warblers like Blyth's Reed, Booted, Greenish, Green, Tytler's Leaf, and thrushes like the Orange-headed, Pied, Tickell's, and Eyebrowed Thrush.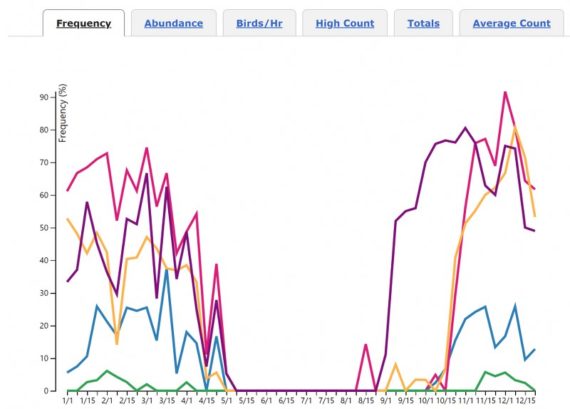 Frequency chart of warblers in IISc. From eBird.org
4. Are there any highlights or interesting incidents that you would like to share?
There are quite a few interesting incidents and highlights. One of the best was the sighting of a Kashmir Flycatcher in my home garden and this was the first sighting for Karnataka. The other highlights are the Yellow-browed Warbler, Tickell's Thrush, and Malabar Whistling Thrush in the home garden, and the Eyebrowed Thrush in the Jubilee Garden. Sighting of a couple of Indian Nightjars was a memorable incident as they were feeding in the day time at about 10 am on a cloudy day. The sighting of Ruddy-breasted Crake during a rainy day in October was also very unique.
5. Has your understanding of the birdlife (diversity, seasonality, breeding, etc) of your patch increased over time? In what way?
Yes. The bird population has increased in these two patches over the last 10 years. The diversity has increased with the new species visiting from year to year. This may be because of water availability, especially due to the use of recycled water on the campus until late summer.
Spotted Owlet
---
Photo credits: Shubha Nava
Header image: Blue-capped Rock-Thrush © Shubha Nava/ Macaulay Library from this checklist