By P. Jeganathan
Birders of yesteryear had field notebooks and pens or pencils to write down what they saw in the field. Some of them took copious notes and published their sightings in scientific journals and trip reports. Starting from early 2014, the online bird-listing portal eBird became popular among Indian birders. Since then eBird has picked up slowly but steadily in India. Now the modern day birders carry their mobile phone with the eBird app installed in it. They see, they record and they report almost instantaneously, some almost every day! Several birders from yesteryear have dug through their notebooks and have uploaded their old records to the portal. (A record means the observation of a particular species at a particular date/time and place.)
In some ways, eBird has changed the way we bird. For many of us, birding is not just a hobby any more; it has become almost a habit now. This has resulted in the accumulation of a huge number of bird records in India. In September 2014 India reached half a million bird records. Within five months, in Feb 2015 another half a million were added to the eBird portal. This was the period when the Great Backyard Bird Count was gaining popularity and the Common Bird Monitoring Program (Onam Bird Count) was also initiated in Kerala.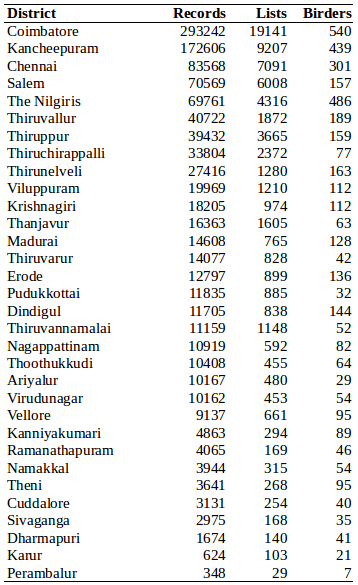 With this amount of collective effort there was no surprise when Kerala become the first Indian state to reach one million bird records in November 2016. This feat was emulated by another eBird-active state, Karnataka, in February 2017.
Following this, Tamil Nadu has become the third Indian state to reach one million bird records in eBird. This happened in August 2017 when Nalini Aravind  recorded House Crow in this list.
Efforts taken by the Tamil Birders Network to popularize birding and eBirding via annual meets (since 2014), as well as initiating the Pongal Bird Count (since 2015), contributions from several other birding groups (such as Coimbatore Nature Society and The Nature Trust, Chennai) and individuals across the state enabled reaching this milestone.
As you can see from the table to the left, as well as the map below, a large fraction of eBirding in Tamil Nadu is from a handful of districts. The next challenge will be to try and spread out birding more evenly across the State so that the overall condition of birds of Tamil Nadu can be assessed and monitored.
Many thanks and congratulations to all the eBirders and groups who have contributed to this landmark number.
Banner image: Emerald Dove (the State bird of Tamil Nadu), by Murugesh Natesan/Macaulay Library, from this checklist.