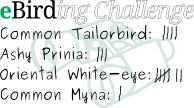 All through October we were somewhat worried about the challenge that had been set: to upload at least 15 complete lists

, totalling at least 15 hours of birding. Was this too much? Would anyone be able to reach the target?
At first, it seemed as though our fears might come true. After all, the number of complete, effort-based lists of at least 15 min duration in October was 1,652 , considerably fewer than in September, when 3,043 such lists were uploaded to eBird from India. Of course, the spike in September was partly because of the Kerala Onam Bird Count: 1,078 lists were uploaded from Kerala during that four-day period alone!
In all, 257 birders uploaded 1,923 lists of all types in October, together accounting for 42,475 records.
As it turns out, we needn't have worried about the October challenge. In all, 22 eBirders met or exceeded the target of 15 eligible lists, totalling 15 hours of birding. They are:
Able Lawrence
Aidan & Savio Fonseca
Anish Aravind
Ashutosh Singh
Bela Arora
Chithrabhanu Pakaravoor
Dr George PJ
Erle Brito
Ganeshwar S V
Hari Kumar
Kiran More
Kulbhushansingh Suryawanshi
Manju Sinha
Panchapakesan Jeganathan
Premchand Reghuvaran
Rajesh Kalra
Ramit Singal
Shivaprakash Adavanne
Shivashankar Manjunatha
Shubha Nava
T R Shankar Raman
Vivek Puliyeri
Many congratulations to all of them!
One of these 22 was chosen using a computer-generated random number to receive a small gift, and that person is
Hari Kumar
who receives a copy of Simon Barnes's How to be a (Bad) Birdwatcher: To the Greater Glory of Life. (You can read a review here.)
Here is the full list of all 257 contributors from October 2014:
Aakash Upadhyay, Aasheesh Pittie, abha manohark, abhijeet  avate, abhijith a.p.c, Abhijith surendran, Abhinand C, Abhirami M Jayakumar, Abhirami-Niranjana C, Able Lawrence,  Aidan & Savio Fonseca, AJAZUL HAQ, Ajit A, Amaresh Sarangi, Amol Lopes, Anagha Bagade, anant pande, Anil  Mahajan, Anil tripathi, Anil UK, Anish Aravind, Anish Mohan Thampi, anitha sundar, Anjali J, Anjitha Devarajan, anne cain, Anoop CR, Anoop King, anshuman sarkar, Anupam Gupta, Arathy S Kumar, Aravind AM, arjun suresh, Arnav Anish, Arun Bhaskaran, arun  lal, Arya Vinod, Ashutosh Singh, Ashwin Baindur, Ashwin Gokhale, Atharva Damle, Atharva Phadke, Avadhesh Malik, Avdhut Kanago, Balwant Negi, Bela Arora, Bhagyashree Ingle, Bhakti Salgaonkar, Bhalchandra Pujari, Binod Borah, Biswajit De, brett gleitsmann, Castro Karthi, Chinmay Rahane, chithrabhanu pakaravoor, Chris Bowden, Cynthia Sinclair, david stanton, Debashis Chowdhury, Deepak Balasubramanian, Deepak Jois, Deepak Sahu, Dhananjai Mohan, dhananjay rao, dhanesh  a, dilip kg, Dipu Karuthedathu, Divya Mudappa, Dr George P J, Erle Brito, Eveny Luis, Farhad P, Fauzia Arief, Fionna Prins, Ganeshwar  S V, Garima Bhatia, Gaurav Nalkur, geethanjali ravindran, girish jahtar, Gnanaskandan Kesavabharathi, G Parameswaran, Graham B Langley, Hanuman Gawas, hari kumar, HARI MAVELIKARA, HARSHADA GAUNS, harsha nr, Hemant Dhadnekar, Himansh Pahwa, himanshu tembhekar, Hiran Sasidharan, Hrishikesh Karandikar, Ihsan Javid, Indranil Basu, induchoodan sreedharan amalath, Ishan Sadwelkar, Jaichand Johnson, James Williams, Jayan Thomas, Jayant  Wadatkar, jayaprakash m t, Jaydev Mandal, Jayesh Ghanekar, Jinesh P S, J.Thomas Cheruvallil, K ABHISHEK, Karthik Achar, Kaustubh Rau, Kedar Patil, Kiran bagade, kiran more, Kishore Bhargava, Kulbhushansingh Suryawanshi, Kunan Naik, Kushal  Kulkarni, Lloyd Fernandes, madhushri mudke, Mandar  Bhagat, Manish  Kumar, Manju Sinha, Manoj Karingamadathil, Mariam Shajahan, meher preetham, Mihir Barve, Mike Prince, Mittal Gala, Mohith Shenoy, monali shah, Monica Kaushik, Muthu Narayanan, M V BHAKTHA, Nandana prasanth, nanda ramesh, Neethu George Thoppan, Neha Waikar, Nikhil Fuge, Nikolaj Thomsen, nimitha damodaran, Niranchana Venkatadri, Omkar Dharwadkar, omkar naik, Panchapakesan Jeganathan, Parvez Kaleem, Pat Ravindran, peeyush sekhsaria, Prakash G, Prakriti IIT Madras, Pranav Shinde, Prasanna Gautam, Prasanna Parab, PRASHANTHA KRISHNA M C, Pratik Humnabadkar, Praveen J, Premchand Reghuvaran, Pronoy Baidya, Rahul Matmari, Raja Simma Pandiyan, Rajesh  Kalra, Rajesh Khanna, rajesh nayak, Rajgopal Patil, Rajneesh Suvarna, Raju Kasambe, RAJU MENON, Raman Kumar, Ramesh Desai, Ramit Singal, raphy kallettumkara, renju tr, RESHMA  BHAT, Ribish Thomas, Robert Scrimger, Rohit Chakravarty, Ronit Dutta, RYAN DSOUZA, Sachin Shurpali, sahana m, Sameer Desai, Sampreeth Desai, Samyak Kaninde, Samyukth Sridharan, Sandeep Bapat, santhosh kumar, santosh thakur, sarayu ramakrishnan, Sarthak Awhad, Sashi Kumar, sasidharan manekkara, Sastha Prakash, Sathyanarayanan KD, Shah Jahan, Sharan V, Shariq Khan, Shashank Birla, SHESHGIRI BAGDE, Shireesh Dharap, Shivaprakash Adavanne, Shivashankar Manjunatha, shobita asthana, Shrikanth nayak, Shubha Nava, Shwetha Bharathi, Siddharth  Hardikar, Siddhesh Bramhankar, Sid Padgaonkar, Sivakumar AK, Sivashankar Ramachandran, skanda sn, Soni Nambiar, Soumya Prasad, Sourajit Ghosal, S R  Gopalan, Srinivasa Shenoy, Stefan Andrew, Subhajit Roy, Subhankar Dassarkar, Subharanjan Sen, Subin Sudheendran, Subramanian  Sankar, Suhel Quader, Sumesh  b, Sumin George, Surendhar Boobalan, Suresh Brar, Suresh  Rana, Syed Muzamil, Taksh Sangwan, tanuja dasharath haunsbhavi, Tanya Seshadri, teddy nirappaan, TheNatureTrust (GroupAccount), Thomas Job, Thorkild Michaelsen, Tim Bawden, TKS Thathachari, tony antony, T R Shankar Raman, Udiyaman Shukla, Vaidehi  Gunjal, vaisakh george, Varun Kher, Vasu Anand, vedant kumbhar, Vignesh Menon, Vijayalakshmi Rao, Vijay Ramachandran, Vinoba Anand, vinod k, vin shutterbug, Vishal D, Vishnupriyan Kartha, Vishwatej Pawar, Vivek Puliyeri, Wahiba Humam, Yagnesh Desai, Yogesh Parashar, Yudhveer Singh Rathore.
Now on to the eBirding Challenge for November: 20 lists from a single location!