Although birders often roam far and wide, exploring different locations and habitats in pursuit of new experiences and species,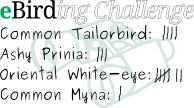 November's challenge was about birding consistently in the same place. The target was to upload at least 20 complete lists

from a single location.
The idea here is to emphasize that 'mundane' birding can also be interesting and rewarding: when you bird the same place again and again, all kinds of details emerge that you may not have noticed before. What time does the magpie robin perch on the branch outside your window to sing? What species are different between this 100m stretch of road and the next? And, across time, you can see seasonal patterns emerge in the birdlife of your specific corner of the world.
First, an overall look at what happened during the month in India. The number of complete, effort-based lists of at least 15 min duration in November was 2,566, a very respectable number indeed. In all, 340 birders uploaded 2,966 lists of all types in October, together accounting for 67,006 records.
As for the November challenge, in all, 18 eBirders met or exceeded the target of 20 eligible lists from a single location. They are:
Anish Aravind
Bhakti Salgaonkar
Chithrabhanu Pakaravoor
Dr George P J
Erle Brito
Ganeshwar S V
Hari Kumar
Hitha P T
Kiran More
Madhushri Mudke
Manju Sinha
Mittal Gala
Premchand Reghuvaran
Raja Simma Pandiyan
Ramit Singal
Suhel Quader
T R Shankar Raman
Vivek Puliyeri
Many congratulations to all of them!
One of these 18 was chosen using a computer-generated random number to receive a small gift, and that person is
T R Shankar Raman
who receives a copy of Gifts of the Crow: How Perception, Emotion, and Thought Allow Smart Birds to Behave Like Humans, by John Marzluff and Tony Angell. (You can read a review here.)
Here is the full list of all 340 contributors from November 2014:
Aasheesh Pittie, abha manohark, abhijeet avate, abhijith a.p.c, Abhijith surendran, Abhirami M Jayakumar, Abhirami-Niranjana C, Abhiram V Rajandekar, Abhishek Gulshan, Able Lawrence, Advait Marathe, Aidan & Savio Fonseca, Aishwarya S V, AJAY RAJAN, Ajit A, Ameya Gole, Amol Lopes, Amrish Bidaye, Anand Kalinadhabhatla, Anand Sundaram, Anannya Sen, anant pande, Andrew Johnson, Aneesh Sasidevan, Anil UK, Anish Aravind, Anjali J, ANJANA MOHANDAS, Anoop CR, anshuman sarkar, Apoorv Padhye, Arathy S Kumar, aravinda hr, Aravind AM, Aravind Sridharan, Arjun Kodoth, Arjun R, Arnold Goveas, arshad ameen, Arun C.G, Arun Jeeva, arun lal, ARUNSANKAR N, Arun Visweswaran, Arup Ghosh, Aryas Home, Arya Vinod, Ashik Musicroom, Ashutosh Singh, Ashwin Gokhale, Athira K Nair, Avishkar Munje, Badri Narayanan Thiagarajan, Balwant Negi, Bela Arora, Bhagyashree Ingle, Bhakti Salgaonkar, Bhalchandra Pujari, BINA MENON, brett gleitsmann, BSAP GroupAccount, Castro Karthi, chandrashekhar dravid, Chinmay Rahane, chithrabhanu pakaravoor, Chris Bowden, Chuck Holliday, CLAREENA JOSE, Dave Minnich, david stanton, Deepak Balasubramanian, Deepak Jois, Deepak Sahu, Deepa Mohan, dhanesh a, Dharmaraj Patil, dilip kg, Dilip Polpakkara, dineshbharath kv, Dinesh Shenoy, Dipu Karuthedathu, Divya Mudappa, divya srivastava, Don Roberson, Dr Anoop R, Dr George P J, Dr.Ravi vet, Enakshi Bhattacharya, Erle Brito, Fionna Prins, Gajanan Wagh, Ganesh Ravi, Ganeshwar S V, Garima Bhatia, Gaurav Kalyani, Gaurav Nalkur, gayathri mukundan, Geetha Ramaswami, Ghazala Shahabuddin, Ginu George, Girish Jahtar, Gnanaskandan Kesavabharathi, gopal prasad, Gowthama Poludasu, G Parameswaran, Great Indian Birding Trip, Hanuman Gawas, hari kumar, HARI MAVELIKARA, harsha nr, Hemant Dhadnekar, hemraj duraiswami, Henna. Hashim, Himansh Pahwa, HITHA P T, Hrishikesh Karandikar, Ihsan Javid, induchoodan sreedharan amalath, Ishan Sadwelkar, Jaichand Johnson, Jayakrishnan U, Jayant Wadatkar, jayaprakash m t, Jaydev Mandal, Jinesh P S, jismi m o, Jithin Johnson, JOMY VARGHESE, J.Thomas Cheruvallil, Jyothish Nelson, Kalyan Varma, Kanupriya Sisodia, karthikeyan chennimalai, Kaustubh Rau, Kelly Sekhon, Kenneth Anderson Nature Society, Kiran bagade, kiran more, Komal Matieda, Krishnadas Mallya, Krishna Girish, Krishna Kumar, Krishna Murthy, Kulbhushansingh Suryawanshi, Kumar RR, Kunan Naik, Lawrence Mathappan, Lloyd Fernandes, Lokesh Ohri, Madhurima Das, madhushri mudke, Manan Singh Mahadev, Mandar Bhagat, Manibharathi manoharan, Manish Kumar, Manju Sinha, meher preetham, Mihir Barve, Mike Prince, Milan Sojitra, Mittal Gala, m m r, Mohan Raj K., Mohith Shenoy, Monica Kaushik, MUHAMMED NEZEEM V N, Murali Rajagopalan, Muthukumaran Balasubramanian, Muthu Narayanan, Nagendra Nayak, Naman Goyal, NA NA, Nandana prasanth, Nandkishor Dudhe, Navanit Arakeri, Naveen MR, Neha Waikar, Nesmal Nizam, Nikolaj Thomsen, Nimish Kane, nimitha damodaran, Niranjan A, Nirmal Gourav Das, Nishant Shah, Nitin Marathe, Noopur Sahasrabudhe, Padmanav Kundu, Panchapakesan Jeganathan, PANKAJ GUPTA, Pankaj raina, Pat Ravindran, Pavan Patel, Pavan Reddy, P. B. Samkumar, peeyush sekhsaria, Prabhakar Manjunath, Prabhakar Sastri, PRADEEP KUMAR V B, Prakash G, Prakhar Krishan, Pranav abi, praphul gopal, Prasanna Parab, PRASHANTHA KRISHNA M C, Prashanth NS, Praveen es, Praveen Eshwarappa, Praveen J, praveen kumar, Premchand Reghuvaran, Pronoy Baidya, Prudhvi Gali, Radhika Bajaj, Raghurama Hegde, Rajaram A, Raja Simma Pandiyan, Rajesh Kalra, rajesh nayak, Rajesh Radhakrishnan, Rajgopal Patil, Raj Phukan, Raju Kasambe, Raman Kumar, Ramesh Desai, Ramit Singal, raphy kallettumkara, Ravi Meghani, renju tr, RESHMA BHAT, Rohan Chakravarty, Rohit Chakravarty, Rohith Srinivasan, Ronit Dutta, Roshan Kamath, Roshnath R, Rudraksha Chodankar, SACHIN KRISHNA M V, Sachin Shurpali, Sahamatha Bolwar, sahana m, sakthi manickam, Sampreeth Desai, Samyak Kaninde, Sandeep Bapat, Sandeep Krishna Das, Sandra Bouma, Sangeeta Pandit, Sangeetha AB, Sanjay Sondhi, Sanjay Thakur, Santharam V, santhosh kumar, sarayu ramakrishnan, Sashi Kumar, sasidharan manekkara, Sastha Prakash, Satyajit Shinde, Savithri Singh, Shah Jahan, Sharan V, Shariq Khan, Shashank Birla, SHEKHAR BOPARDIKAR, Shelley Rutkin, SHESHGIRI BAGDE, Shireesh Dharap, Shivaprakash Adavanne, Shivashankar Manjunatha, shobita asthana, Shrikanth nayak, Shubha Nava, Shwetha Bharathi, shyamkumar puravankara, Siddharth Hardikar, Siddhesh Bramhankar, Siddhesh Poyarekar, Siddhesh Surve, Sivakumar AK, Sivashankar Ramachandran, skanda sn, SOMSHRI PATNAIK, Soni Nambiar, Sourajit Ghosal, S R Gopalan, Srikanth Bhat, Subin Sudheendran, Subramanean Janakiraman, Subramanian Sankar, Subramniam Venkatramani, sudhakaran kk, sugadev sugathan, Sugandhi Gadadhar, Suguna R, Suhel Quader, Sujato Datta, Sumesh b, Sumin George, Surendhar Boobalan, Suresh Rana, Surya Bharanidhara, Swetashree Purohit, SYAMILI MANOJ, Syed Muzamil, Taksh Sangwan, Tallulah D'Silva, tanuja dasharath haunsbhavi, Tanya Seshadri, TheNatureTrust (GroupAccount), Thomas Job, Thorkild Michaelsen, TKS Thathachari, tony antony, T R Shankar Raman, ts prasanth, Udiyaman Shukla, Utkarsh Chowdhary, Utkarsh Maheshwari, Vaidehi Gunjal, Varun Kher, vedant kumbhar, Veerendra Prabhu, Vignesh Menon, Vigneshwaran B, Vijayalakshmi Rao, Vijay Anand Ismavel, Vineeth Viswanath, Vinoba Anand, Vinod Kumar.V, Vinoth P, Vipul Ramanuj, viral joshi, Vishal D, Vishnu Murali, Vishnupriyan Kartha, Vishwatej Pawar, Vivek George, Vivek Puliyeri, Yagnesh Desai, Yogesh Parashar.
Now on to the eBirding Challenge for December: 20 'shared' lists!