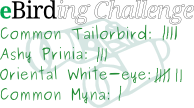 While many of us venture widely afield to do our birding in 'the season', we often also have our regular haunts. The challenge for November was to [a] look for birds consistently from the same location and [b] count birds seen, instead of entering Xs (only presence). How well did we fare? Here is a break-up of the eBirding in India in November (with previous month in brackets):
Number of birders: 820 (560)
Number of lists (all types): 6,700 (6,000)
Number of lists (eligible only): 5,600 (5,100)
Number of observations: 1.4 lakh (1 lakh)
Of the 5,600 complete/eligible lists, 4,800 had counts of all species (ie, no Xs). When tabulated across birdwatchers and locations, it turns out that 45 eBirders met or exceeded the target of 15 lists from a single location, with no Xs! They are (as always, excluding group accounts):
Abhirami C
Ajay Gadikar
Anjana Hari
Arya Vinod
Dilip Polpakkara
Diwakar Jha
Erle Brito
Ganeshwar SV
hari kumar
Jayadev Menon
Jaydev Mandal
Kaustubh Rau
Manju Sinha
M D Madhusudan
Mittal Gala
Monica Kaushik
Nandhakumar Radhakrishnan
Nisarga Srinivas
Nisha M
Panchapakesan Jeganathan
Prashanth N S
Priyadarshini K
Raja Simma Pandiyan
Raman Kumar
Renju TR
Rohit Naniwadekar
Sadasiva Sahukar
Selvaganesh K
Shanmugam Kalidass
Siva T
Sneha Gupta
Somoyita Sur
Sreekumar E R
Steffin Babu
Subraja Vasudevan
Suhel Quader
Sumesh B
Swati Sidhu
Syamili Manoj
Tanya Seshadri
T R Shankar Raman
Vaidehi Gunjal
Vidhya Sundar
Vishwatej Pawar
Wahiba Humam
Many congratulations to all of them!
One of these 45 was chosen using a computer-generated random number to receive a small gift, and that person is
Somoyita Sur
who receives a copy of Bird Sense: What it's Like to be a Bird by Tim Birkhead. (You can read a review here, and there is a website devoted to the book too.)
Here is the full list of all 821 eBirders from November 2015:
Aaditya S Kumar, Aakash Lamba, Aaqid Mukhdoomi, Aasheesh Pittie, Abdul Raheem Munderi, abha manohark, abhay kumar, Abhijeet Sable, abhijith a.p.c, Abhijith surendran, Abhik Das, Abhiraj Chakraborty, Abhirami C, Abhisheka Krishnagopal, Abhishek Das, Abhishek Gulshan, Abhishek Maiya, abhishek ravindra, Abhishek Shankar, Able Lawrence, Adesh Shivkar, Adithi Muralidhar, Adithya Bhat, Aditya Ghate, Aidan & Savio Fonseca, Ajay Gadikar, AJAY WADKE, Ajinkya Supekar, AJU RAJU, Akash Gulalia, Akhilesh Tambe, akhil kunjumon, Akshay Joshi, Akshay Surendra, Al badush, Albin Jacob, Alkesh Thakare, Amal U S, Ameet Mandavia, Amelia Dungan, Ameya Mundle, Amit Bandekar, Amit Ghosh, Amit Kumar, Amit Raut, Amit Thakor, Amol Bapat, Amol Lopes, Amol Mamlayya, Amol Raut, Andrew Preston, Aneesh Sasidevan, Aniket Khariwale , aniket paluskar, Anil Kunte, Anil Mahajan, anil subramaniam, Anirban Pal, Anirudh singh Rathore, Anish Aravind, Anish Mohan Thampi, Anita Negi, Anjali J, anjana hari, Ankit Vikrant, Ankur Shekdar, Anoop CR, Anoop King, anshuman sarkar, Anubhab Hota, anubhab khan, Anubhuti Jain, anuja moharir, anuj raina, Anupam Khanna, Anurag Chandak, Anurag Mishra, Anvitha Rao, Aparajita Datta, APITHA NAMASSIVAYAN, Appavu Pavendhan, Arabinda Pal, Arathy S Kumar, aravinda hr, Aravind AM, Aravindh Soundararajan, Areef Pasha, Arijit Mondal, Arjun Kannan, Arnab Pal, Arnold Goveas, Arsha K, Arundev G, Arun Jap, arun lal, Arun M K Bharos, Arun Varghese, Arup Dey, Arvind Patole, Arya Vinod, Ashish Kothari, ASHISH SHUKLA, Ashni Dhawale, ashok kashyap, Ashutosh Singh, Ashwin Hp, Ashwin HP, Ashwin kadiyala, ashwin mohan, Ashwin Viswanathan, Ashwin Warudkar, Aswathy rajan, Atharva Damle, Athira K Nair, Atindra Katti, ATUL SINGH CHAUHAN, Augustin Joseph, Austina Ribanar, Avinandan D, AVINASH BHAGAT, Avinash Londhe, Avishkar Munje, Badri Narayanan Thiagarajan, Balaji P B, Balkrishna varute, Balwant Negi, Banu Prakash KN, Bhakti Salgaonkar, Bhalachandra Shirolkar, Bhalchandra Pujari, Bhargav Shandilya, Bhaskar pandeti, Bhoopathy (Nilgiris, Kotagiri), bijumon ke, Biju PB, Biswajit Chakdar, Biswanath Mondal, bulbul muruges, Carol Thomas, Chandrahas Kolhatkar, Chandra Shekara, Chayant Gonsalves, chetan harikishandas joshi, Chetna Sharma, chhanda bewtra, Chinmay Rahane, Chirag Munje, Chiranjib Dutta, chithrabhanu pakaravoor, Chris Bowden, Chris Goulart, Cinchona GHS(Group account), Clara Correia, CNS Nature, Colin Braganza, Conrad Braganza, Conrad Pinto, Cuckoo Sebastian, Darshan Mujumdar, Darshan Potdar, Dattatraya Langhi, David Crexcrex, David Raju, david stanton, Deepak Sahu, Deepa Mohan, Deepika Karmarkar, Deepika Prasad, Deepthi Chimalakonda, DelhiBirdRace 2015, dhananjay bhamburkar, dhananjay gutte, Dhanapal Dhandapani, Dhanesh Ayyappan, dhiren malani, Dhritisundar Datta, diksha satarkar, Dilip Dabhade, dilip gupta, dilip kg, Dilip Polpakkara, Dilip Virkhade, dineshbharath kv, Dinesh K.S., Dinesh Pundir, dipak bowalkar, Dipak Gudhekar, Divesh Kumar Saini, Divya Mudappa, divya srivastava, Diwakar Jha, Dr George P J, Dr Tushar Ambadkar, Dr. Utkarsh Betodkar, Druva Murali, D V, Dwiref Oza, Eldhose KV, Elrika D'Souza, Elsie Laura, Eric Peterson, Erle Brito, EVA HANSDAK, Eveny Luis, Fabio Olmos, Faiz Bux, Fatema Chitalwala, Fauzia Arief, Firoz Hussain, Ganeshwar S V, Garima Bhatia, Gaurang Bagda, Gaurav Limaye, Gaurav Nalkur, Gaurav Patil, Gautam Narain, Gayathri Sanjeev, Geeta M, Geetanjali Dhar, Geetha Venkataraman, George Tom, Ginu George, Gireesh Pallikkara, Girija TPALlya, Girish Chonkar, Girish Hadap, Girish Jathar, Gitanjali Katlam, Gnanaskandan Kesavabharathi, Gobind Sagar Bhardwaj, gopal prasad, GOVIND GIRIJA, Gowthama Poludasu, G Parameswaran, gracy michael, Graham B Langley, Great Indian Birding Trip, gregg muller, Gunasekaran m, gurmeet singh, GURUPRASAD PUTTAMADAPPA, Hakimuddin F Saify, Hanuman Gawas, hardik kalavadiya, Hari Krishna Adepu, Harikrishnan Surendran, hari kumar, HARI MAVELIKARA, HARISH K, HARSHADA GAUNS, Harsha Jayaramaiah, harsha nr, Harsh Buty, Harshita Vatsal Das, Harshith JV, Harshul Thareja, Haseeb Shaikh, Hemangi Gogari , Hemant Dhadnekar, Hemanth Byatroy, Hemant Kirola, Hemanya Radadia, Henry Cook, Himabrata Chakravarty, himanshu tembhekar, Hiren Patel, Hrishikesh Karandikar, induchoodan sreedharan amalath, Irene Daniel, jaai nasikkar, Jadeswamy Madaiah, Jagadish Kannan, James Restivo, Janhavi Rajan, Jayadev Menon, Jayan Thomas, Jayant Wadatkar, jayaprakash m t, Jaydev Mandal, Jayesh Ghanekar, Jeetendra Chaware, Jeremy Bowman, Jignesh Kalavadiya, Jignesh Rathid, Jimmy Dhillon, Jinesh P S, jithesh pai, Jithin Johnson, John Joseph Chelladurai, Johnny Jacob, John Ogden, JOSE RANI BABU, joshua Dsilva, Jyothish Nelson, Kalaimani Ayuthavel , Kaleeswari Sivasubramanian, Kalpana Baviskar, Kalyan Varma, Kanwar B Singh , Karan Tambe, Karthik Athreyas, Karthik Enumulla, Karthik Teegalapalli, Kartik Pomal, Karunakanth Bathula, Karuna Sanghvi, Kathiresh D, Kaustubh Rau, Ketaki Deshpande, Ketki Marthak, KIKA's Bird Club, Kiran bagade, KIRAN KUMAR, kiran more, Kiran Patil, Kishore Bakshi, Kishore Bhargava, kishor rao, Komal Agrawal, Krishna Anujan, Krishna Deepak, Krishna Girish, Krishna Murthy, Krishnan Kalpat, K.Sravan Kumar, Kulbhushansingh Suryawanshi, Kuldeep Deshpande, Kumar RR, Kunal Ghosh, Lakshminarasimha Ranganathan, Lalnun Zira, Latha G A, Lawmsangzuala Chhangte, Lekshmi Jayakumar, LIKITH A, Lionel Pereira, Lovish Garlani, Luis "Beto" Matheus, Madhurima Das, MAHEBOOB SAYYED, Mahesh Ghanekar, Mahesh Goudelar, Mahesh madhu, MAHESH SUTAR, maheswari j.m., MALAY BAROT, Mamta Megha, Manan Singh Mahadev, Manav Sajan, Mandar Bhagat, Mandar Khadilkar, Mandar Kulkarni, Mangesh Kulkarni, Mangirish Dharwadkar, Manjula Ravi, Manjunath R S, Manju Sinha, Manohara Kamath, Manoj Bind, Manoj k, Manoj Kadu, Manoj Karingamadathil, Manoj P, Manu Mengi, Manu V, manzoor, rouf, Maulik Varu, MAXIM RODRIGUES K, Mayank Sharma, Mayuresh Ambekar, M D Madhusudan, Megha Chagtoo, Meghna Banerjee, Meghna Joshi, Mike Prince, Milan Sojitra, milind kadam, MILIND SAWDEKAR, Miraj Hussain, Mittal Gala, Mohan Joshi, Mohan K Pillai, Mohanram Kemparaju, Mohit Aggarwal, Mohith Shenoy, Mohit Mehta, Mohit Sahu, Monica Kaushik, Mousumi Dutta, mujeeb pm, Mulagala Srinivas, Munish Kaushik, munish sawant, MUNNA SOMANI, Muthu Narayanan, M V BHAKTHA, Nabarun Sadhya, Nagappan R, Nagendra Nayak, Naidu Kumapatla , Naman Goyal, namassivayan lakshmanan, Namita Karnik, Nandhakumar Radhakrishnan, Nandkishor Dudhe, Narayan Sharma, Naresh Vadrevu, Nari Mistry, Neeraj Joshi, Neha Waikar, Neil Broekhuizen, NE India 2005, Nelson George, Nelum Wickramasinghe, Nemichandra Hombannavar, Nemiraj Nadavi, Nevil Jose, Nidhin C, Nihar Madkaiker, nikhil savant, nilanjan chatterjee, Nilesh Bhanage, Ninad Raote, Niranjan Raj, Nisarga Srinivas, Nisargavedh Dhule, Nisha Bhakat, Nisha M, Nishant Shah, nishith Kumar, Nishith Pursnani, nithiyanantham palanisamy, Nitin Prabhakar, Nitin Tomer, NITISH AGRAWAL, Norbert Fratt, Nosherwan Sethna, omkar adhikari, Omkar Dharwadkar, omkar naik, Padmanav Kundu, palanisamy sakthivel, Panchami Manoo Ukil, Panchapakesan Jeganathan, Pandurang Divekar, PANKAJ GUPTA, PANKAJ KOPARDE, Pankaj raina, paramita mazumdar, paresh gosavi, Paridhi Jain, Pariksheet Devulapalli, Parikshit Khisty, Parvaiz Shagoo, Patrick David, Paurnima MOHITE, Pavithra Sankaran, Pawan Dhall, Payal Mehta, payal patel, P. B. Samkumar, Peroth Balakrishnan, Phani krishna Ravi, pooja pawar, Prachi Mehta, PRADEEP KUMAR V B, Pradeep Sangwan, Pradyut Choudhury, Prajval Kadam, Prakash G, Pranav Datar, Pranav Deo, Pranav More, praphul gopal, Prasad Ganpule, Prasad Khale, Prasad VVS, Prasanna Gautam, Prasanna Kumar Thirunavukkarasu, Prasanna Parab, PRASANTH KUMAR S R, prashant bhagat, Prashanth N S, Prashant Kumar, Prashant Srivastava, Prashant Tewari, PRASHANT VARTAK, Pratap Singh, Prateek Kulkarni, Prathamesh Desai, Prathamesh D Tiwari, Pratik Humnabadkar, Pratiksha Kothule, Praveen es, Praveen Eshwarappa, Praveen J, Praveen Manivannan, Pravir Deshmukh, PREETHI N, Premchand Reghuvaran, Prem Prakash Garg, Pritam Baruah, Priti Bangal, Priti Ramani, Priyadarshini K, Pronoy Baidya, purushottam ingle, Pushkar Chaubal, Qazi Hammad Mueen Qari, Raaj Bora, Raghubir Prasad, Raghu Nathan, Rahul Bavaji, Rahul Kaushik, Rahul Matmari, Rahul Mukherjee , rahul narlanka, Rahul Paranjape, Rahul Wakare, Rajan Raut, Rajashree Dewoolkar, Rajashree Khalap, Raja Simma Pandiyan, Rajat Rastogi, rajdeep Fadte , Rajeev khandelwal, Raj Elangov, Rajendra Gadgil, Rajendra Navale , Rajesh Bhalodia, Rajesh Kalra, Rajesh Lenka, rajesh nayak, rajesh poojary, Rajesh Prasad, Rajesh Radhakrishnan, Rajgopal Patil, Rajneesh Suvarna, Raju Kasambe, Rakesh Kalva, Rakesh Kumar, Rama Neelamegam, Raman Kumar, Ramesh Desai, Ramesh Sannaci, Ramit Singal, raphy kallettumkara, Rashmi Gaikwad, Ratnakar Nikam, raveendran kc, Raveendran Natarajan, Raviprakash KB, REEF RCOEM, renju tr, RESHMA BHAT, Richa Kolachena, Rinto Abraham, Rita Souza, riyaz peerzada, Rohan Arthur, Rohan Chakravarty, Rohidas Revankar, Rohit Chakravarty, Rohit Jha, Rohit Naniwadekar, Ronit Dutta, Roshan Kamath, Roshnath R, Roshni Babu, Ross Ristow, Rucha Karkarey, Rudraksha Chodankar, Rushil Fernandes, Sachet Khandeshwar, Sachin Dhaigude, SACHIN KRISHNA M V, Sachin Main, sachin Marti, sachin sambhaji, Sadasiva Sahukar, sahana m, Sai Santosh, Saiyam Nagar, Sakshi Rana, Saloni Bhatia, Samiran Jha, Samrat Salve, Samyak Kaninde, Samyukth Sridharan, Sandeep Bapat, Sandeep Krishna Das, Sandeep Murthy, Sandeep Sakhare, Saniya Chaplod, SANIYA MANE, Sanjana Kajawe, Sanjay Karanth, sanjaykumar daramwar, sanjay mali, sanju majumder, SANTANAB MAJUMDER, Santharam V, santhosh kumar, santosh attreya, Sarath Chandran, Saravanan Chandrasekaran, sarayu ramakrishnan, Sashi Krishnan, Sashi Kumar, sasidharan manekkara, Sathvik Reddy Nimma, Sathya Chandra Sagar H S, Sathyan Meppayur, Satypal Singh, saurabh deshpande, Saurabh Jawanjal, Saurabh Sawant, Savita Kulkarni, Savitri Sardar, Sayali and Hrishikesh, Selvaganesh K, SELVARAJAN V, Shah Jahan, shaji pathiyoor, Shanmugam Kalidass, Shanmukharaja Muroor, Sharad Apte, Sharang Satish, Shardul Joshi, Shariq Khan, Shashank Birla, Shashank dalvi, Shashank Kela, Shashikantha Koudur, Shashikant S. Naik, sheeba nanjan, SHESHGIRI BAGDE, Shibu Chakraborty, shiju k, Shikhar Bakhda, shilpa badve, Shireesh Dharap, shishir shendokar, Shivaji Vibhute, Shivaprakash Adavanne, Shivashankar Manjunatha, Shivi Mishra, Shiv K, Shiv kumar, shobita asthana, Shree padmini k, Shrikanth Hegde , Shrikanth nayak, Shrirang Bhutada, Shubham Srivastav, Shweta Golani, Shwetha Bharathi, shyamkumar puravankara, Siddharth Kallam, SIDDHARTH PANDA, Siddhesh Surve, Simarpreet Luthra, Sivakumar AK, Sivakumar SS, Sivakumar Swaminathan, Sivashankar Ramachandran, Siva T, Sneha Gupta, SNEHA KULKARNI, Snehasis Sinha, Soham Sinha, Soma Ateesh, Somashekhar Kulkarni, Somnath Waghmare, Somoyita sur, Somraj Gupta, Sonal Johar, Soni Nambiar, Sourav Dinda, sourav maiti, Sreehari K Mohan, Sreekumar E R, Srinath Reddy, Srinivasa Shenoy, Sriram Reddy, S S Cheema, SS prasanth, steffin babu, Stephen Dias, Subash Nachimuthu, Subhajit Chaudhuri, Subhashini Sivasubramanian, Subhasmita Patro, subraja vasudevan, Subramanian Sankar, Subramanya PN, Subramniam Venkatramani, sudhakaran kk, sudhir darekar, Sudhir Moorti, Sudip Ghosh, Suhel Quader, SUJAN CHATTERJEE, sujata bhave, sujatha rangaswami, Sumanta Pramanick, Sumesh b, Sumin George, Sundaravel Palanivelu, Sundar Lakshmanan, sunil kumar, Sunil Sreedharan, Suniti Bhushan Datta, Supriya Mukherjee, Surabhi Walavalkar, Suraj Chougule, Surendhar Boobalan, Suresh marimuthu S, Suresh Rana, Suresh V P Suresh, Surya Prakash, Sushil Khekare, Susy Varughese, sutirtha lahiri, suvarna tondale, swarangi joshi, swathi chandramohan, Swathy M, Swati Sidhu, SWATI UDAYRAJ, Sweedle Cerejo-Shivkar, SYAMILI MANOJ, syed ateeq, syed Mudassir, Syed Mustahsen, Syed Muzamil, Tahir Shawl, Taksh Sangwan, tanuja dasharath haunsbhavi, Tanya Seshadri, Tapas Biswas, tarin mithel, Tarun Menon, Taukeer Alam Lodha, Team Asola, Tejas Vagadia, Thad Roller, Thakur Dinesh Singh, Theivaprakasham Hari, TheNatureTrust (GroupAccount), TheNatureWeb.Net Team, Thomas Falk, Thomas Job, Thorkild Michaelsen, Tijo Thomas, tony antony, T R Shankar Raman, Trupti Vyas, ts prasanth, udayabhanu kallingal, Udaya Kumar Balasubramanian, Uday Wandkar, UJWALA SHEVADE, Ujwal Shankar, Umakant Patil, umar khan, umesh ghatorsing, Umesh Kumar, Umesh Tewari, Umesh Vaghela, unmesh paranjape, Vaidehi Gunjal, varenya tca, Varun Aravindh, varun gangadhar, Varun Kher, veerabhadra swamy, Veerbhadra singh parihar, Velsina Rodrigues, Vena Kapoor, Venugopalan R, Vibhav Bansal, Vidhya Sundar, Vigneshwaran B, Vijaya Lakshmi, Vijay Anand Ismavel, VIJI JAYABALAN, VIKRAM MODAK, Vikrant Choursiya, Vinayak Vangapalli , Vinay Bharadwaj, Vinay Patel, Vinoba Anand, Vinod Bhagwat, vinod k, Vinod Sanap, Vinod Venugopal, vin shutterbug, Vipul Vedi, viraj malani, viral joshi, Viral Pankaj, Vishal & Sophia D, Vishambhar Agarwal , Vishnupriya S, Vishwanath Shinde, Vishwatej Pawar, vivek badola, Vivek Chandran, Vivek M, Vivek Puliyeri, Vl Hriatzuala Sailo, vrinda lath, Wahiba Humam, Wild Roots, WINGS Checklist Data, Wolfe Repass, Yagnesh Desai, Yogesh Parashar, Yogesh Wadadekar, Young Birders Club Darbhanga
Are you doing your best to match the target for December (as many lists as possible, with media upload)? And last chance to aim for one or more of the several flavours of yearlong challenges for 2015!