Towards the end of 2015, eBird introduced the Media Upload option to users across the world. This gave images and audio associated with eBird checklists a permanent home in the Macaulay Library's database. A little while back, the total media uploaded to eBird from India crossed the 100,000 mark.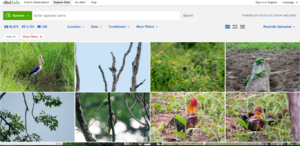 This is a significant milestone and we've come a long way in the past year and a half since media upload was made possible on eBird. Such a large database allows for comparisons of "digital specimens", gives more accurate real-time information, as well as provides a baseline for development of tools such as Merlin.
The database includes images from as far back as 1982 right up to today, and from all parts of India. Such a wide temporal and spatial span can be used to examine various aspects of birdlife. One can look at subspecies of widespread birds (Jungle Babbler or Red-whiskered Bulbul, for example) and compare variations in plumage or calls from region to region. There are over 3,000 recordings with sonograms that allow calls and songs to be studied in great detail. Can you find differences or similarities amongst bird calls from the same or different species?
Earlier in the month, the total number of checklists from India crossed 300,000. India now ranks 4th in the world for total number of checklists uploaded, after USA, Canada and Australia.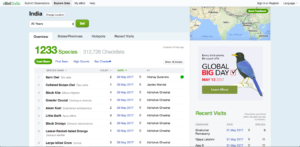 Congratulations and a big thank you to all the eBirders who have contributed to the database. There is always scope for a lot more and we look forward to a growing number of submissions in the future.
Meanwhile, a lot can be done with the available set of data as well. Recent papers have used eBird data to explore the conservation status of birds endemic to the Western Ghats, while some studies have looked at the utility of eBird data in understanding changes in long-term population trends.
We invite and encourage anyone interest (birder or not!) to take use the accumulated data  to try and answer interesting bird-related questions or explore patterns of your interest. You can do this through the Explore Data tools and look at species maps, examine bar charts for seasonality of different species, evaluate birding hotspots, and much more.
A big thank you to all eBird-India contributors!