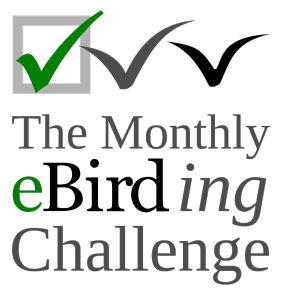 Before moving on to the results for the monthly challenges, here is a brief glimpse of birding in May by the numbers (with the previous month in brackets).
No. of birders: 2,340 (2,816)
Number of observations: 3.5 lakh(4.6 lakh)
Number of lists (all types):  23,494 (25,238)
Number of species: 901
May Challenge:
The challenge for May was to upload at least 31 checklists and five out of 31 should have at least one breeding code (Note: F-Flyover and H-In Appropriate Habitat are not included in the challenge). A total of 85 birders excluding group accounts and those with no identifiable name, met the target.
Abhirami C, Ains Priestman, Ajay Gadikar, Ajay Sarvagnam, Amee Vyas, Ananyaa Dobhal, Aneesh Sasidevan, Angeline Mano, Ankur Shringi, Anup Padmanabha, Aravind AM, Ashok Agarwal, Ashok Kolluru, Bhuvan Raj K, Bijoy Venugopal, Chayant Gonsalves, Cheran Jagadeesan, Chinmay Sawant, Chitra Shanker, Claudia Pinheiro, Debashis Chowdhury, Deepak Gujar, Dipendra Sharma, Dr. Adil A, Elavarasan M, Garima Bhatia, Hakimuddin F Saify, Harish Dobhal, Hemraj Patil, Irshad Theba, Isha Lande, Jageshwer verma, Janardhan Uppada, Jaya Rakesh Kannan, Jaydev Mandal, Jigu Patel, Kalpana Jayaraman, Lakshmi Bharadwaj, Lakshmikant Neve, Loukika Neve, Madhu Gupta, Malyasri Bhattacharya, Manju Bennur Bmj, Manjula Desai, Mehala Kumar, Mittal Gala, Mohan Moolepetlu, Mohit Sahu, Naman Doshi, Naveen Reddy, Nosherwan Sethna, Praveen Bennur, Rahul Singh, Rahul Pereira, Raj Guhan, Rajesh Radhakrishnan, Ramesh Shenai, Ramnarayan K, Ranjeet Singh, Regin Ross, Rishikesh Lande, sameer mhetras, Sandeep kumar reddy Gangasani, Sanjiv Khanna, Sarabjeet Kaur, Selvaganesh K, Shakti vel, Sharad Apte, Shashikiran Ganesh, Shilpa Gadgil, Shivaprakash Adavanne, Shyamkumar Puravankara, Siddharth Biniwale , Sreekumar Chirukandoth, Sridevi P, Steffin Babu, Subhadra Devi, Sundar Muruganandhan, Venkatesh S, Vidhya Swaminathan, Vijaya Lakshmi, Vikas D Prasad, Vivek Kumar Patel, Vyomkesh Buch, Yogeswarie Sreedharan.
From these 85 names, one was drawn using a computer-generated random number. This person is Elavarasan M who receives a copy of Bird Sense: What It's Like to Be a Bird by Tim Birkhead as a small gift in appreciation.
Refer to Article 1 and Article 2 to know more about breeding and behaviour codes.
Are you birding towards the target for June (30 lists from the same single location)? And of course, there are also the yearlong challenges for 2021!
---
Header Image: Glossy Ibis Plegadis falcinellus by Sneha Gupta/ Macaulay Library