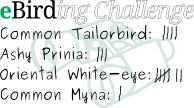 We are delighted to announce the results of the second in our series of monthly eBirding Challenges for birders in India. The challenge for May was to upload at least 4 complete lists

in each week of May (counting the 21st-31st as the last week of the month).
In all, 165 birders uploaded 1,179 lists of all types in May, together accounting for 21,343 records.
The May challenge was, well, quite challenging! Only 10 eBirders met or exceeded the target. They are:
Aidan & Savio Fonseca
Anish Aravind
Arya Vinod
Bela Arora
Ganeshwar SV
Kulbhushansingh Suryawanshi
Manju Sinha
Shashank Birla
Shivaprakash Adavanne
Suhel Quader
Many congratulations to each of these eBirders of the Month for May 2014!
One of these 10 has been chosen using a computer-generated random number to receive a small gift, and that person is
Bela Arora
who receives a copy of The Big Year: A Tale of Man, Nature, and Fowl Obsession by Mark Obmascik. (You can read a review here.)
Many congratulations to all; now on to the June eBirding Challenge!
Here is the full list of contributors from May 2014:
Aashay Maldhure, abha manohark, abhirami-niranjana C, Able Lawrence, Aidan & Savio Fonseca, Aisha Sultana, Amil Prasad, Amogha KS, Anagha Bagade, Andrea Fernandes, Anish Aravind, Anita Breckbill, ANUJ TRIVEDI, Aravind AM, Arnav Anish, arun lal, Arun Simha, Arya Vinod, Asha Ram, Badri Narayanan Thiagarajan, Balaji P B, Bela Arora, Bernad Thampan, Bhagyashree Ingle, Bhalchandra Pujari, biplab Bose, Chandrasekaran Venkatraman, Chandra Sekhar Bandi, Chris Bowden, CLAREENA JOSE, Corner Tree, david stanton, David Williams, Dayani Chakravarthy, Deepak Balasubramanian, Deepak Sahu, Deepa Mohan, Delson Roche, Devendra Thakur, Dhananjai Mohan, dilip kg, Dinesh K.S., Dr George P J, DR TRIBHUWAN CHANDRA, Dr. Utkarsh Betodkar, Dr Vivek Dubey, Eamon Corbett, Fionna Prins, Ganeshwar S V, Garima Bhatia, Gautam Allamsetty, G Parameswaran, hari kumar, harsha nr, Humayun Taher, James Williams, jayaprakash m t, Jayesh Thakur, J.Thomas Cheruvallil, Kalpalata Rajan, kandy rathinasamy, Krishna Girish, Kulbhushansingh Suryawanshi, Kumar RR, madhushri mudke, Mahesh Mehendale, Manan Singh Mahadev, Mandar Bhagat, Manish Kumar, Manju Sinha, Martin Sneary, Mathew Thomas, Mayank Kohli, Michael Emenaker, Mike Prince, Milan Sojitra, Mittal Gala, Mohanram Kemparaju, Mohith Shenoy, MSSRF Bioview, Mukesh Takhtani, NANDANA V KUMAR, Naveen MR, Navneet Rathod, Nihar Madkaiker, Nishant Kulkarni, nithin mohan, Omkar Pai, Panchapakesan Jeganathan, Pankaj Lad, Peter Vrooman, P.P. SUKUMARAN, Prajval Shastri, Prakash G, prashant bhagat, Prashanth NS, Pratyush T Hazarika, Praveen es, Praveen J, praveen shenoy, Premchand Reghuvaran, Pronoy Baidya, Rachel Bourn, Raghurama Hegde, Raja Lakshminarayan, Raja Simma Pandiyan, Rajesh Kalra, Rajiv D'Silva, Rajneesh Suvarna, Raju Kasambe, RAJU MENON, Raman Kumar, Ramit Singal, raphy kallettumkara, Raviprakash KB, renju tr, Robin Duska, Sagar Adhurya, sahana m, Sam Bhagat, Saneesh C S, Sanjay Thakur, sarayu ramakrishnan, Savita Kulkarni, Shah Jahan, Sharang Satish, Shashank Birla, SHEKHAR BOPARDIKAR, SHESHGIRI BAGDE, Shivaprakash Adavanne, Shivashankar Manjunatha, Simon Tickle, Sivashankar Ramachandran, skanda sn, Soma Ateesh, Soni Nambiar, Soumya Aon, SREEHARI UTHAMAN, Sreekar Rachakonda, Srikanth Bhat, srujana k, Subbu Subramanya, Subhadra Kondreddy, sudhakaran kk, Suguna R, Suhel Quader, sujatha rangaswami, Sumesh babu, Surajit Gupta, Surya Bharanidhara, SYAMILI MANOJ, Tallulah D'Silva, Tanya Seshadri, Tarique Sani, teddy nirappaan, THE NATURE TRUST, Thomas Job, Thorkild Michaelsen, vedang saunt, Vijayalakshmi Rao, Vinay Antony, Vivek Puliyeri, Vridhi Rajan, Yagnesh Desai, Yogesh Parashar.
Please note that 'group' accounts are excluded from the eBirding Challenges. Group accounts refer to those that receive contributions from multiple people, birding separately.