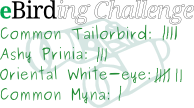 May is normally a low period for birding, but this year's Endemic Bird Day (coinciding with the Global Big Day) showed that heat and lack of migrant species don't deter Indian birders!
But that was just a single day in May. The eBirding challenge for the month as a whole, on the other hand, was about birding all through the month — the target being to upload at least 6 complete birdlists

in each of the four weeks of the month. We were expecting only a handful of birders to meet this target; so what transpired?
Overall, during May, the number of complete, effort-based lists of at least 15 min duration was 3,200. In all, 455 birders uploaded 3,900 lists of all types from May, together accounting for over 67,000 observations from India.
Of the 455 May eBirders, 17 people uploaded 6 or more eligible lists during each of the four weeks of May! They are (as always, excluding group accounts):
Abhirami C
Anish Aravind
Diwakar Jha
Erle Brito
Ganeshwar S V
Jaydev Mandal
Manju Sinha
M D Madhusudan
Niranjana C
Panchapakesan Jeganathan
Pavithra Sankaran
Premchand Reghuvaran
Sheeba Nanjan
Sneha Gupta
Swati Sidhu
T R Shankar Raman
Vidhya Sundar
Many congratulations to all of them!
One of these 17 was chosen using a computer-generated random number to receive a small gift, and that person is
Premchand Reghuvaran
who receives a copy of Bird Sense: What it's Like to be a Bird by Tim Birkhead. (You can read a review here, and there is a website devoted to the book too.)
Here is the full list of all 455 eBirders from May 2015:
Aahanaa The Corbett wilderness, abha manohark, Abhijith surendran, Abhinand C, Abhirami C, Abhiram Sankar, Abhishek Gulshan, Abin M Thadathil, Able Lawrence, Aditi Deodhar, ahil rishi rajasekaran, Aidan & Savio Fonseca, AIswARya c, Ajay Avate, Ajay B, AKESH MESHRAM, Akhila Komarika, Akshay Onkar, Akshay Surendra, Alkesh Thakare, Amarlata Mann, Amol Bapat, Amol Lopes, Anand Sundaram, André Weiss Pryde, ANEES AHAMMED A, Aneesh Sasidevan, Anil Mahajan, anil subramaniam, Anish Aravind, Anjali J, Anjana Nair, anjana ramanan, Anjitha Devarajan, Ankit Vikrant, anna p a, Anoop CR, anshuman sarkar, Anubhab Dey, anuj raina, Anupam Mistry, Anush Shetty, Aparajita Datta, Appavu Pavendhan, Arabinda Pal, Arathy S Kumar, Aravind AM, Aravind Balagopalan, Archana Nair, Arjun CP, Arjun R, Arnav Anish, Arpit Deomurari, Arun Bhaskaran, Arundev G, arun lal, Arun Venkataramanan, Arvind Patole, Arvind vaid, Arya Vinod, ASHISH SHUKLA, Ashok Das, ATANU MODAK, Atharva Damle, Athatva Karnik, Athira K Nair, Avisek Chatterjee, Avishkar Munje, Ayaan Decosta, BAHAR BAVISKAR, Balaji P B, Balwant Negi, Ben Schweinhart, Bernad Thampan, Bhagyashree Ingle, Bhalachandra Shirolkar, Bhalchandra Pujari, Bhanumathi R, BHAVYA MM, Biju PB, Bindu Madampilly, bineesha k, Biswapriya Rahut, Brajesh Sayem, Brodie Lewis, Chaitali Pednekar, Chethan GS, Chetna Sharma, Chinmay Rahane, chithrabhanu pakaravoor, Chris Bowden, Clara Correia, CNS Nature, David Awcock, david stanton, D Chewang Bhutia, Debashis Chowdhury, Deepak Jois, Deepak Sahu, Deepika Prasad, Deepshikha Mehra, Devdulal Chandra, Devika J, Devika Rani, Devika Sanghamithra, Dhananjai Mohan, dhananjay bhamburkar, Dhanashri Salunke, Dhanesh Ayyappan, Dharmaraj Patil, dhiren malani, Dilan Mandanna, dilip gupta, dilip kg, Dilip Virkhade, Dipak Gudhekar, Dipu Karuthedathu, Divya Mudappa, divya srivastava, Diwakar Jha, Dr George P J, Dr P U Antony, Enakshi Bhattacharya, Erle Brito, Farhad P, Gajanan Wagh, Ganesh Subramaniam, Ganeshwar S V, Garima Bhatia, Gaurang Bagda, Gaurav Kadu, gayathri mukundan, Geetha Ramaswami, Geetha Venkataraman, Girish Jathar, Gitanjali Katlam, Gokul Kannan, Gopalakrishna R, G Parameswaran, Gunwant Mahajan, Harikrishnan Surendran, hari kumar, HARI MAVELIKARA, Harjot Singh(Harry) Kahai, Harsh Buty, Hemanth Byatroy, hemraj duraiswami, Humayun Taher, Inder Singh Rana, induchoodan sreedharan amalath, Ishani Sinha, Ishanvi Mohan, Jacob Lazer, jadeswamy madaiah, James Boyce, James Williams, Janhavi Rajan, Jayan Thomas, Jayant Wadatkar, Jaydev Mandal, JISHNU V G, Jithu Gopal, joseph anthony, Joshua Dharmaraj, JUGAL PATEL, Kalaiyarasi S, KALYAN SINGH SAJWAN, Kalyan Varma, Kannan U L, Karan Tambe, karthick mahalingam, Karthikeyan Sivagnanam, Kaustubh Rau, Kavita Isvaran, Kenneth Anderson Nature Society, Kiran bagade, Kishore Bakshi, Komal Matieda, Krishna Anujan, Krishna Girish, K.Sravan Kumar, Kulbhushansingh Suryawanshi, kusal gurung, Lakshminarasimha Ranganathan, lakshmi r, Lawrence Mathappan, Laxmeesha Acharya, Lekshmi Jayakumar, Lekshmi R, Lloyd Fernandes, Maanav Jalan, Madhulika Dolke, madhushri mudke, madhushri mudke , Malarvizhi T, Manan Singh Mahadev, MANAS AGRAWAL, Mandar Bhagat, Manju Sinha, Manoj Bind, Maulik Varu, Maya Ramaswamy, M D Madhusudan, megha phadkay, Meghna Banerjee, Meghna Joshi, Midhun Madhu, Midori Samson, MIHIR JOSHI, Mohan K Pillai, Mohith Shenoy, Monica Kaushik, Mousumi Dutta, mujeeb pm, Mussoorie Bird Count, Muthukumaran Balasubramanian, Muthu Narayanan, Nandana prasanth, Narayan Sharma, Nat Doecke, Neethu George Thoppan, Neha Trivedi, Neha Waikar, Nelson George, Niharika Rajput, nimitha damodaran, niraj thapa, Niranjana C, niranjan oak, Nishant N Shukla, Nishant Shah, nithin mohan, Nitin Agarwal, Nitin S, Nivedita Kothare, Omkar Kekre, Panchapakesan Jeganathan, PANKAJ GUPTA, paramita mazumdar, Parikshit Khisty, PARTH PARIKH, Parvaiz Shagoo, Parveen Shaikh, Pavithran vandaiyar, Pavithra Sankaran, Phani krishna Ravi, Pooja Joshi, Prabir Biswas, Prachi Mehta, Pradyut Choudhury, Prakash G, Pranjal Mahananda, prashant bhagat, Prashant Pimpalnerkar, Prashant Tewari, prasob enose, prateek choudhury, Prathamesh Desai, Prathamesh Tamhane, Pratiksha Kothule, Praveen J, Premchand Reghuvaran, Prem Prakash Garg, Pritam Baruah, Priti Bangal, Purabi Deshpande, Pushkar Kulkarni, Pushpa P, Raaj Bora, Raghunath r, rahul narlanka, Rajan KC, Rajashree Khalap, Rajesh Balakrishnan, Rajesh Kumar Reddy, RAJESH SONI, Rajneesh Suvarna, Rakesh Kalva, Rakesh Patel, Ramakrishnan P V , Raman Kumar, Ramesh Desai, Ramit Singal, Ram Mohan Angadipuram, Ramya Sivaraj, raphy kallettumkara, raveendran kc, Ravi Chandra Padmala, Ravi Damodaran, RAVI DHONGLE, Ravi Jambhekar, Raviprakash KB, REEF RCOEM, Remya s, renju tr, RESHMA BHAT, Rithika Fernandes, Rohan Chakravarty, Rohan Dekate, Rohit Chakravarty, Rohit Hazare, Ronit Dutta, Rudraksha Chodankar, Rushil Fernandes, Sachin Sarode, Sachin Sharma, Sachin Shurpali, sahana m, Sahas Barve, sajeesh radhakrishnan, Samantha Peck, Samanyu Neelson, Sameer Desai, Samiran Jha, Sampreeth Desai, Samyak Kaninde, Samyukth Sridharan, Saneesh C S, Sanjay Srivastava, SANJEEV NALAVADE, santhosh kumar, santiago Imberti, SANTOSH K.A., sarayu ramakrishnan, sasirega kulothungan, Sathyan Meppayur, satish siwatch, Saw Isaac, SEDHULAKSHMI K UNNI, Selvaganesh K, Shah Jahan, SHAMIT BISWAS, Shanmugam Kalidass, Sharad Apte, sharad bhutoria, Sharang Satish, Sharan venkatesh, Sharmishtha Nanda, Shashank Birla, Shashikantha Koudur, shashikant Naik, sheeba nanjan, Shivakumar M, Shivam Agrawal, Shivaprakash Adavanne, Shivashankar Manjunatha, Shivi Mishra, shobita asthana, Shreya Yadav, Shrikanth nayak, Shruti kulkarni, Shubham Gautam, Shwetha Bharathi, shyamkumar puravankara, Siddhartha Balakrishnan, Siddharth Kallam, Sivakumar AK, Sivakumar SS, Sivakumar Swaminathan, Sivashankar Ramachandran, Siva T, Smitha Prabhakar, Smrity Ramavarapu, Sneha G Ajay, Sneha Gupta, Snehasis Sinha, Soham Sinha, Soma Ateesh, Somen Sarkar, Somoyita sur, Somraj Gupta, Soni Nambiar, Sonu Arora, Sourajit Ghosal, Sreedhar Vijayakrishnan, Sreekumar E R, Srijan Roy Choudhury, SRI RAMAN, Srushti Mehatkar, S S Cheema, Stefan Andrew, steffin babu, Subhajit Chaudhuri, Subham Sengupta , Subhashini Sivasubramanian, Sudama Reddy, Suhel Quader, SUJAN CHATTERJEE, Sulabha Chakravarty, Sumanta Pramanick, Sumin George, Supriya Kawadkar, Supriyo Ghatak, Surendhar Boobalan, Suresh Rana, Surya Prakash, sutirtha lahiri, Swati Sidhu, Sweedle Cerejo-Shivkar, SYAMILI MANOJ, Taksh Sangwan, tanuja dasharath haunsbhavi, Tanya Seshadri, Tarique Sani, TheNatureTrust (GroupAccount), Thomas Job, Thorkild Michaelsen, Tilroy Fernandes, tony antony, T R Shankar Raman, Tsewang gyaltson, ts prasanth, Uday Sant, Udiyaman Shukla, Umesh Mani, Umesh Vaghela, Vaidehi Gunjal, Vaishali Jathar, Varun Kher, Vedang Joshi, vedang saunt, Venkatesh Prasad, Vetrivel Chinnasamy, Victor Mukherjee, vidhya ganesan, Vidhya Sundar, Vijaya Lakshmi, Vijay Joshi, Vijay kumar, Vijay Kumar, Vikash ., Vikas madhav nagarajan Madhav, vikram chauhan, Vinay Bhargava, Vinay Das, Vinay Nadig, Vinit Arora, Vinoba Anand, vinod k, VINOD KUMAR P.K., Vipul Vedi, viral joshi, Viral Pankaj, Vishal Acharya, Vishal & Sophia D, VISHNUVARTHANAN GUNALAN, Vivek M, Vivek Puliyeri, Vl Hriatzuala Sailo, vrinda lath, VTPMSSRF 2015, Wahiba Humam, Yagnesh Desai, Yogesh Parashar, Young Birders Club Darbhanga
Are you doing your best to match the target for June? And don't forget the several flavours of yearlong challenges for 2015!