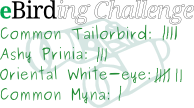 Apologies for being a day late with the announcement, but the winners of the May eBirding challenge are now available! The challenge was to upload at least 20 complete lists

from a single location through the month. The idea being that this encourages regular birding at a single spot to thoroughly document the birds of that location.
May, June and July usually see a dip in birding activity, and this year has been no different. Still, there has been a reasonable amount of birding in June, with the number of observations from the month being more than double that in June last year.
Overall, during June, the number of complete, effort-based lists of at least 15 min duration was 2,460. In all, 315 birders uploaded 3,100 lists of all types from June, together accounting for nearly 60,000 observations from India.
Of the 315 June eBirders, 25 people uploaded 20 or more eligible lists from a single location through the month! They are (as always, excluding group accounts):
Able Lawrence
Anish Aravind
Aparajita Datta
Balwant Negi
Chithrabhanu Pakaravoor
Dhanesh Ayyappan
Diwakar Jha
Dr George P J
Erle Brito
Ganeshwar S V
Jaydev Mandal
Kulbhushansingh Suryawanshi
Manju Sinha
M D Madhusudan
Meghna Joshi
Narayan Sharma
Panchapakesan Jeganathan
Premchand Reghuvaran
Selvaganesh K
Sheeba Nanjan
Shivi Mishra
Suhel Quader
Swati Sidhu
T R Shankar Raman
Vidhya Sundar
Many congratulations to all of them!
One of these 25 was chosen using a computer-generated random number to receive a small gift, and that person is
Shivi Mishra
who receives a copy of Collins Field Guide: Birds of India by Normal Arlott.
Here is the full list of all 315 eBirders from June 2015:
Aahanaa The Corbett wilderness, abhijith a.p.c, Abhijith surendran, Abhinand C, Abhirami C, Abhishek Gulshan, Able Lawrence, adhithya srinivasan, adiseshiah p, ahil rishi rajasekaran, Aidan & Savio Fonseca, Ajay Gadikar, Akshay Surendra, AL BADUSH, Alkesh Thakare, Amit Bandekar, Amol Bapat, Amol Lopes, Anant Deshwal, anant pande, Aneesh Sasidevan, Anil Mahajan, anil subramaniam, Anirban Pal, Anish Aravind, Anjali J, Ankam Vishak Keerthi, Ankit Vikrant, Anoop CR, anshuman sarkar, anuj raina, Aparajita Datta, Appavu Pavendhan, Arabinda Pal, Arjun R, Arundev G, Arun kumar, arun lal, Arya Vinod, Ashwin Hp, ATANU MODAK, Athira K Nair, Avinandan D, Ayaan Decosta, Balwant Negi, Bela Arora, Bernad Thampan, Bhagyashree Ingle, Bhalchandra Pujari, BHARAT RUGHANI, Bhavesh Mengar, BHAVYA MM, Bindu Madhavi Racherla, Bindu P V, Biswajit Saha, Bruce Liggitt, Castro Karthi, Chinmay Rahane, chithrabhanu pakaravoor, Chris Bowden, CNS Nature, David Patick, david stanton, Deepika Prasad, Devica Ranade, Devika Rani, Dhananjai Mohan, dhananjay bhamburkar, Dhanesh Ayyappan, Dhaval Vargiya, dhiren malani, dilip kg, Dilip Polpakkara, Dilip Virkhade, Dinesh K.S., Dinesh Pundir, Dipak Gudhekar, Dipu Sasi, Divya Mudappa, Diwakar Jha, Dr George P J, Ekalavya Gurum, Elrika D'Souza, Enakshi Bhattacharya, Erle Brito, Eveny Luis, Gajanan Wagh, Ganeshwar S V, Garima Bhatia, Gaurang Bagda, Gautam Krishnan, Geetha Venkataraman, Ginu George, Girish Jathar, gokul vadivel, Gopal bhagavatula, G Parameswaran, Harikrishnan Surendran, hari kumar, HARI MAVELIKARA, HARISH K, harsha nr, Hemanth Byatroy, Hema Sa, Humayun Taher, Ian Barber, induchoodan sreedharan amalath, jadeswamy madaiah, Jaichand Johnson, Janhavi Rajan, jayakrishnan mannar, Jayant Wadatkar, Jaydev Mandal, Jithu Gopal, Jyotirmay Dev, Kalpalata Rajan, kalpesh chodnekar, Kalyan Varma, Karan Tambe, Karthikeyan G B, Karthik Teegalapalli, Kaustubh Rau, Kavi Nanda, Kiran bagade, kiran more, Krishna Deepak, K.Sravan Kumar, Kulbhushansingh Suryawanshi, Lekshmi Jayakumar, Lekshmi R, Luke Gammon, madhushri mudke , MAITREYA SUKUMAR, Mandar Bhagat, Manju Sinha, Manoj Bind, Manu Mengi, Maulik Varu, M D Madhusudan, Meghna Joshi, Mike Prince, Milan Sojitra, Mohan Kumar, Mohith Shenoy, Monica Kaushik, mujeeb pm, Muthukumaran Balasubramanian, Muthu Narayanan, M V BHAKTHA, Mythri S, Nabarun Sadhya, Nameer PO, Nandana prasanth, Narayan Sharma, Navya r, Neha Waikar, Nelson George, Nihar Madkaiker, Niranjana C, NIRMAL V, Nisarga Srinivas, Nisarg Prakash, Nishant Shah, Nishit Soni, Nitin Agarwal, Olivier Langrand, Panchapakesan Jeganathan, PANKAJ GUPTA, paramita mazumdar, Patrick David, Pavithra Sankaran, P. B. Samkumar, Pooja Joshi, pooja pawar, Pradeep Sangwan, Pradyut Choudhury, PRAJIT J, Pranjal Mahananda, Prasanna Parab, prashant bhagat, Prashanth NS, prateek choudhury, Premchand Reghuvaran, Prem Prakash Garg, Priyadarshini K, Raaj Bora, Raghavendra S N, Raghunath r, Raghurama Hegde, Rahul Matmari, Rajesh Bhalodia, Rajesh Kumar Reddy, Rakesh Kalva, Ramachandran R, Raman Kumar, Ramesh Desai, Ramit Singal, Ram Mohan Angadipuram, raphy kallettumkara, raveendran kc, Ravi Arora, Raviprakash KB, renju tr, Rohan Chakravarty, Rohit Chakravarty, Rohit Naniwadekar, Ronit Dutta, Roshnath R, Ruben Stoll , Rushil Fernandes, Sagar Adhurya, sahana m, Sahas Barve, sajith mannar, Samanyu Neelson, Sameer Desai, Samyak Kaninde, Saneesh C S, Sanjay Sondhi, SANJEEV NALAVADE, Santharam V, santosh thakur, sarbjeet kaur, sasidharan manekkara, Sathisha CH, satish siwatch, Selvaganesh K, Shanmugam Kalidass, Sharad Apte, Shasank Ongole, Shashank Birla, Shashikantha Koudur, shashikant Naik, sheeba nanjan, SHEKHAR BOPARDIKAR, SHESHGIRI BAGDE, Shivakumar M, Shivaprakash Adavanne, Shivashankar Manjunatha, Shivi Mishra, Shiv kumar, shobita asthana, shreekrushna kore, Shubhadeep Mukherjee, Shubham Gautam, Shwetha Bharathi, Siddhartha Bandyopadhyay, Sita Rama Raju, Sivakumar AK, Sivashankar Ramachandran, Siva T, skanda sn, Smitha Prabhakar, Sneha Gupta, soham brahmbhatt, Soma Ateesh, Somoyita sur, Somraj Gupta, Soni Nambiar, Sourajit Ghosal, Sreedhar Vijayakrishnan, Sreekumar E R, SRI RAMAN, S S Cheema, Subham Sengupta , Subhashini Sivasubramanian, Suhel Quader, Sumanta Pramanick, sumant mali, Sumesh b, Sumin George, Surendhar Boobalan, Surya Prakash, sutirtha lahiri, Swathi Bhat, swathi chandramohan, Swati Sidhu, Syed Muzamil, Taksh Sangwan, tanuja dasharath haunsbhavi, Tanuj Nagpal, Tejas Vagadia, TheNatureTrust (GroupAccount), Thomas Falk, Thomas Job, Thorkild Michaelsen, Tim Bawden, tony antony, Troy Blodgett, T R Shankar Raman, Udiyaman Shukla, Umesh Vaghela, Vaishali Jathar, Vasant Kulkarni, vedant kumbhar, Vidhya Sundar, Vijaya Lakshmi, Vijay Jethva, Vijay kumar, Vijay Kumar, Vinay Nadig, Vinoba Anand, VINOD KUMAR P.K., Vipul Vedi, viral joshi, Viral Pankaj, Vishakh Gopinath , Vishnupriyan Kartha, Vishnu Vinod, Vivek M, Vivek Puliyeri, vrinda lath, Wesley Rajaleelan, Yogesh Parashar, Young Birders Club Darbhanga
Are you doing your best to match the target for July? And don't forget the several flavours of yearlong challenges for 2015!