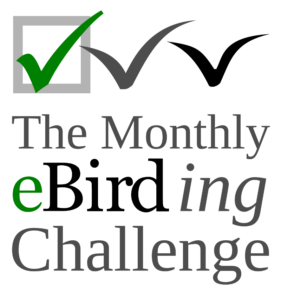 Although we are still in the 'off season' (measured by birding activity), July usually has a little more eBirding than June, and this year was no different.
Here is a break-up of eBirding in India in July (with previous month in brackets).
Number of birders: 717 (621)
Number of lists (all types): 6,934 (5,200)
Number of lists (complete, 15min or longer): 6,082 (4,300)
Number of observations: 1.11 lakh (0.95 lakh)
The challenge for July was to upload complete birdlists of at least 15-minute duration on each of at least 5 separate days, with each list shared among at least three birders. Of the 717 eBirders in July, 30 met or exceeded the target for the month. They are (as always, excluding group accounts):
Ajay Gadikar
Aparna Neve
Babasaheb Jawale
Deepa Mohan
Emanuel george
Ganeshwar S V
GirishMohan P K
Guhan Sundar
Karun G
Komal Agrawal
Lakshmikant Neve
Loukika Neve
Mallika Rajasekaran
Mohith Shenoy
Namassivayan Lakshmanan
Neel Gadikar
Niranjana C
Premchand Reghuvaran
Prem Prakash Garg
Renju TR
Sanjay Karanth
Sarika Gadikar
Shivaji S
Shrikanth Nayak
Snehasis Sinha
Suhel Quader
Sundar Rajamanickam
Venugopalan R
Vidhya Sundar
Vrinda Lath
Many congratulations to all of them!
One person from these 30 was chosen using a computer-generated random number to receive a small gift. That person is
Aparna Neve
who receives a copy of How to be a (bad) birdwatcher by Simon Barnes. (You can read reviews here and here.)
Here is the full list of all 717 eBirders from India in July 2016:
Aakash Upadhyay, Aarathi Swaminathan, Aarti Phatarphekar, AATASHI DHIMAN, Abdul Raheem Munderi, abha manohark, Abhijeet Avate, abhijith a.p.c, Abhijith AV, Abhijith surendran, Abhimanyu Lele, Abhiraj A R, Abhirami C, Abhirami M Jayakumar, Abhiram Sankar, Abhishek Bhargava, Abhishek Gulshan, Abhishek Jamalabad, Abhishek Maiya, abhishek ravindra, Adesh Shivkar, Adithya Bhat, aD Nair, Advait Marathe, Afshan Husain, Afthab Faisal k, Aishwarya D, Ajay Gadikar, Ajinkya Supekar, Ajit Hota, Akash Gulalia, Akhilesh Bharos, akhil gupta, Akshay Mokal, AKSHAY MUDGAL, Akshay Surendra, Alan Knue, Albin Jacob, Amal U S, AM AMSA, AMBIKA NANOTH, Amith Kumar, Amit kaushik, Amit Kumar, Amol Lopes, Amrish Bidaye, Amruta Varshini, Anand Bariya, Anand Poovakkat, Anand Sundaram, anant pande, Ander Buckley, Andy Balinsky, aneesh ks, Aneesh Sasidevan, Anil Mahajan, Aniruddha Ghosh, Anisha Mascarenhas , Anish Aravind, Anjali J, Anjali k s, anjana hari, Anjitha Devarajan, ankita patel, Ankit Choudhary , Anoop CR, Anoop Raj, anshuman sarkar, Anu Anto, Anup Chavda, Anuradha Krishnan, anurag khaitan, Aparajita Datta, Aparna K, Aparna Neve, Appavu Pavendhan, Arabinda Pal, Arathy S Kumar, aravinda hr, Aravind AM, Aravind Amirtharaj, Aravind CK, Arijit Mondal, Arindam Saha, Arjun CP, Arjun Kannan, Arjun R, Arnab Pal, Arnold Goveas, Arpan Ghosh, Arpit Deomurari, Arshad A, Arshad Hussain, Arun C.G, Arun Chungappally , arun lal, Arun M K Bharos, ARUN PRABHU, Arun Ratheesh, Arun Singh, ARYAKUMARAN M, Arya Vinod, A. S., Ashish Babre, Ashish Jha, Ashis Kumar Pradhan, Ashit Gandhi, Ashokkumar Mohanarangan, Ashwin Bhat, Ashwin Viswanathan, Aswin A, Aswin Nisanth, Atul Pall, Augustin Joseph, avijit dutta, Avishkar Munje, AWC Pathanamthitta, Ayush Ankit, Babasaheb Jawale, Balaji P B, Balaji Rangachari, balakrishnan vc, Balwant Negi, Baskar Perumal, Bhanu Prakash, Bhaskar pandeti, Bhasmang Mehta, Bhavesh Mengar, Bhavesh Trivedi, BIBIN PAUL, Biju George , bijumon ke, Biju PS, Bindu P V, Binu Piraroor, BINU SREELAKAM, Bird Atlas Kannur, Bird Atlas Palakkad, Bird Atlas Thrissur, Bird Atlas Trivandrum, Bird Snappers, Biswajit De, Biswanath Mondal, bivash kirtania, Brijesh Rawat, Chandrasekaran Venkatraman, Charlotte Chang, Charutha K, Chayant Gonsalves, Cheran Jagadeesan, Chetana Purushotham, chetan harikishandas joshi, Chethan GS, Chetna Sharma, chithrabhanu pakaravoor, Chris Bowden, Cinchona GHS(Group account), Citizens Nature, Clara Correia, CNS Nature, Cuckoo Sebastian, Dakshina Sudhir, Damodaran Pallath, Dayani Chakravarthy, Debansu Paramanik, Deepa Chandran, Deepak Balasubramanian, deepak dhakad , Deepa Mohan, Devi Ambika.S, Devi Prasad V, devi S R, Dhananjai Mohan, dhananjay bhamburkar, Dhanashri Salunke, Dhanesh Ayyappan, Dharmaraj Patil, Dhaval Vargiya, Dheeraj Chavadi, dhiren malani, Dhruba Saikia, Dhruvam Desai, Dhruvang Hingmire , Dilip Joshi, Dilip K G, Dinesh kumar, Dinesh Pundir, dipak bowalkar, Divya Mudappa, DIWAKAR N R, Dr Chandrashekhar Shirur, Dr George P J, Dr Sumit Chakrabarti, EKM Bird Atlas, Elavarasi P, Elias Rowther B., Elizabeth Jojy, Emanuel george , Engersoll RG, Eniyan S K, Erle Brito, Ezhupunna Birders, Fauzia Arief, Felix Koimburi, Fermin Jose, Gaja mohanraj, Ganeshwar S V, Garima Bhatia, Gaurang Bagda, Gaurav Manglik, gaurav pangtey, Gautam Allamsetty, Gautam Krishnan, Gautham krishna N, Gaythri and Mansur Nature Photography, Geetha Venkataraman, Gireesh Pallikkara, Girish Jathar, GirishMohan P K, gokul vadivel, Gopalakrishna R, Gopal bhagavatula, GOVIND GIRIJA, Gowrisankar M, Gowthama Poludasu, G Parameswaran, Graham B Langley, greeshma paleeri, Guhan Sundar, Hannah Sam John, HANNA THOMAS, Hariharan I.S., Hari Krishna Adepu, Harikrishnan S, Hari Krishnan S, hari kumar, HARI MAVELIKARA, Harish Chandra, HARISH K, Harsha Jayaramaiah, Harshavardhan Jamakhandi, harsh deep mishra, Harshith JV, Hashiq AH, Hemanth Byatroy, Hemant Kirola, Hopeland P, Humayun Taher, Indira Srinivasan, Induchoodan A Sreedharan, Iravatee Majgaonkar, Irshad Theba, Jadeswamy Madaiah, Jaichand Johnson, jain pk, Jameela Parampatt, janani manthena, Janhavi Rajan, Janhvi Vyas, Jasminder Singh, Jaswinder Waraich, Javid Ihsan, Jayadev Menon, Jayan Thomas, Jaydev Mandal, Jayesh Ghanekar, Jeetendra Chaware, Jeffin John, Jesse Ross, jishnu kizhakkillam, Job Joseph, Joby Joseph, John Longhenry, jolly kv, Joshua Daniel, joshua Dsilva, JUGAL PATEL, Kalaimani Ayuthavel , Kalyan Ineni, Kalyan Ramakrishna Chowdary Vundavalli, Kalyan Varma, Kankana Dev, Kannan U L, Kanwarjit Singh, Karthikeyan G B, Karthikeyan Ponnambalamoorthy, Karthikeyan S, karun g, Kashyap R, Kaustubh Rau, Kavi Nanda, Kavin SG, Keerthana Sriram, Khushboo ., Kingshuk Mondal, Kiran Kashyap, kiran more, Kiran M R, Kiran Purandare, Kiron Vijay, Kishorekumar Panaganti, Kishor Mankar, K Mamta, Komal Agrawal, Krishna Deepak, Krishnamoorthy Muthirulan, Krishna Murthy, Krishnamurthy Vijaykumar, Krishnan Hari Om Prakash, Krishnapriya Tamma, Kulbhushansingh Suryawanshi, Kumar RR, Kumudwathi Vemanna, kushal adaki, kuttettan munnar, Lakshmikant Neve, Lakshminarasimha Ranganathan, lingesh kalingarayar, Lloyd Fernandes, Loukika Neve, Madhavi Rangaswamy, Madhumita Panigrahi, Madhurima Das, madhushri mudke, Mahathi Narayanaswamy, Mahesh madhu, MAITREYA SUKUMAR, Malavika Sivaprasad, Malik Fasil Madala, Mallika Rajasekaran, Malyasri Bhattacharya, Manan Singh Mahadev, manasa krishna, Mandar Bhagat, Mangesh Prabhulkar, Mangirish Dharwadkar, Manidip Mandal, Manipal Birders, Manjula Ravi, Manju Sinha, manoj p g, MARUTHI PRASAD B P, Marvelyn Dias, Maulik Varu, MAXIM RODRIGUES K, M D Madhusudan, Md Shafi, Meghna Joshi, Mike Prince, Milan Sojitra, Milind Ganatra, minal patel, Miraj Hussain, Misha Bansal, M karthikayan, mohammad sulaiman, Mohan C P, Mohandas G, Mohan K Pillai, Mohit Aggarwal, Mohith Sanjay, Mohith Shenoy, Mohit Mehta, mridul anand, MS Raghunath, Muhammed Kutty, mujeeb pm, Mukesh Sehgal, Mukundan Kizhakkemadham, MUNEER THOLPETTY, murali krish uttarkar, Murtuza Hussain Abrar, Muthu Narayanan, Mytheeswaran T, Nagappan R, Naidu Kumpatla, namassivayan lakshmanan, Nameer PO, Naresh Vadrevu, Naveen Kumar, Naveenlal P, Neelakantan S, Neel Gadikar, Neha Waikar, Niketan Kasare, Ninad Raote, Niranjan A, Niranjana C, NIRJHAR Banerjee , Nisanth Raveendran, Nishant Shah, Nisha R V, nishith Kumar, Nitin Tomer, Omkar Dharwadkar, omkar naik, Padmanav Kundu, Panchapakesan Jeganathan, Pandurang Thatkar, PANKAJ GUPTA, Pankaj Lad, Pankaj Sharma, paramita mazumdar, paresh gosavi, Parikshit Khisty, Parvaiz Shagoo, PARVATHY AS, Patrick David, Paul Buckley, Pavan Ramachandra, pavithra prasad, Pavithra Sankaran, P. B. Samkumar, Pia Sethi, Polly Poulose, pooja pawar, Prabhat Kumar, Pradeep Hegde, PRADEEP KM, PRADEEP KUMAR V B, Pradeep Sangwan, Pramod Nair, Pranav Balasubramanian, Prasad Khale, Prasanna Gautam, Prasanna Kumar Mamidala, Prasanna Parab, Prashanth N S, Prashant Kumar, Prashant Pimpalnerkar, Prashant Tewari, Prasun Majumdar, Prathamesh Desai, Pratim Majumdar, Praveen J, praveen shenoy, PREETHI N, Premanamd Pal, Premchand Reghuvaran, Prem Prakash Garg, pritam bohora, Prithivi Raj S, PRITPAL PANJETA, Priyanka Hari Haran, Priyanka SS, Puja Sharma, Punit Mehta, Pushkar Chaubal, Pushpa C R, Raghavendra Mukundarao, Raghu Nathan, Raghuvanshi Rajesh, Rahul Kumar, rahul narlanka, Rahul Shah, Rahul Wakare, Rajaneesh Ghadi, Raja Simma Pandiyan, Rajat Rastogi, Rajeesh Leo, Rajendra Gadgil, Rajendran. T.M., Rajesh Kalra, Rajesh Kumar Reddy, rajesh n nayak, Rajesh Panwar, Rajesh Prasad, Rajesh Radhakrishnan, Rajgopal Patil, Rajiv D'Silva, Raju Kasambe, Rama Neelamegam, Raman Kumar, Ramesh M, Ramesh Sharma, Ramit Singal, ramraj s, Ram Vikas, raphy kallettumkara, Rathish RL, Regin George, Rejitha V, Renjan Mathew Varghese, Renju K Raj, renju tr, renuka Vijayaraghavan, Ribish Thomas, Ritesh Dighe, Riyan Konkath, Rohidas Revankar, Rohit Chakravarty, Rohit Hirway, Rohit Jha, Rojin V, Ronit Dutta, ronny augustine, Roshin Tom, Roshnath R, Rudraksha Chodankar, rundan katkar, Rustom Basumatary, sabeer ali, sachin chandran, SACHIN KRISHNA M V, Sachin Main, Sadasiva Sahukar, Sagar Adhurya, Sagar H S, Sahana M, sahil joshi, sahithya selvaraj, Saikat Adhurya, sajin seethi, sakthi manickam, Samrat Kalita, Samuel George, Samuel John, Samyukth Sridharan, Sandeep Krishna Das, Sandeep Munjpara , Sandhya Lenka, Saneesh C S, Sangeeth Sailas Santhosh, Sanjay Karanth, Sanjay Malik, Sanjay Patil, Sanjay Sondhi, Sanjeev Goyal, Sanjiv Khanna, Santanu Chatterjee, Santharam V, santhosh kumar, Sarang Pimparkar, Sarath Chandran, Sarika Gadikar, Sashi Kumar, sasidharan manekkara, Satheesan K V, Sathisha CH, Sathya Chandra Sagar H S, sathya kumar, Sathyan Meppayur, Satypal Singh, Saurabh Sawant, Savithri Singh, Selvaganesh K, Shah Jahan, Shameena S, Shanmugam Kalidass, shantilal Varu, Sharad Agrawal, Sharang Satish, SHARATH G.M., sharmila Abdulpurkar, Shashank dalvi, Shashikant S. Naik, Shebin C, sheeba nanjan, Sheela Panwar, Shiraz Noble, Shishupala S, Shivaji S, Shivangi Jain, Shivaprakash Adavanne, shobita asthana, Shreyan M L, Shrikanth nayak, Shubha Nava, Shubhankar Madane, Shweta Bhatt, Shwetha Bharathi, Sibin Thomas, Siddhesh Surve, Sivadas Chettur, Sivakumar AK, Sivakumar SS, Sivakumar Swaminathan, sivanandan ds, Sivashankar Ramachandran, Siyad A Karim , Sneha Gupta, Snehasis Sinha, Soma Ateesh, Somoyita sur, Somraj Gupta, Soni Nambiar, SOORAJ NARAYANAN, Sophia S, Soumya B, Soumya Shubhra Nag, Sourajit Ghosal, Sourav Nandy, Sovan Gupta, S R Aamir, Sreekumar Chirukandoth, Sreekumar E R, Srikaanth Sekar, Srikanth Bhamidipati, Srikanth Bhat, Srinath Reddy, Srinivasa Shenoy, Sriram Reddy, sruthy s, S S Cheema, SS prasanth, steffin babu, Steve Redpath, Subbu Subramanya, Subhajit Chaudhuri, Subhasmita Patro, Subin Sudheendran, Subramanian B, Subramanian Sankar, Subramniam Venkatramani, sudhakaran kk, Sudhir Moorti, Sugandha Gosavi, Suhag Shirodkar, Suhel Quader, Sujith V Gopalan, Sumanta Pramanick, Sumer Rao, Sumesh b, Sumesh K.V, Sundar Palanivelu, Sundar Rajamanickam, sunil kumar, Sunil Pandey, Suresh AC, Suresh Jones, suresh sharma, Surjeet Pathania, surya devi, Surya Prakash, Surya Ramachandran, Susan Boynton, susanth madapurakkal, sutirtha lahiri, Swapnil Wankhede, Swathi Bhat, swathi chandramohan, Swati Sidhu, SYAMILI MANOJ, syed ateeq, Syed Mustahsen, Syed Muzamil, Taksh Sangwan, Tamilbirds (Group Account), Tanbeer Ahmed , Tanmay Jain, Tanvi DG, Tanvi Gurjar, Tanya Seshadri, Tapas Misra, Tara Rajendran, Tarun Menon, Taukeer Alam Lodha, Tejas Vagadia, Thakur Dinesh Singh, TheNatureTrust (GroupAccount), Thomas Falk, Thomas Job, Tilroy Fernandes, tony antony, Trilok Rana, Tropical Forest Research Institute Jabalpur, ts prasanth, Tushar Chakraborti , Udaya Kumar Balasubramanian, Uday Kiran, Umesh Vaghela, Vaibhav Saigal, Vaidehi Gunjal, vaisakh george, Vaishali Savkar, Vaishnavi Pote, Vardhan Patankar, vedang saunt, Velsina Rodrigues, Venkatesh R, Venugopalan R, Vidhya Sundar, Vidyadhar A, Vidyasagar Hariharan, Vijaya Lakshmi, vijay kumar, Vikas Madhav Nagarajan, Vikram Penmetsa, Vinay Bharadwaj, Vinay Nadig, Vineeth Kumar C M, Vinoba Anand, VINOD KUMAR P.K., Vinod Venugopal, Vinod vikram, vipin cg, Viral Pankaj, Vishal Dutta, Vishambhar Agarwal , vishnudas ck, Vishnupriyan Kartha, Vishnupriya S, vishnu sankar, Vishnu Vinod, Vivek Puliyeri, Vivek Raut, Vivek Rawat, Vridhi R, vrinda lath, Wahiba Humam, Wayanad Atlas, Wesley Rajaleelan, Yadu .., Yagnesh Desai, Yogesh Parashar, Yousaf olavilam, Zareef Khan Lodha
Are you doing your best to match the target for August (25 days of birding)? And there is also a set of yearlong challenges for 2016 to bird towards!