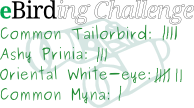 The challenge for July was pretty tough — document at least 20 hours of birding through the month with complete, effort-based lists of any duration. Many of us tried our best but didn't manage to clock up the targetted 20 hrs. So we thought that barely a handful of birders would be able to meet the challenge.
Overall, during July, the number of complete, effort-based lists  was 3,530. In all, 377 birders uploaded 3,900 lists of all types from July, together accounting for nearly 65,000 observations from India.
Of the 377 July eBirders, an amazing 42 people racked up 20 or more hours of birding through the month! They are (as always, excluding group accounts):
Able Lawrence
Ajay Gadikar
Anish Aravind
Anupam Khanna
Aparajita Datta
Arpit Bansal
Balwant Negi
Bela Arora
Bharat Rughani
Dhanesh Ayyappan
Diwakar Jha
Dr George P J
Erle Brito
Ganeshwar S V
Gopal Bhagavatula
Hari Kumar
Hemanth Byatroy
Karan Tambe
Madhushri Mudke
Mandar Bhagat
Manju Sinha
Misha Bansal
Mohit Aggarwal
Narayan Sharma
Niranjana C
Panchapakesan Jeganathan
Pankaj Gupta
Prathamesh Desai
Premchand Reghuvaran
Ramit Singal
Raphy Kallettumkara
Sasidharan Manekkara
Selvaganesh K
Shanmugam Kalidass
Sheeba Nanjan
Sneha Gupta
Sundara Manikkam V R
Swati Sidhu
Udiyaman Shukla
Vedant Kumbhar
Vidhya Sundar
Viral Joshi
Many congratulations to all of them!
One of these 42 was chosen using a computer-generated random number to receive a small gift, and that person is
Anupam Khanna
who receives a copy who receives a copy of How to be a (bad) birdwatcher by Simon Barnes. (You can read reviews here and here.)
Here is the full list of all the 377 eBirders from July 2015:
Aakanksha Rathore, Aakash Shejwal, Aasheesh Pittie, abhijith a.p.c, Abhijith R.S, Abhijith surendran, Abhirami C, Abhishek Gulshan, Abhishek Shroti, Abinand Reddy, Able Lawrence, Ajay B, Ajay Gadikar, Amish Parekh, Amit Bandekar, Amitha bachan KH, Amol Lopes, Anant Deshwal, Aneesh Sasidevan, Anil Mahajan, anil subramaniam, Anish Aravind, Anish Mohan Thampi, Anita Negi, Anjali J, Ankit Vikrant, Ankur Jahagirdar, Anupam Khanna, Anurag Ghatole, Anvith KS, Aparajita Datta, Appavu Pavendhan, Arabinda Pal, Aravind AM, Archana k mohan, Arjun R, Arnold Goveas, Arpit Bansal , Arundev G, Arun kumar, arun lal, Arya Vinod, Ashutosh Singh, Ashwin Hp, ATANU MODAK, Augustin Joseph, Ayuwat Jearwattanakanok, BAHAR BAVISKAR, Balwant Negi, Basavraj Annigeri, Bee Trotter, Bela Arora, Ben Bolker, benchamin c, Bhagyashree Ingle, Bhakti Salgaonkar, Bhalchandra Pujari, BHARAT RUGHANI, Bhavesh Mengar, Bhupesh Goyal, Bird Atlas Thrissur, B. Narayan Deb, Castro Karthi, Cecelia Menezes, Chandrashekar Sundaram, Chinmay Rahane, chithrabhanu pakaravoor, CNS Nature, Colin Braganza, david stanton, Deepa Mohan, Deepika Prasad, Devi Ambika.S, Dhananjai Mohan, dhananjay bhamburkar, Dhanashri Salunke, Dhanesh Ayyappan, Dhaval Vargiya, Dheeraj Chavadi, dilip kg, Dilip Polpakkara, Dina Nisthar, Dinesh Pundir, Divya Mudappa, divya srivastava, Diwakar Jha, Douglas Racine, Dr George P J, Duraiswamy Navaneetham, Elrika D'Souza, Emanuel george , Erle Brito, Eveny Luis, Ezhupunna Birders, Ganeshwar S V, Garima Bhatia, Gaurang Bagda, Gaurav Kadu, Gaurav Nalkur, Geetha Ramaswami, Geetha Venkataraman, Girish Jathar, Gitanjali Katlam, Gnanaskandan Kesavabharathi, Gopal bhagavatula, Gowthama Poludasu, G Parameswaran, Gunasekaran m, Guruprasad Timmapur, hari krishnan, Harikrishnan Surendran, hari kumar, HARI MAVELIKARA, HARITHA KRISHNAN, HARSHADA GAUNS, Harsha Jayaramaiah, Harsh Buty, Hemanth Byatroy, Himansh Pahwa, Humayun Taher, ian fried, induchoodan sreedharan amalath, jadeswamy madaiah, Jahnavi Joshi, Jaichand Johnson, Janhavi Rajan, jayakrishnan mannar, Jayan Thomas, Jayant Wadatkar, Jaydev Mandal, Jeremy Bowman, Jeyakumar Johnson, JISHNU V G, John Ravindran, Kaajal Dasgupta, kalpesh chodnekar, Kalyan Varma, Kanwar B Singh , Karan Tambe, Karthik Teegalapalli, Kaustubh Rau, Kevin Burrell, kiran more, kodam puli, Krishnamoorthy Muthirulan, KRISHNANUNNI M R, K.Sravan Kumar, Kulbhushansingh Suryawanshi, Latha G A, Laura Mahrt, Lekshmi Jayakumar, Lloyd Fernandes, Luke Gammon, Madhura Niphadkar, Madhurima Das, madhushri mudke, Manan Singh Mahadev, Mandar Bhagat, Mangirish Dharwadkar, Manish Chandi, Manju Sinha, Manoj Bind, Manoj Karingamadathil, Manu Mengi, Maulik Varu, Maya Ramaswamy, M D Madhusudan, Meghna Joshi, Milan Sojitra, MILIND SAWDEKAR, Misha Bansal, Mittal Gala, Mohit Aggarwal, Mohith Shenoy, Mohit Mehta, Mousumi Ghosh-Harihar, mujeeb pm, Muthu Narayanan, Nabarun Sadhya, Nandhakumar Radhakrishnan, Nandkishor Dudhe, Narayan Sharma, Neel Gadikar, Neha Waikar, Neil Tovey, Nelson George, Nihar Madkaiker, Niranjana C, NIRMAL V, Nisarg Prakash, Nisha M, Nishant Carr, Nishant Shah, nishith Kumar, nithish kumar, NITIN PETER, Om Chouhan, Omkar Dharwadkar, omkar naik, P.A.Anish Elanad, Panchapakesan Jeganathan, PANKAJ GUPTA, Pankaj raina, Pankaj Sharma, Patrick David, Pavithra Sankaran, P. B. Samkumar, Phani krishna Ravi, Prabhakar Sastri, Pradeep Sangwan, Pradyut Choudhury, Pranav abi, Pranjal Mahananda, Prasanna Parab, Prashanth NS, Prashant Pimpalnerkar, Prashant Tewari, Prathamesh Desai, Pratiksha Kothule, praveen bhat, Praveen es, Praveen J, Praveen Manivannan, praveen Rao koli, Premchand Reghuvaran, Prithviraj Decca, Priyadarshini K, Pronoy Baidya, Puneet Dhar, Radhika Timbadia, Raghavendra Joshi, Raghunath r, rahul narlanka, Rajesh Bhalodia, Rajesh Kalra, Rajiv D'Silva, Rajneesh Suvarna, Raju Kasambe, rakesh vijayvargiya, Rakesh Vijayvargiya, Raman Kumar, Ramit Singal, Ram Mohan Angadipuram, raphy kallettumkara, RATHEESH KODUNGALLUR, raveendran kc, Raviprakash KB, renju tr, RESHMA BHAT, Richa Kolachena, rima dhillon, Rishov Biswas, Rohidas Dagale, Rohit Chakravarty, Rohit Naniwadekar, Ronit Dutta, Roshnath R, Ruben Stoll , Rudraksha Chodankar, Rushil Fernandes, SACHIN KRISHNA M V, Sagar Adhurya, sahana m, sajith mannar, Samanyu Neelson, Sameer Apte, Sameer Patil, Samiran Jha, Sanjay Karanth, Sanjay Sondhi, SANJEEV NALAVADE, sanju majumder, santhosh kumar, Santosh Singh, sasidharan manekkara, Satish Chandra Thayapurath, satish siwatch, Savithri Singh, Selvaganesh K, Shamshersingh Bhagatsingh, Shanmugam Kalidass, Shashank Birla, Shashikantha Koudur, Shashikant S. Naik, sheeba nanjan, SHEKHAR BOPARDIKAR, Shivakumar M, Shivaprakash Adavanne, Shivi Mishra, shobita asthana, shreekrushna kore, Shrikanth nayak, Shruti kulkarni, Shubha Nava, Shwetha Bharathi, sivakumar Hariharan, Sivakumar R, Sivashankar Ramachandran, Siva T, Sneha Dharwadkar, Sneha Gupta, Snehasis Sinha, soham brahmbhatt, Soma Ateesh, Somen Sarkar, Somoyita sur, Somraj Gupta, Soni Nambiar, Soumya Prasad, Sourajit Ghosal, Sourav Dinda, Sreekumar E R, SRINIVAS PAI, Sriram V, S S Cheema, Subhashini Sivasubramanian, subraja vasudevan, Subramanian Sankar, SUDHEESH P.D DIVAKARAN, Sudhir Moorti, Suhel Quader, Sumanta Pramanick, Sumesh b, Sundara manikkam V R, Suniti Bhushan Datta, Surendhar Boobalan, suresh janardhanan, Suresh Rana, Surya Prakash, Sushrut Karmarkar, Swathi Bhat, swathi chandramohan, Swathy M, Swati Sidhu, Syed Muzamil, Taksh Sangwan, Tanvi DG, Tanya Seshadri, Tarachand Wanvari, Tathagata Chakraborty, Taukeer Alam Lodha, Tejas Vagadia, Tejaswini Limaye, TheNatureTrust (GroupAccount), Thomas Job, Thorkild Michaelsen, tony antony, T R Shankar Raman, Udiyaman Shukla, Ujwal Shankar, Uma K, Umesh Vaghela, Ushma Shukla, Vaidehi Gunjal, vaisakh george, Vasco Valadares, vedant kumbhar, Vidhya Sundar, Vijaya Lakshmi, Vijay Kumar, Vikram Penmetsa, Vinay Nadig, Vinoba Anand, vinod k, Vinod Venugopal, vipin v nath, viral joshi, Viral Pankaj, Vishal & Sophia D, Vishwatej Pawar, vivekanand vivek, Vivek M, Vivek Puliyeri, vrinda lath, Wesley Rajaleelan, Yogesh Parashar, Young Birders Club Darbhanga
Are you doing your best to match the target for August? And don't forget the several flavours of yearlong challenges for 2015!