Although eBird went global in 2010, eBird in India took off in 2014. In the past 3 years, almost 6 million observations have been uploaded to eBird. eBirding in India may be a relatively new concept but bird watching in India has a long history. While birds have been documented for the past 3 centuries (or more!) in some form of the other, birding truly became popular as a hobby in the latter half of the 20th century.
A lot of birders who now use eBird have records which date to well before 2014, but a lot of these observations have not yet been uploaded to the eBird database. We refer to such data (ie, from before 2014) as historical data, and these are very valuable in enhancing our collective understanding of the distribution, seasonality, abundance and related changes in birdlife in India. Historical data provides context and helps build a long-term perspective of birds and birding in India.
Of the 6 million observations from India on eBird, only about 11% of all the observations uploaded are of sightings before Jan 2014. Of this 11%, 80% of the observations were uploaded in or after Jan 2014 — these are from people who have gone back to their records and have uploaded their observations. Considering the amount of information contained on email-based forums and even on Facebook groups from before Jan 2014, this number represents relatively little of the total amount of historical information available.
Several eBird users have made the effort of uploading their lists from before these dates. These include valuable records from the early 1900s based on literature, such as of the Jerdon's Courser in Telangana or the Slaty-legged Crake in Karnataka. There are more lists and records by current users from as recently as 1977, 1981 and 2003.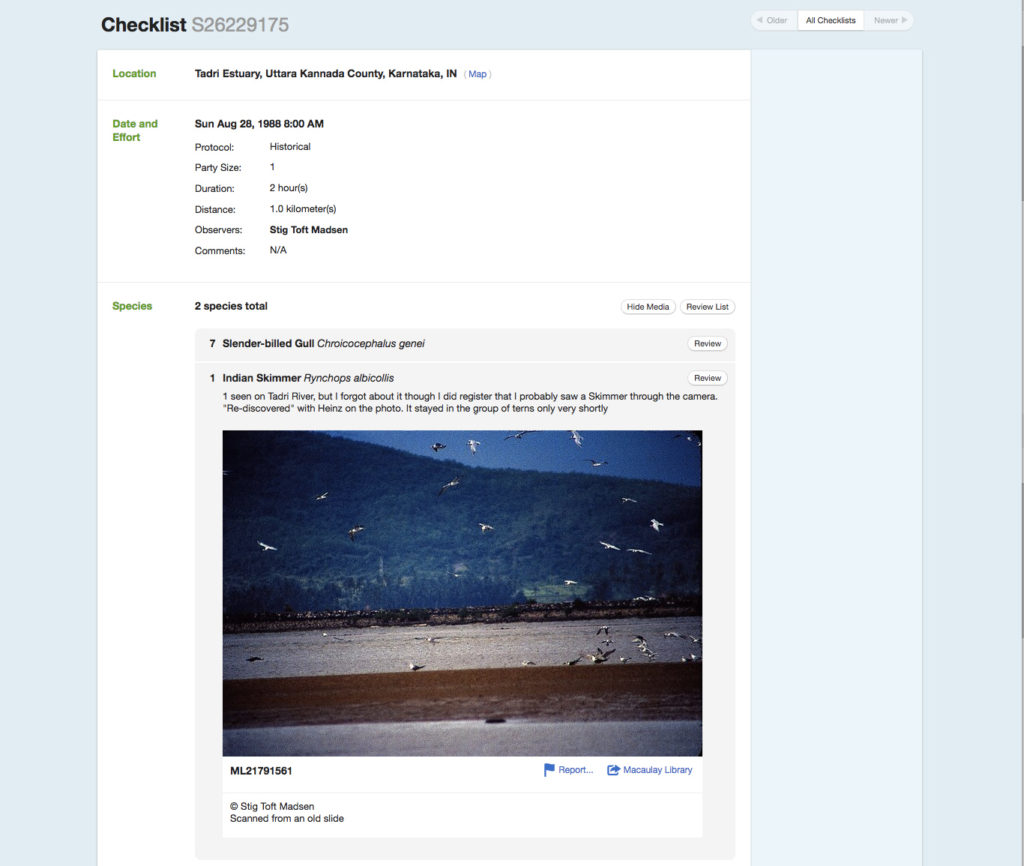 There is no doubt that many of us have notebooks, emails and other documents brimming with such valuable data. So why not start uploading them to eBird as well and contribute to add to our existing knowledge of Indian birds?
For entering a historical list, you minimally require just two additional data apart from your birdlist itself – a) Location and b) Date. With this you can use the 'Historical' protocol in eBird to enter the lists. However, if you have the effort data (start time, duration and distance covered), then we strongly encourage you to use the 'Traveling' or 'Stationary' protocol as this makes the list so much more valuable in eBird. If you have taken note of all the species seen (ie you have not focussed on a few particularly interesting species) during that birding trip, then yours becomes a complete list. Any additional details like number of each bird species seen, breeding information, age or sex that you may have recorded in your field notebook and even sketches or photographs makes your list an absolute classic.
Some valuable resources to help you get started:
Note: if you use the eBird Mobile app, it may be a very useful tool to quickly enter and submit old lists as well.
—
With this, we'd also like to thank many of the users who have uploaded a bulk of their lists and data from the past. This list of birders includes, but is not limited to:
Mike Prince, Aasheesh Pittie, Shivaprakash Adavanne, Maulik Varu, Raman Kumar, TR Shankar Raman, Arun M K Bharos, Ragupathy Kannan, Dilip KG, Prasad JN, Shantilal Varu, Praveen J, Sashikumar, Raju Kasambe, Panchapakesan Jeganathan, Subbu Subramanya and many others.
We are very thankful for their efforts and contribution to the database!